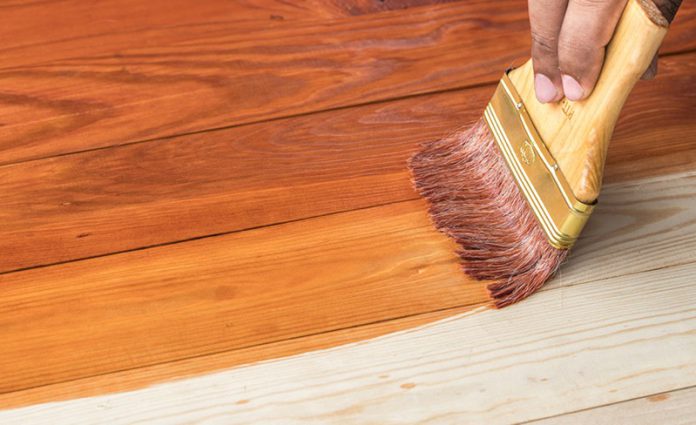 You have finally chosen the ideal hardwood for your flooring, whether it be a warm cherry wood, a deep, rich walnut, or a rustic oak. All hardwood floors share one common thing – they require a protective finish to preserve their visual appeal. Although there is a variety of different hardwood species that can be used for flooring. Each has its own appearance and beauty, yet it is necessary to protect them from any possible damage.
Choosing the perfect topcoat for hardwood refinishing in Calgary can be a difficult task. It's important to take into account the amount of wear on the surface and ensure you choose something that will provide long-lasting durability.
After selecting your favourite wood, the convenience, durability, and even glossiness of hardwood floor finishes are among the most significant aesthetic factors. By reviewing the fundamentals of the eight most common varieties of hardwood floor finishes, which are all listed here, you make your selection a bit simpler.
Water-Based Polyurethane
Best for: Floors that need a quick-drying clear finish
Benefits include ease of application and cleaning, minimal VOCs and odour, a highly lustrous finish, and no yellowing.
Cons: Water-based high-gloss polyurethane accentuates every blemish.
Water-based polyurethane is a highly resilient finish that tolerates moisture rather well, although you should still immediately mop up any spills or leaks. In terms of being ecologically friendly, water-based polyurethane performs well since it emits far less volatile organic compounds than many of the alternatives. When applied, it doesn't have much of an odour, which is great if you want to polish the floors yourself. In general, you just need to wait two to four hours between coats since it dries swiftly. After that, it won't take long for you to be able to walk on your new flooring, however you should wait at least 48 hours before rearranging any furniture.
Oil-based Polyurethane
Best for: High-traffic regions
Benefits include affordability, strength, resistance to wetness, and ease of maintenance.
Cons: Slow drying, produces a lot of VOCs, is combustible, and eventually becomes yellow.
Linseed oil, artificial resins, and plasticizers are the main ingredients of oil-based polyurethane. Although many homeowners choose to use it in heavy activity areas within the home, its strength and longevity make it a popular finish for commercial establishments as well. Fortunately, because of their durability, you won't need to refinish the floors as often as you may with some of the other alternatives. Additionally, it is simple to maintain – just frequently sweep or vacuum, and remove grime with a moist sponge.
Moisture-cure Urethane
Best for: Conditions calling for the most difficult floor finish
Benefits include being exceptionally robust
Cons: Extremely high VOCs; challenging to apply. Top Picks: Although most DIYers will only be purchasing this product themselves if it's normally used solely by professionals, your pro may utilize goods from trusted companies like Dunham's or Lenmar.
Moisture-cure urethane, which was first developed for use in bowling alleys, dries to a very high sheen and becomes exceedingly resistant and durable. It is resistant to wear, stains, scratches, and dampness. But a DIYer may find it less appealing due to its complex use. All members of the home will need to move out for up to two weeks following application because of the very high amount of VOCs it emits and the fact that they may stay in the air for weeks.
Wax
Best for: Wherever you desire a low-sheen finish
Benefits include its simplicity to apply and touch up; low VOC and odour content; penetrates wood and may be blended with stains; dries rapidly and can be walked on in a matter of hours; easy to apply and touch up.
Cons: The application requires a lot of work; it is not particularly durable; and it eventually darkens or yellows.
Wax was the preferred hardwood floor finishing for hundreds of years until polyurethane coatings were created in the 1960s. It continues to be a popular choice for historic houses today, and DIYers commonly go for it because they prefer the low-sheen, natural aesthetic. On the other hand, waxing hardwood floors doesn't provide a finish that is especially robust. Wax is not the greatest floor finish for bathrooms or kitchens since it might leave white stains after being exposed to water. It will also scuff and scrape, but these are reasonably simple to buff out and conceal beneath a fresh coat of wax.
Shellac
Best for: Floors where you want a natural solution that dries fast and doesn't generate a lot of VOCs.
Benefits include natural, environmentally friendly substance; simple to fix or touch up; sticks well to oily tropical woods
Cons: Needs to be freshly mixed before application; is very combustible; is difficult to apply uniformly; is far less durable than many other solutions.
This particular hardwood floor finish also has a propensity to stain and water spots, and it is sensitive to alcohol and ammonia damage. Even though it doesn't withstand foot usage as well as polyurethane, touching it up is simple – just buff on a fresh layer of shellac as needed. You can buff wax over shellac, but you cannot put one of the polyurethane finishes over shellac, therefore if you want to alter the finish of your floor, you must first fully remove the shellac.
Penetrating Oil Sealant
Best for: Producing a low-shine finish that removes the wood's grain.
Benefits include it's a natural product; very simple to use; highlights the beauty of wood
Cons: Expensive; has to be recoated every few years; not very durable
Penetrating oil sealers, which were extremely popular before polyurethane floor sealers were developed in the 1960s, aren't commonly used today, but some homeowners still prefer them because they love the way the oil brings out the beauty, depth, and grain of the wood without adding a lot of shine or gloss. If you are renovating a historic house, it's also a fantastic option. Despite the fact that penetrating oil sealers give wood a naturally attractive look, they don't stand up well to foot activity, so if you go with this choice, be ready to re-oil your floors every three to five years.
Summary
You must first assess the kind of floor you have and your available resources before ranking the importance of different floor finish characteristics including shine, durability, and third-party certifications.
It Is essential to choose the ideal finish to maintain your floors safe and gorgeous by being aware that the best finish for your facility will depend on desired gloss level, hardness, and a variety of other elements. Choose wisely, or better still, hire professionals.