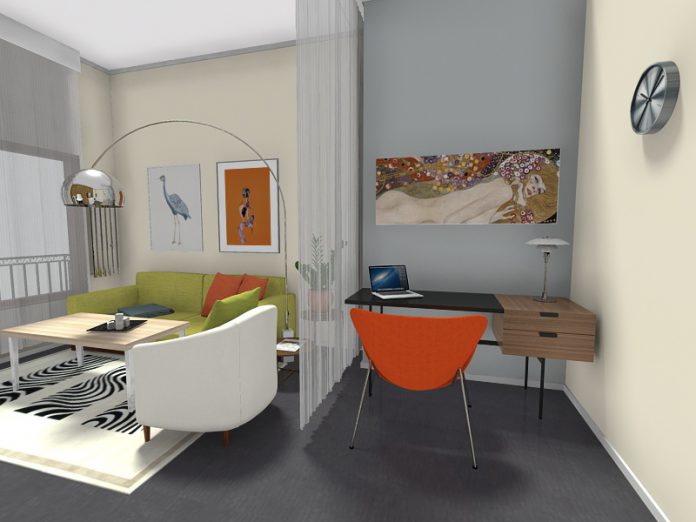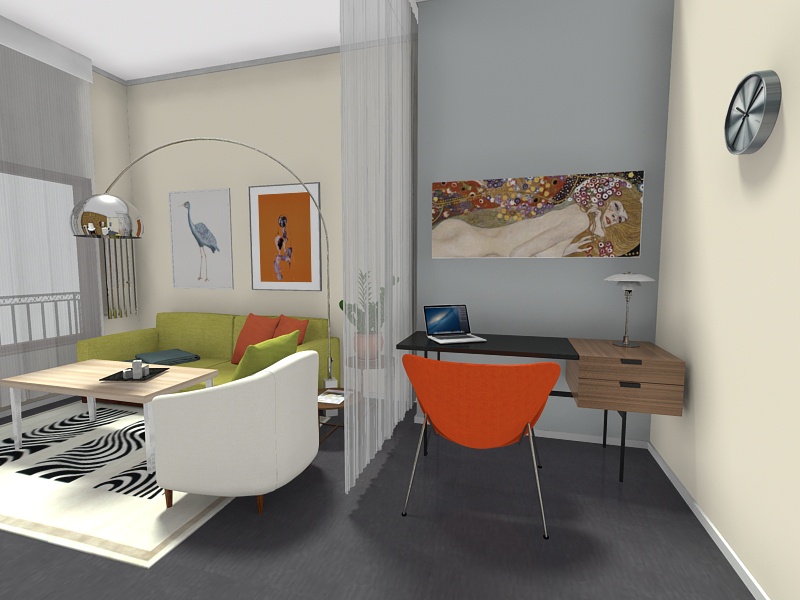 Homesfornh.com – Having a comfortable home is the dream of many homeowners. By having a comfortable home, you can make yourself and your family feel comfortable and happy in your home. A comfortable house is influenced by several factors, such as the size of the house, the interior style, and the need for sufficient space. With enough room for all your needs in the house, you can be comfortable doing activities so you can be more productive in your daily activities. Like when you need a workspace, but you don't have a special room to be your workspace, you can combine it with a living room or bedroom. By maximizing the function in the room, you can get a multifunctional room for your home. Especially if you have a minimalist home, then things like this will help you in your daily life.
A minimalist house is a house that optimizes the value of the function and is practical in a modest size. With the size of a small house, using one room with two functions is a practical solution in arranging the interior of the room in your home. By using a multi-functional room, you can save your budget to make a room or redecorate your room into another function. That way, you can create a minimalist and comfortable house to use in everyday life. Besides, a multifunctional room will give you another advantage in the form of saving space, reducing the budget, and also giving you space for your creativity in decorating a minimalist interior room in your home. For that, let's discuss one by one multifunctional room design ideas that you can apply in your minimalist home.
Kitchen with Living Room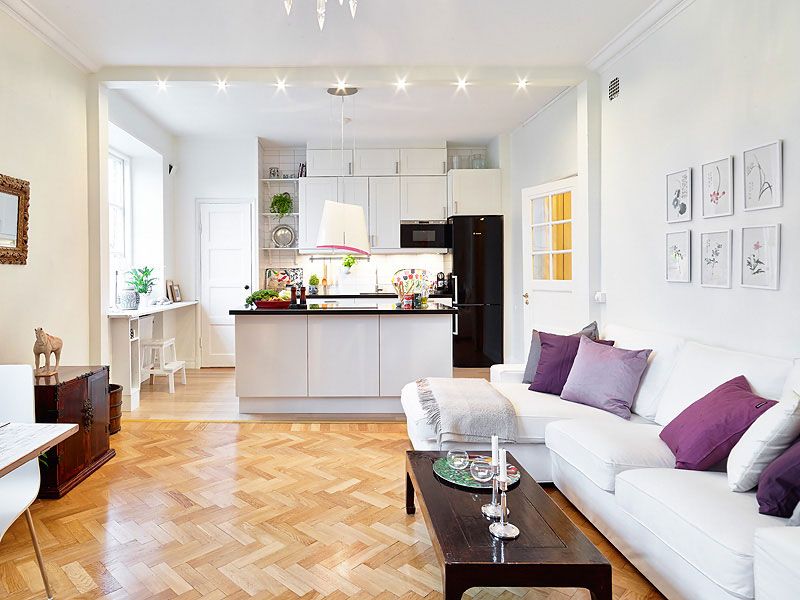 For those of you who have a small house, you can make it look more spacious by using the concept of open space in the interior of your room. For example, in your living room, you can combine it with the kitchen. By combining the living room with the kitchen, you can get a wider area. You can move from the living room and kitchen quickly and efficiently. Besides, using the open space concept in your kitchen and living room will make it easier for you to gather with your family or friends in certain events such as parties or Christmas Eve.
Multifunctional Workspace Design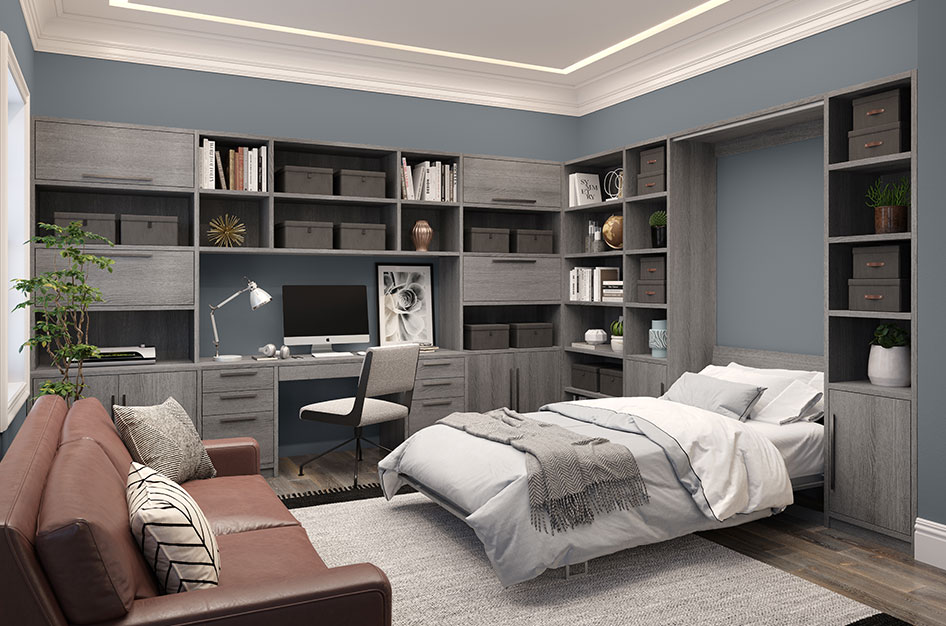 Having an additional bedroom for the bedroom of guests or relatives visiting your house is a must for homeowners. You certainly don't want to let your guests or relatives stay and sleep on the sofa. For that, you can use a murphy bed to be installed in your workspace. By having a workspace that can be converted into a bedroom, you can maximize the use of space in your home. Using a murphy bed is very practical, you can fold it against the wall when you are not using it. Meanwhile, to use it you can fold it down to make a bed for you, your guest, or relative. That way, your home becomes a comfortable place even though it is small and minimalist in size.
Multifunctional Bedoom Design with Bunk Bed
For those of you who have two children but don't have enough bedrooms for them to sleep, you can use the bunk bed for one bedroom. By using a bunk bed you can save space in your house and you can save space in the bedrooms of your children. You can use a bunk bed that folds into a comfortable sofa. That way, you can create a comfortable bedroom for them to use. With a comfortable bedroom, your child will be happier with their room. To reduce the use of space in their bedroom, you can use a ladder with storage on each step. Their bedroom will be more spacious with your creativity in decorating.
Living Room with with Workspace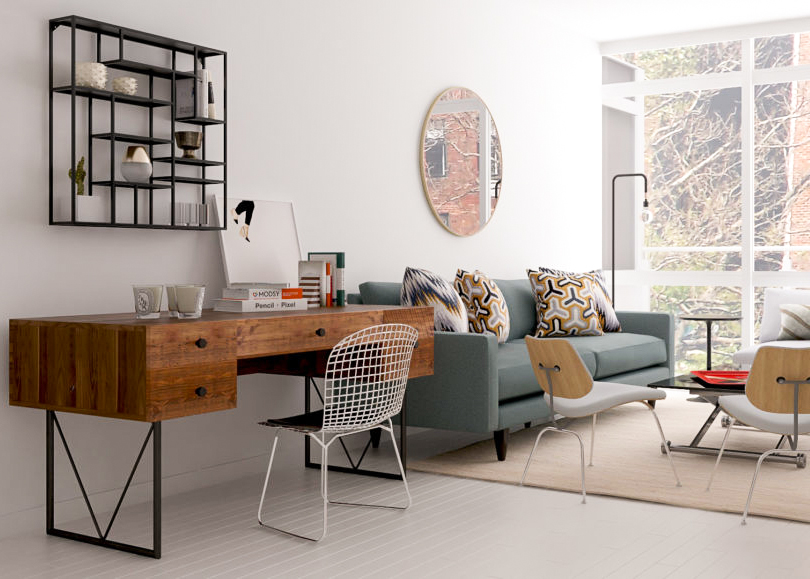 You can create a workspace in your living room. By using several decorations such as a work table for a workspace in your living room. You can make your workspace area beside the sofa in your living room. That way, your activities in the workspace and living room do not interfere with each other. You can use multifunctional furniture such as table with drawers and wall shelves that will save space in your minimalist home. With minimal use of space, you can make the interior of your home appear more spacious and comfortable.
Kitchen with Laundry Room
You can use your kitchen as a laundry room if you have a minimalist home. By using a washing machine that is installed in the kitchen, you can create a practical and space-saving laundry space. By using a minimalist kitchen, your cooking activities will be more practical and fun. While using the laundry room in your kitchen, you can be more comfortable in decorating your home and using the space in your house. With this multifunctional kitchen, you can use another room for more important purposes and make your kitchen a multifunctional place for laundry activities.
That is our discussion about Amazing Ideas for Multifunctional Rooms for Your Minimalist Home. By using a multifunctional room in your home, you can save on the use of space in your home. You can make various needs for your room even though you have a small and minimalist room. That way, you can save your costs more and focus more on more important things. Hopefully, this article can be useful to you.