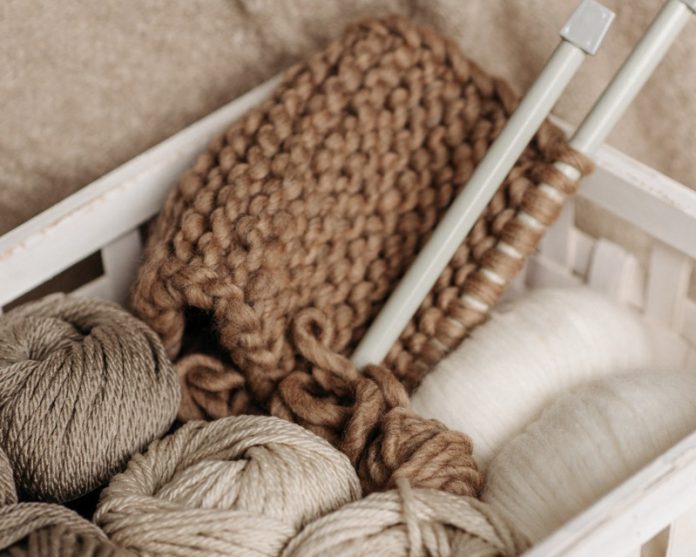 Crafting with crochet and knitting is not limited to wearable items and accessories but also home decor. By incorporating these timeless crafts into your homemaking, you can add a personal touch to every corner of your living space.
In this article, we will explore a variety of crochet and knitting projects that can enhance your home decor, from cozy blankets and pillows to decorative accents and functional items. Let's dive into the world of crafty homemaking and discover how crochet and knitting can transform your living space.
Creating Cozy Comfort
A. Granny Square Blanket:
Craft a classic granny square blanket using colorful yarns to infuse your living room or bedroom with warmth and charm. The versatility of granny squares allows you to create various patterns and arrangements, resulting in a unique and personalized blanket that becomes a focal point of your space. You can make a full-sized blanket or create smaller ones like lap or baby blankets.
B. Knitted Cable Throw:
Knit a cozy cable throw to drape over your couch or armchair. The intricate cable stitch pattern adds texture and visual interest to your living space while providing extra comfort. Choose a soft and warm yarn to create a luxurious and inviting throw. You can experiment with different cable patterns to create a design that complements your home decor.
II. Pillows And Cushions
A. Crocheted Pillow Covers:
Transform plain throw pillows into eye-catching pieces by crocheting unique covers. Experiment with different stitch patterns and color combinations to match your home decor.
Crocheted pillow covers allow you to easily update and personalize your space while providing extra comfort and style. Depending on your preference, you can create covers in various shapes and sizes, such as square, round, or even heart-shaped.
B. Knitted Intarsia Cushions:
Get creative with intarsia knitting to create stunning and intricate designs on your cushion covers. This technique allows you to incorporate detailed images, patterns, or motifs into your cushions, adding a touch of artistry and personalization to your home.
Choose colors that complement your decor and enjoy the process of creating unique and eye-catching cushion covers.
III. Wall Hangings
A. Crocheted Wall Hangings:
Create stunning crocheted wall hangings using various stitches and patterns. From intricate mandalas to modern geometric designs, crocheted wall hangings add texture and visual interest to any room. Play with different yarn weights and colors to achieve the desired effect. You can hang them above a sofa or bed or as a centerpiece in a gallery wall arrangement.
B. Knitted Tapestry:
Knit a beautiful tapestry to adorn your walls. Experiment with colorwork and different knitting techniques to create captivating designs. Whether you opt for a landscape, abstract art, or a specific pattern, a knitted tapestry adds a unique and artistic touch to your home decor. Hang it in your living room, study, or hallway to create a focal point that reflects your creativity and style.
IV. Functional and Stylish: Home Accessories
A. Crocheted Coasters:
Protect your surfaces with handmade crocheted coasters. Choose a durable yarn that is easy to clean and experiment with different stitch patterns to create coasters that match your style.
Crocheted coasters serve a practical purpose and add a decorative element to your coffee table or dining area. You can make a set of coordinating coasters or match different colors, patterns, and stitching, such as picot stitch, single crochet stitching, and many others.
B. Knitted Dishcloths:
Add a touch of luxury to your kitchen with knitted dishcloths. Use soft and absorbent yarn to create functional and stylish dishcloths that are practical and aesthetically pleasing.
Experiment with different stitch patterns and colors to add a personal touch to your kitchen decor. Knitted dishcloths not only make your daily chores more enjoyable but also elevate the overall look of your kitchen.
V. Personalized Accents
A. Crocheted Plant Hangers:
Bring nature indoors with crocheted plant hangers. Craft unique and intricate designs to showcase your favorite houseplants. Experiment with different yarns and colors to match your home's color palette while adding a touch of greenery and personalization.
To create a cozy and inviting atmosphere, hang these plant hangers near windows, in empty corners, or even in your outdoor space.
B. Knitted Poufs:
Create knitted poufs that serve as both seating and decorative accents. Choose a sturdy yarn and fill them with cushioning material to ensure durability and comfort. Knitted poufs add a cozy and inviting element to your living space while providing additional seating options. Please place them in your living room, bedroom, or reading nook to create a cozy, relaxing spot to unwind.
VI. Home Organization: Crochet and Knit Storage Solutions
A. Crocheted Baskets:
Add a touch of handmade charm to your storage solutions with crocheted baskets. These versatile containers can hold magazines, toys, towels, or other items that need to be organized. Choose different sizes and colors to create a cohesive and functional storage system throughout your home.
B. Knitted Organizer Pouches:
Keep small items neatly organized with knitted pouches. These pouches are perfect for holding keys, remote controls, or cosmetics. Experiment with different stitch patterns and yarns to create pouches that match your decor while adding a handmade charm to your organization routine.
Conclusion
Crafting with crochet and knitting lets you personalize your home decor and create a warm and inviting atmosphere. There are endless possibilities to explore, from crocheted blankets and pillows to decorative wall hangings and functional accessories.
By incorporating handmade elements into your living space, you infuse it with your creativity and add a sense of warmth and uniqueness.
Embrace the art of crochet and knitting in your homemaking journey, and enjoy creating personalized home decor that reflects your style and personality.
So, gather your yarn and needles or hooks, and let your imagination take flight as you embark on a crafty adventure in transforming your home into a haven of comfort and beauty.