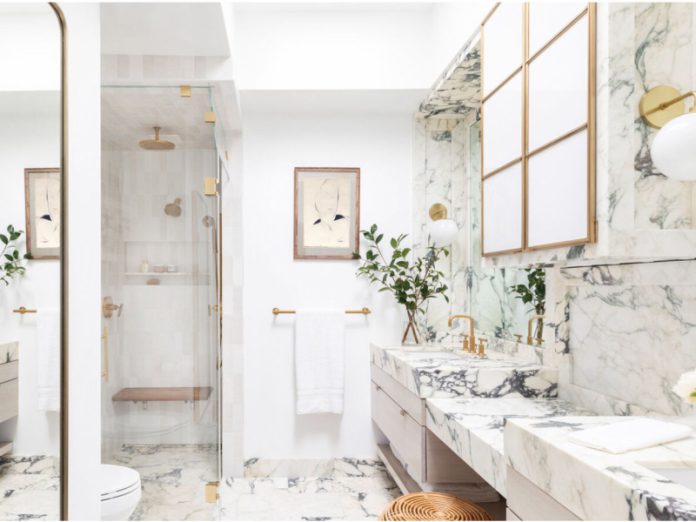 Homesfornh.com – The bathroom is an important room in every house. You will need this room to take a bath, wash your hand, and do private things. The design of a bathroom makes it more than a plain room to take a bath. In addition, an attractive bathroom design will also provide an enjoyable atmosphere for you. People nowadays like to redecorate the interior design of bathrooms. If you look for inspiration for your bathroom, then we 24 Fresh Bathroom Ideas: Give Your Bathroom A New Look. You can create a new look for your bathroom creatively and impressively. Moreover, you can choose and combine a variety of fresh bathroom ideas that we will discuss. For that, create a bathroom that is most comfortable and beautiful in the fresh concept below. Let's discuss!
Walk-In Shower Ideas with Natural Accents
Creating some natural accents in a bathroom is not easy. Some indoor plants can thrive in a bathroom with lower lights and ventilation. Therefore, pick some plants such as Sansevieria and vine plants to decorate the wall. Those plants will add a breath of fresh air for a natural nuance.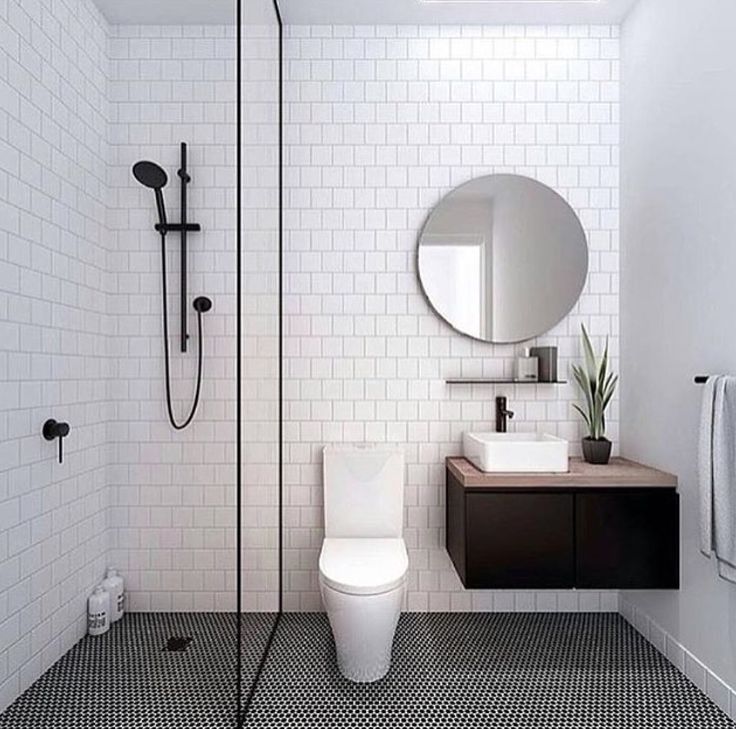 For the atmosphere, you can use a grey color. Choose the hexagonal tiles to beautify your bathroom's wall. Let the floor bare with the stone tiles. Moreover, add two lighter pieces of furniture for the sink and cabinet to save your toiletries.
1 of 24
Clean White Bathroom Ideas
Do you like a clean impression? The bathroom is a private room that needs to look clean and fresh. You can pick glossy materials for the bathroom's walls, especially for the shower room. Therefore, choose a fresh color such as green and white color.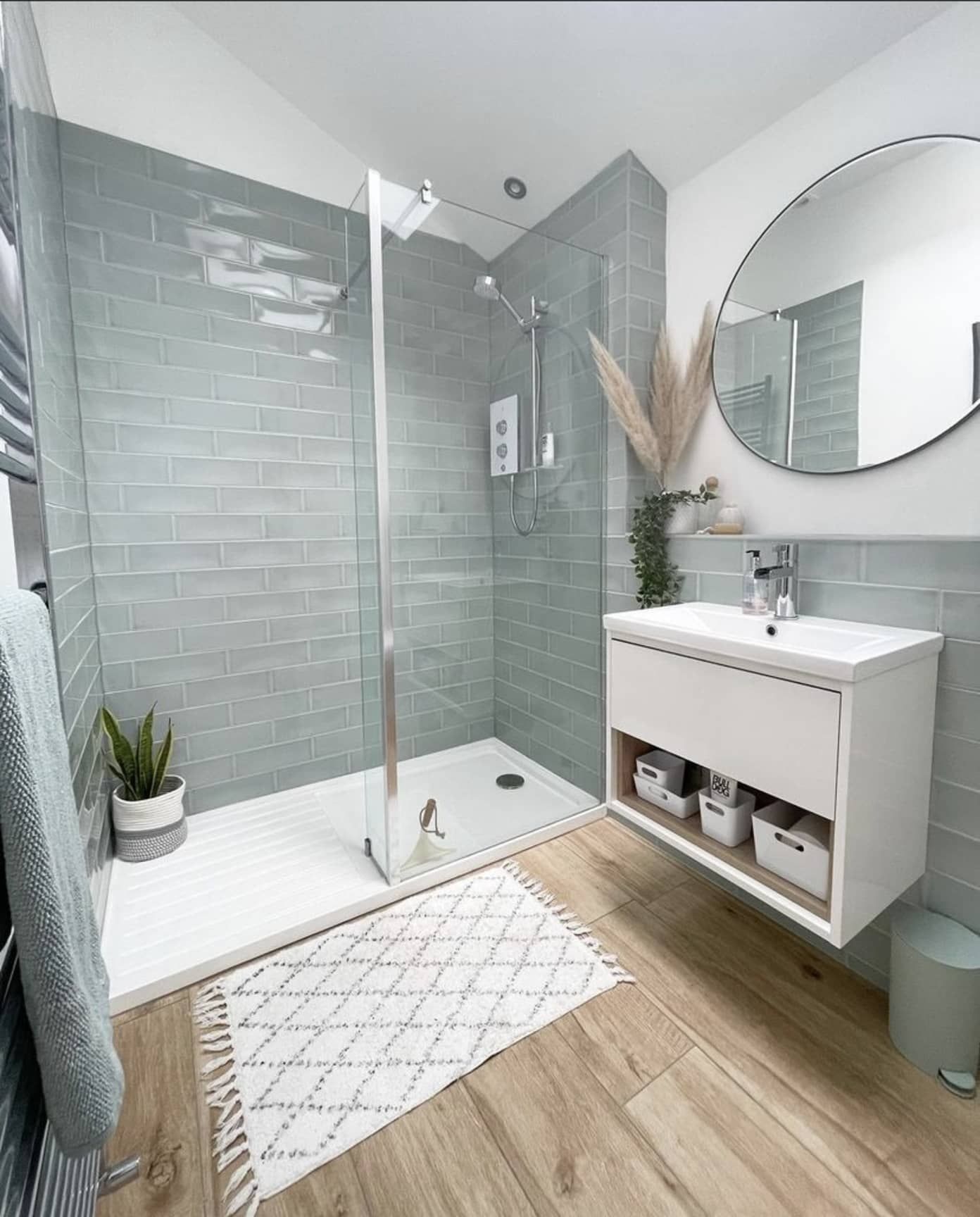 The furniture in the bathroom should adjust the theme and its color. Install a simple cabinet under the sink. Moreover, if you want to make it looks spacious, add one wall mirror over the sink. Besides, to make your bathroom looks sweet, put some small ornamental plants in the corner.
2 of 24
Create A Cheerful Impression for your Bathroom
Using light colors are attractive. You can pick a natural blue color to decorate your bathroom. Combine this design with abstract patterns on the wall.  The blue color looks catchy to mix with white accents.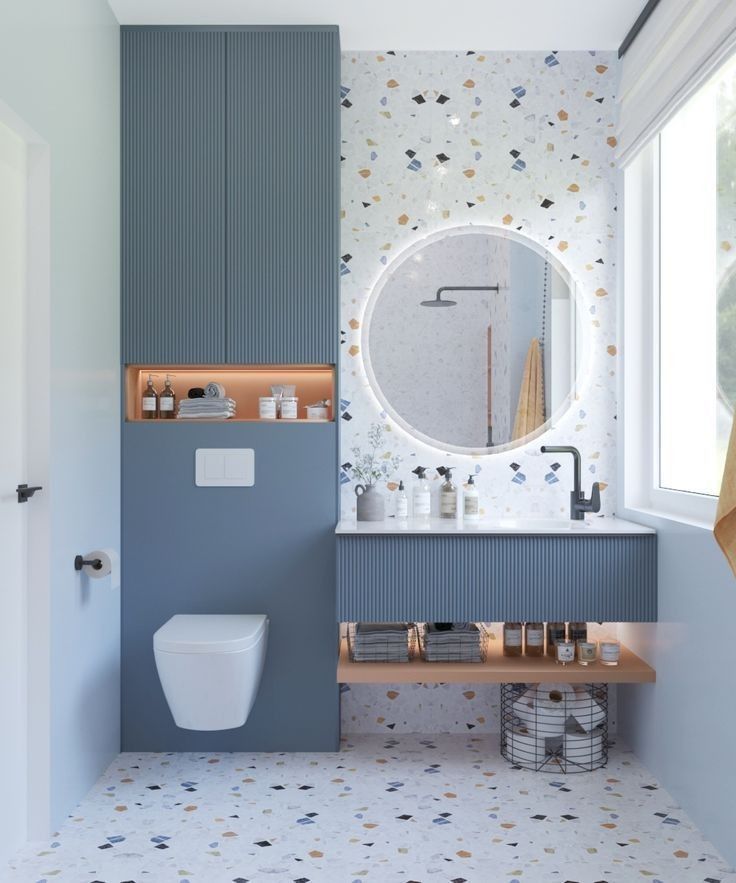 To emerge the dramatic effects, install a small lamp in the dark corner, such as the cabinet under your sink. The space behind the mirror wall will look attractive to have white lamps. Open the window to enlighten your bathroom. Also, you can arrange your toiletries in the cabinet to declutter your bathroom.
3 of 24
Glamour Bathroom with Herringbone Tiles
A glamour shinny bathroom gives you a stunning design.  This bathroom has three primary colors, such as white, light grey, and golden color. Pick the golden colors for your bathroom wall, next to the bathtub. The white wall can fit the other side.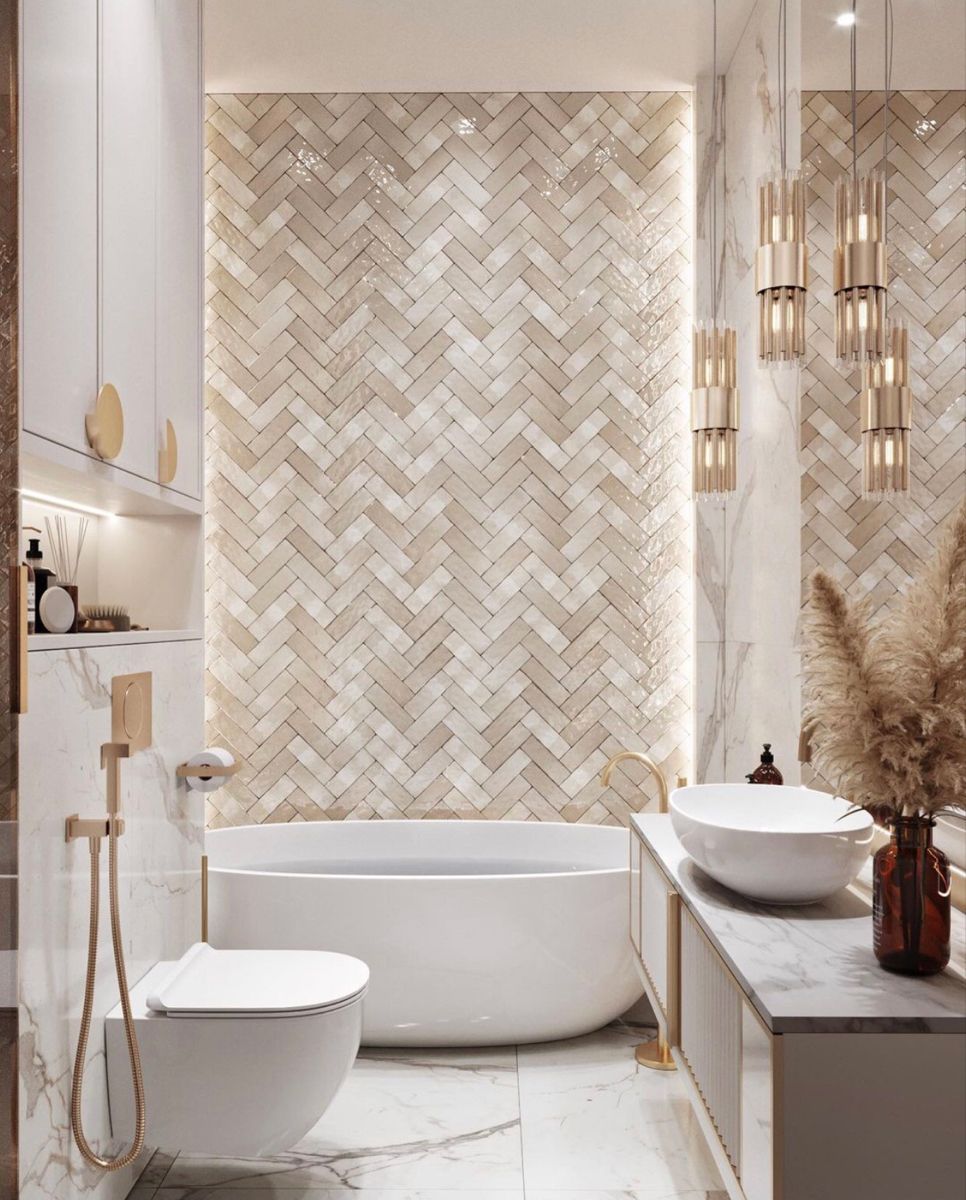 The furniture arrangement can adjust your bathroom's size. If you have a small bathroom, put a minimalist cabinet in white color. Besides, the small closet also fits this design. Moreover, add some golden accents for your bathroom's elements. Hang two bulbs to help you see the mirror perfectly.
4 of 24
Minimalist Bathroom with Ocean Color
The minimalist bathroom looks simple and stunning. In addition, you can apply this design to a small large bathroom. The neutral blue color has an ocean vibe that calms your mind. It brings the nuance of fresh water.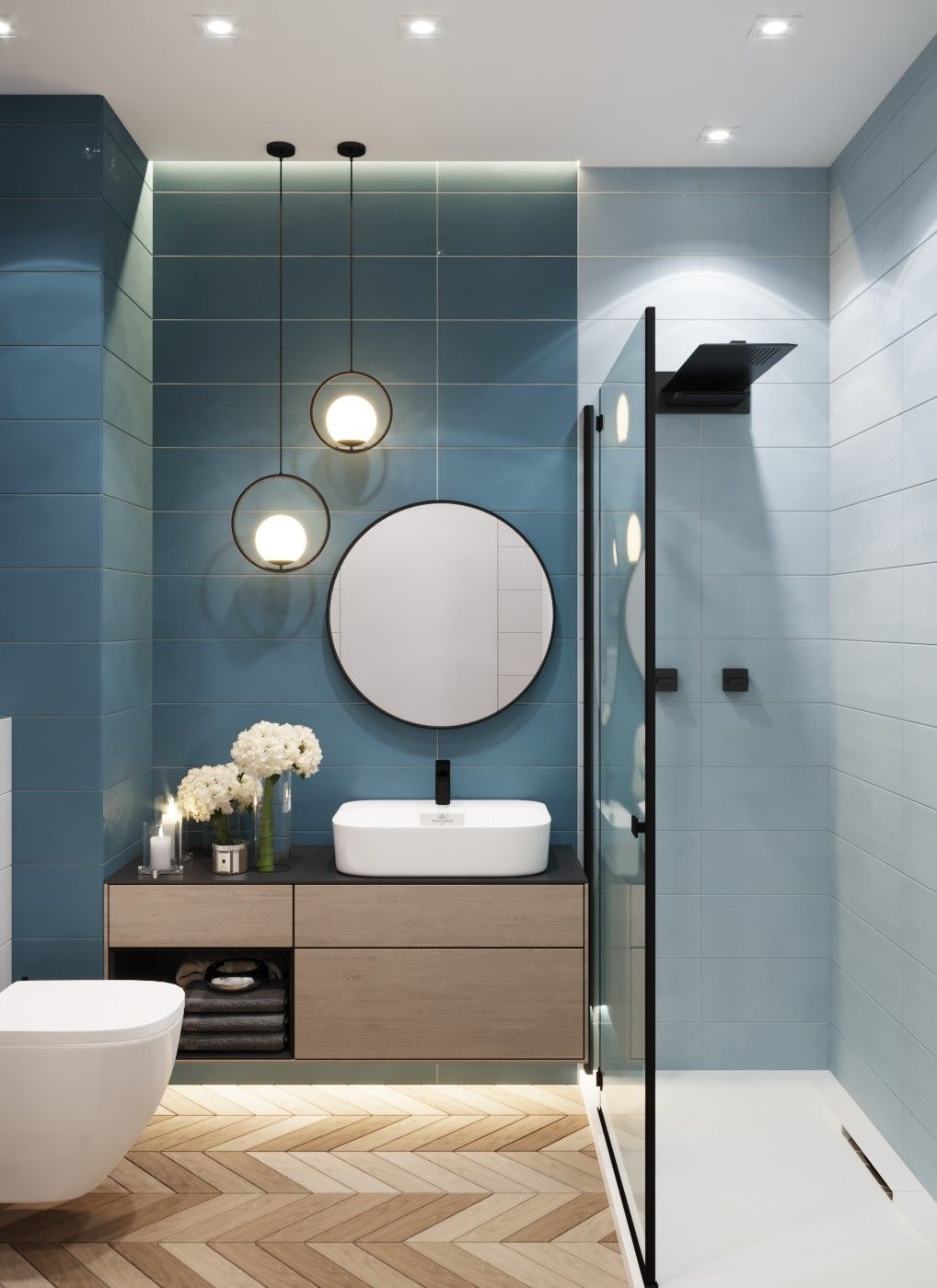 Besides, you can separate the tone color of Ocean blue by installing a partition for the shower room. Pick the darker blue color for the toilet room. Therefore, to bring more natural accents, redecorate the floor by installing brown tiles and a wooden cabinet. Put some flowers to sweeten the interior design.
5 of 24
Modern Black Bathroom for your Home
The modern style has an attractive nuance for home design. You can apply this design to your bathroom. Also, combine it with black nuance such as having more black accents. Install a semi-private partition to separate the bathtub and toilet.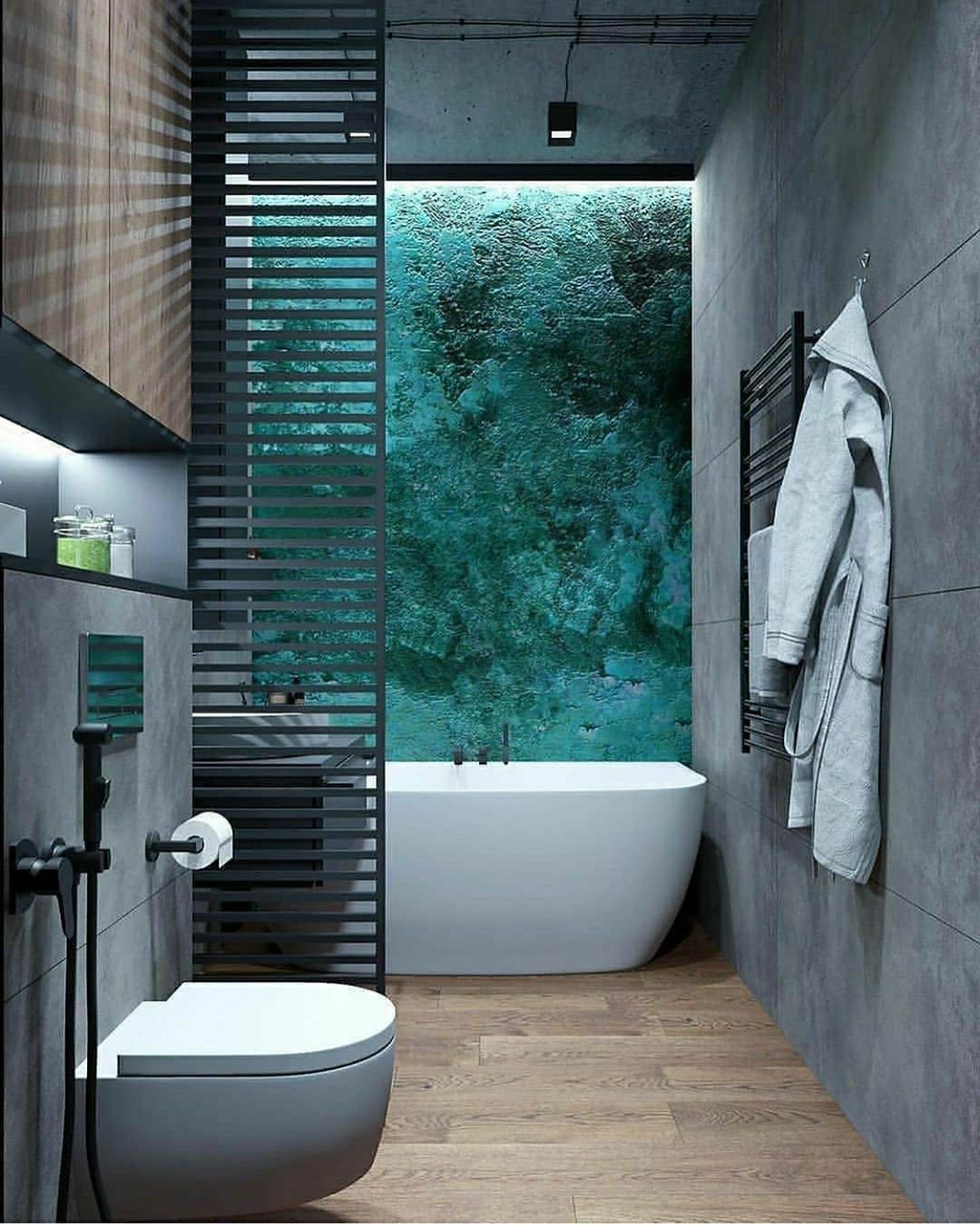 For the color choices, you can pick a dark grey color for the wall. It looks perfect if your bathroom has concrete textures. Also, it offers you an attractive effect by enlightening it with blue lights. Substitute your bathroom lamps with the small dim spotlights on the ceiling.
6 of 24
Bathroom Design with Bulb Chandelier
Do you like to add more lights in the bathroom? If you do, you can take the bulb chandelier in the center ceiling. Those bulbs are useful to light up your bathroom. Moreover, this chandelier is functional to reflect more lights on the white wall.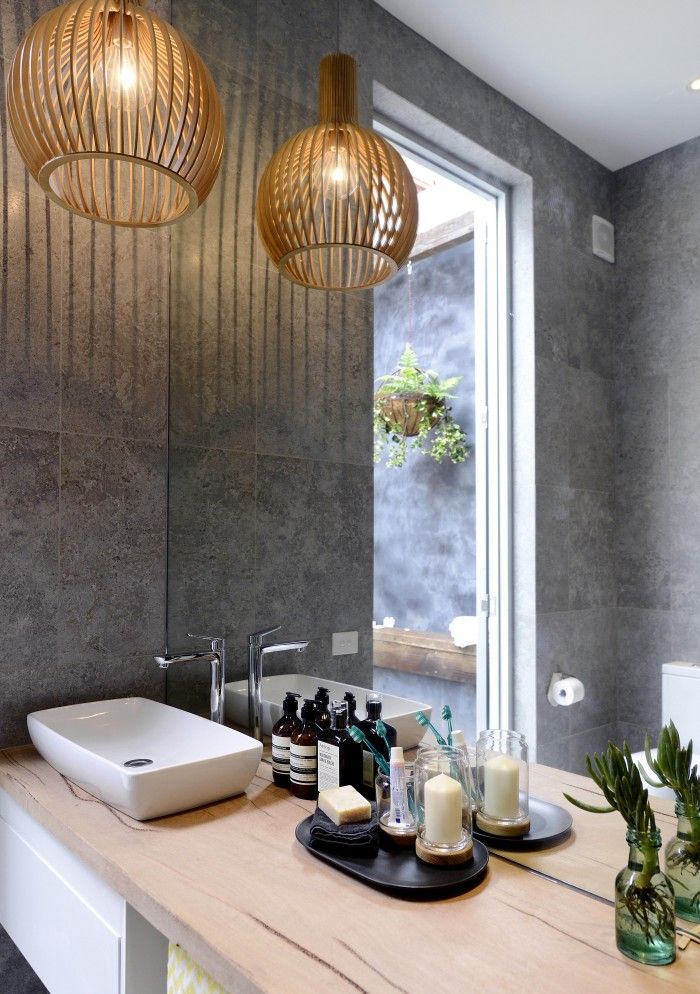 We know that white color always brings light and cleanness. Bring a spacious impression inside your bathroom through the combination of lights, white walls, and golden accents. However, to fix the boredom, add blue herringbone tiles in your shower room.
7 of 24
Natural Bathroom with Pothos and Scindapsus Plants
This bathroom design adapts the natural bathroom. Look at the color choices, it has a brown color, stone patterns, and earthy colors. The wooden accent is the small seat. This bathroom uses a golden shower to suit the earthy accents.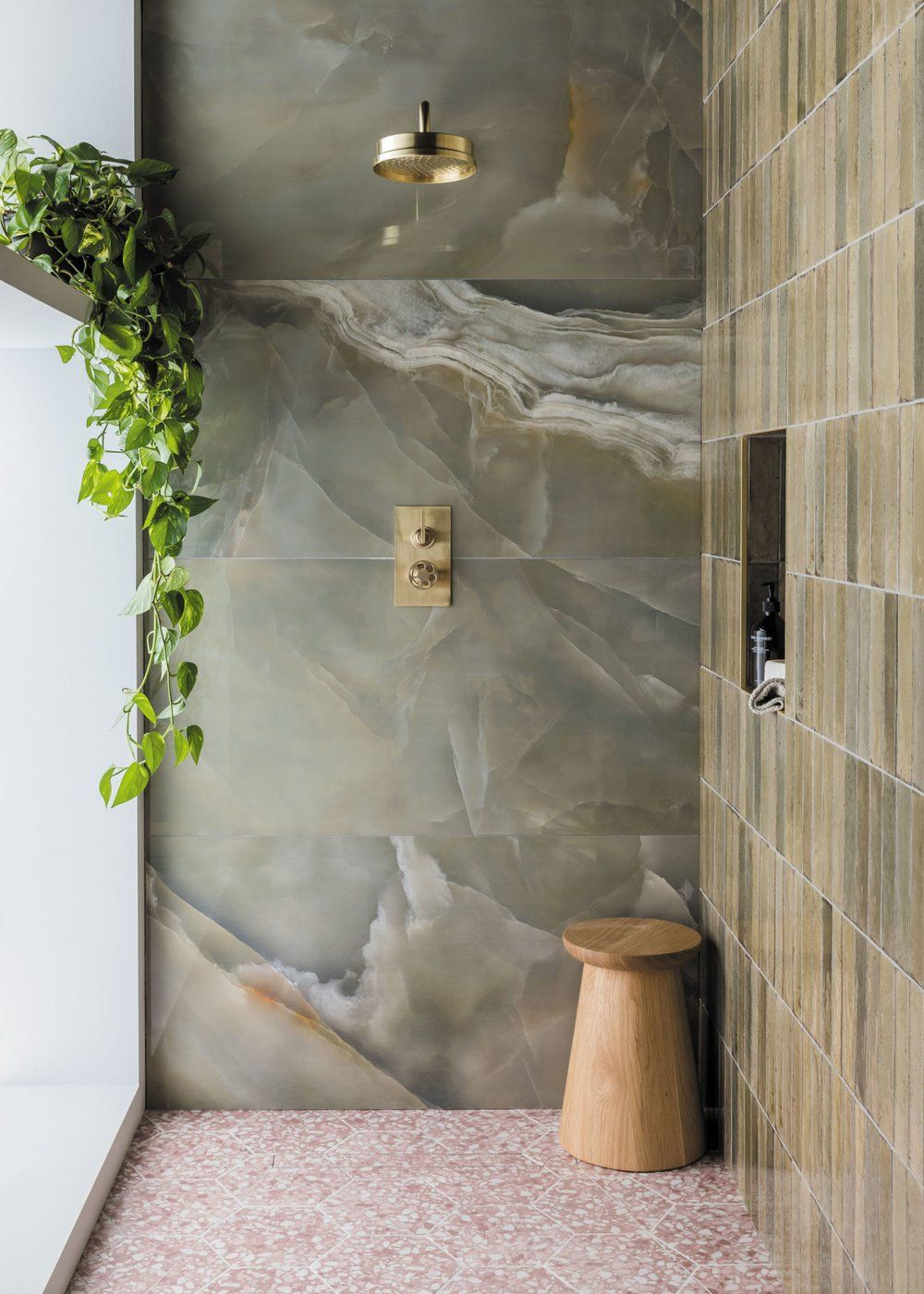 For the natural impression, you can thrive on Scindapsus plants. It is a vine plant that grows indoors. Another choice is Pothos, which adapts to low light and indirect sunlight. Those plants can decorate your natural bathroom perfectly.
8 of 24
Monochrome Bathroom
Are you a fan of monochrome design? This design is perfect for you who love to design monochrome. Pick the black hexagonal tiles for the bathroom floor. If you have a shower room, add more black tiles for the bathroom seat. However, if you prefer the bathtub, pick a grey bathtub.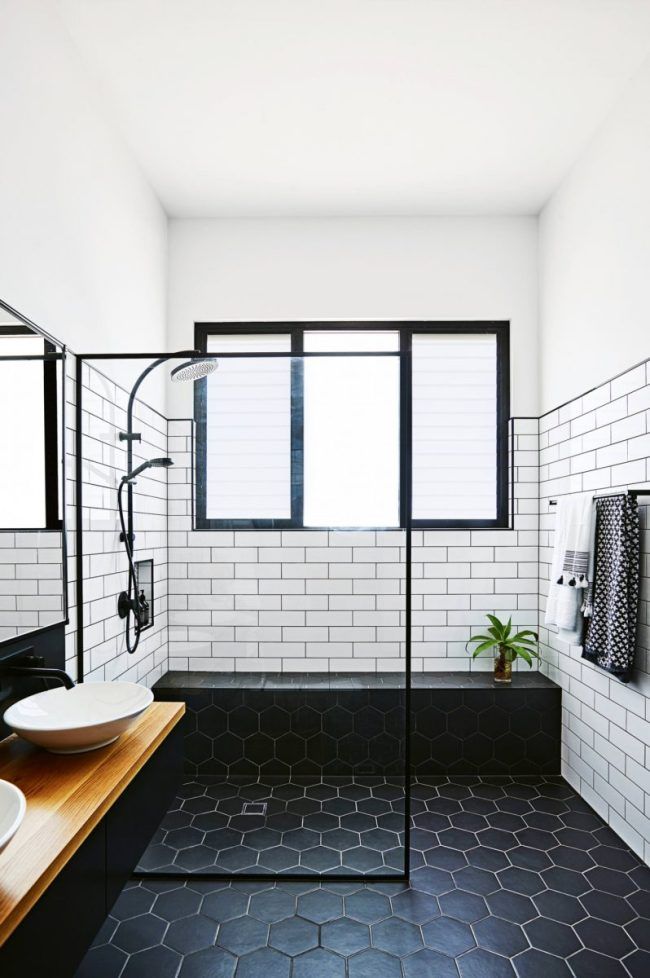 Do not ignore the white wall. Draw your white wall with some black accents. The window frames look catchy to have black colors. Also, add more monochrome accents by installing wallpaper with white-and-black brick patterns. Put your toiletries in monochrome colors to make them stunning.
9 of 24
Stylish Walk-In Shower with a Ladder
This bathroom design is interesting. You can adapt the concept of the semi-private bathroom by having an exposed or transparent ceiling. Thus, it brings the natural lights to brighten the atmosphere. Moreover, it helps your indoor ornamental plants to thrive well. You can make it more natural if you put a wooden ladder in the shower room.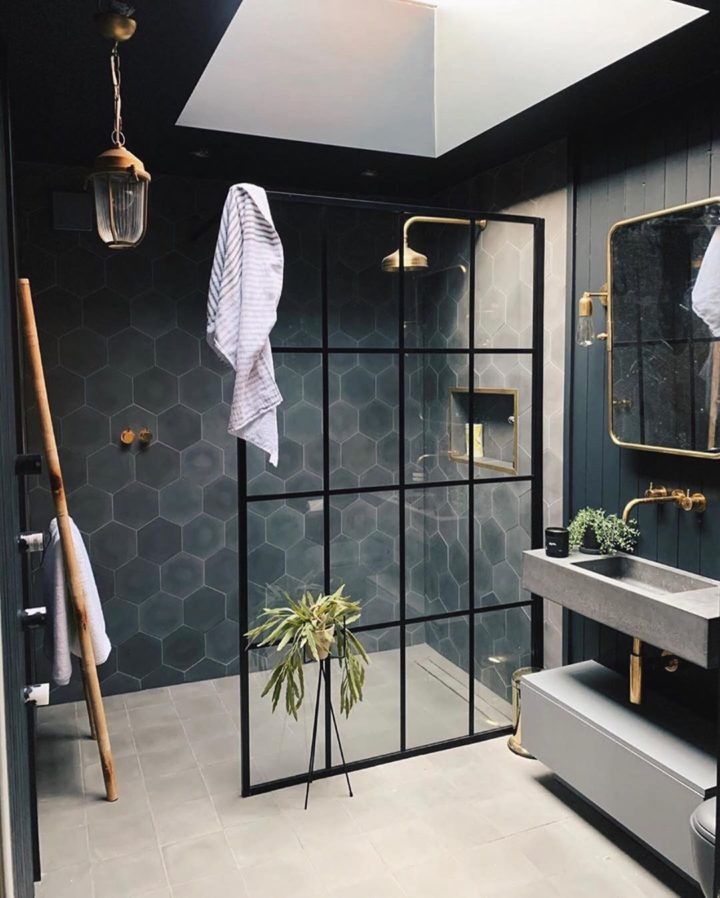 The ladder is an alternative for the hocks, then you can hang your towel. To make this design simple, make a small room for the toiletries in the shower room. Then, you can let the floor has stone tiles to enhance the natural impression. Adjust your design to add other accents to this bathroom.
10 of 24
Bathroom Design with Spring Vibes
The next bathroom idea is to expose lots of white accents. Therefore, you can apply the full color to your bathroom's wall. This bathroom has spring vibes. Add some accents for the black partition and black window.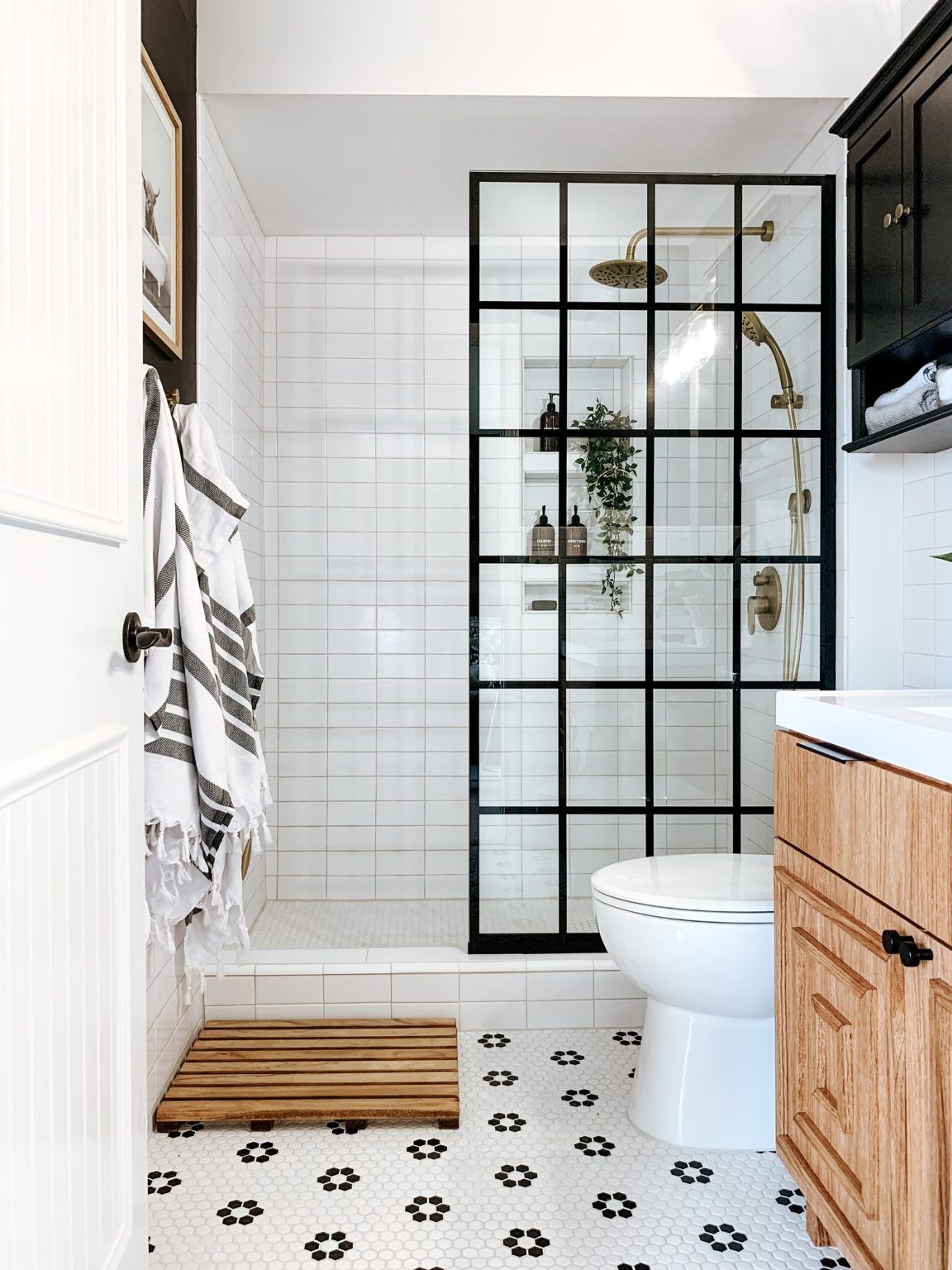 The furniture in this bathroom is plain, but you can make it catchy by the colors. Use light brown to strengthen the natural design. Add another wooden accent and a small ornamental plant. Also, if you do not have many spaces, install a floating cabinet to make use of the plain wall.
11 of 24
An Elegant Grey Bathroom
The grey color is always a success to bring a calm atmosphere. This color is vague but attractive enough to apply this color in your bathroom. You can separate the bathroom side by choosing different tone colors for the grey colors. Besides, if you need an attractive texture effect, pick the wall tiles with stone patterns.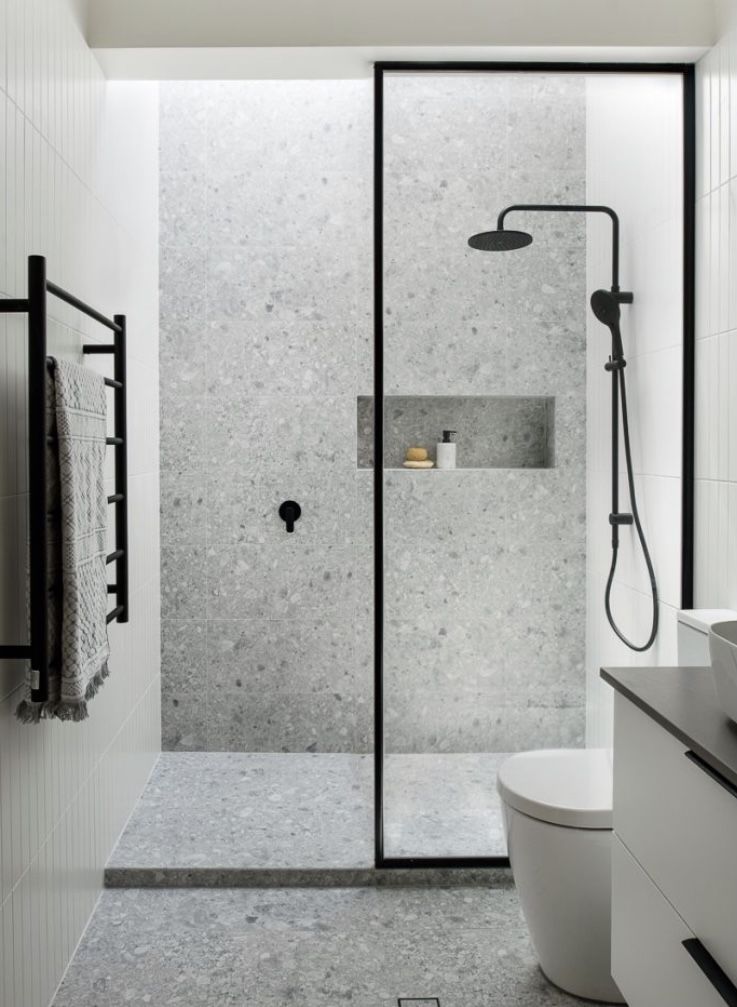 Moreover, you will make it looks minimalist if you declutter the toiletries in the cabinet. For the towel, install an industrial hanger on the wall. Make use of any space in this bathroom to get more useful items. If you want something to tie the look, put some black accents on the shower and partition frame.
12 of 24
Green Bathroom with Bohemian Accents
Bohemian accents always bring a good vibe with their unique and eccentric patterns. Pick a wicker basket with earthy color for your bathroom. You can put this item in the shower room or near the ladder. To make it on point, put an interesting ornament from dry grass in the basket.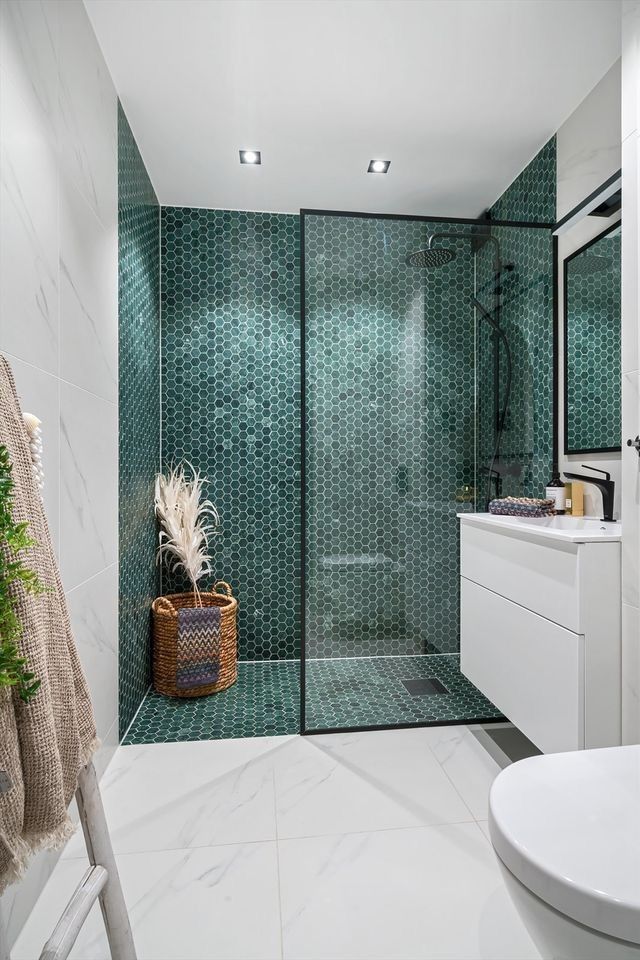 The green tiles in the shower room are stunning. You will feel the natural atmosphere in this bathroom. However, if you need something fresh, thrive on an indoor ornamental plant. Having more Bohemian accents in this bathroom is cool.
13 of 24
Stunning Bathroom with Marble Wall
The marble wall has an elegant impression. It brings a natural and fresh atmosphere to your bathroom. Pick the grey marble tiles for the wall. It offers you stone patterns. Moreover, the grey color will reflect the light in a dim nuance.
The furniture in this bathroom is plain and lots of white furniture will make it look spacious. If your bathroom is large, it can load more furniture. Moreover, you can thrive on more ornamental plants. Install some ceiling lamps to brighten your bathroom.
14 of 24
White Bathroom with Patterned Floor
You can decorate the white bathroom with any design. The floor is a nice object to decorate. Pick an interesting monochrome tile to color your floor. Thus, the white wall looks spacious if you have a window to provide natural lights.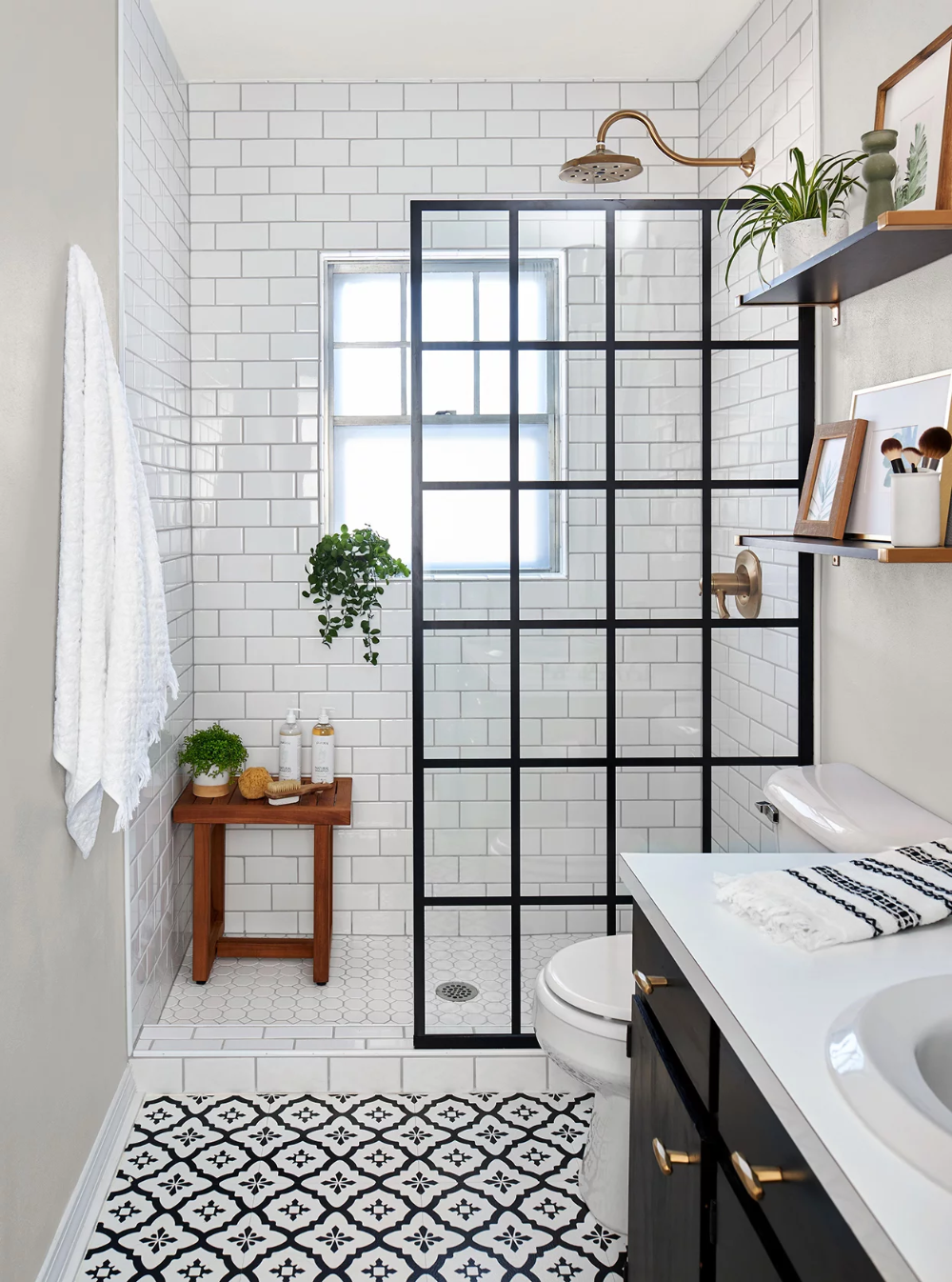 This bathroom looks stunning and neat, even if you have lots of furniture. Put a cabinet with black-and-white color. Therefore, arrange some items on the floating shelves to reduce boredom. Your plain wall can be a nice canvas to have some ornaments.
15 of 24
An Elegant Bathroom with Dramatic Light
The elegant bathroom looks mysterious in the dark theme. You can apply Industrial design and modern design to decorate your bathroom. Use the metal material on the wall, even you can install an exposed black pipe under the sink.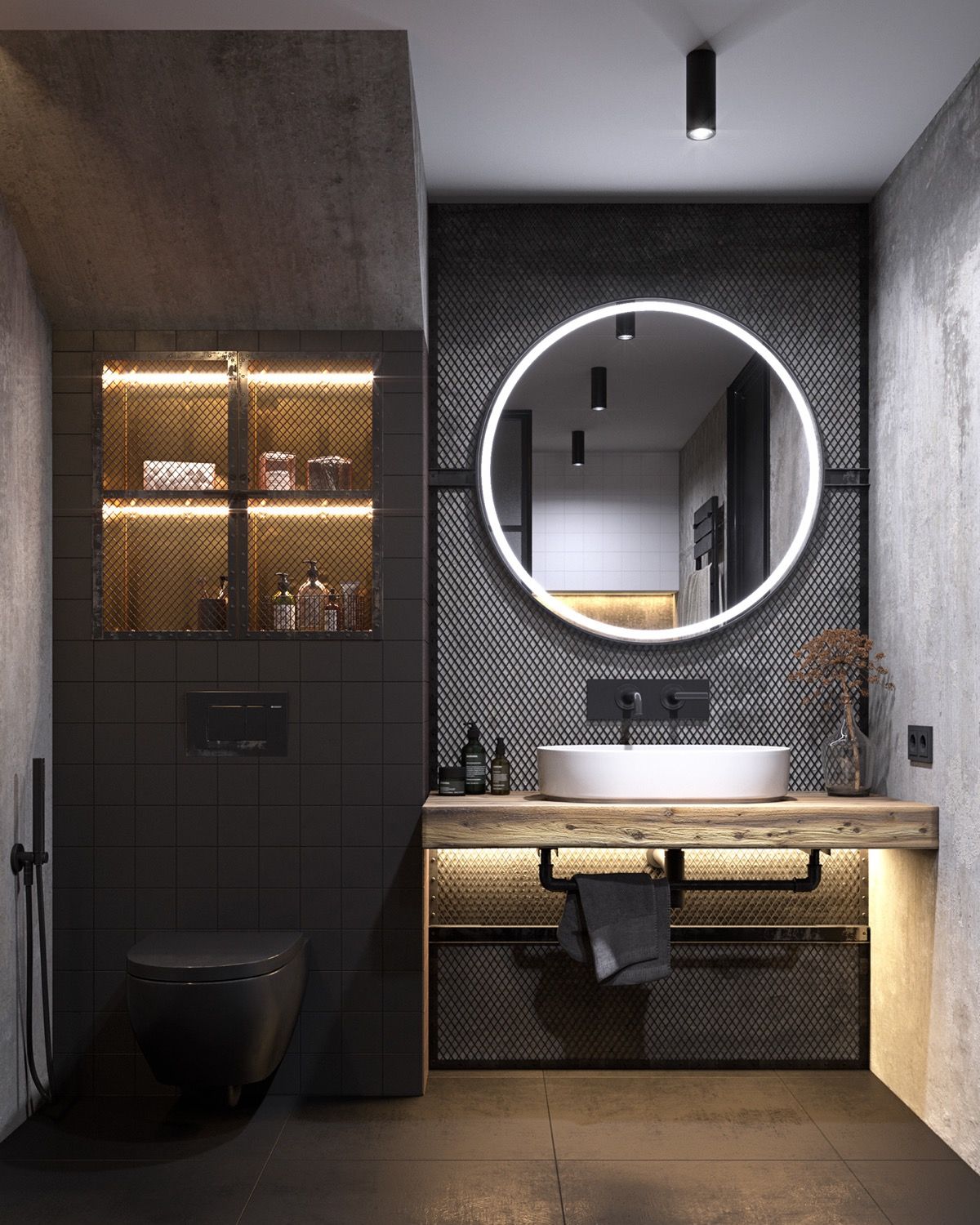 To create a dramatic nuance, install some dim lamps under the sink and in dark places. It helps you to enlighten some unseen spots. Make it perfect by adding more lamps to the ceiling. Therefore, choose the plain black spotlights for your elegant bathroom.
16 of 24
Plain White Bathroom for a Clean Impression
The white color has a neat impression if you want to use it in the bathroom. It brings a clean look to your bathroom. Moreover, you do not need to think about how to combine it with other colors and patterns. This bathroom doesn't need more items, it gives you an impression of simplicity.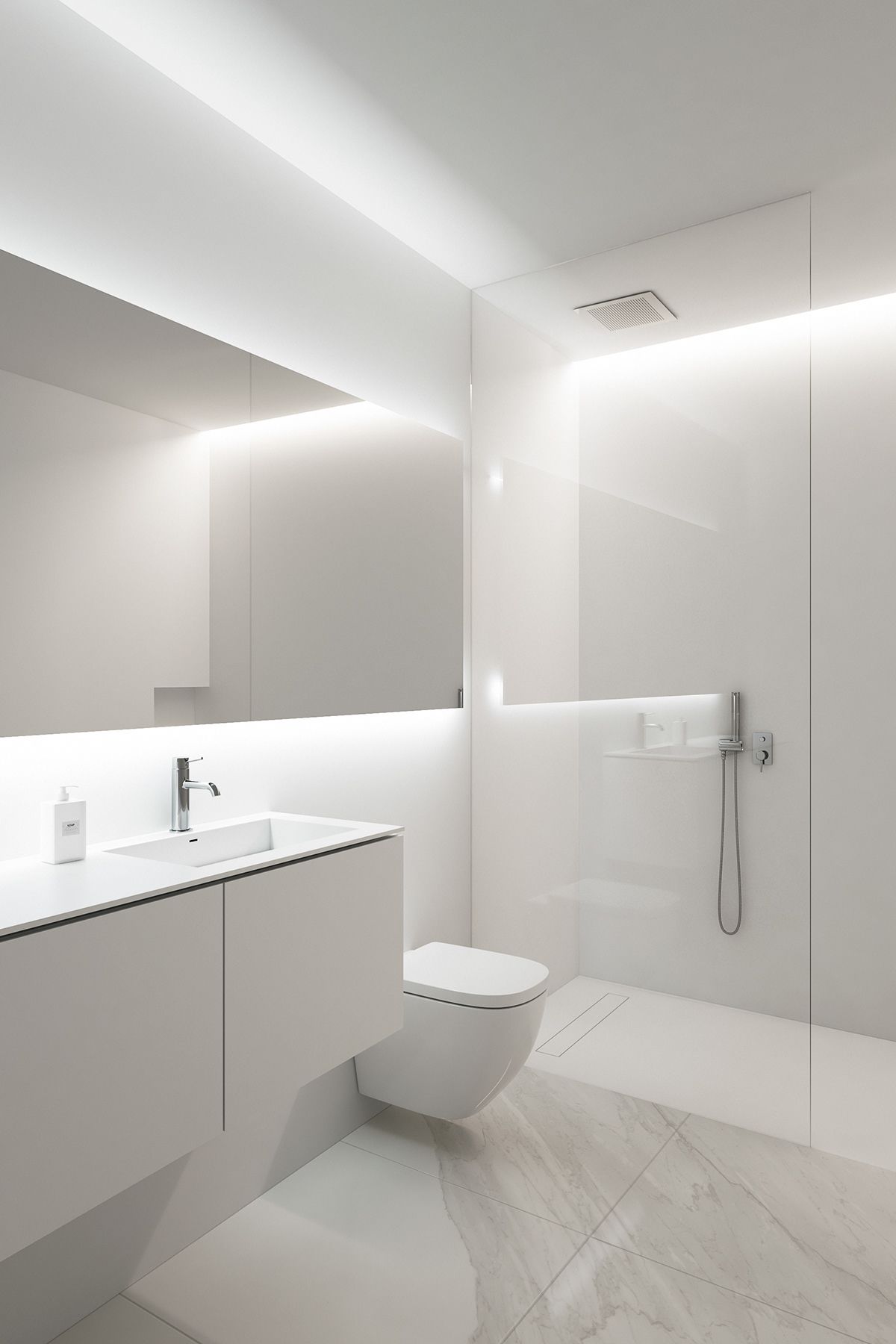 The furniture are are plain. It only has the things that you need the most. We can say this bathroom has a minimalist design. If you look closely, this bathroom has fewer patterns on the floor. It has faded stone colors.
17 of 24
Scandinavian Idea for Bathroom Interior
Scandinavian design has a neutral color to bring peace and calm nuance. In addition, this fresh bathroom idea has a Scandinavian vibe in the white color. It adds a more natural look and you can see it on the floor. Moreover, this idea makes the floor is grey as stone.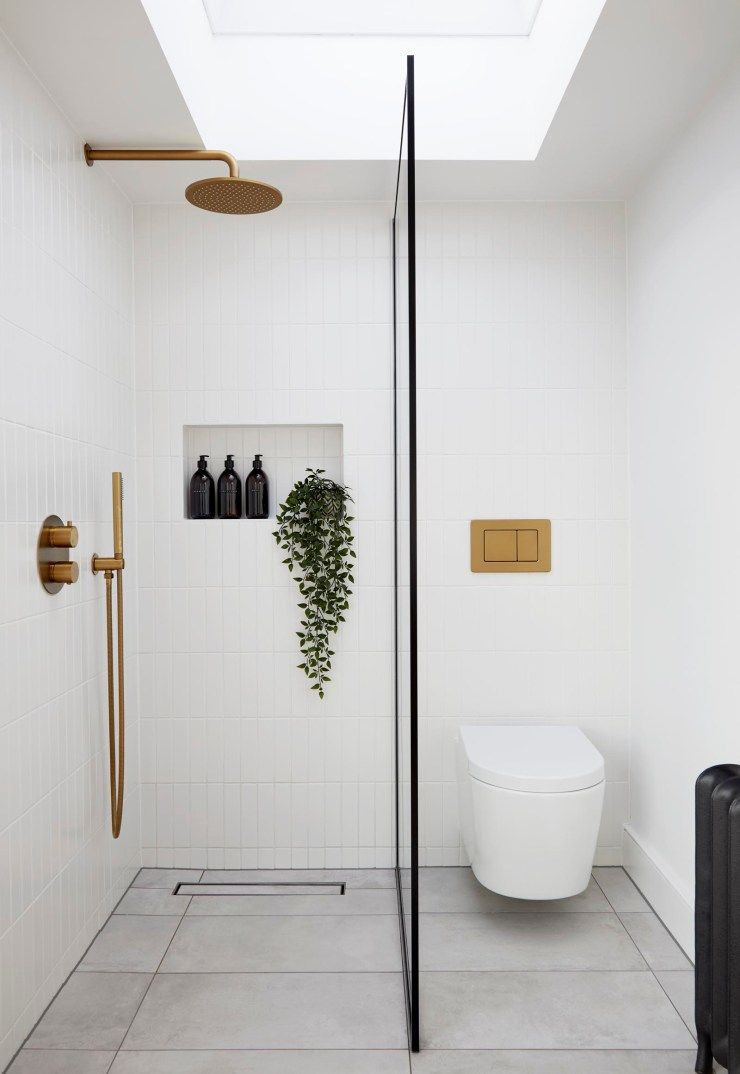 For the furniture arrangement, it has a plain design. Also, the bathroom has a partition to separate the shower room and the toilet. The only accents on the wall are toiletries, showers, and ornamental plants.
18 of 24
Bathroom with Elegant Gold Accent
The next fresh bathroom idea that you can follow is to create it in an elegant concept. Also, you can create an elegant concept in various ways according to your wishes. One easy way for you to follow in creating this idea is to use gold accents.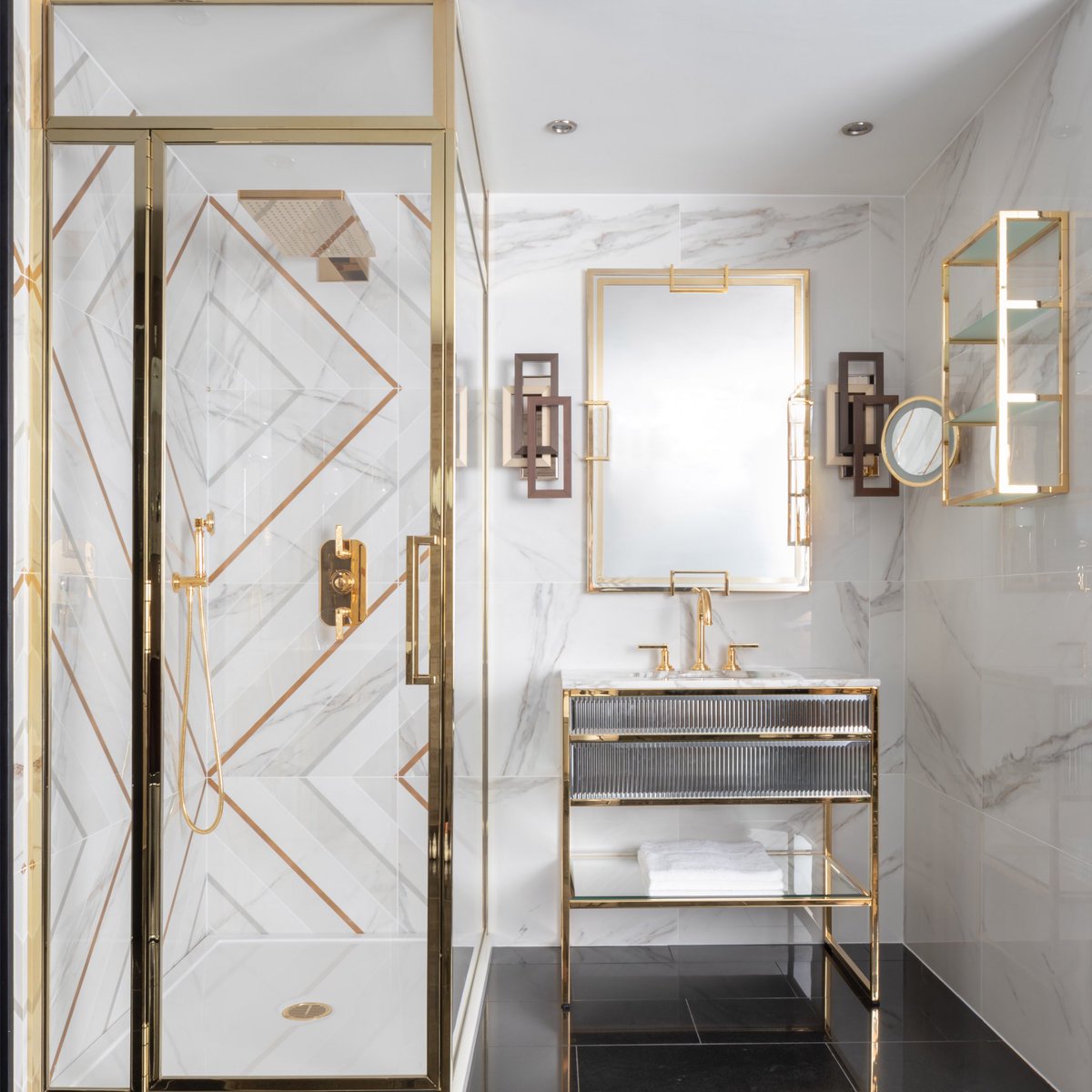 You can use gold accents for a variety of furniture, decorations, and accessories in your bathroom interior. By using this accent, you can give a refreshing new look to your bathroom interior. Moreover, you can also create an elegant and luxurious bathroom look in a simple concept.
19 of 24
Bathroom with Refreshing Natural Decoration
In addition to using elegant accents of gold, you can also use natural accents from ornamental plants. Ornamental plants are decorations that you can creatively create in your bathroom. With ornamental plants, you can create a beautiful appearance in a natural concept.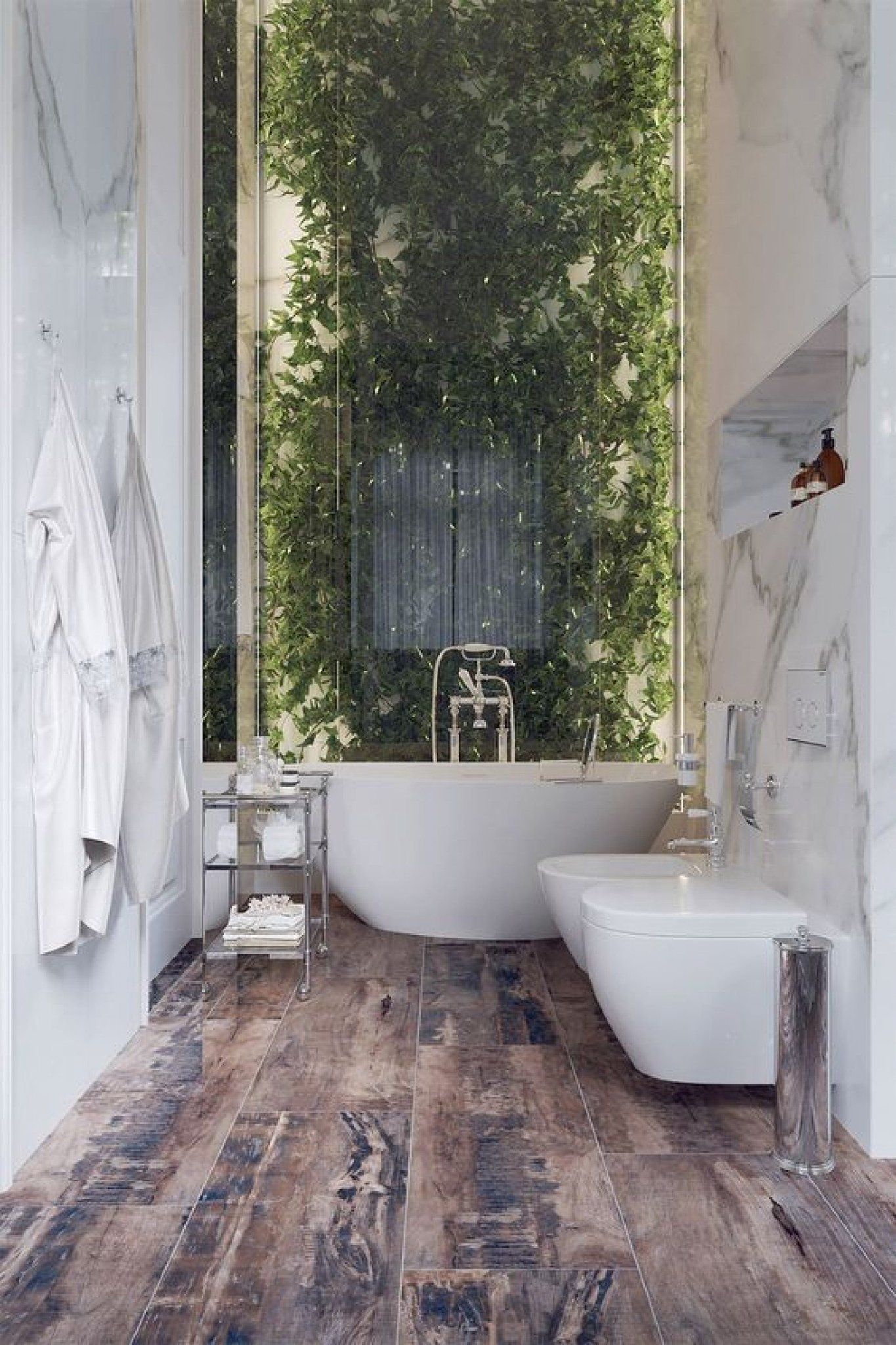 However, ornamental plants can also filter the air in the interior of your bathroom well. This will certainly add freshness to the interior of the bathroom you have. Moreover, you can also create the concept of ornamental plants that you want in your fresh bathroom interior. For example, you can create a simple concept with small plants to a festive concept in a mini garden concept.
20 of 24
Create a Skylight Roof for Natural Lighting
Another natural concept that you can use in creating a fresh bathroom is to create natural lighting. Lighting from natural sources will give you various advantages. For example, you can provide lighting throughout the day in the interior of your bathroom.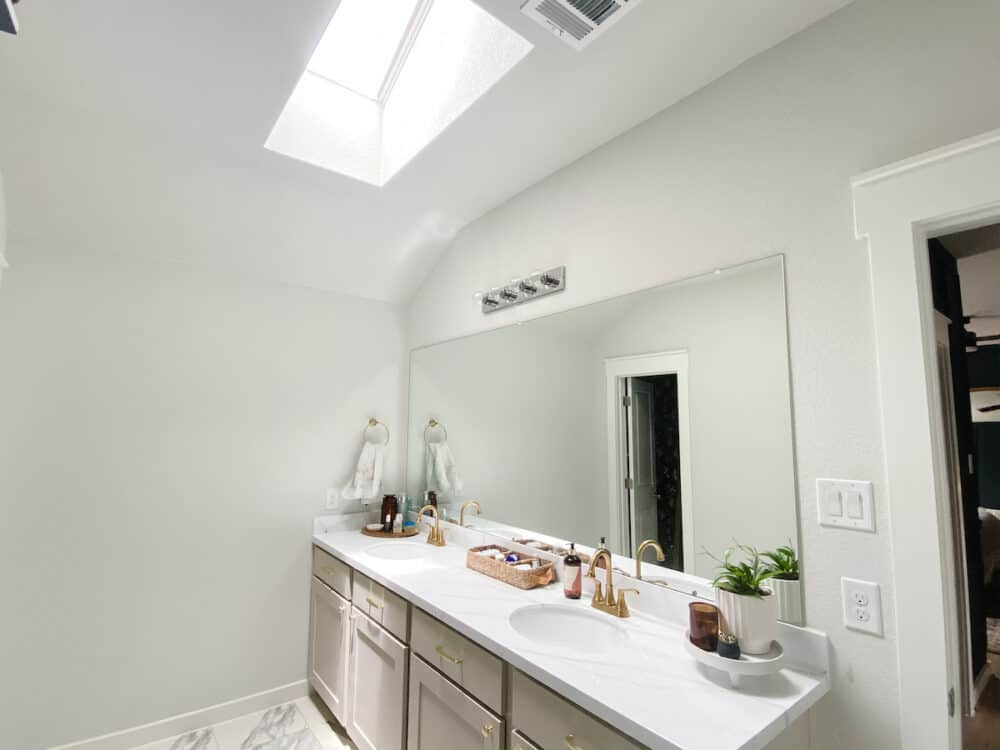 In addition, you can also save your electricity usage by using natural lighting sources. For that, one of the natural lightings that you can use is a skylight roof. Therefore, you can create skylight roofs in various designs, sizes, and concepts that you can adjust to your fresh bathroom layout.
21 of 24
Aesthetic Industrial Bathroom Style
Back to the discussion of bathroom interior styles that you can use, you can create an industrial style if you want an aesthetic look. However, industrial style takes inspiration from former buildings, factories, or ancient houses as the theme in your bathroom.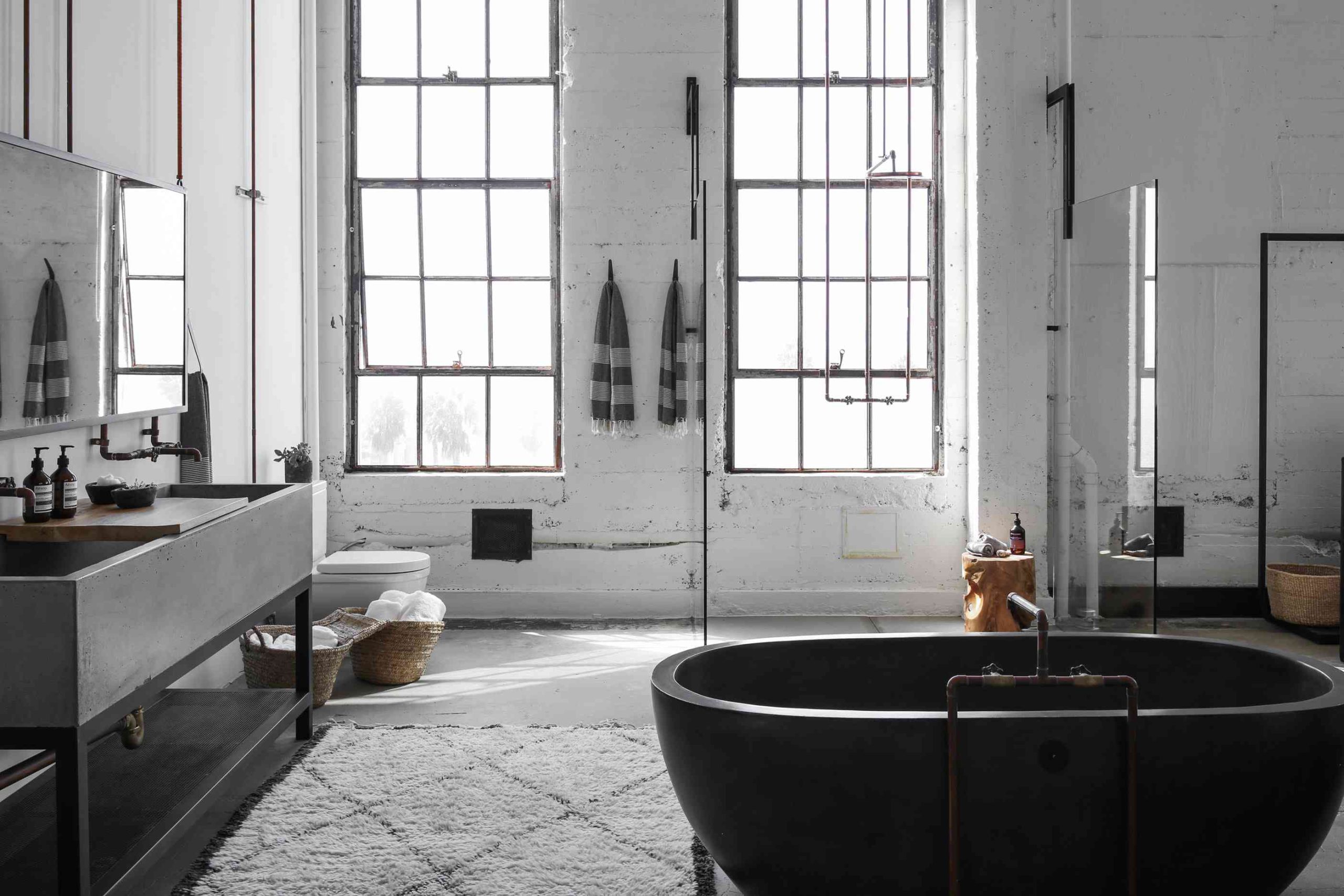 Therefore, you can create this idea by paying attention to the texture of your interior. In addition, the use of materials in the interior is also an important thing for you to pay attention to. For example, you can use concrete, iron, wood, and other materials with attractive textures. You can use these materials on furniture, decorations, and accessories in your bathroom.
22 of 24
Warm Rustic Bathroom Style
You can also create an interior look with textured accents by using a rustic bathroom style. The rustic interior style takes inspiration from farmhouses and traditional house concepts. Therefore, the main material used to create this style is wood.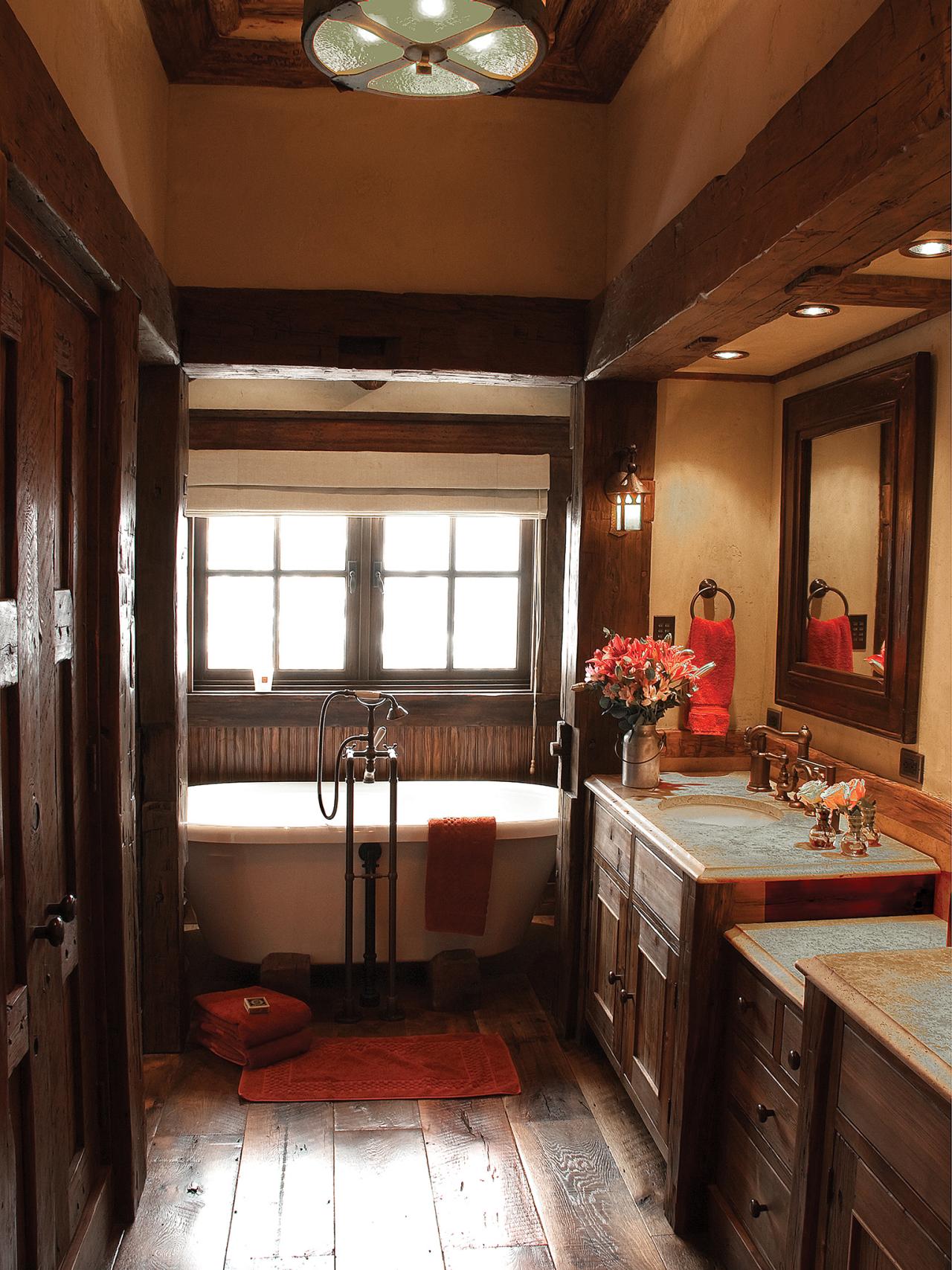 You can use this wood material for furniture, decorations, and accessories that you use in the bathroom. In addition, you can also determine the finishing of the wood material that suits your needs. You can use a fine finish to create a simple texture. Meanwhile, you can use a simple finishing to create a more stand-out textural accent.
23 of 24
Provide Space-Saving Multifunctional Furniture
The last idea we discuss in this article is to use multifunctional furniture to create a space-saving concept. A space-saving bathroom will certainly give you comfort in using it every day. Therefore, you need to pay close attention to the layout, design, and size of your bathroom.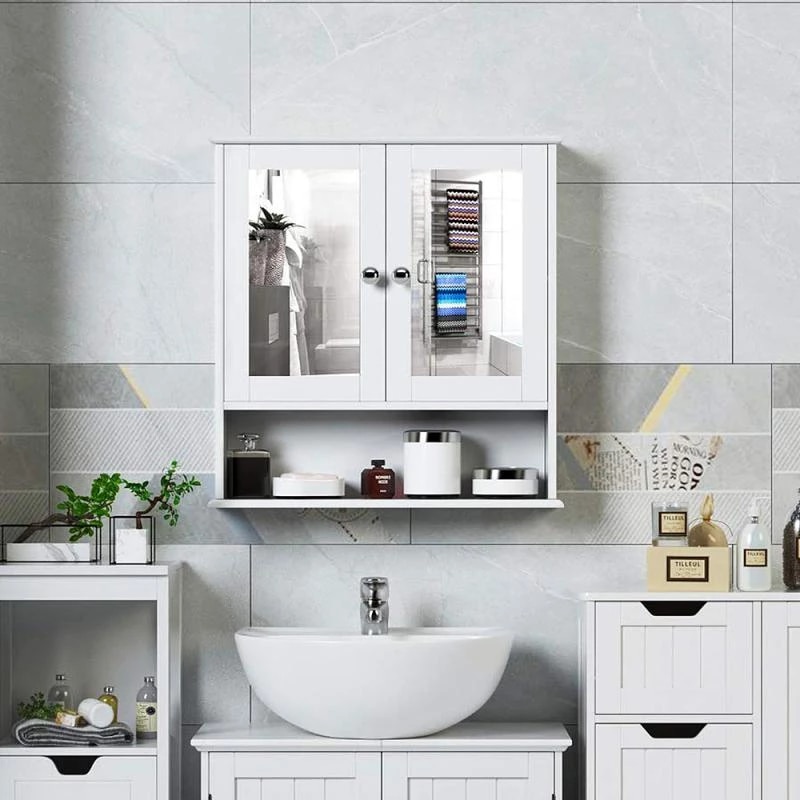 In addition, choosing a furniture design is also essential in creating a space-saving bathroom. For that, multifunctional furniture can be an option for you to use as part of your bathroom. Also, you can choose various types and designs of this multifunctional furniture according to your wishes and needs.
24 of 24
Thus our discussion of 24 Fresh Bathroom Ideas: Give Your Bathroom A New Look. With the various ideas that we have discussed, you can create a creative and impressive bathroom look. The best bathroom design is the right one that suits your favor. You may choose to let your bathroom looks plain, but it will give you a more good feeling through the attractive decoration. Try to pick one or modern ideas to apply in your bathroom. In addition, you can also combine a variety of fresh bathroom ideas that we have discussed according to your wishes. Thus, you can create the most beautiful and comfortable bathroom for yourself. We hope your bathroom will be stunning and comfortable. Happy decorating!