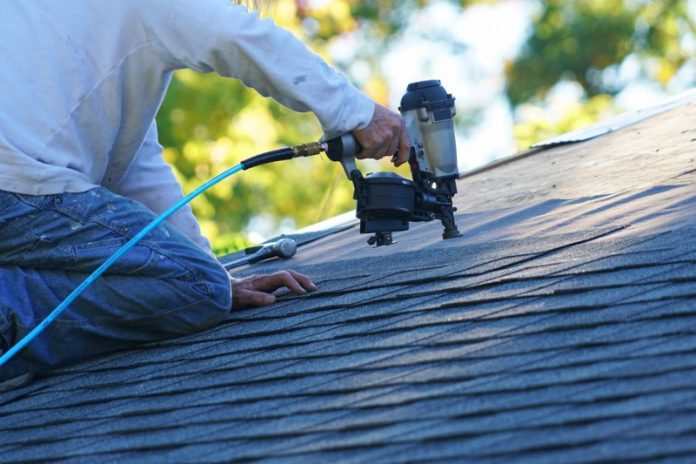 It is no secret that a roof protects the insides of your home from the elements. Besides that, it also adds to the overall value of the building it is covering. That said, taking care of your roof should be a top priority for any homeowner. With my experience in roofing, I learned how to take care of it properly, especially when it comes to maintenance. In this post, I will share 4 tips you should follow if you want your roof to last for years to come.
Clean Leaves Out
The best way to keep your roof in good condition is by cleaning out the gutters and downspouts in the fall and spring. Rain, snow, ice, and wind can deposit debris on your roof which clogs up the rain gutters. This can lead to serious damage if left unattended. Water buildup can cause unwanted leaks, mold, mildew, or water damage inside your attic or ceiling. A quick tip is to take water from a hose up onto the roof and spray into the gutter with a nozzle to loosen debris.
Be Careful Outdoors
When you're outdoors, be careful around your roof. If you have a lot of trees in the area, you'll need to keep an eye out for falling limbs and branches. Even if a branch is small enough to avoid causing real damage, it can still leave marks and scratches on your roof that will eventually lead to leaks. You should also be on the lookout for any leaves or dirt that may fall on the roof. A few leaves aren't a big deal, but if they're left alone, they can trap moisture and eventually lead to moss growth.
Look at Roofing Contractors
A roof is a very important part of your home. It protects you and your family from the outdoor elements and ensures that you have a safe home. While it is possible to do some basic maintenance on your own, it is always best to hire an experienced roofing company.
A good place to start is by checking with friends and family who have recently had work done on their homes. They can provide you with valuable information about the type of service they received and if they were happy with the final result. You might also be able to get recommendations for good contractors through your local building department or a local Better Business Bureau office.
Once you have a few names of reputable roofing companies in mind, make sure you check them out thoroughly before choosing one. If you are unsure of how to evaluate the companies, ask the people who referred you to them what they thought of their experience with the company. Make sure that they were happy with the job that was done and that they would recommend them again in the future.
When you find a contractor that meets all of these qualifications, schedule an appointment to meet with them face-to-face. During this meeting, ask questions about their experience and knowledge base so you can get a feel for how knowledgeable they are about the work.
ManitobaRoofers.com will help you find up to 4 Winnipeg roofing contractors for your next roofing job.
Don't Delay Roof Maintenance
Many homeowners who ignore their roof maintenance till the time it needs repairs, replacement or restoration. It is a good idea to have your roof inspected at least twice in a year, once after spring and again after fall. This will ensure that your roof is in good condition, especially during the harsh summer and winter months. If you postpone roof inspection and maintenance for too long, it can cost you more money and time later on.
While regular roof maintenance is important, don't assume that you have to be a pro before you can begin. For the most part, roof care is fairly straightforward, and there are some basic steps that everyone can take to keep their roof in top shape. Don't let your roof cause damage or become a financial burden; by following a few simple steps, you can take care of your roof yourself and ensure a long life for it.
And if the time has come to replace your roof, or get it fixed, ManitobaRoofers.com will help you easily find Winnipeg roofers.