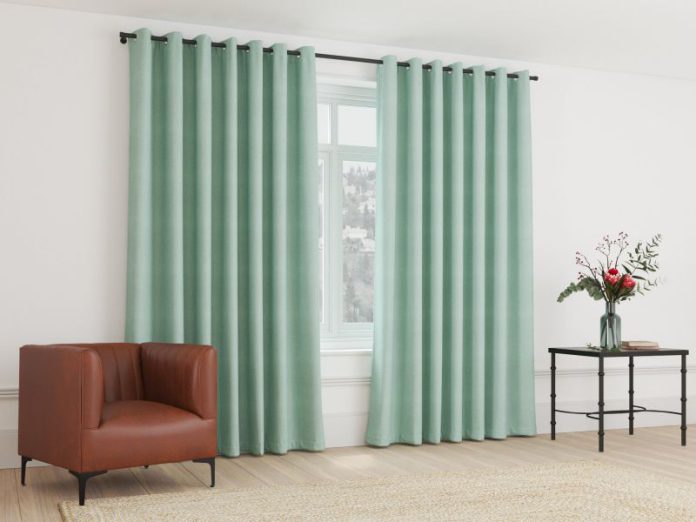 Ready-made curtains are a convenient, quick, and hassle-free solution for your bare windows. You can go to the store, buy them, and hang them on your windows right away. What's more, you can find ready-to-hang curtains in virtually any colour, design, material, and pattern.
This article will help you choose the perfect ready-made curtains for your home.
How to Choose the Size of Your Ready-Made Curtains
When shopping for ready-made curtains, there are two things you need to keep in mind – their width and drop. The trick is to find curtains that fit your window perfectly. They shouldn't be too short or too long.
You can start by measuring the width of your window or the curtain rod. Three standard widths are usually available: 112 cm (44 inches), 167 cm (66 inches) and 228 cm (90 inches).
Curtains should be twice the width of the window to give the traditional gathered effect. In a packet of 66-inch (or 168cm) wide curtains, you will find two curtains each measuring 66 inches. This gives 132 inches in total thus giving the required extra fabric for the gathered effect.
Now let's talk about the drop, which is basically the length or height. Most ready-made curtains are floor-length but are also available in other drops. The three most common drops are 137 cm (54 inches), 183 cm (72 inches) and 228 cm (90 inches).
Again, choosing the length should depend on your preference. For an elegant look, curtains will sit 1cm above the floor. If you have a radiator below the window and don't want to lose heat, the curtains should finish halfway between the windowsill and the radiator or hover just above the sill. Look for a retailer that offers a shortening service to get the length just right.
Advantages of Ready-Made Curtains
If you want curtains as soon as possible, ready-made curtains are the way to go. Their number one advantage is convenience. You can find ready-made curtains in décor retail stores, online shops, and stores that sell drapery. Since they come in different hanging styles, you can choose curtains that are compatible with your window rods.
Ready-to-hang curtains are typically more affordable than custom-made curtains. Still, their price depends on the brand, material, size, and quality.
What's also great about ready-made curtains is that they're available in a wide range of sizes, so you'll be able to find the right length for your windows. Similarly, you can find ready-made curtains in virtually any colour, pattern, print, and material.
You just need to figure out which works best for your home's interior design. You can do this by comparing a swatch of the curtain's colours and textures with the walls, floors, and furniture. It's up to you whether you want the curtains to complement the colour scheme or add contrast.
Types of Ready-Made Curtains
The two most popular styles of ready-made curtains are pencil pleats and eyelet-headed curtains. Pencil pleat-headed curtains are traditionally styled with gathering tape at the top including pockets for inserting hooks into. Pencil pleat-headed curtains can be hung from tracks or poles. Eyelet-headed curtains are hung by threading a curtain pole through the rings. They are easy and quick to hang.
You can also buy blackout-backed ready-made curtains. These curtains also have thermal qualities, keeping the heat inside in Winter and helping to avoid overheating in Summer. They are a similar weight to standard lined curtains but have a white or cream coating that fills the fine holes in the weave of standard living preventing warm air from escaping.
Blackout curtains also stop light from entering through the weave making rooms darker and stopping early sunrises from waking you. This makes them ideal for bedrooms.
Complete Your Windows With Ready-Made Curtains
You may think that curtains don't play an important role in styling your home. On the contrary, adding curtains to your windows can make the room look so much better and give the space a finishing touch. To make your decoration efforts straightforward, you can find ready-made curtains for any space. Not only are ready-made curtains convenient and hassle-free, but they also allow you to shop within your budget.