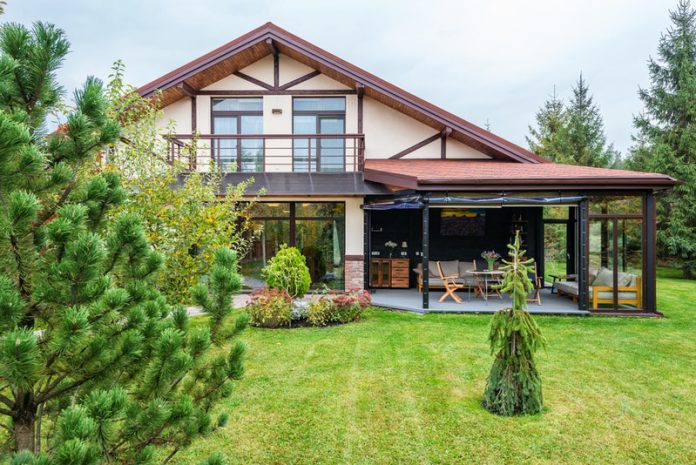 A significant number of homeowners still like a nice flat backyard. It's because of the landscaping challenges that come with owning a sloping backyard and the soil erosion likely to occur.
Can you landscape a sloping backyard? Yes, there are many ideas one can apply when landscaping a sloping backyard. Most people think landscaping a sloped backyard means levelling it. However, it's possible yet costly. Therefore, this article addresses landscaping ideas you can utilize while undertaking a project in your sloping backyard at reasonable costs.
7 Landscaping Ideas for Sloped Backyards –
1. Make a stairway and pathways
One of the easiest ways to explore your property from the house down a sloped backyard is by making a stairway. They serve both a functional and decorative purpose in your backyard.
There are several stairs steps designs you can adopt. Also, there are alternative materials you can use for building. They include wood materials (such as landscape timbers, railroad ties, etc.) and masonry materials (such as concrete blocks, bricks, stones, etc.).
Among the common stairways ideas for a sloped backyard include:
A giant stone slabs staircase
Square-cut rough flagstone
Raised wooden stairs
Stones with mortar stairs
River stones with concrete beams
Large flagstone slabs
Formed concrete staircase
A stairway is something you cannot ignore when you have a landscaping project on a sloped yard. You can also enhance it with flowers or plants along the sides.
2. Consider breaking out tiers
One of the challenges you're likely to experience in a sloped backyard is soil erosion. Also, the steepness can be frustrating. The ultimate solution to such problems is building several tiers in your hilly backyard.
What are the benefits of a tiered backyard? First, they enhance the aesthetics of your home. Second, tiers minimize soil erosion and poor water drainage. Lastly, they turn your backyard into usable spaces, where you can plant shrubs, grass, and flowers.
After building your tiers, you may add a tiered patio on the middle tier of your backyard. No doubt, a tiered backyard with a stairway and enhanced with a patio will look great. It will also improve practicality.
3. Level your backyard
Are you thinking of more workable space in your sloping backyard? Levelling is your solution. It could address other issues such as soil erosion and flooding.
All you have to do is obtain the necessary permits and permission from your local authority to do the levelling. Get multiple landscaper quotes. Then hire a professional landscaper for the task.
Depending on the size of your backyard, levelling can be expensive. Therefore, only consider it if a yard is extremely sloped.
Levelling creates more space where you can set up a fireplace, patio, a kid's playing area, or anything you want in your backyard.
4. Construct a retaining wall
After levelling your backyard, you need sturdy retaining walls. They are also significant when building tiers and prevent soil erosion in your yard. Additionally, retaining walls are used to define the borders between your playing areas and garden areas in your backyard.
You can build retaining walls of different materials such as concrete, timber, blocks, or bricks.
Among the ideas you can implement along retaining walls on a backyard include:
Creating an island flower bed
Create raised garden beds
Build a sitting wall (for short walls only)
Set up a raised patio area
So, how much does a landscaper cost? The charges of landscapers differ depending on the job and its complexity. However, the average cost is about $50 per hour.
5. Create a rock garden
Are you looking forward to enhancing your backyard's appearance and still prevent soil erosion? A rock garden might be a viable choice. What is a rock garden anyway? It's a section of your backyard decorated with natural stones and rocks arranged in a particular pattern. Also, in between the patterns, there are small plants. Such plants include blue fescue, coral bells, Euphorbia, Alyssum, thrift, etc.
Rock gardens also create a natural framework for water features such as waterfalls and ponds within your backyard. Additionally, if you're a homeowner who is into meditation, this kind of garden would be of significance.
Depending on your preference, rock gardens take many forms/styles, such as Japanese Zen rock gardens, English rock gardens, American rock gardens, Alpine gardens, etc. Also, you can create a rock garden with a pond landscape or one landscaped with boulders.
6. Plant herbs
Shrubs, perennial plants, trees, and flowers are great in a sloping backyard. However, you still have plant fruits, herbs, and vegetables for your home use in some sections of your backyard. Some of the best places for such ideas are on the tiered pieces and raised garden beds on a slightly hilly backyard.
It's an effective way of utilizing idle sections of your yard. Additionally, it can save you some money you spend in your local grocery store.
7. Lighting
One of the significant landscaping ideas you should not ignore is lighting. Both artificial and natural lights are pretty essential in a backyard.
First, ensure your stairway or pathways are well lit with lights to prevent tripping, especially at night. Also, your patio space needs lighting so that you can keep enjoying the outdoors after ducking.
Lastly, enough lighting, especially at night, protects your property from unseen threats.
You can implement various lighting ideas such as string lighting, outdoor wall lighting, deck lighting, spotlighting, lanterns, and security lighting.
There are endless ideas you can apply in your landscaping project, even when your backyard is sloped. The above ideas will significantly transform your sloping backyard into a place you can enjoy. Some of them are easy to DIY, while others require hiring a professional landscaper to do the task.