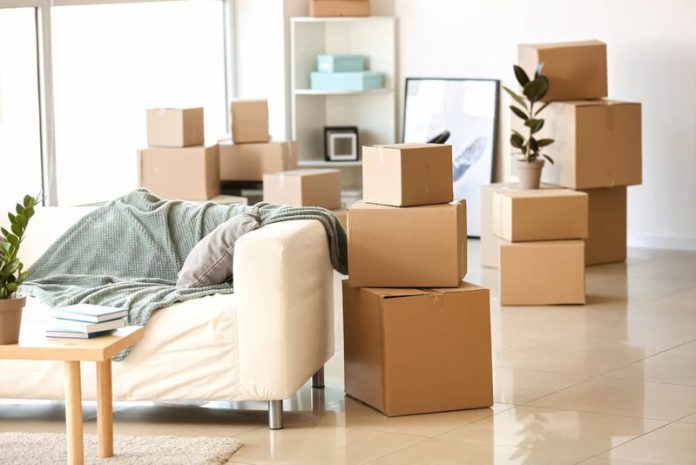 Imagine finally getting a promotion in a field where you do what you love to do every day. The pay is good, working hours are reasonable, you have time for family and relaxation. There's only one catch, you'll have to move near the company headquarters in another state and you'll have to move your entire household. Can you just pack up and go? How do you bring crates of well-curated furniture and well-loved knick knacks?
First things first, hire a reputable moving company and hope it is also a reliable moving company. Interstate moving can be as stressful as international moving depending on the moving crew you hire. Corporate moves are especially hard not just because of business continuity concerns and client expectations but also because you will have to consider every member of the company. While it is always advisable to go for properly licensed professional movers, sometimes, the budget is limited. Moving services can be pricey and for a good reason at that. If you want to save money and have a cost-effective move, you have to be strategic and wise. You can look for "moving companies near me" online to start your search for the best moving company that can provide your relocation needs.
How do you know if a moving company is good?
It can be hard to find a professional mover or a moving company you can trust while keeping costs manageable. You have to be thorough in your research. You have to ask around for recommendations from friends, family and even colleagues. Leave no stone unturned. Vary the keywords you input in your search engine for better results. You will want to have a big picture view of how your relocation journey will pan out before you tackle the details.
How much more when you need an international moving company? Foreign exchange rates change daily, and cultural nuances can be quite tricky. Another complication would be the language barrier if you are moving to a non-English speaking country.
If you are planning on an international relocation it may be the best option to touch base with someone who has done it before. If your company has headquarters in the country you will be moving to, their assistance is important. Presumably, they already have local contacts they have worked with in the past and people they can trust to deliver the quality service required. They will also be familiar with timelines and timing-related concerns and can give you invaluable tips on when is the best time to start your relocation, delays you may encounter, permits and clearances you may need to secure and other factors that can affect your move.
Aside from thorough research and asking for recommendations from other people, the following steps can also help you assess whether the moving company you are planning to hire are reputable companies:
Ask for the company's training and experience
There is no substitute for real-life, on-the-job experience. If a company has been in the business of relocation for years, the expectation is that they have mastered the process or at least, they have encountered a lot of situations that enabled them to identify tried and tested efficient ways to go about it. They may even have a solid contingency plan for when things take a turn for the unexpected or for when emergencies happen.
Research their ratings and reviews
Nowadays, almost everything is available on the internet. With just a few keywords, you can find out past reviews about the moving company you are considering to hire. While it is not a fool-proof guarantee if the company only has positive reviews available, it can still help you sift through which actually deliver good service. You can also learn invaluable insights and tips from past customer experience.
Word of mouth can be a starting place to base your evaluation on especially if this is your first time hiring a moving service. You can also check if the moving company has an accreditation from credible institutions in the moving, logistics and relocation industry. This can save you a lot of times especially for long distance moves.
Read the fine print and put everything on paper
Once you have decided on the moving company you will work with, it pays to be upfront with your negotiations with them. Discuss any possible difficulties or challenges they may encounter during the moving process. If they are experts on long distance moves, they generally know what to expect. It is also advisable to ask them in detail regarding every service they will provide. There's nothing like being surprised by charges for tasks you thought were free or included in the service you paid for. Do not commit the mistake of assuming and better ask, ask and ask some more.
How can I avoid being scammed by a moving company?
We have all heard of a cautionary tale or two related to moving. Packing services are not careful enough with breakables worth thousands of dollars. Local movers misplace crates of valuable appliances. Realizing your whole wardrobe full of work clothes were lost on moving day. Racking up costs beyond what was previously agreed upon.
When crossing state lines, it can also be hard to track what federal rules govern transactions and contracts. While there will always be things that will not go your way, some headaches are avoidable if we carefully plan out our actions.
Take note of these steps to avoid becoming a victim of relocation fraud:
Be vigilant for red flags
If you experience any or a combination of any of the following, you might be dealing with scammers pretending to be legitimate moving companies. Be careful not to fall into their trap.
You cannot find the company anywhere online. They do not have a website or even a Facebook page.
You cannot find any customer reviews or testimonials about them, good or bad.
They keep on changing the rates for the same services and give higher-priced rates without any reasonable explanation.
Get estimates
Similar to how you should window shop and evaluate options before purchasing a product, you should get at least three written in-home estimates before closing the deal with a moving company. As much as cheap rates are desirable, be on the lookout for unusually low rates or refusal to provide an in-person estimate.
Verify credentials
To ensure that the moving company that will assist you is licensed to provide such services, you can check if they have a number issued by the US Department of Transportation. This number serves as a license identifying commercial vehicles transporting passengers or hauling cargo in interstate commerce. The mover must also have a carrier number from the Federal Motor Carrier Safety Administration.
How much should you ask for when moving companies?
Gas prices have gone up. Cost of living has also increased. The best way to estimate the cost of moving is to gather at least three quotes from different suppliers. This way you can decide which are the rates that your budget can accommodate. You can also decide which services are essential depending on your situation and which services you can do without.
Factors which may affect costs are:
Add-on services and Moving supplies
If your schedule is too busy to accommodate packing and unpacking, you might have to rely entirely on movers to complete this for you. Will you need cleaning services for your old place before the move out? Perhaps your carpet needs to be cleaned before it can be packed for the move. This will normally entail additional costs.
If your pottery collection needs felt pads and special wrapping, this will also set you back a few hundred dollars. Some movers charge separately for loading services and even for cardboard boxes, plastic bins and other moving and packing supplies.
Be sure to check with your moving company which services and packing materials are included in the price quote they provided and which items they can give for a fee.
Moving time and date
Some movers will charge higher rates for high demand days such as weekends and holidays. You might want to adjust your schedule to accommodate a weekday move. This may entail filing a leave at work or canceling some appointments in your calendar. Plan ahead to avoid any unnecessary stress.
Most apartment leases start or end at the beginning of the month, you can move in the middle of the month so there will be less demand. Try to avoid peak moving season in the months of May to early September when students return to school and demand for movers increase.
Travel fees and insurance coverage for valuables
Transporting a lot of things can increase your moving expenses. If you have expensive furniture and equipment, these may need insurance. This is another great reason to declutter and reduce your belongings. Consider government charges and fees and customs rules when you are moving to another country. Fees can quickly add up.
Tip for your movers
After helping you with the heavy boxes and other moving-related tasks, it is only fair to tip your movers. It is up to you how much you think is a reasonable amount but make sure you tip in cash to avoid causing any hassle.
Is it better to hire a moving company or move yourself?
Deciding on whether or not you need to hire a moving company can spell the success or failure of your relocation and can even affect the new life you are trying to set up post-move. Consider the following in coming up with a final decision:
Your life and work schedule
For busy people on a tight schedule, hiring professional movers is a necessity. The moving process can be an overwhelming experience. If it is a long-distance move and you are from another state, it can also be unnerving. If it is an international move, you will have too many things to think about such as visas, working permits on top of logistics considerations. If the move is a time-sensitive project, it can easily turn into a nightmare.
As your moving date nears, these added tasks can take a toll on your mental health and energy. You cannot expect to put life or the world for that matter, on pause while you focus on packing, unpacking and furniture disassembly. Hiring a moving company can take this pressure off.
Time and cost-efficient relocation
By hiring a professional moving company, you will not need to start from scratch. They have templates and inventory systems for mapping out a successful moving process. They have technical know-how on what is the cheapest way to move your furniture. This is especially important for long distance moves.
Even for local moves to the same city, packing can still be a daunting task. While you have the option to declutter and bring only a few things to your new home, sometimes this will not be enough. Hiring movers can help you decide how many boxes you will need for the move or the cheapest and fastest way to transport large furniture.
You can easily rack up costs you did not anticipate when relocating. You may need to hire laborers and rent equipment to get your furniture to your new home. Finding out on moving date that your building does not have an elevator can be stressful to say the least. While you were trying to save, you might unintentionally incur higher costs and expenses.
Heavy lifting can be a health and safety hazard
If you are not used to strenuous physical labor, you can easily strain your muscles and get injured by trying to lift heavy items and furniture. Rather than hurt yourself in the process of lifting, loading and unloading bulky items, movers can take care of this for you.
Tracking and transportation of valuables
Long distance moving is challenging when you have a lot of belongings. Expensive furniture and breakable items can be difficult and costly to transport without the help of interstate moving companies. You will have to look for trucking and shipping service providers with experience and a good reputation. This will not guarantee that your fragile items will survive in one piece while in transit. This may also entail additional costs you were not prepared for.
Workforce and labor support
Moving requires a lot of physical labor and manpower support. While you can enlist family and friends to help you and rely on their assistance, this may not be possible if you are moving to another country. For local moves, if you do it by yourself, you need to decide whether you will bring your car and if it can accommodate all your things.
Do you need to drive cross country? Can you complete a 26-hour drive to a place you've never been to before in the middle of winter? What happens when your car breaks down?
Conclusion
It is challenging to find a moving company that prioritizes customer satisfaction and delivers above and beyond expectations. The usual moving process with its accompanying tasks and considerations make it stressful for both movers and customers. A careful evaluation of competencies and services can save you from falling into the trap of engaging fraudsters and incompetent movers. You may check out the Community Labor Partnership by calling (888) 314-5128 for your upcoming move!