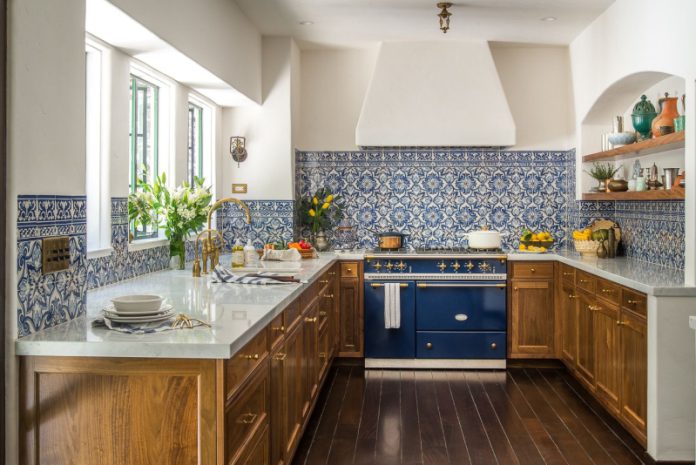 Homesfornh.com – Modern Spanish is an interesting design for your kitchen. It represents diverse elements. There are Spanish colonial accents, a modern accent, and a bit of traditional touch. Some designers add modern furniture to create a modern touch. Here, we have ideas of modern Spanish that will inspire you to remodel the kitchen interior. Let's get to the 17 Modern Spanish Kitchen Ideas : Add Eccentric Accents in Your Interior!
Modern Spanish with Mediterranean Style
The modern Spanish kitchen is stunning. It is easy to combine this design with other classic designs. The Mediterranean style is one of interesting classy design. It has a traditional touch with a warm color. Both designs will revive a classic impression in the kitchen.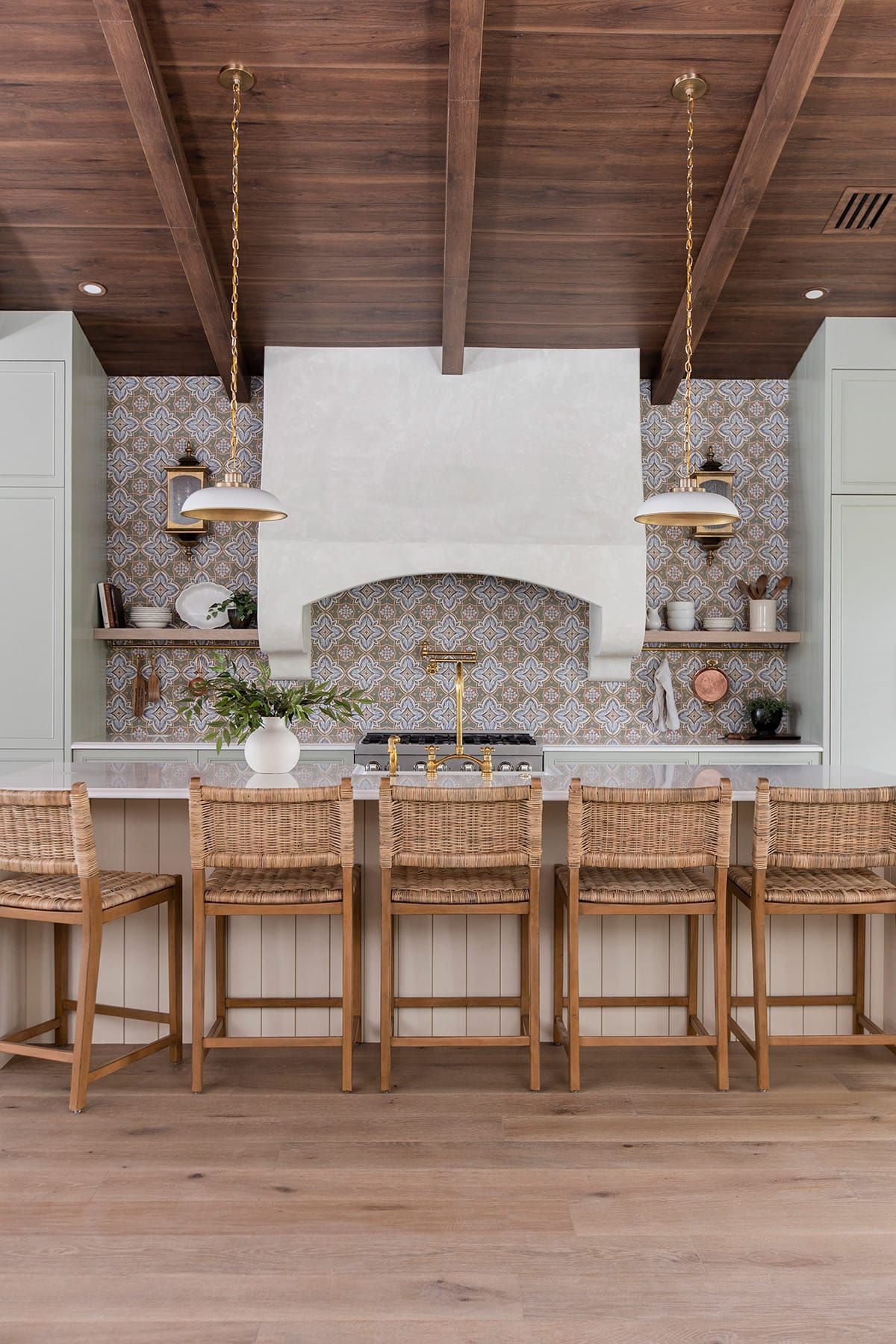 Look at the idea. There is a patterned backsplash. It is an identical style of Spanish kitchen design. The brown accent on the backsplash is connecting to the room's color. The Mediterranean style improves the traditional style with natural accents, such as wicker chairs and wooden ceilings.
1 of 17
Using Patterned Backsplash with Vibrant Color
A cheerful color can affect the mood. It brings an energetic feeling. Maybe you can try this vibrant backsplash for your modern Spanish kitchen. It has an interesting design with a neutral color. The shades of blue and white are the best combination.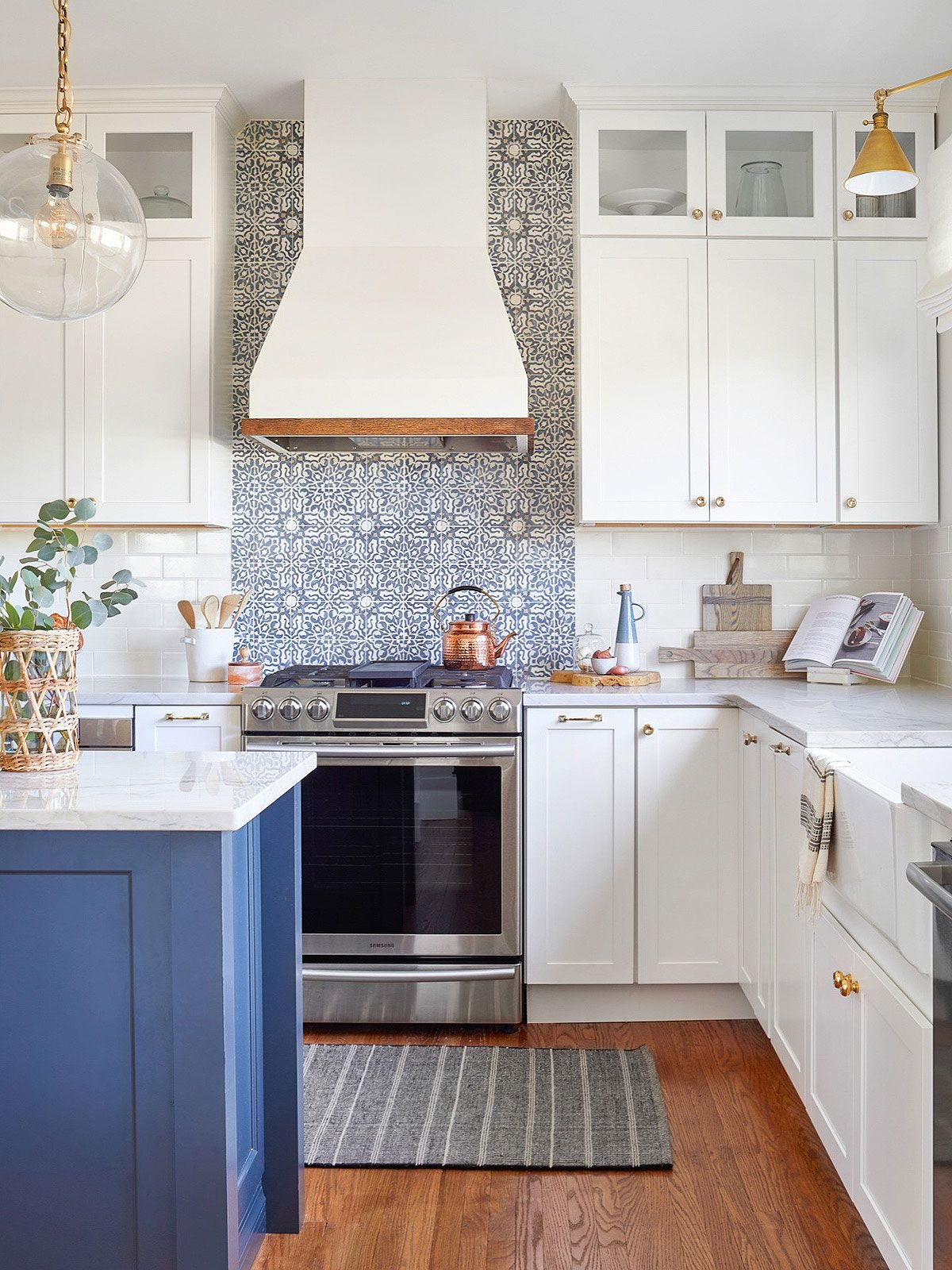 Moreover, the ornate backsplash is decorating a small area. For other spots, you can use the white color or another that fits the whole room. This kitchen has a white theme, thus the white color is dominating the room. Even the kitchen cabinet is white as well. The colored accents are the blue kitchen island and blue carpet.
2 of 17
Modern Spanish Kitchen x Brown Theme
The brown color is a neutral shade for design. It has many shades and is easy to combine with other colors. This modern Spanish kitchen has a brown theme with a beautiful backsplash. The ornate backsplash decorates the white wall. It is a focal point when gazing at the kitchen.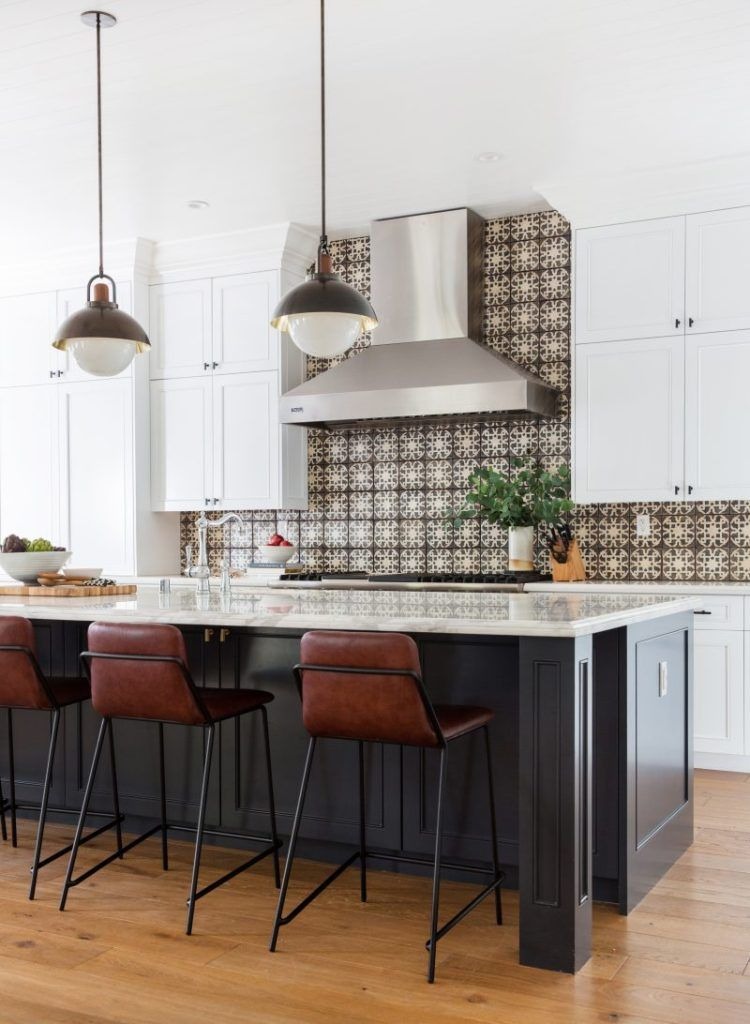 Just look at the kitchen bar. There is a white countertop with a cabinet. Across it, you will see the kitchen island with dark grey color. Next to it, there are brown chairs. This furniture is stunning t match this Spanish kitchen.
3 of 17
Attaching Neutral Colours
Neutral colors are interesting. It will enliven a calming impression in the room. There are white, brown, and yellow in this kitchen. The modern Spanish kitchen can get a light color with neutral shades. First, you must see the striking backsplash.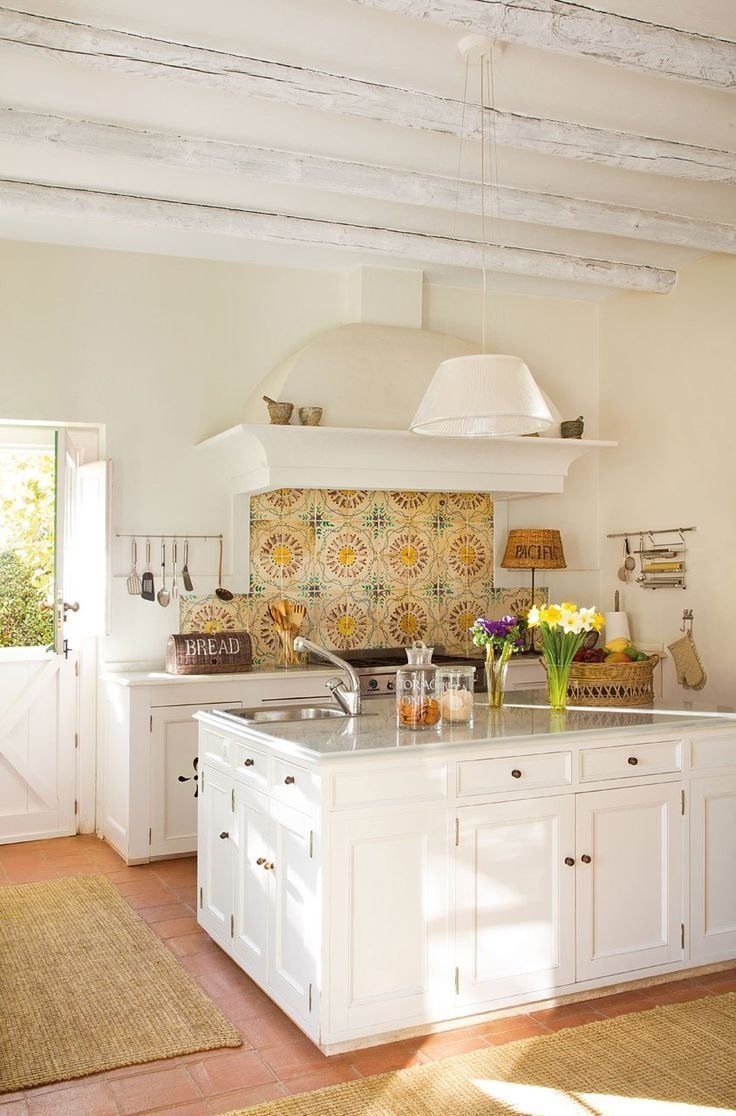 It has an ornate design with rich colors. This element represents the energetic nuance in the kitchen. Moreover, there is a white wall that brings a bright and clean impression. Meanwhile, the floor is natural brown to terracotta shade. These neutral colors are perfect to enliven a cheerful nuance in the modern Spanish kitchen.
4 of 17
Using A Large Island for Big Family
Having a big family needs a big place. If you have a big family in your house, you need to make a bit of decoration. Start from the essential part like the kitchen. You can adapt this modern Spanish kitchen to your house. This kitchen uses an open-space design.
It is exposing the kitchen bar, so you can see the whole countertop. Across from the kitchen bar, you will find a large kitchen island. It is a useful element. You can finish cooking or garnishing your meal on it. Also, it is nice to use as a dining table.
5 of 17
Add Natural Blind on Window
A natural element will bring something new. Most of them can decorate a room with a neutral color. Look at this idea. There is a natural blind from wood. It has a neutral appearance of brown color.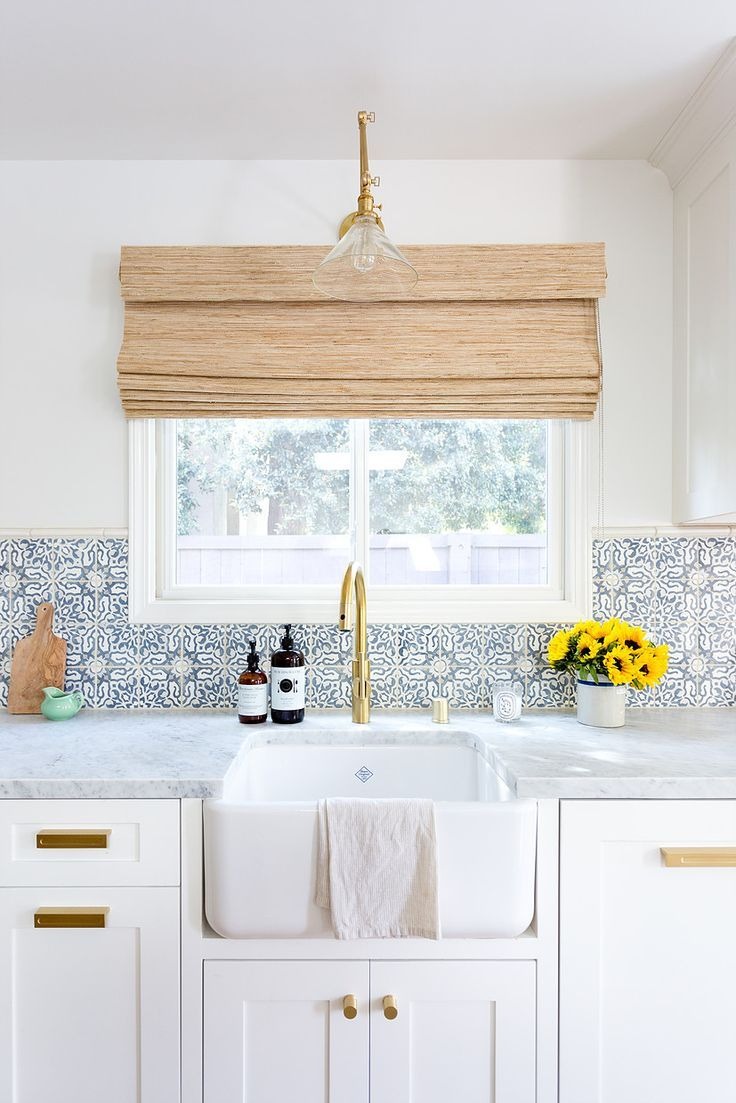 The blind is useful to cover your window. Thus, it can protect your room from exposure to sunlight. Some homeowners use a blind to add privacy. In this modern Spanish kitchen, the blind is matching the white wall. It makes a nice accent on the wall.
6 of 17
Stylish Backsplash with Blue Theme
Using random tiles are creative idea. The room will have a new look by having this design. So, you can try this idea to add a focal point in the modern Spanish kitchen. The ornate backsplash is a character of this design. Then, take the random tiles with the same theme.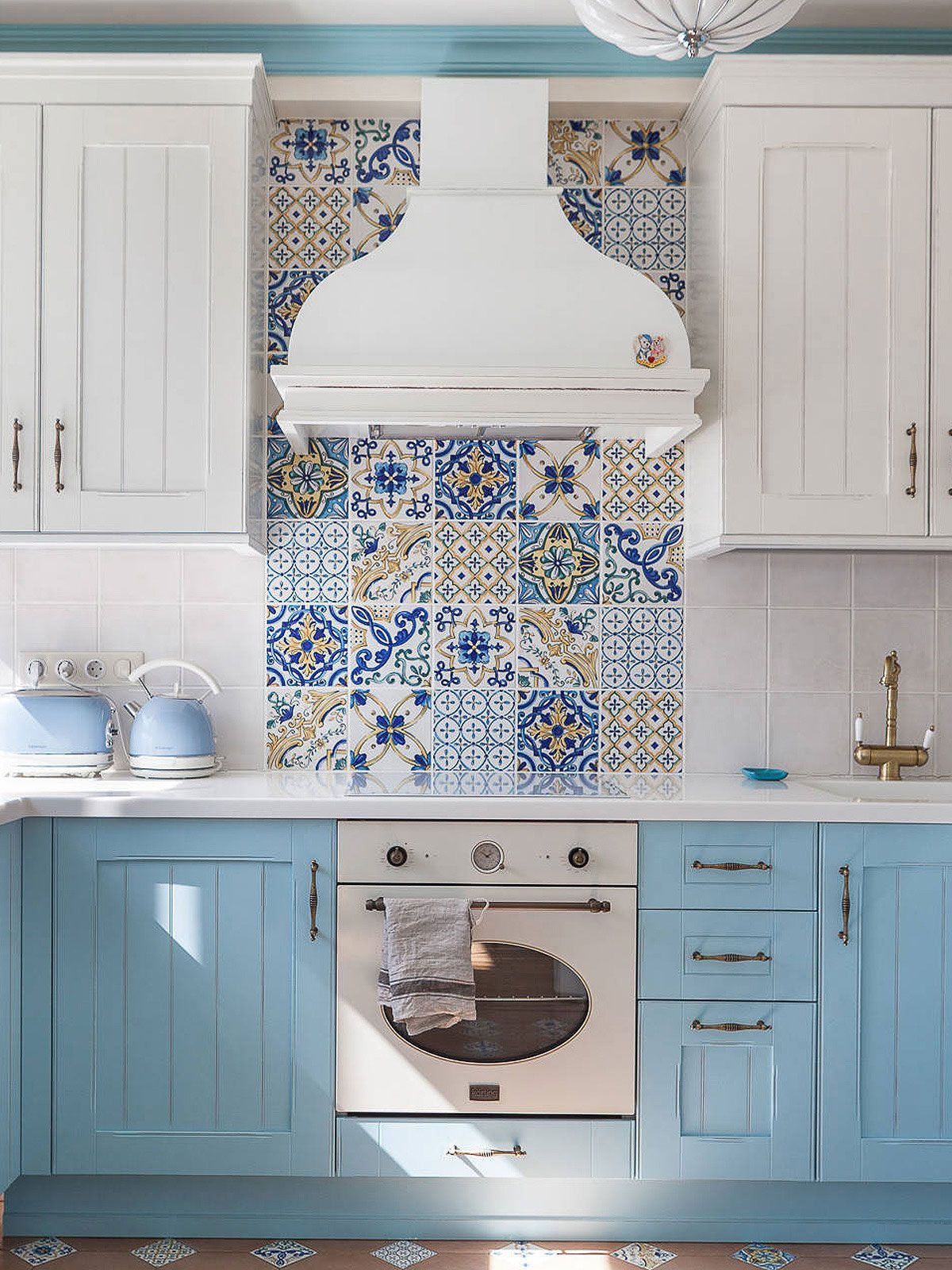 After that, arrange these tiles to make a beautiful position. Even though few tiles are the same, you can make it as they pick randomly. Meanwhile, support this design by having an aesthetic theme. Pick the same color for the kitchen cabinet or other elements.
7 of 17
Classic Modern for A Spanish Kitchen
Spanish design represents the old design from Spain. Thus, it is fine to have a bit of a combination with other classic designs. There is a classic accent from every country in the world. You can pick your lovely classic style in this decoration.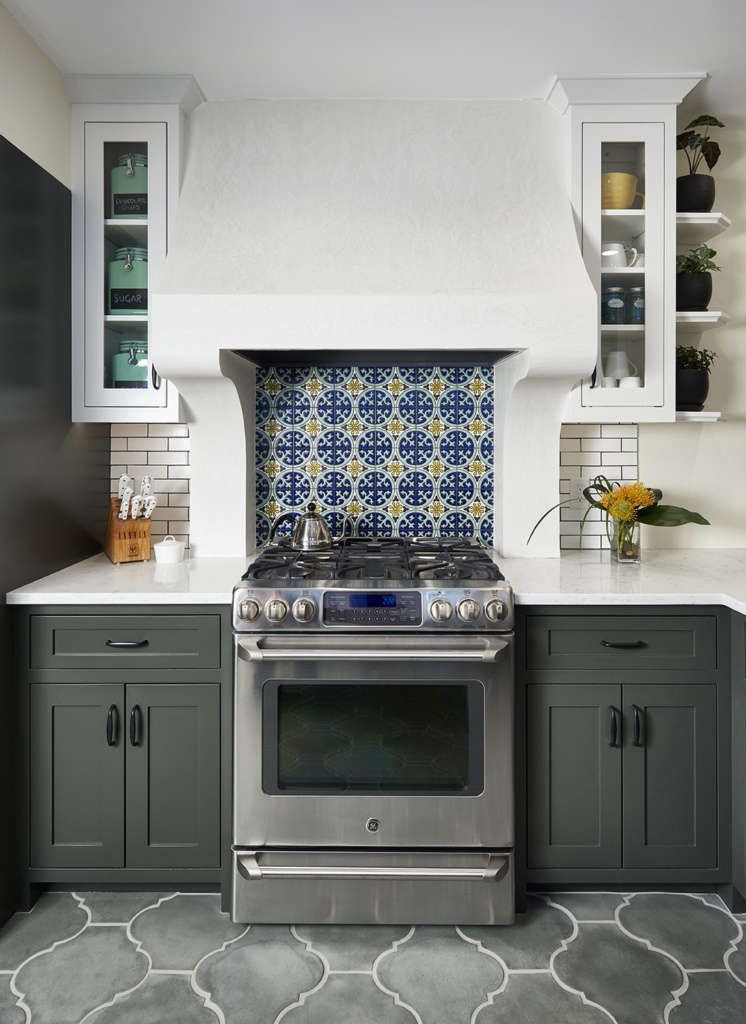 For example, this modern Spanish kitchen gets a bold color from mid-century design. The dark green cabinet is the big accent in this room. Meanwhile, there is always a patterned backsplash. It looks more interesting for the cooking area. Then, there is a dark grey floor with an artistic design.
8 of 17
Using Wooden Floor
The floor is a part of interior design. You need to determine this element as well. If you want to design a modern Spanish kitchen, then use the wood floor. It is a versatile design. Almost all interior designs will fit this flooring.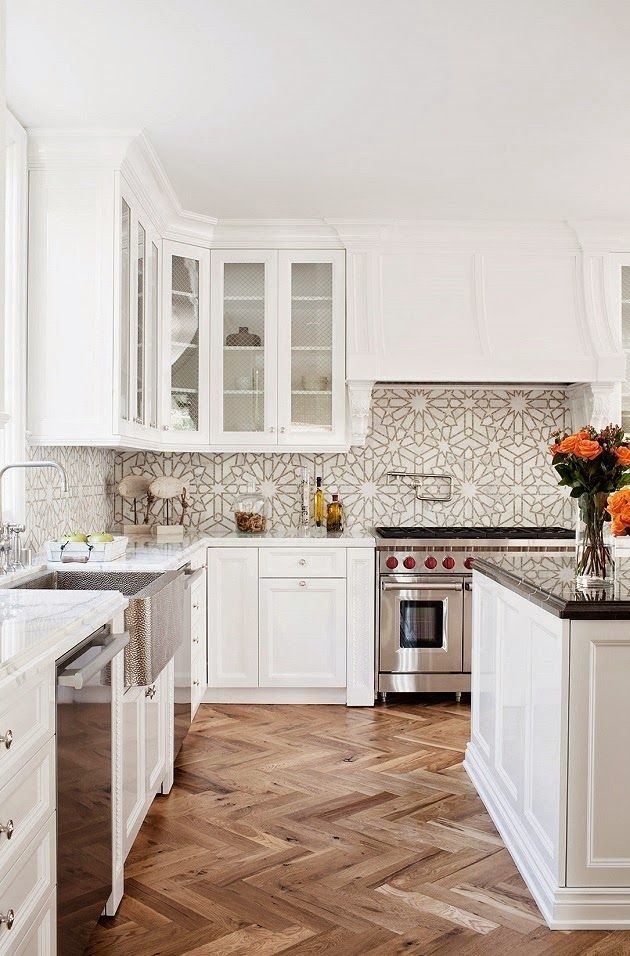 Look at this idea. It has a zigzag pattern which brings a new look. Also, the natural timber picture is stunning to add an ornate pattern on the floor. Meanwhile, this room has a white theme. Thus, there are white cabinets, walls, and Spanish backsplash as well. This idea is soft and calming for people who love neutral nuance.
9 of 17
Modern Spanish with Tile Backsplash
Do you like the tile backsplash on a Spanish kitchen? Here, is an interesting idea for a modern Spanish kitchen. The backsplash is identical to the use of a natural pattern, like a flower or branch. This backsplash is decorating a small area. Meanwhile, the other wall has white colors.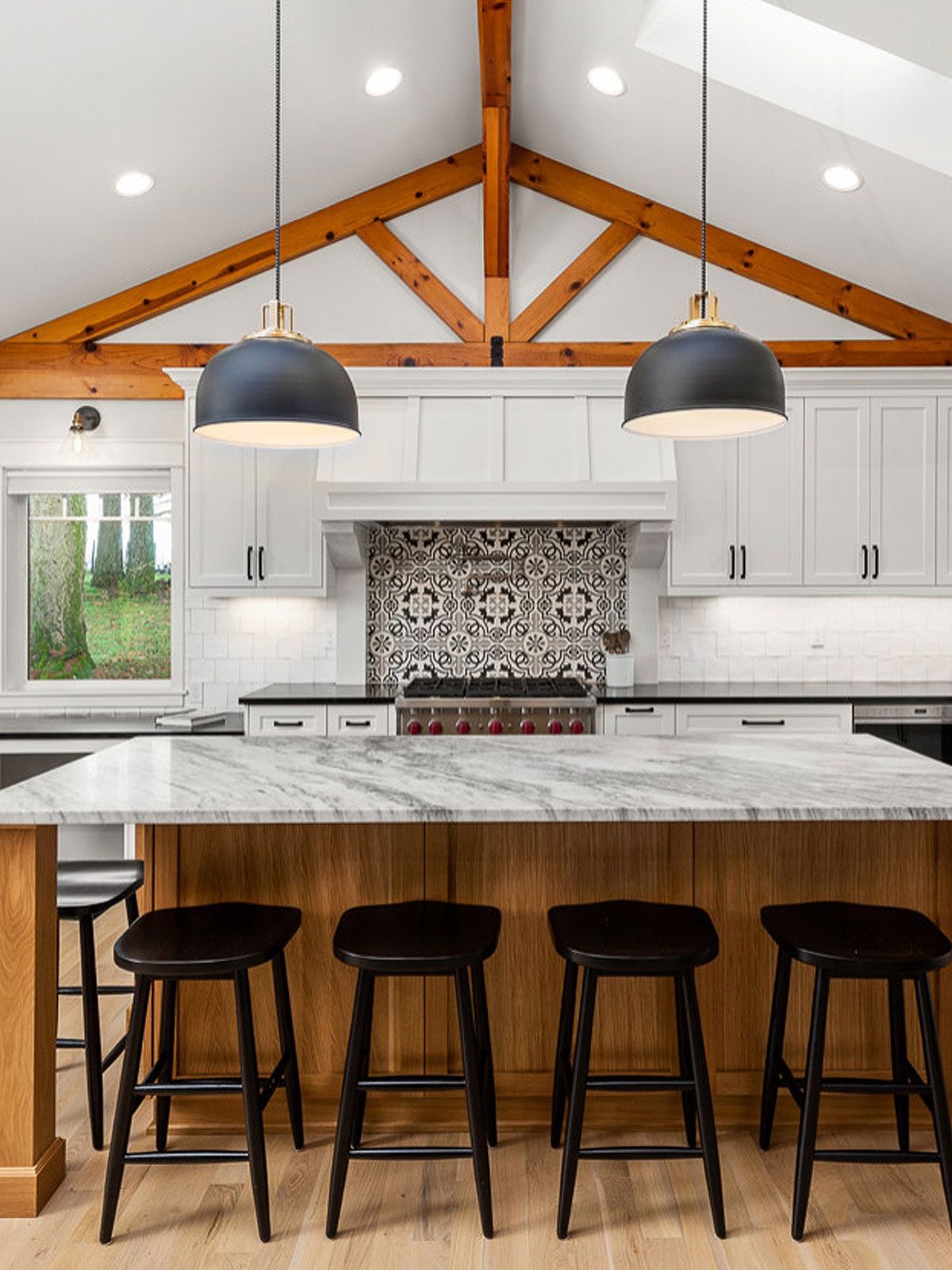 Moreover, this modern Spanish kitchen has many modern accents. There is a white marble kitchen island. It looks stunning to put in the middle of the room. Also, you will see the matching chairs near this kitchen island. Besides, you can add some traditional touches, like an old-style cabinet, pendant light, and wood accent on the ceiling.
10 of 17
Using Stone Floor
The Spanish kitchen has a traditional accent. It revives the identical Spanish element for the interior. Here, this idea uses stone tile flooring. The whole room is having this flooring. This stone tile is orange-brown with a warm impression.
It looks catchy to match the modern Spanish design in the kitchen. Moreover, there is a kitchen island with white marble. You can arrange a few stools near it. Then, the wooden elements will complete the warm impression. Besides, it is interesting to add a carpet on the kitchen floor as an accent.
11 of 17
Add An Eccentric Carpet
Do you want an eccentric accent in the kitchen? Installing a decorative carpet is key. It looks stunning to have a striking carpet in the modern Spanish kitchen. This accent has various patterns and colors. Thus, you can pick a carpet with an energetic nuance.
Moreover, this carpet is functional as an anti-slip path in your kitchen. Look at this carpet design. It has a striking color and an interesting pattern. Even though it has a different shade, it matches this modern Spanish kitchen. Then, just use your lovely carpet to decorate your kitchen floor.
12 of 17
Having More Furniture
This is a large kitchen. The best part of a large room is having a diverse design. Here, is the modern Spanish kitchen with many furniture. There is a kitchen island near the kitchen bar. It has a long black table with a few chairs.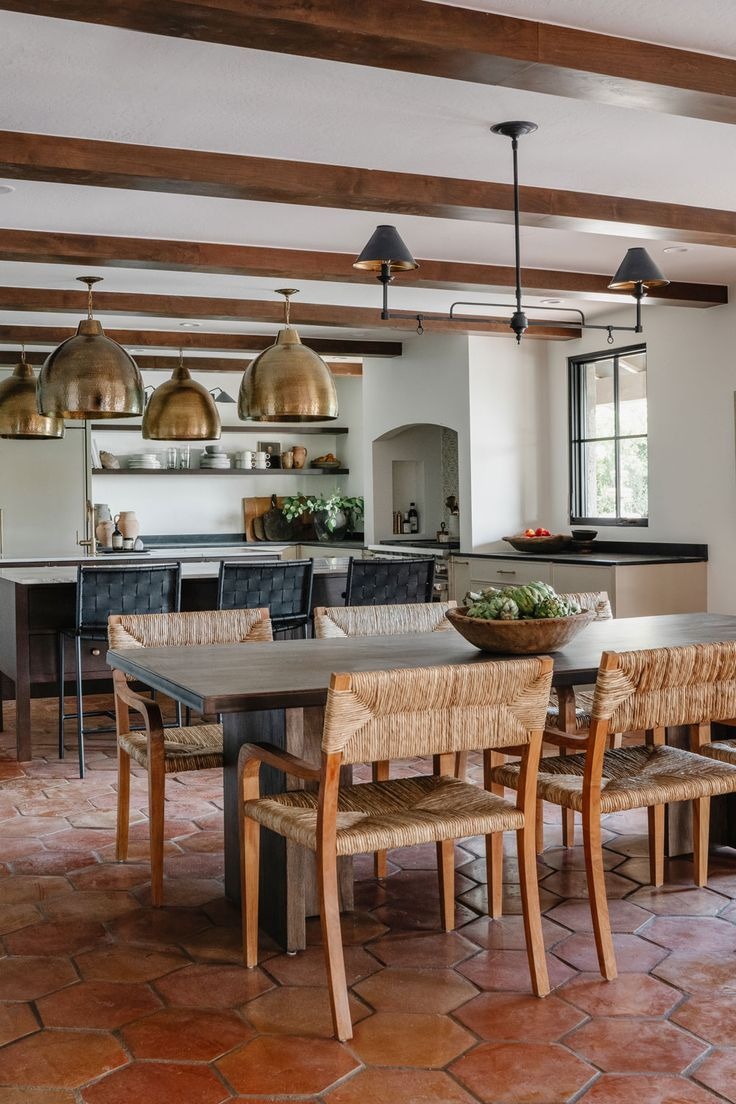 Meanwhile, there is a dining table as well. The dining table has a sleek design. It may look different from the previous design, but both are connecting the whole room. There are a few wicker chairs with wood frames. In addition, this dining table has fresh decorations on it.
13 of 17
An Open-Space Kitchen with Modern Spanish Design
Most people like to have a spacious impression in every room. It looks large and airy. Just look at this idea. The open-space kitchen is easy to design. It doesn't need a door and just exposes the kitchen. This design is best for a large house or a minimalist kitchen.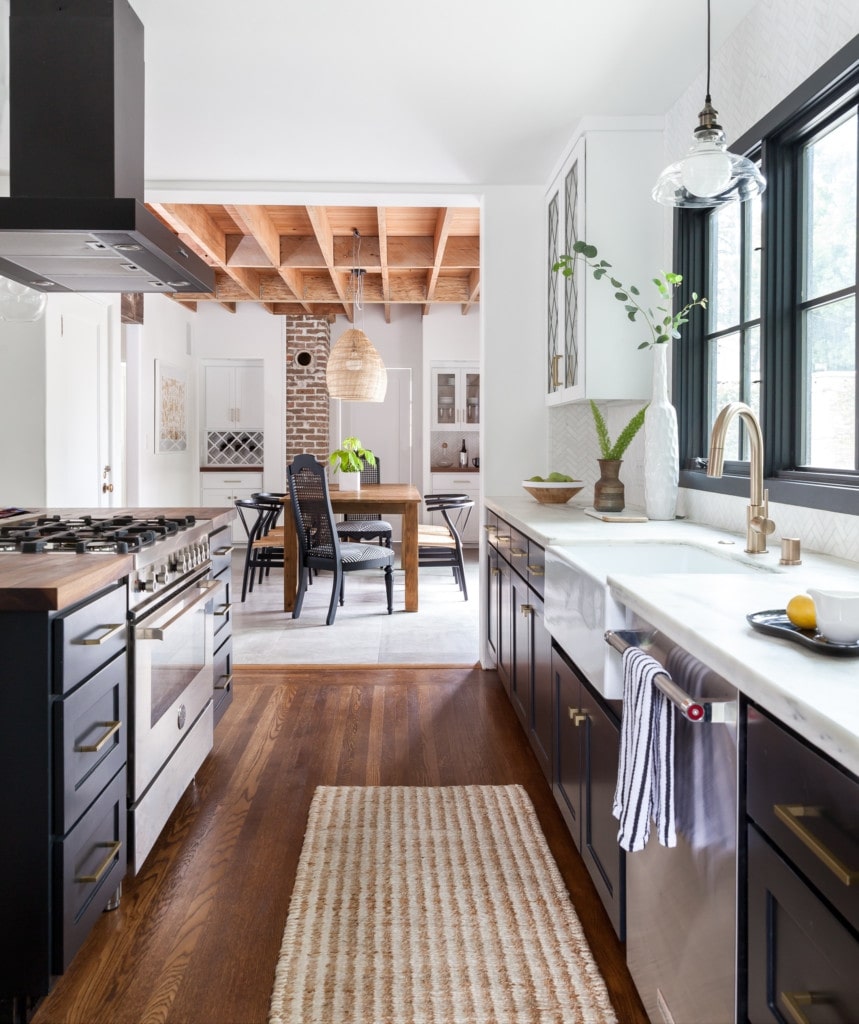 Besides, the open space is interesting to use a modern Spanish design. It looks stunning with some traditional details, like wood flooring and ceiling. Also, there are modern accents, such as the stove, marble countertop, and interesting cabinet.
14 of 17
Modern Spanish with Eclectic Touch
An eclectic design is one of my favorite designs for classic style. It uses bold colors, a clean line, and an old-fashioned design. Let's see this idea. The modern Spanish kitchen has a few eclectic accents. The most striking accent is the navy cabinet.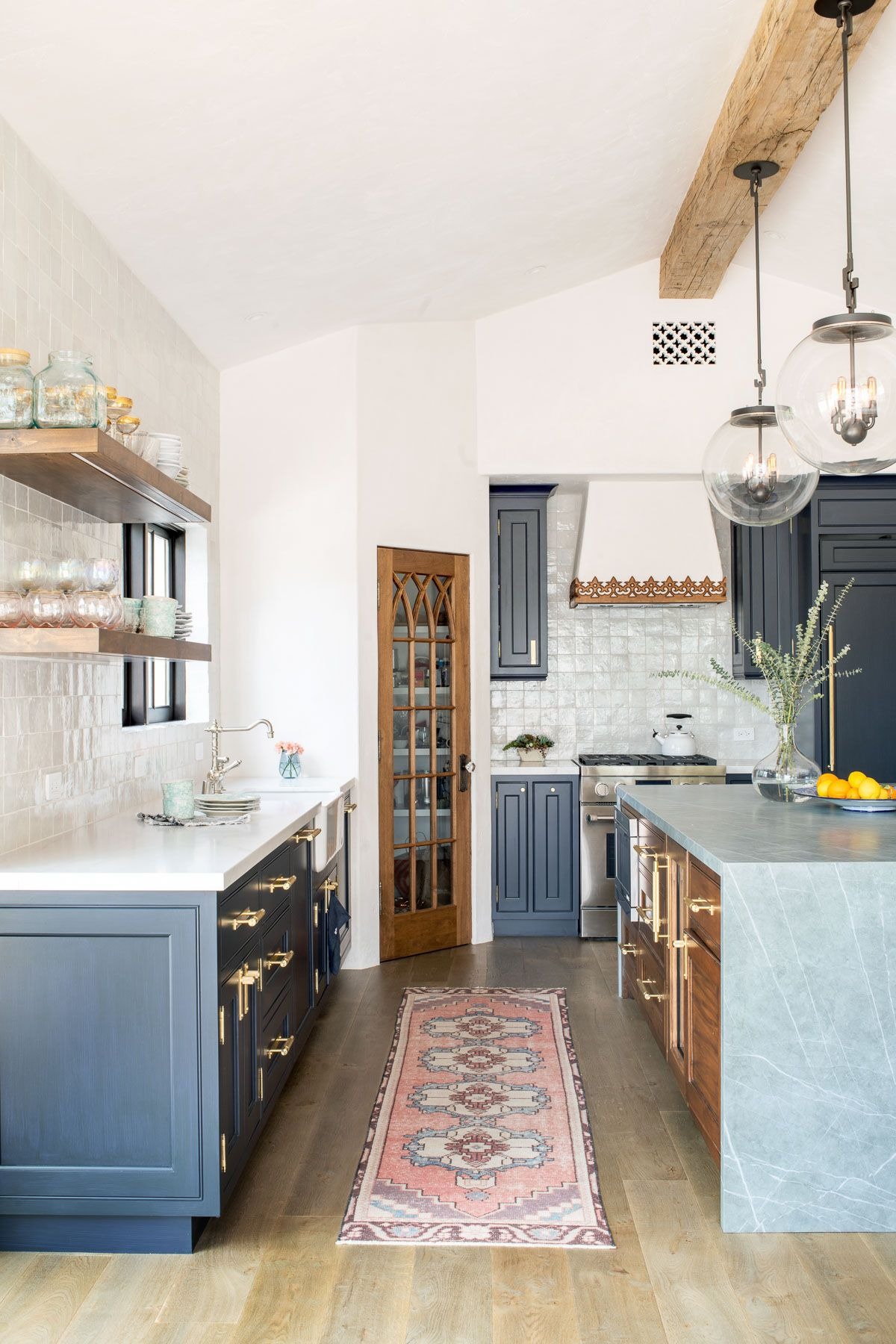 This storage has a bold color with a stunning appearance. The designer fills every spot on the wall with a kitchen cabinet. Even a narrow space is useful for a vertical cabinet. Also, there are golden accents on the cabinet knobs. Meanwhile, the modern Spanish design is on the backsplash.
15 of 17
Using Patterned Flooring
The patterned flooring is identical character to the Spanish design. There are various patterns for the Spanish room. It enlivens the traditional nuance with pattern and color. You can pick the most ornate tiles for the floor. The rich patterns will cover the floor interestingly.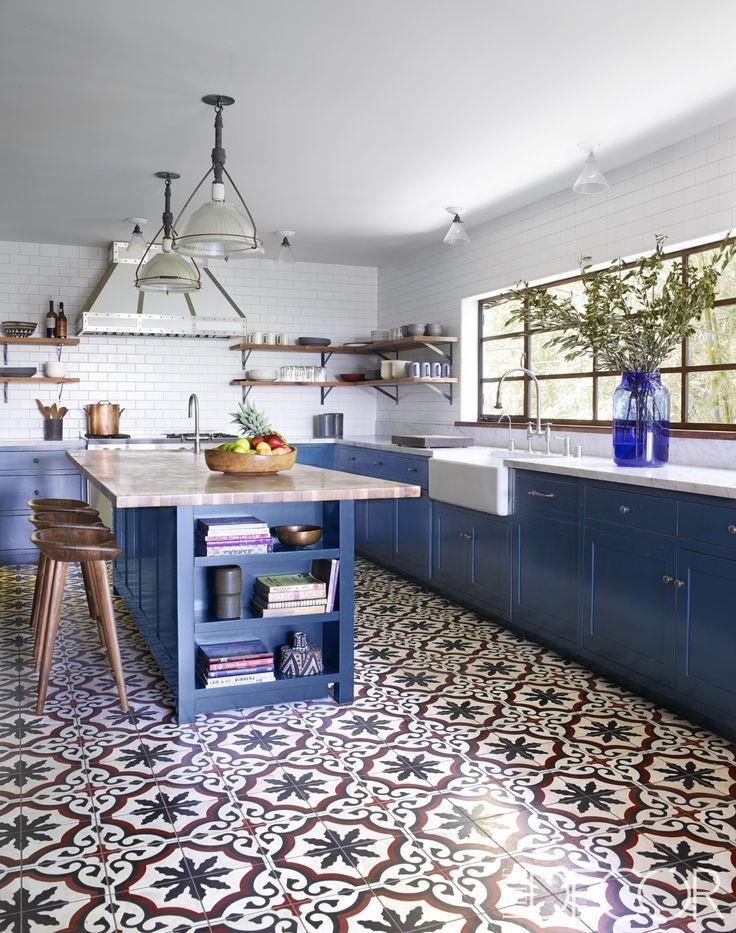 Besides, the patterned floor matches the kitchen interior. It has blue shades with a bit of brown. The navy kitchen island has a nice view to putting near the navy cabinet. In addition, there are blue accents on the countertop and kitchen island. If you apply this ornate flooring, then use a white backsplash that balances this design.
16 of 17
Add A Large Window
Natural sunlight is a helpful element in a home design. It warms the atmosphere and lessens the fusty air. If you have a large window in your modern Spanish kitchen, then open it wide. The window will boost the oxygen in your room. Also, it can invigorate the kitchen interior.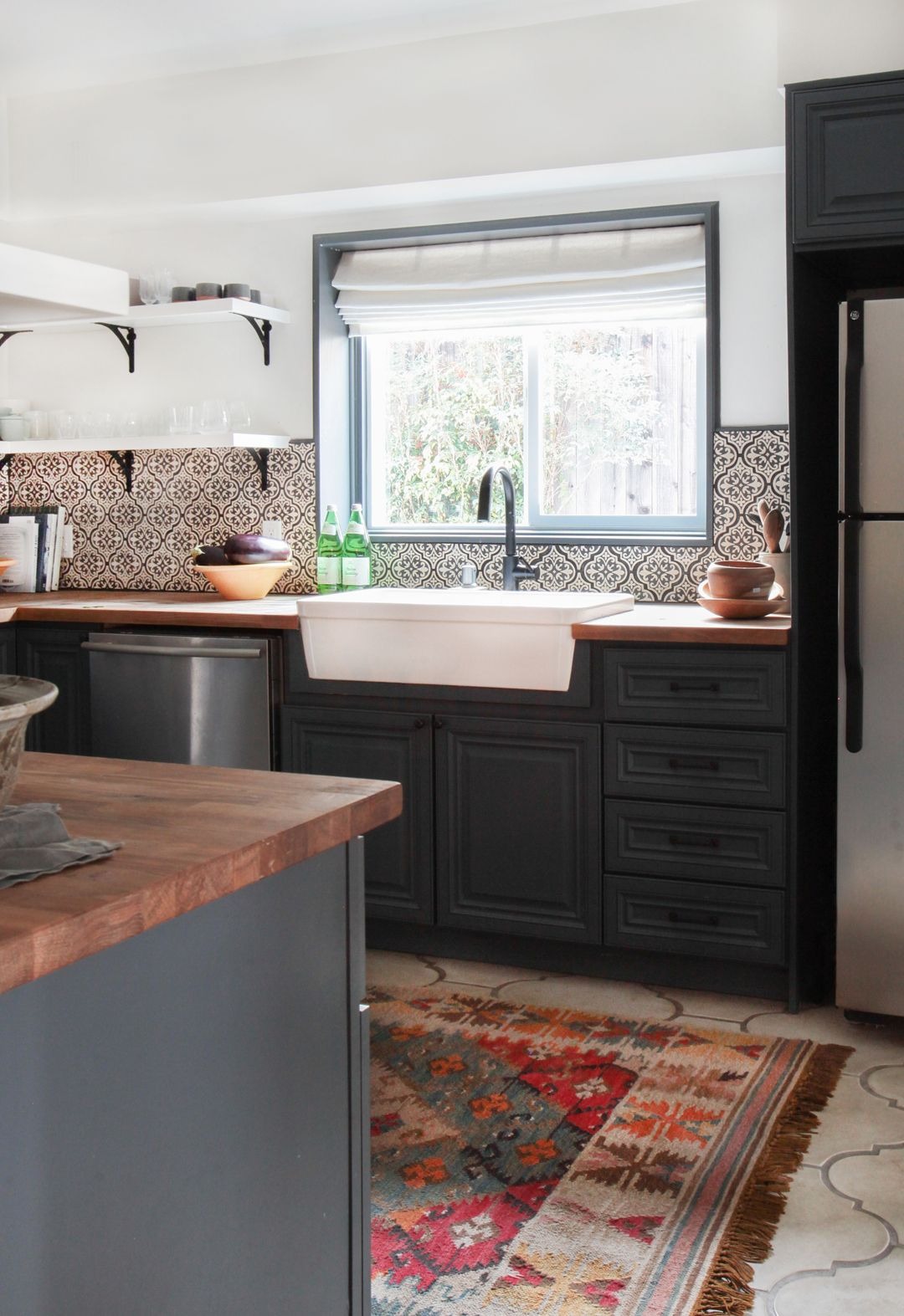 The sunlight will add brightness to this modern Spanish kitchen. The beautiful interior can reflect their colors by sunlight. Also, some people need a window in the kitchen to let the odor out of the room. Moreover, sunlight helps you to thrive on indoor plants. This window is a must-have element for the kitchen.
17 of 17
Thus are 17 Modern Spanish Kitchen Ideas : Add Eccentric Accents in Your Interior. This design has some elements to create a beautiful interior. Some homeowners use an ornate backsplash that represents Spanish design. Thus, they can add some modern elements, such as furniture and cleanliness. Try to design your dream kitchen by taking inspiration from this article. Good luck and happy decorating!