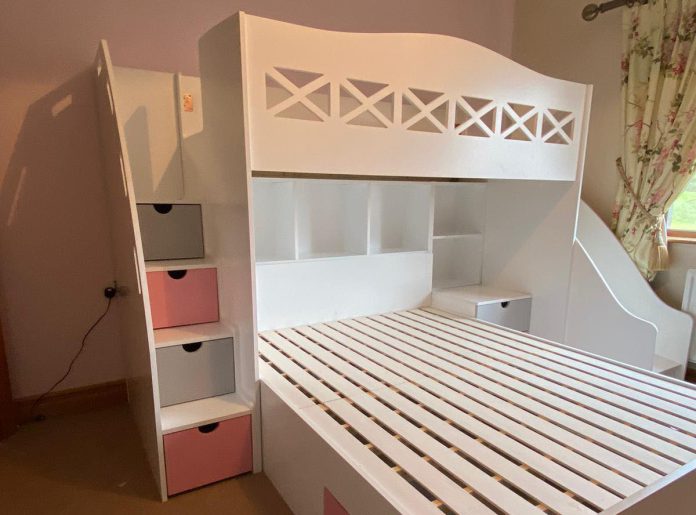 The triple bunk has turned into one of the most popular items for parents that have 3 children at home, but they only have one room for all of them. This has proven to be an excellent way to ensure that all children can have enough space to sleep, while also allowing them to bond and be close to each other.
There are some beds
Our triple bunk bed with bookshelf has turned out to be a truly amazing addition to our catalogue due to the many benefits that it offers. Just like something such as a bed with slide is commonly seen as a choice, there are all types of beds that are ideal for other purposes.
Today, we are going to be focusing on the triple bunk bed with bookshelf and all the benefits that it brings.
The triple bunk bed with bookshelf
Given that we had seen how successful the triple bunk beds had become, we knew that it was a great idea to start incorporating new things that would make this type of bed even more appealing. This is the reason why we decided to create one that offered an even more amazing design for convenience.
The bunk beds with storage had turned into one of the most important and reliable types of beds because parents saw the convenience of having storage compartments built into the beds. The reason why this was great was that it also encouraged kids to be more organized with their belongings.
One of the best things about the incorporated bookshelf is that children can use this to store their storybooks, their colouring books and all kinds of books that they enjoy reading or looking at. This bookshelf fits perfectly in a way that is convenient for children to use, but not just that, it is also extremely easy for children to be in bed and simply reach out and get a book or store a book.
The greatest thing about this is that it also makes children learn about the importance and the value of being organized. Learning proper organizational skills is always going to be the type of thing that children will find to be ideal.
Once they get their need bed, they will find it to be very practical, and they will love the accessibility of their books. This is also a great way to get them to bond even more as they start to use this feature together.
Bunk beds with storage have been around for a long time, but the bunk bed with a bookshelf is becoming the favourite of many parents who seek to purchase a new bed for their kids. This is definitely a time when the bed you choose for your children is going to play an even more important role in their development as they are spending more time at home than they did in the past.
Children that grow up loving books are much more likely to become adults with higher cultural knowledge and the habit of reading is always going to be useful. This type of triple bed is meant to be a great way for them to enjoy this process and to care for their books while also making them more organized.
MK furnishings offer all the beds you need
We have a vast catalogue of bunk beds with steps that is going to prove to be ideal for your needs. It has been extremely important for us to ensure that every bed that we offer has the quality that our audience has come to expect.
We never sacrifice quality even when our prices are so accessible and this has been one of the main reasons why we have managed to grow larger. We know our clients expect a great service and that is what we give to them with every single purchase they make.
We also offer transportation and installation
Many of these bunk beds can't be brought into a property as they are meant to be used, so we bring the parts to your location and we install them in your property in any room you want. This is very important because some people don't want to spend time assembling the beds.
We have always been extremely aware of the value of providing a full service to our customers. When you purchase a bed from MK Furnishings, you are purchasing a bed and we will bring it to your home and install it for you.