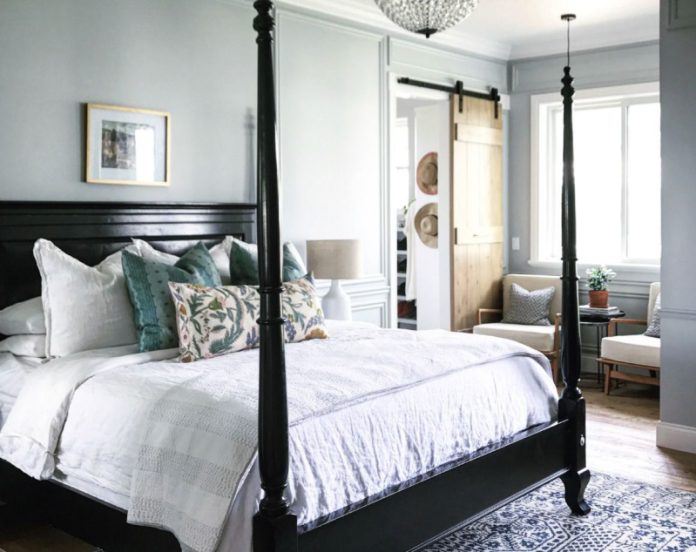 Homesfornh.com – The concept of the bedroom is essential to create a beautiful appearance and comfortable atmosphere. Therefore, you can use a concept that matches your expression in decorating your bedroom. One of the things you can create is to use a vintage bedroom design. The vintage design is attractive. Even you can bring the traditional atmosphere through this design. Thus, you can try to apply this design to your interior bedroom. If you need ideas to start a vintage bedroom, we have all you need. Here, we have 21 Vintage Bedroom Decoration Ideas for Classic Interior Impression. Let's see the ideas below!
Warm Cozy Bedroom with Vintage Bed Frame
The vintage bedroom uses lots of classic accents to enhance the vibes. To make it feels warmer, you can use more wooden accents. Even it looks stunning to have a wooden chandelier. On the wall, you can display some photographs with calm frames.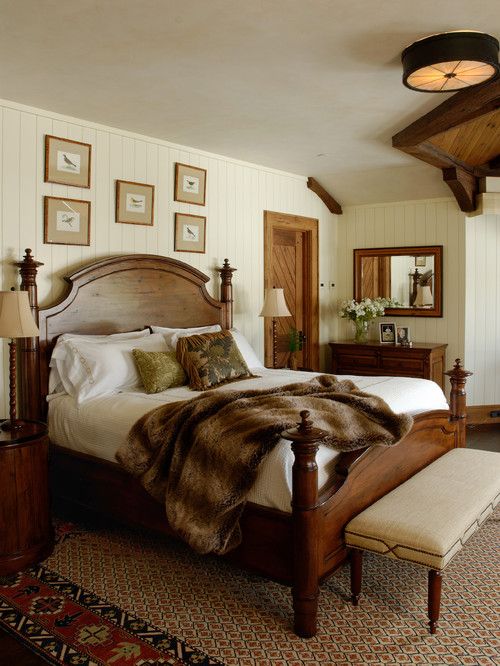 For the bedding set, choose a wooden frame and a white bed cover. You can add a vintage comforter on the corner to sweeten the look. Then, add a white bench to the footboard. It looks comfier to have a comfortable seat.
1 of 21
Master Bedroom and Traditional Bed Cover
Do you like to decorate a room with one theme? If you want something traditional, you can try using a floral bed cover. It makes your master bedroom more catchy. Moreover, the floral patterns are attractive to enhance the popular style in the past. Then, choose a calm color like soft brown and ivory white for your bed cover.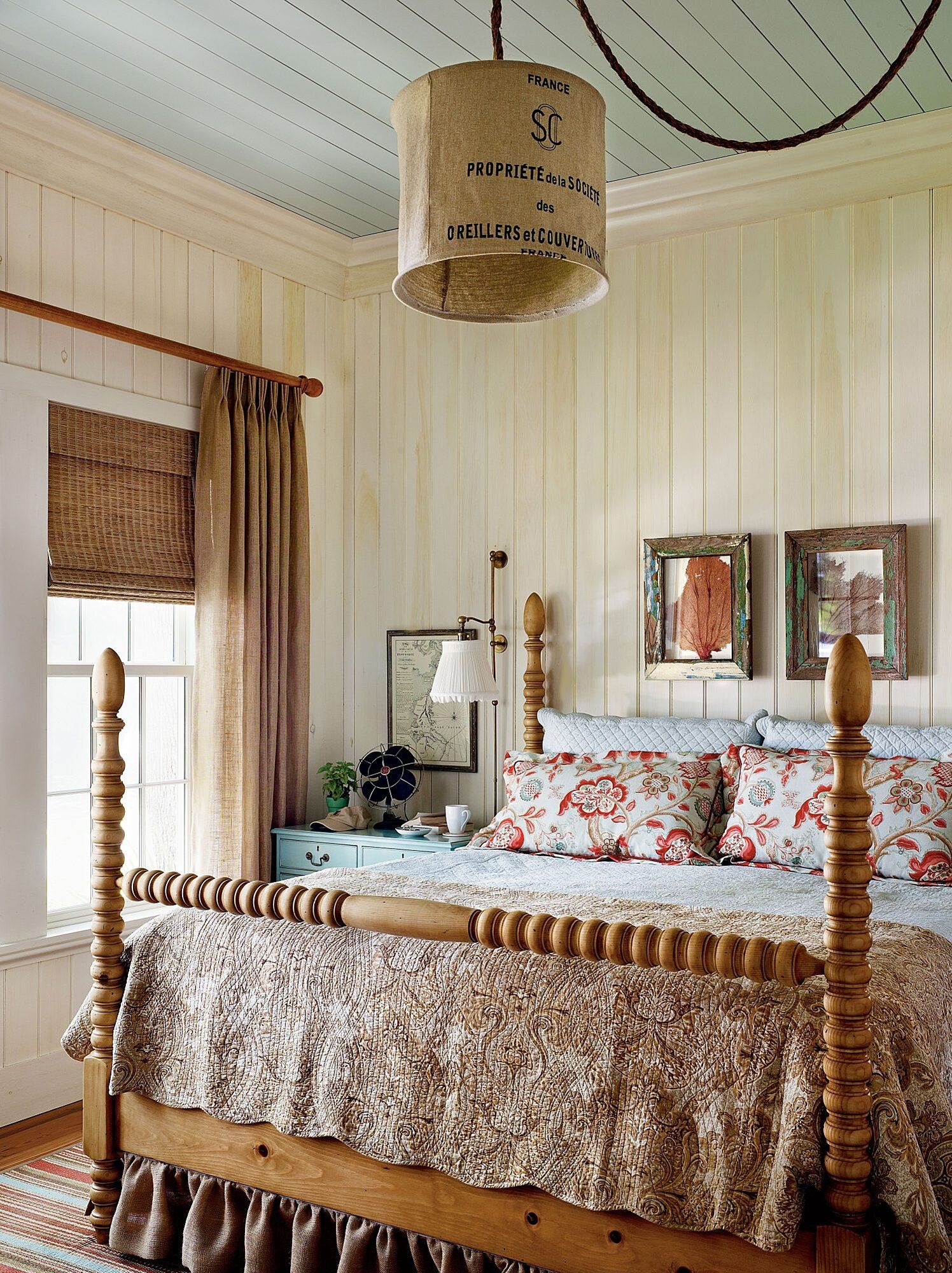 For styling up, you can choose the eccentric wooden frame with four poles. It looks traditional and represents the traditional bed in a cottage. Also, you can add laces on your bed foot. Moreover, you need to connect the vintage style on all sides by using a floral curtain too. In addition, use calm paint for your wall, it will strengthen the vintage design.
2 of 21
Farmhouse Furniture for Vintage Bedroom
The furniture in a bedroom represents the theme that you apply. Since the Farmhouse design has a traditional impression, you can adopt some Farmhouse furniture for styling your bedroom. A wooden cabinet with carving doors can be an attractive option for your decor. It has a natural wood color that brings warmth to the atmosphere.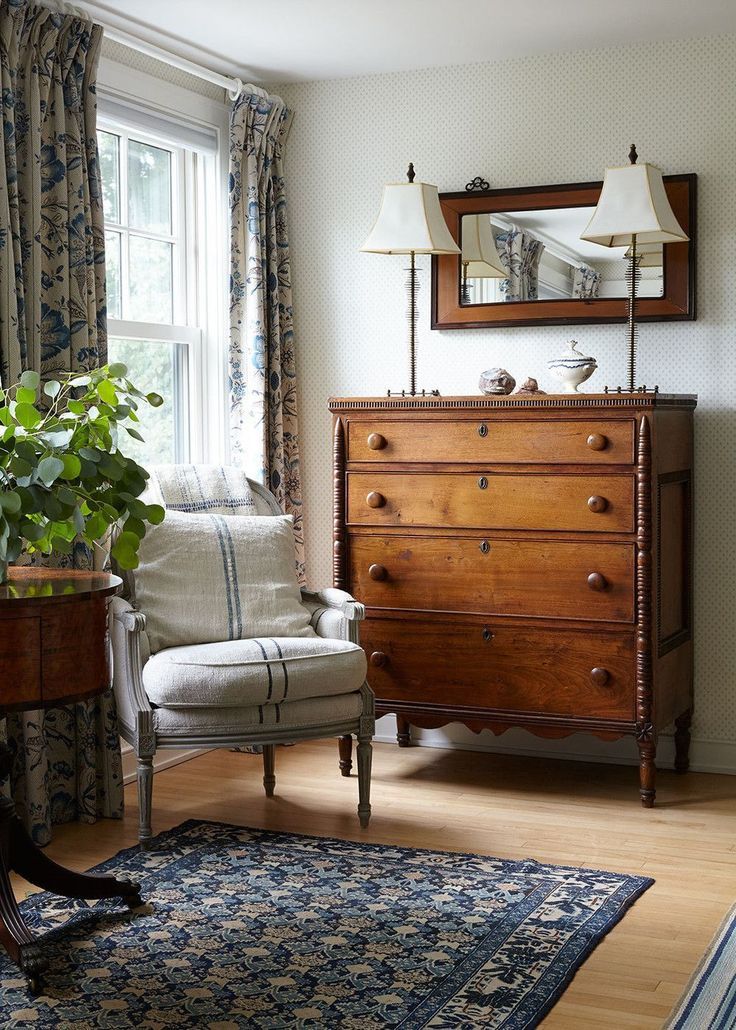 Besides, it looks stunning to match a wooden floor. Next to it, add a vintage chair with an aesthetic foot. Then, you can determine the type of rug to install in this room. To make it more perfect, add a floral curtain and an ornamental plant. Also, it is more interesting if you put two standing lamps with a calm lampshade.
3 of 21
Charming Bedroom with Four Pole
Using four poles is the common style to bring classic vibes. Since it is an easy decor to go with any room, you can add more classic accents. Some classic designs are a big chandelier, eccentric lampshade, and traditional curtain.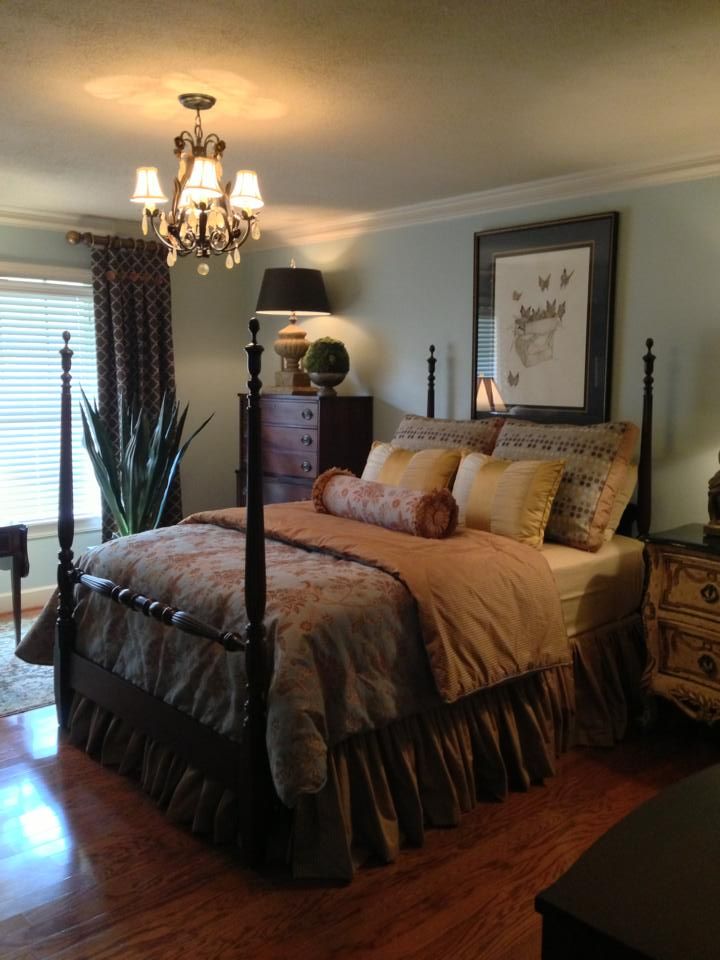 Moreover, it looks impressive to manage the bedding set tidily. First, arrange the master pillows on the first row, then add throw pillows after it. For styling up, add a roll neck to sweeten the look. If you want more design, then add a comforter with laces on the edge of the bed.
4 of 21
Soft Palette for Your Vintage Wallpaper
The soft colors represent a vintage style with their neutral palette. You can choose a soft brown color for your floral wallpaper. It will transform the atmosphere in your bedroom instantly. Moreover, you can match it with any design such as an abstract painting or natural object for photographs.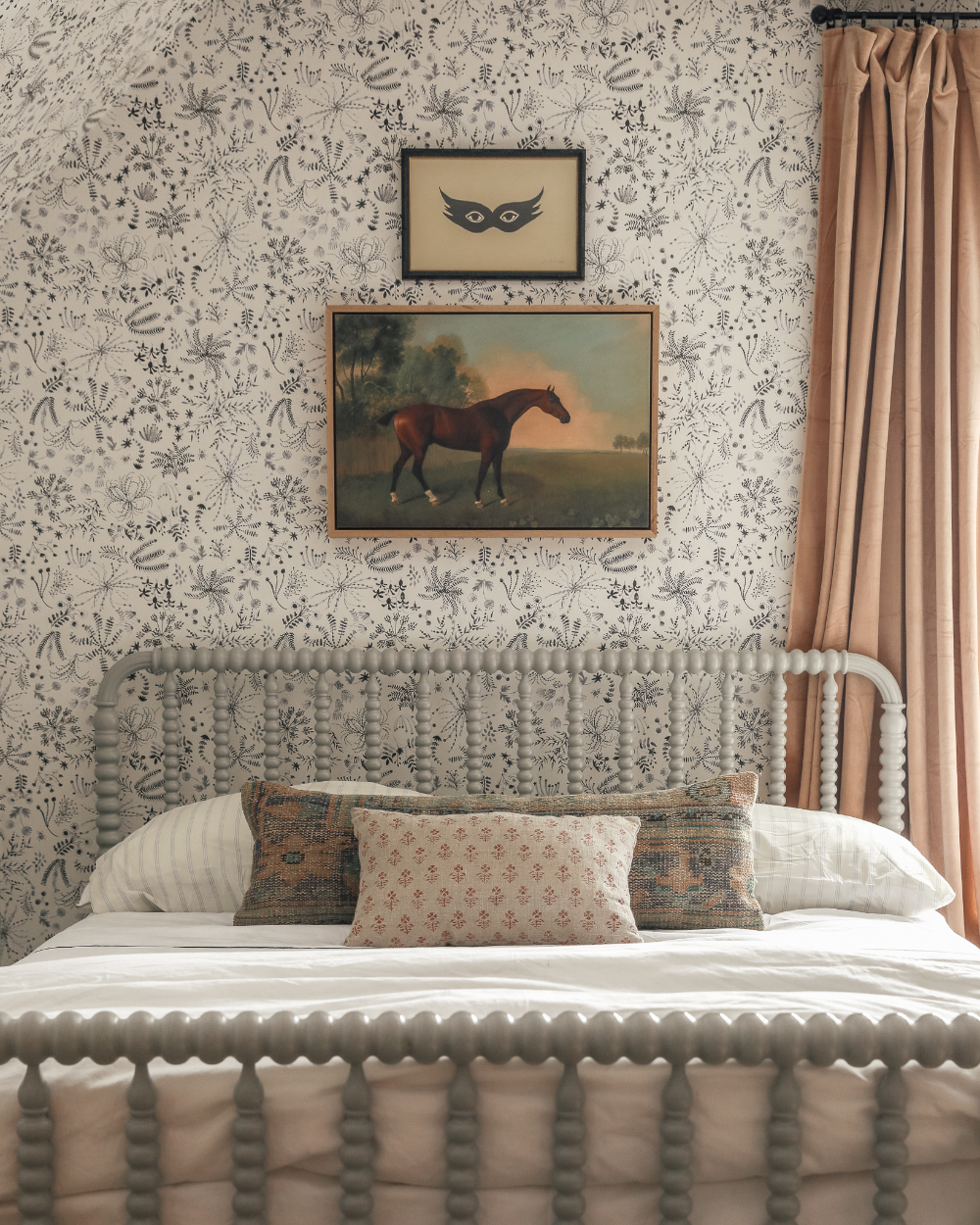 For the bedding sets, choose neutral colors too. It will connect the design with your wallpaper. You can arrange the pillows tidily. Then, add a roll neck in the center. To make it more classic, invite an earthy color like terra cotta accents for your curtain. This combination is perfect to draw a vintage bedroom.
5 of 21
Aesthetic Vintage Bedroom with Luxurious Vibes
The aesthetic vibe in this bedroom emerges from dark wooden furniture. You can get this accent from a dark wooden bed frame. Also, take the most attractive carving poles for your bed frame. Then, match this classic furniture with a stylish bed cover.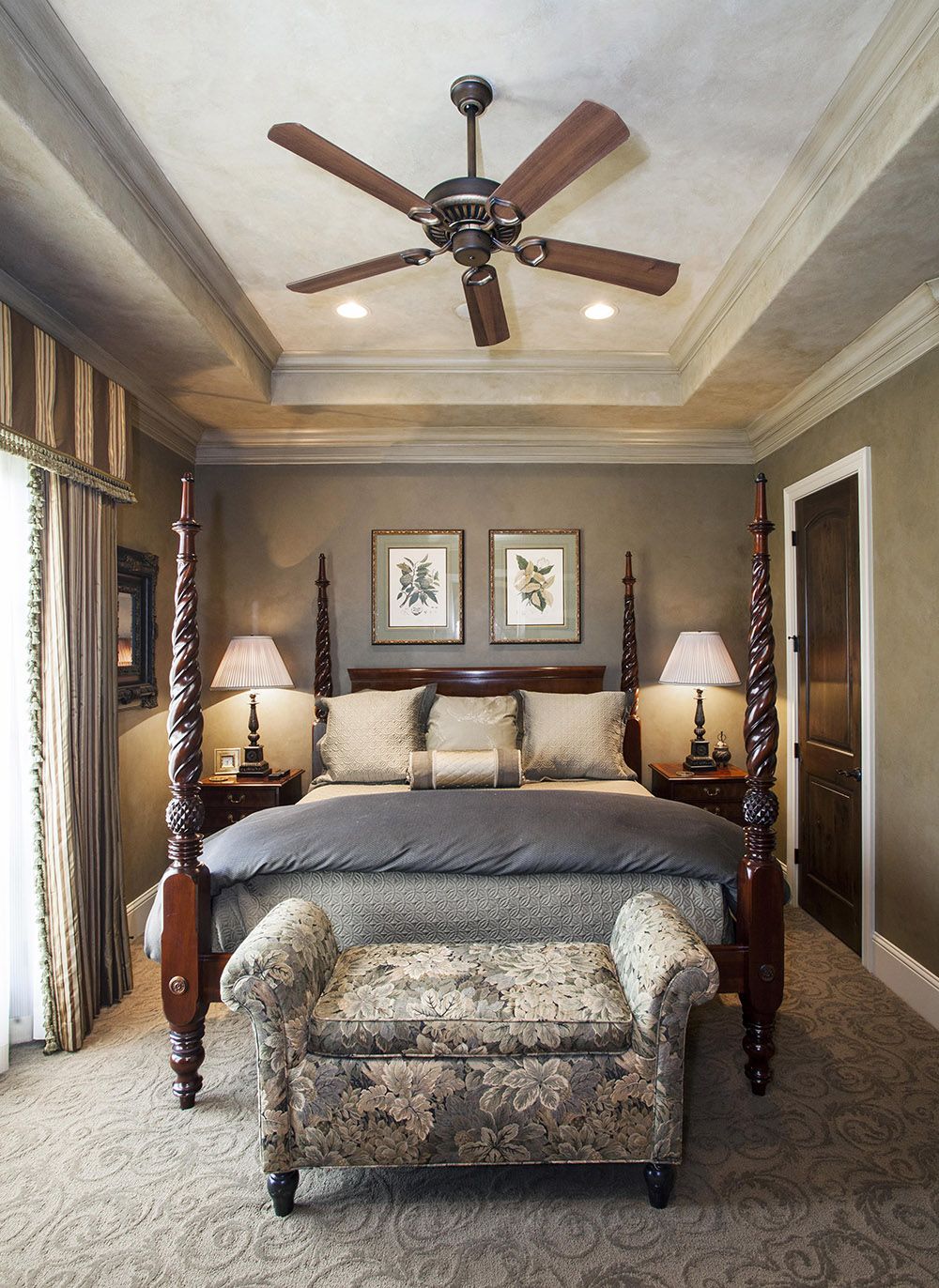 You can choose between the floral or plain bed cover. Whichever you choose, it will do perfectly. Furthermore, it will look luxurious, adding a big fan on the ceiling. Also, put a comfy bench with a backrest on the footboard.
6 of 21
The Eccentric Vintage Patterns for Your Decor
The vintage patterns are perfect to enhance classic vibes. It has various colors and is full of patterns. You can choose a floral wallpaper or abstract design. For accompany, apply this pattern to your lampshade too. These floral patterns look classic to apply in lots of things.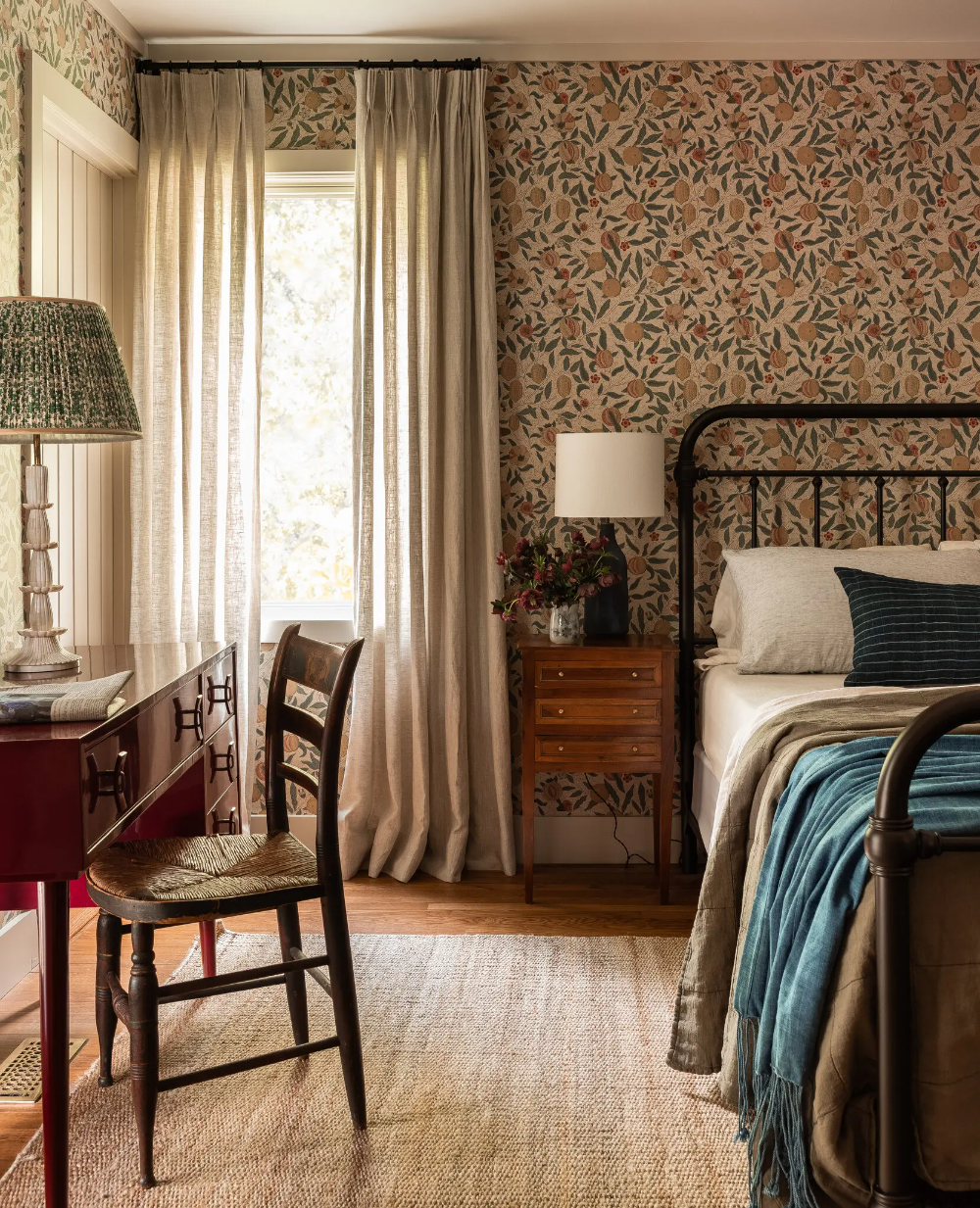 For more classic accents, you can match it with furniture such as a wooden chair and table. It is a nice combination for your wooden floor. Moreover, you can hang a long neutral curtain for styling up this bedroom. Also, put a circle lampshade with a neutral color.
7 of 21
Master Bedroom with Traditional Ornaments
The master bedroom is an important room to get interesting decor. You can transform it into a traditional room by applying a vintage design. First, choose a calm paint for your wall. It will be your base theme to decorate the interior. Then, add eccentric displays on the wall such as decorative plates and wall mirrors.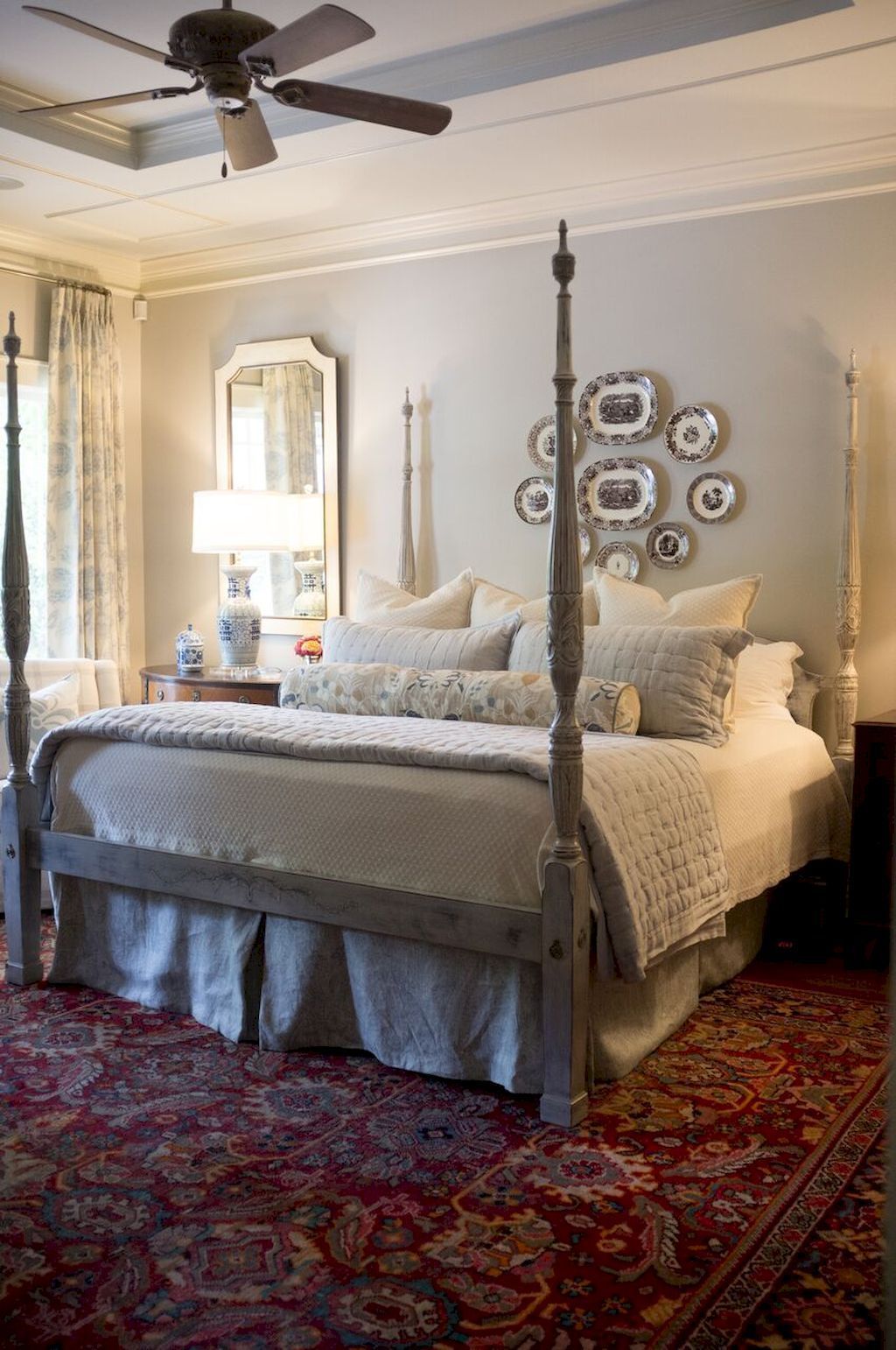 Besides, you need to arrange the bed with some pillows. Add a roll-neck pillow with laces. Also, you can use a white bed cover for your classic bed frame. This bedroom is more stunning if you use a patterned rug. Then, add other vintage items such as a big fan on the ceiling and a warm lampshade.
8 of 21
Luxurious Bed Frame in Vintage Bedroom
A vintage design will change the atmosphere in your room. For example, the luxurious wood bed frame is stunning to be your main piece of furniture. It will catch the attention of everyone who sees it. For styling up, add a comfy bench on the footboard.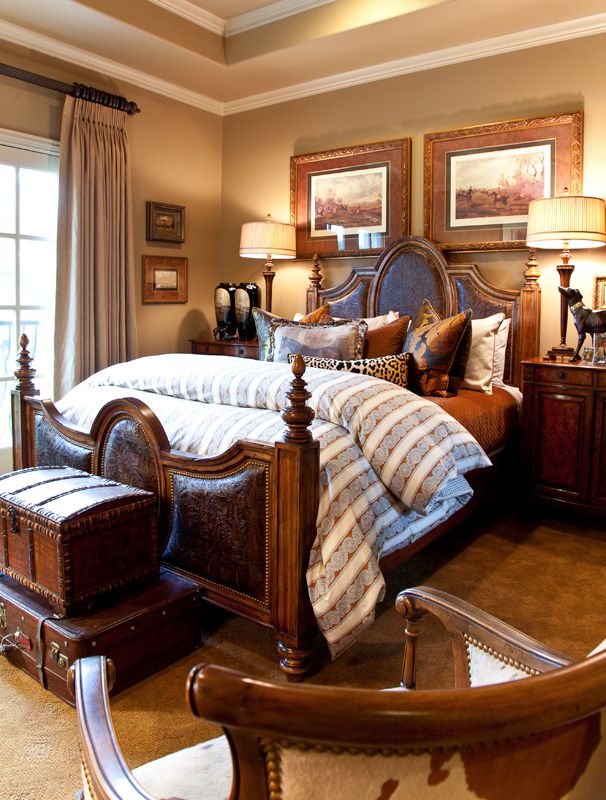 Besides, you can add more vintage accents like a decorative wooden trunk, a pair of landscape paintings, and curvy chairs. These elements represent a popular design in the 1940s. For lighting, add two lampshades with warm lights. Also, you can open the window and pull its beautiful curtains.
9 of 21
Metal Bed Frame for An Industrial Bedroom
The Metal bed frame is another vintage accent. It has an Industrial impression to put in your bedroom. Also, it is interesting to upgrade your new design to feel classic. This bed frame matches traditional decorations such as an attractive fabric for the headboard, geometrical patterns on a bed cover, and eccentric pillows.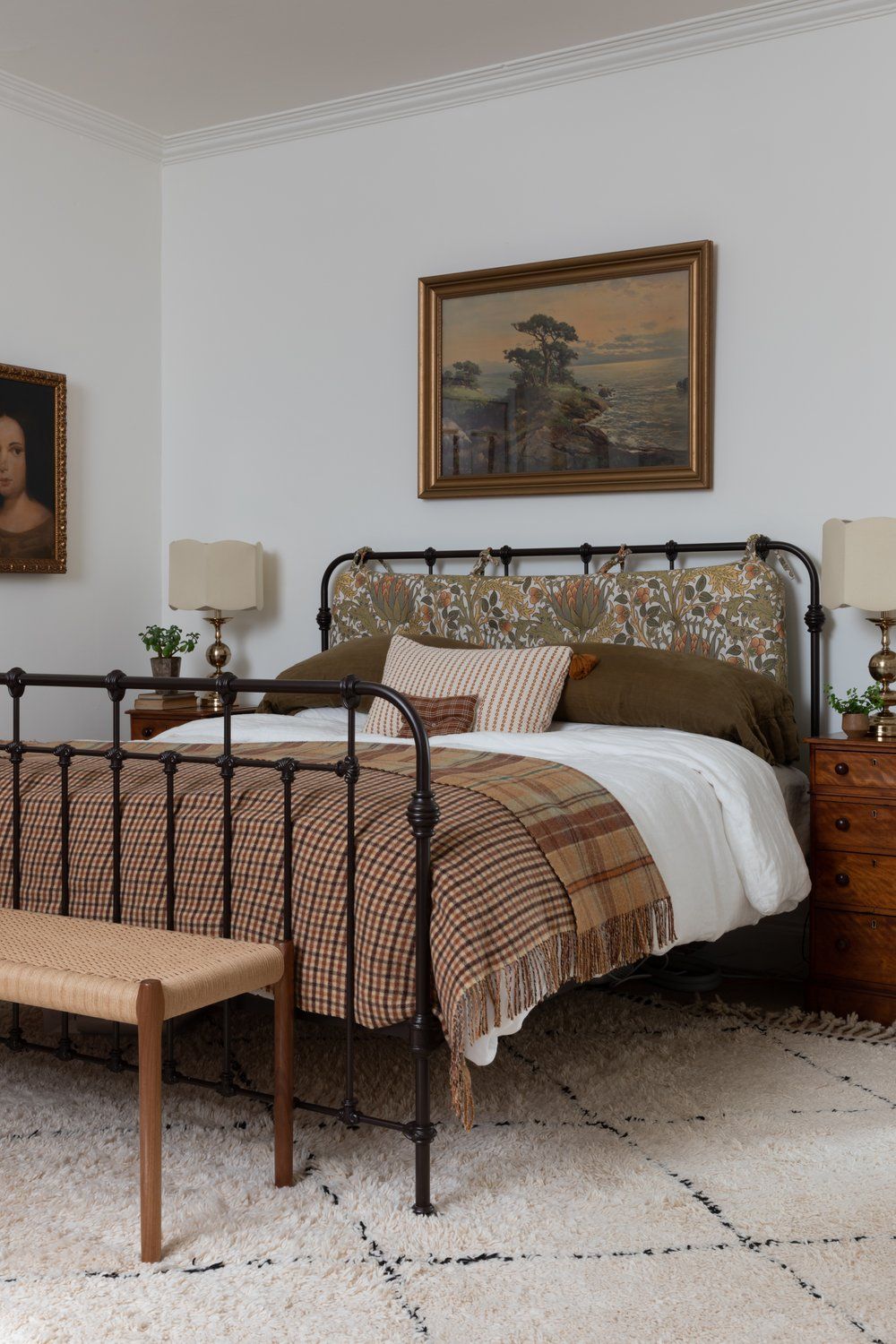 Furthermore, you can put some vintage furniture like a pair of side tables and a bench on the footboard. For the lighting, it looks warmer to turn on a cube lampshade in the corner. Also, if you like art, then install a few paintings on the wall. This decoration will draw perfectly for your vintage bedroom.
10 of 21
Artistic Vintage Decoration
Using something artistic in bedroom decor is not easy, but you should try this idea. First, install wallpaper to cover all sides of the wall. Then, add a painting for the artwork element. You can replace it with an aesthetic photograph. Meanwhile, the bedding sets are stunning to use some patterns.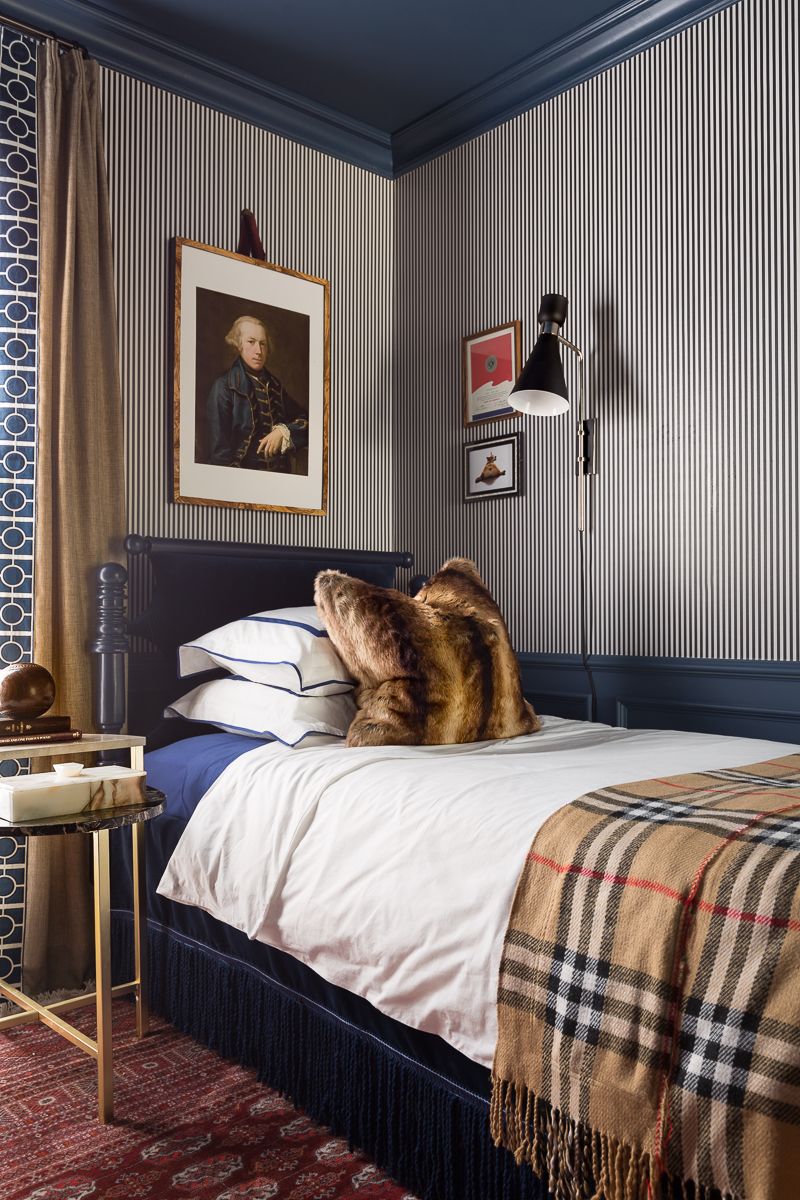 This combination consists of a white bed cover, a geometrical blanket, a classic pillow cover, and some throw pillows. For a perfect decor, put a geometrical side table to put a lampshade. Otherwise, you can use space on the wall to install a spotlight. To complete this design, hang a long curtain with full patterns.
11 of 21
Modern Cottage Style for Vintage Bedroom
The cottage house style always attracts attention to the room. It has a strong vintage accent. For example, a carving wooden chair looks perfect to bring a traditional touch. Also, it matches a wooden cabinet with carving doors. You can put some items on top of it. Maybe, a simple lampshade will look aesthetic for your design.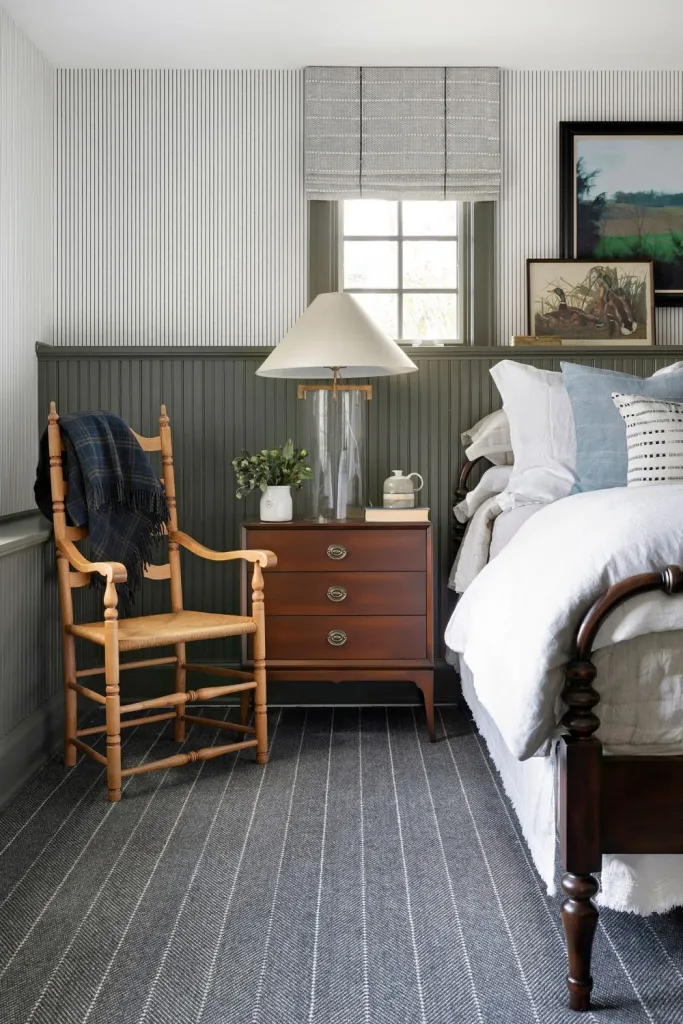 Moreover, you can upgrade your wall decor by using textural wallpaper. Another alternative is molding panels to create classic touches. To enhance an aesthetic vintage room, use a combination of two colors for your wall decor. On the window, you can install a roller blind, then it will add an attractive accent to your wall.
12 of 21
Traditional Modern Bedroom with Warm Impression
The warm impression is a combination of colors. and its reflection from lights. Thus, you can manage the colors of your furniture first. Then, put vintage accents like a carving wooden bed frame, use a white wide headboard, and a white side table. For the lighting, it only needs a pair of table lamps on both sides. Thus, choose the lamps with orange dim lights.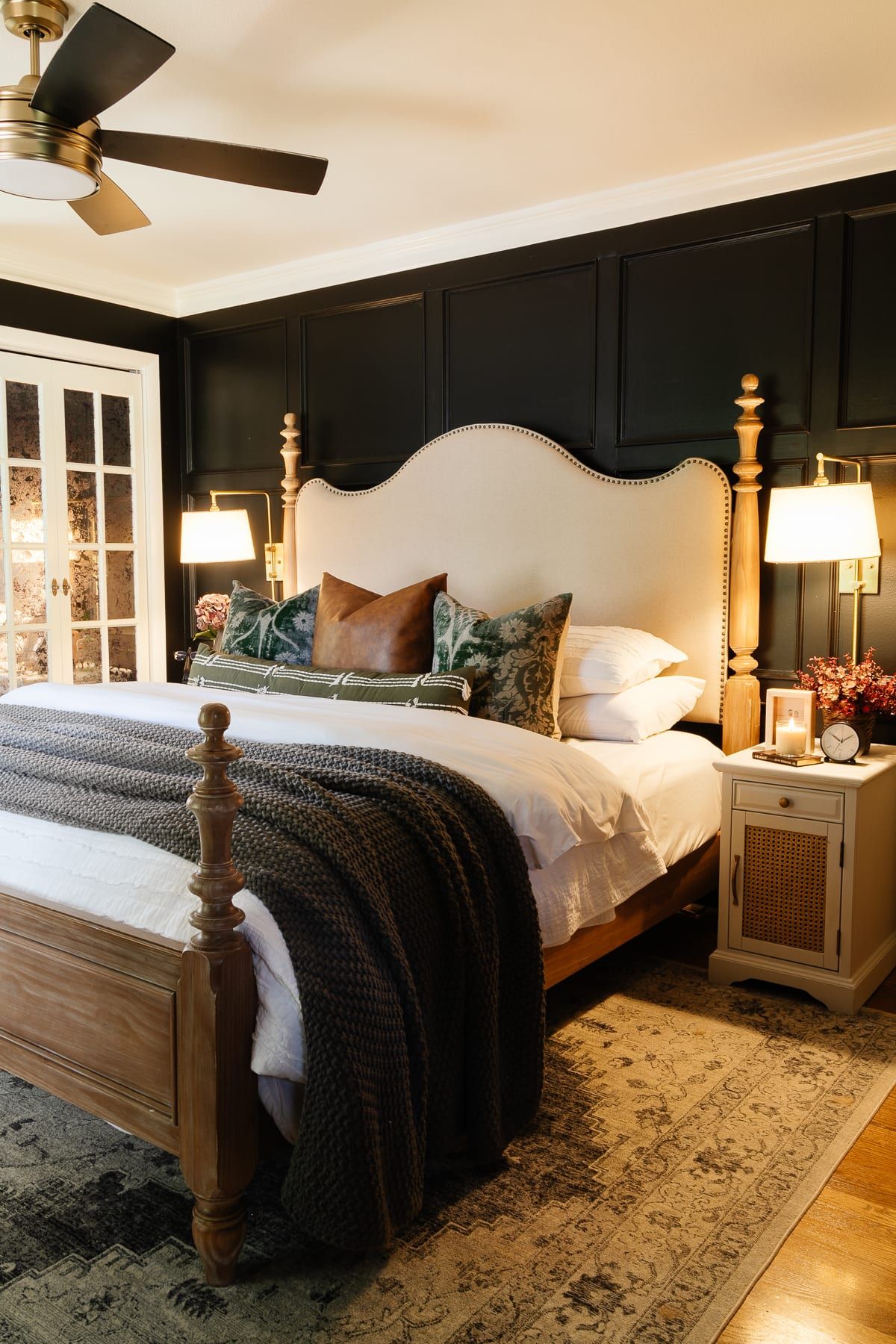 Furthermore, the light will shine on your furniture and create a warm atmosphere. Also, the bedding set will get an aesthetic reflection of lights. To contrast with the bed, put a grey comforter and floral grey pillows. These items will balance the warm atmosphere in your vintage bedroom.
13 of 21
Carving Pole and Wood Side Table
The carving pole is a classic accent in a bed frame. It is commonly made from wood. Some people like to choose a dark brown color to bring a classic impression. Also, it looks luxurious if you give varnish it with golden brown color. Since it looks luxurious, you need a bed cover with long laces to cover the bed frame. It will bring an aesthetic design to your bedroom.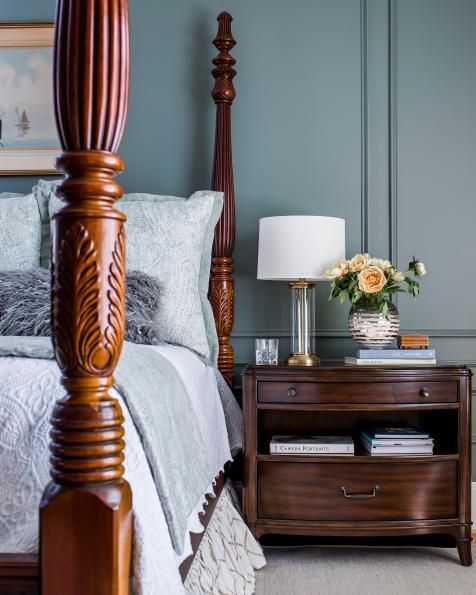 For a more classic item, it is a wood side table that you will love to see. This table has an aesthetic classic shape. It provides two drawers with one shelf. You can put some small items on the top side. For styling up, add a table lamp and a group of roses in its white vase.
14 of 21
Vintage Bedroom with Calm Colors
This bedroom decor will surprise you with a classic design. It uses a patterned wallpaper to draw the traditional atmosphere. Moreover, you can add a classic painting to enhance its classic design. Choose a golden frame for the painting or photograph. Next to it, you can add a wall spotlight.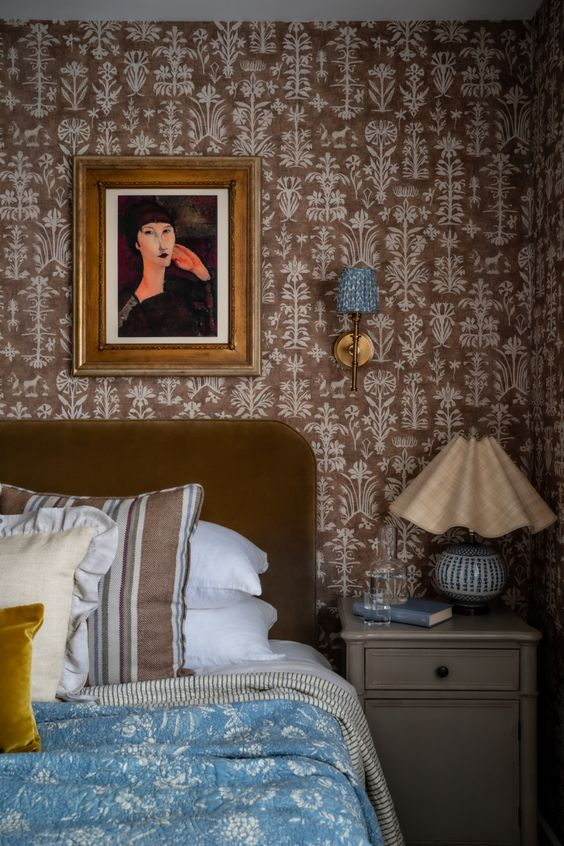 Furthermore, styling up this bedroom with a wooden bed frame. Then, choose a dark brown color to demonstrate your vintage bedroom. Meanwhile, the bedding set will adjust this design with a tidy look. You need to arrange the pillows and clean the bed cover. Also, use a patterned blanket to sweeten the vintage bedding sets.
15 of 21
Traditional Decor and Dressing Table
Most people in the urban area in the 1940s love a wood bed frame. Then, this furniture is precious to bring vintage style. The wood bed frame has various designs such as a wood bed frame with some planks on its footboard. Also, it has four wood poles like a common design. For the bedding sets, this idea doesn't get lots of patterns. Otherwise, it prefers the white palette to draw its vintage style.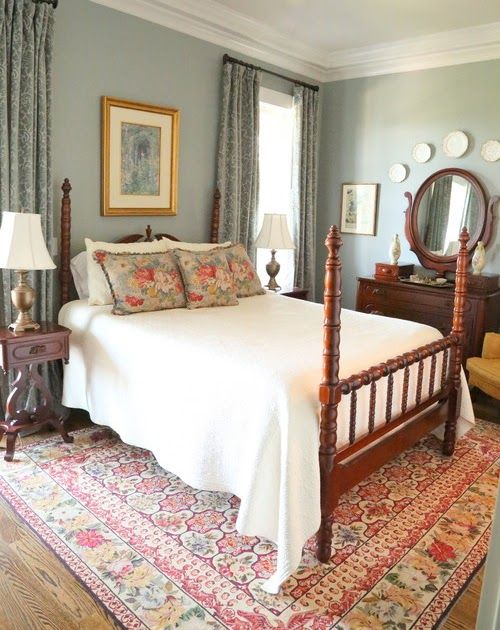 Besides, a vintage bedroom has an additional item like a dressing table. It is must-have furniture to bring into the bedroom. In a vintage style, you will find a wood dressing table with a carving mirror frame. This eccentric accent is a classic decor to enhance beautiful furniture. Also, it has some small drawers with golden knobs. You will find it looks catchy to upgrade your bedroom.
16 of 21
Floral Curtain for Vintage Bedroom
The floral curtain is another patterned accent for your vintage bedroom. It depends on your need to choose its colors. If you want a calm atmosphere, then pick a neutral color. Also, you can adjust the curtain color with the wall paint. It helps you to enhance your vintage design.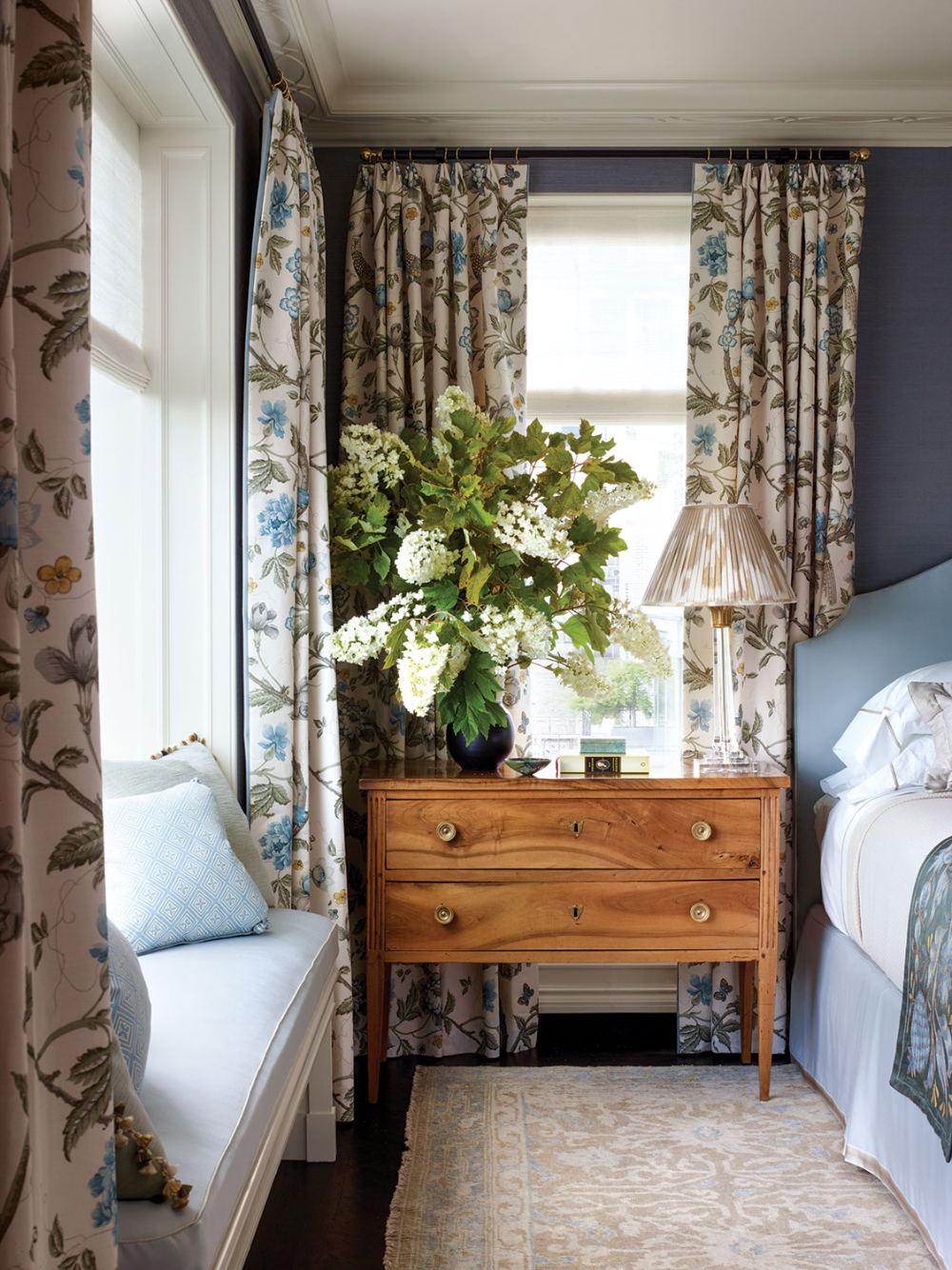 For styling, this curtain put an ornamental plant near the window. Also, you can put the plant on your side table, if it is close to your curtain. In addition, you can add a long bench with comfy seats near the window. Some people like to use bright colors for the bench to balance the natural impression of a floral curtain.
17 of 21
Carving Cabinet with Traditional Style
Traditional furniture always has a unique impression. It has various carving surfaces to add textural accents. More than this, a carving cabinet can upgrade a vintage accent in your bedroom. It looks stunning to put in the corner. Also, you can add some decorations like paintings, photographs, and white porcelain vases.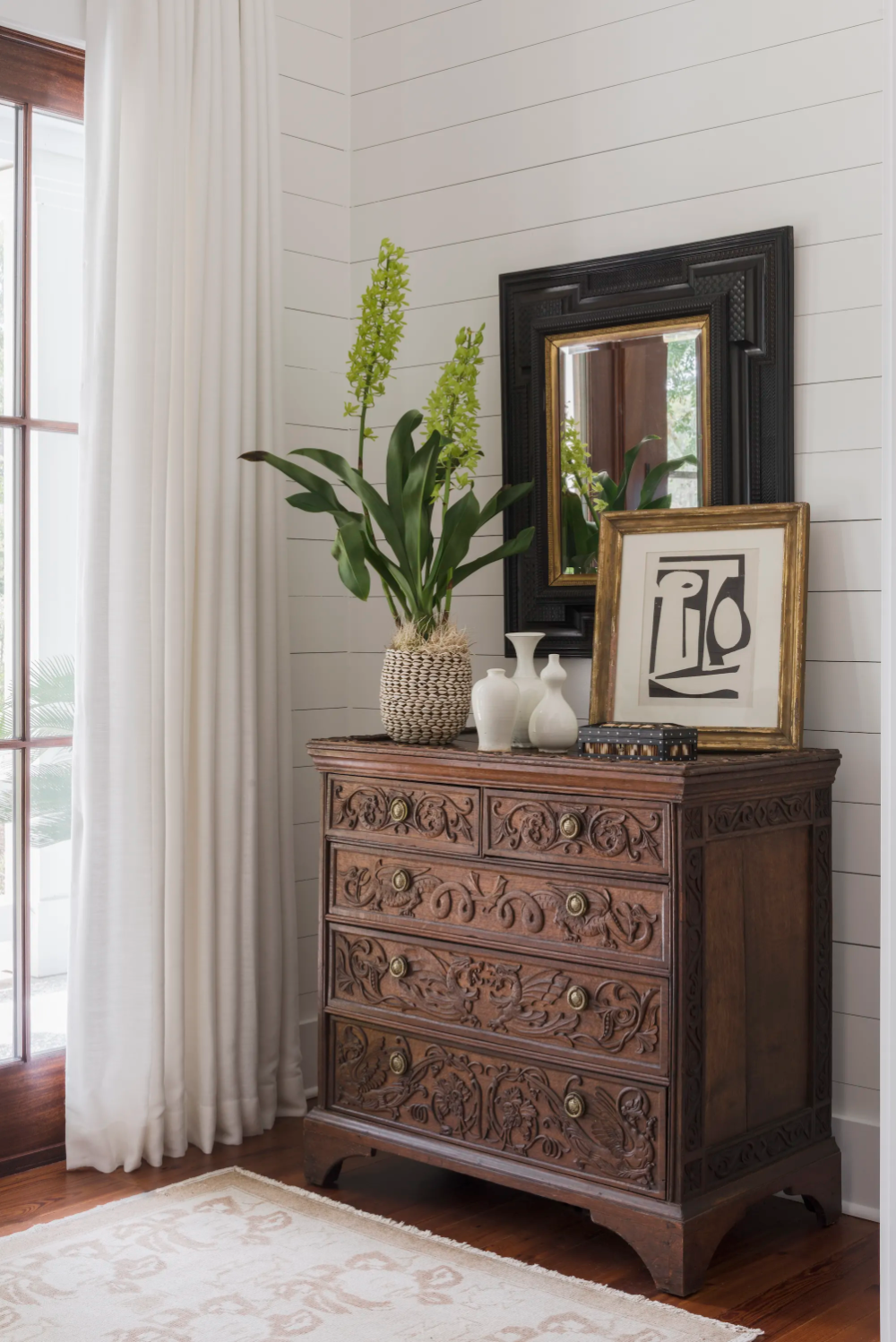 Besides, the environment around it should support the vintage style. So, you can upgrade the floor with a decorative rug. If you prefer a neutral look, then choose a soft brown rug. For a balanced design, you can install long curtains with lace.
18 of 21
The 18th Century Design with Floral Patterns
The 18th century will bring a nostalgic atmosphere. This vintage design can take you back to the past century. To demonstrate this design, use lots of floral patterns on the wall and the bed. Then, choose a natural brown theme for base colors.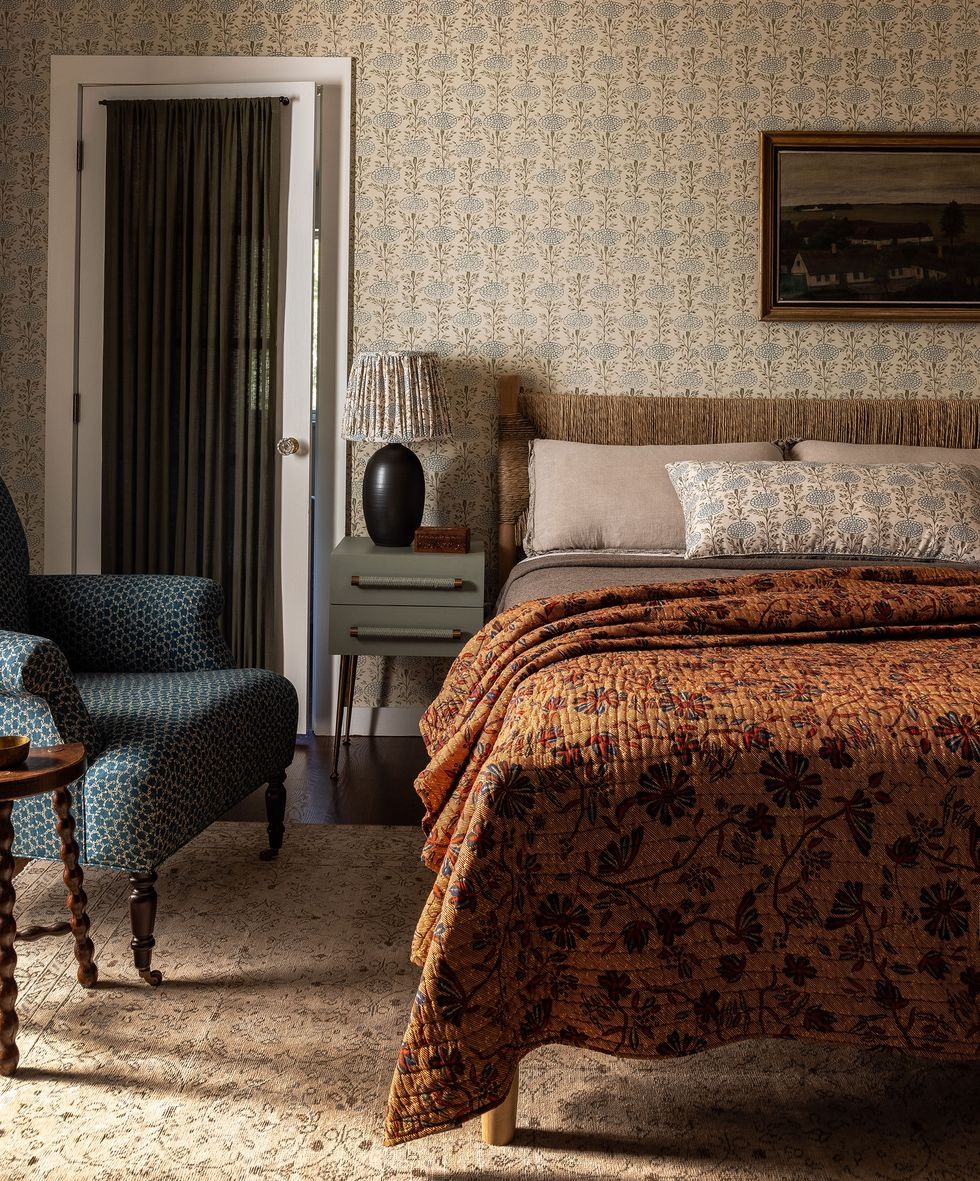 Meanwhile, the bed should adjust with a floral blanket. Even you can match it with more floral patterns from the pillow covers. To connect the vintage design, add some classic furniture like a standing lamp with a crinkled lampshade and a comfy old chair. Also, take a classic side table with a single drawer to put the lamp.
19 of 21
The 1940's Traditional Corner
Decorating a corner is a creative idea. This spot is essential to be your resting area or reading nook. Thus, you need some floral accents to apply a vintage design. For an instant design, install a floral curtain set for your window. This long curtain will decorate a wide side of the wall.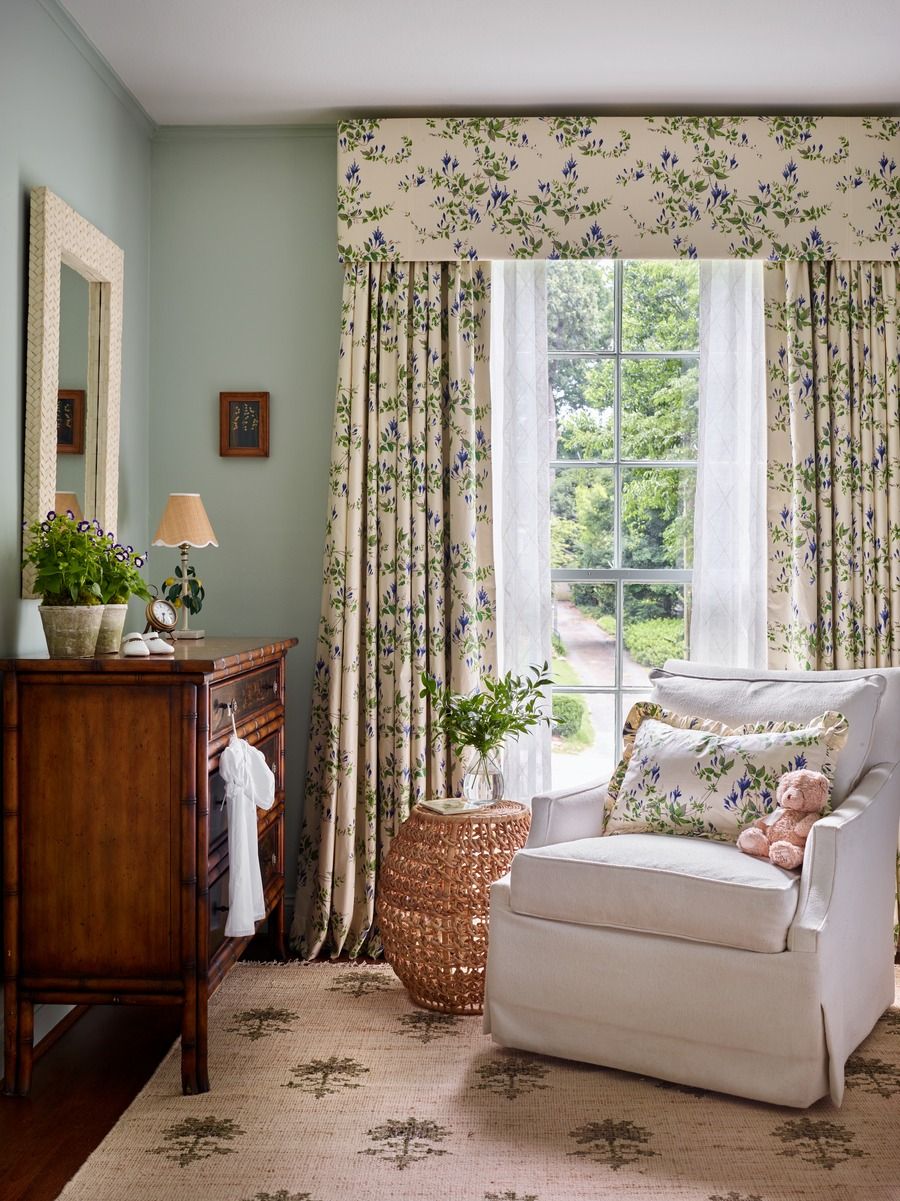 For the vintage furniture, you can choose a comfy white chair. Then, match it with a wood table. You can decorate it with some ornamental plants. Also, it looks catchy to pair your white chair with a wicker table. Don't forget to open the window if you want to invite natural light.
20 of 21
Dressing Table with Traditional Style
The dressing table in a vintage style varies. You will discover lots of dressing table designs with classic style. For example, a dressing table with triple mirrors is a classic design from the last century. It helps you to see all sides when dressing.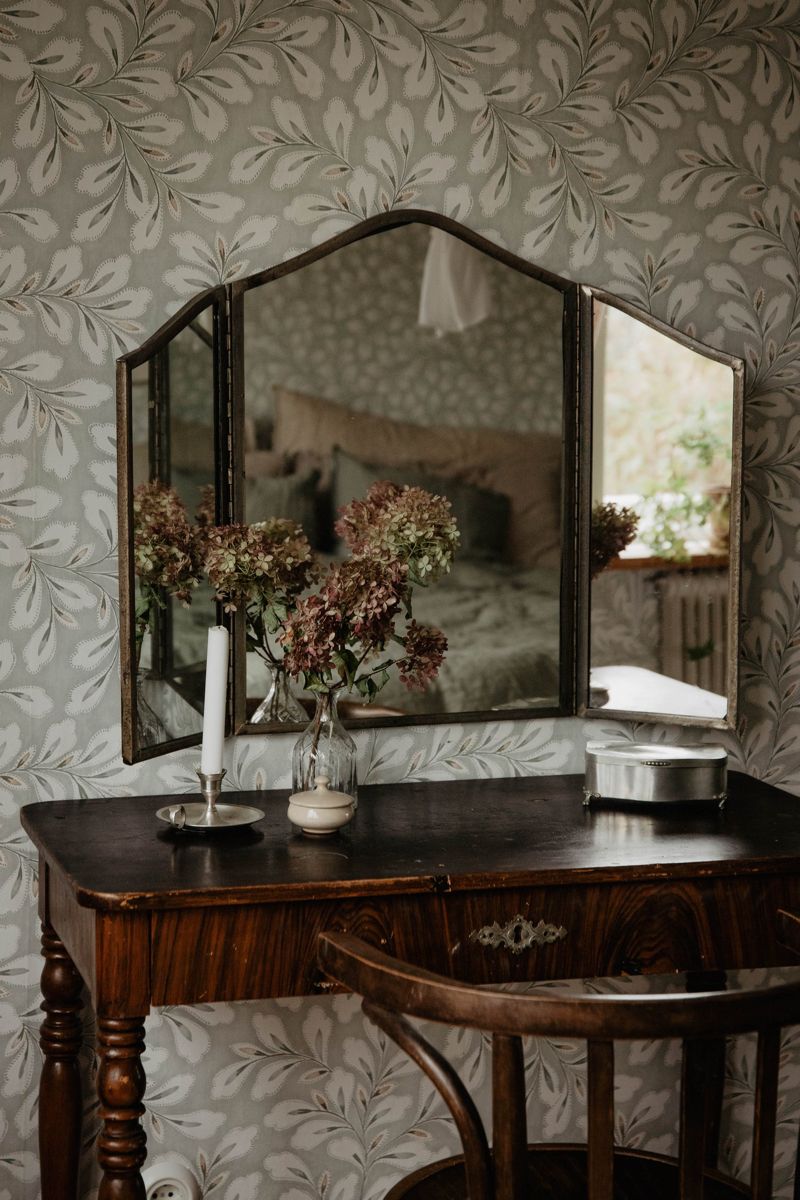 Moreover, this furniture helps you to get a spacious impression through its reflection. To connect the vintage bedroom, it looks perfect to choose the carving dressing table. You can decorate this table with a long candle and a beautiful flower. To complete this dressing table, add a wooden chair with a curvy backrest.
21 of 21
Thus our discussion of 21 Vintage Bedroom Decoration Ideas for Classic Interior Impression. You can choose various vintage concepts that we have discussed above. The vintage bedroom is a nice idea to bring a classic impression. It makes you feel comfortable and nostalgic. Some vintage furniture is wood bed frames with polishes, curvy wood chairs, and other carving wood furniture. To bring out this style in your bedroom, we have ideas that will help you to upgrade the interior. Choose and combine according to your wishes and creativity. Hopefully, it is useful to give you a simple guide. Happy decorating!