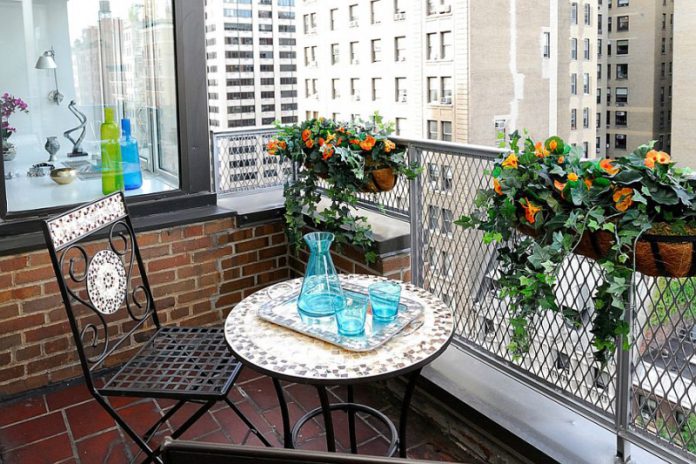 Homesfornh.com – Ornamental plants are decorations that you can create creatively in the interior or exterior. For example, you can use plants as decorations for your balcony. There are many decorations that you can put on your balcony, including ornamental plants. Some outdoor plants look healthier when it gets exposed to sunlight. The outdoor ornamental plants are various such as Hydrangea, snake plant, Impatiens flower, Caladium, Monstera, and many more. Then, the important thing is thriving these plants healthily for a beautiful design. Here, we have 20 Plant Decoration Ideas for Your Sunny Balcony. For that, let's discuss!
Minimalist Balcony with Vining Plant
The balcony is an interesting place to grow vining plants. You can thrive on the most beautiful vine plant decoration like Virginia Creeper, Pothos, or English Ivy on a balcony. Then, it looks more attractive to manage them as a natural wall. Thus, it will refresh your bare balcony.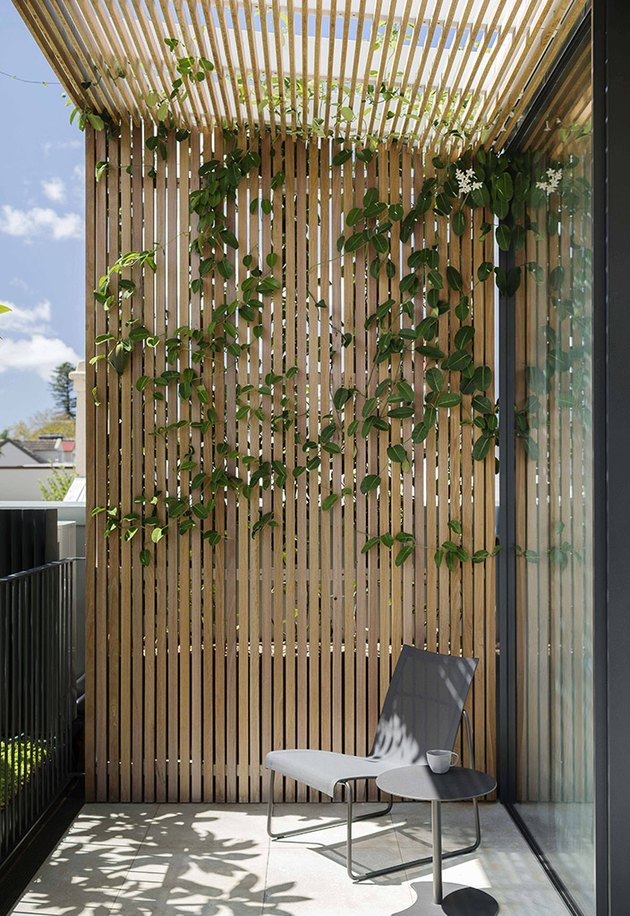 Furthermore, it will grow massively under the sunlight. Thus, you need to put trellis or wooden blinds as the media to creep. The vining plant decoration will generate many leafy strings. So, make sure that you arrange the strings to cover the wall naturally.
1 of 20
Colorful Flower for Every Spot
Using lots of plants on the balcony is an impressive idea to bring nature to your home. For example, thriving more colorful flowers will give an aesthetic design to the place. Thus, you can take the colorful flower to decorate a table on your balcony.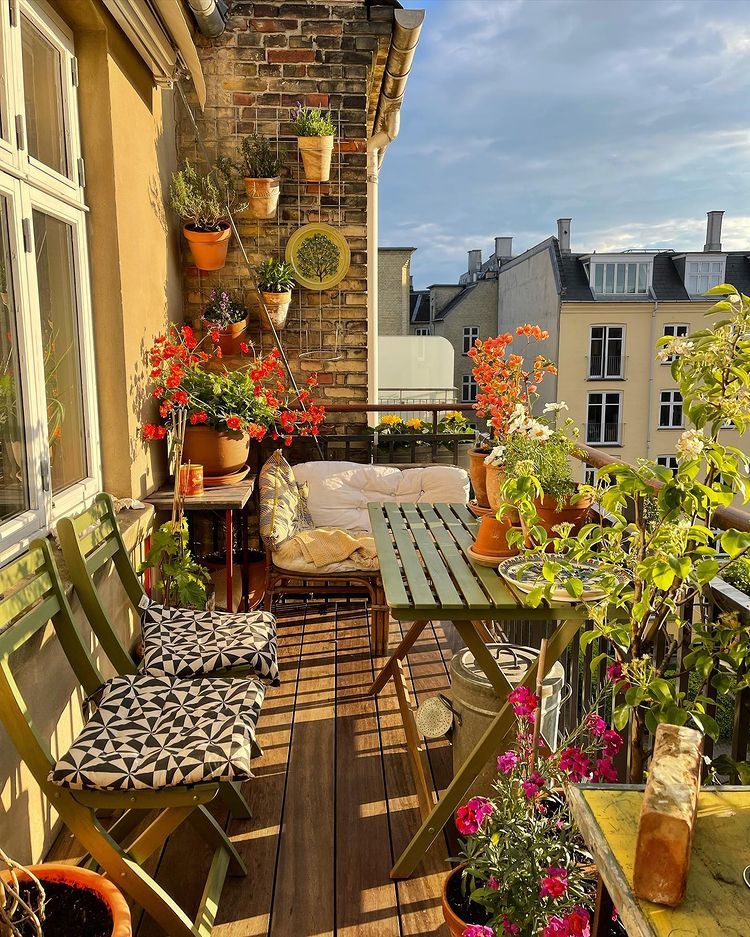 For decorations, put flowers that have unique colors like Lavender or Sweet Alyssum.  This colorful flower is easy to thrive outdoors. You only need to water it when the soil is dry. Then, if you have lots of colorful flowers, it is nice to arrange them on your balcony.
2 of 20
Growing Lots of Flowers for A Mini Garden in Balcony
The balcony can be an alternative to growing plants. Even you can get a mini garden on your balcony. Take the most attractive flowers to grow there. You can separate the area between the flowery plant and the herb plants.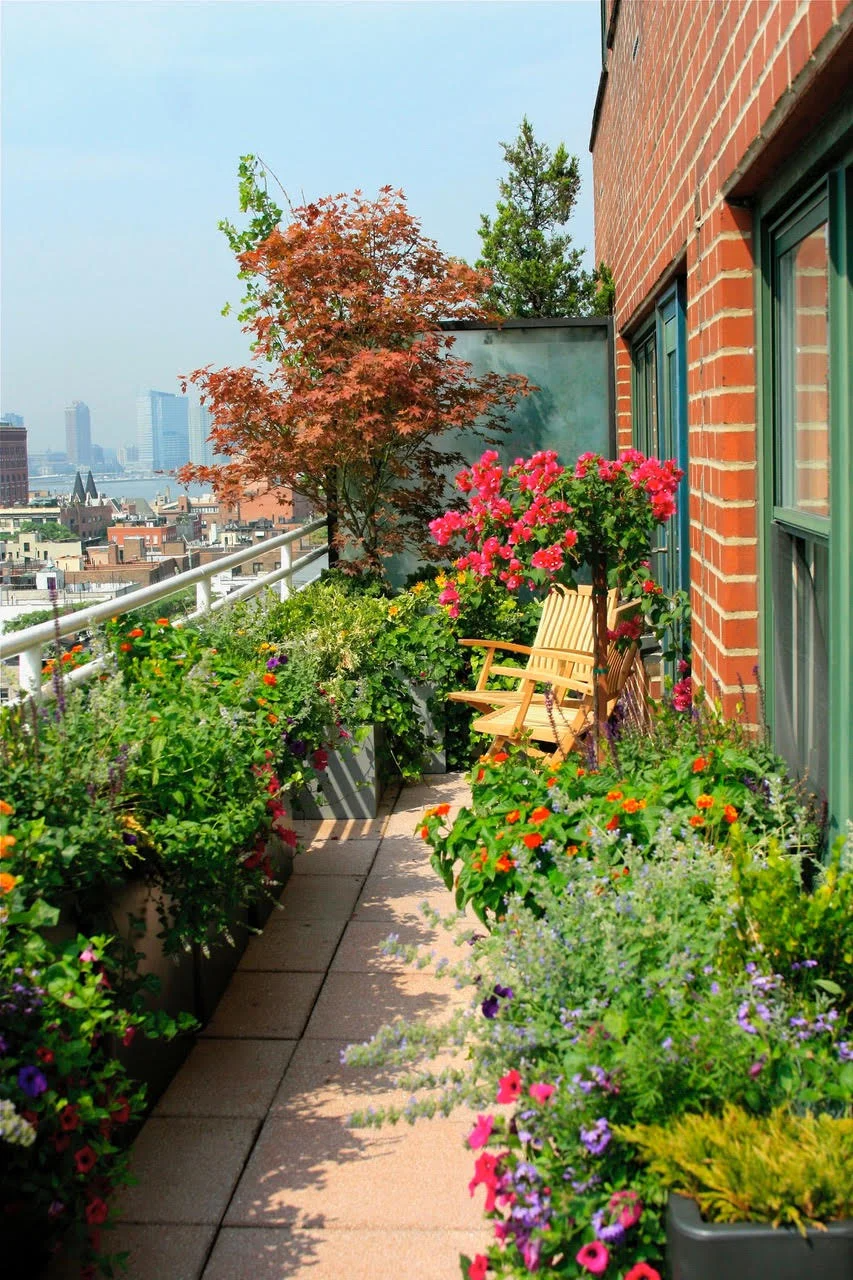 Thus, you will create a beautiful garden on your balcony. For styling up, put these plants in a big planter to make it looks tidy and efficient gardening. Also, take an outdoor flowery tree to the corner. It looks beautiful to refresh your balcony.
3 of 20
Semi Outdoor Balcony with One Tree
A semi-outdoor balcony looks interesting. It has a simple design with railings and furniture on the balcony. You can take your green plant to decorate the corner. For instance, bring the Dracena plant or other tree plants.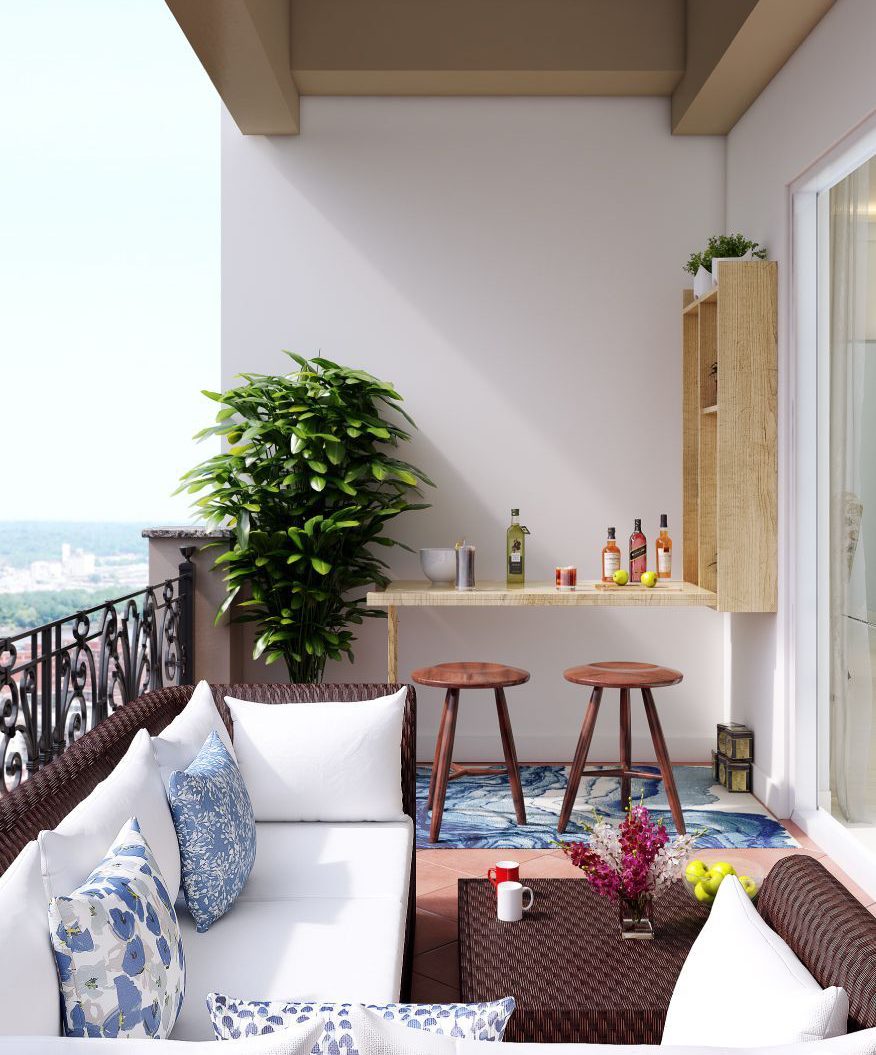 Moreover, you can connect the outdoor atmosphere with a fresh exterior design. First, arrange the most comfortable sofa set to be your sitting area. Then, put a simple table on the central furniture. You can put another decorative plant on this table.
4 of 20
Small Plants to Decorate Some Spots
The small plants are impressive to decorate some areas. Since it has a small shape, you can put them on each spot. For example, a small plant on your table.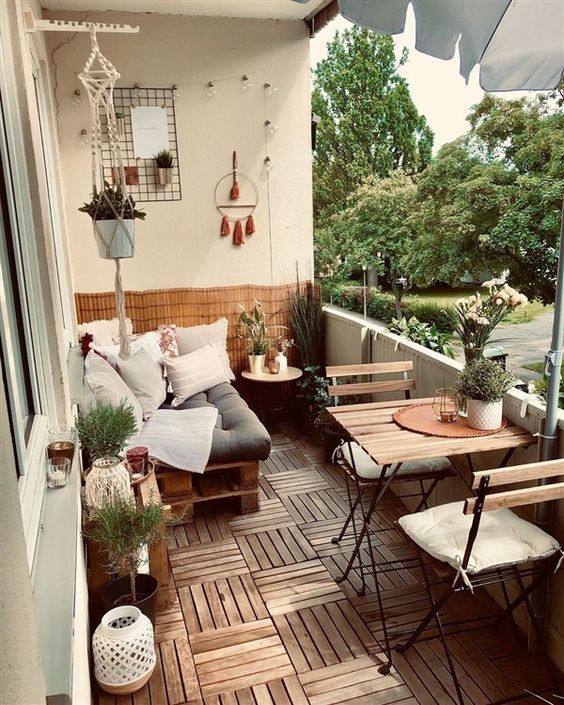 For decorations, you can arrange a lounge with a comfy seat. Add some cushions to it, then put a comforter to sweeten the look. To make it looks more natural, you can install a wooden blind on the wall. Meanwhile, the wooden floor is catchy to add textures.
5 of 20
Massive Growing Plant for A Jungle-Like Impression
Growing a massive plant is beneficial for you to get a jungle-like décor. The Virginia Creeper and English ivy are the most popular vining plant to get a jungle-like impressive. It can grow massively when you water them adequately. Thus, when their leafy vines are getting longer, you can create a shady décor on your balcony.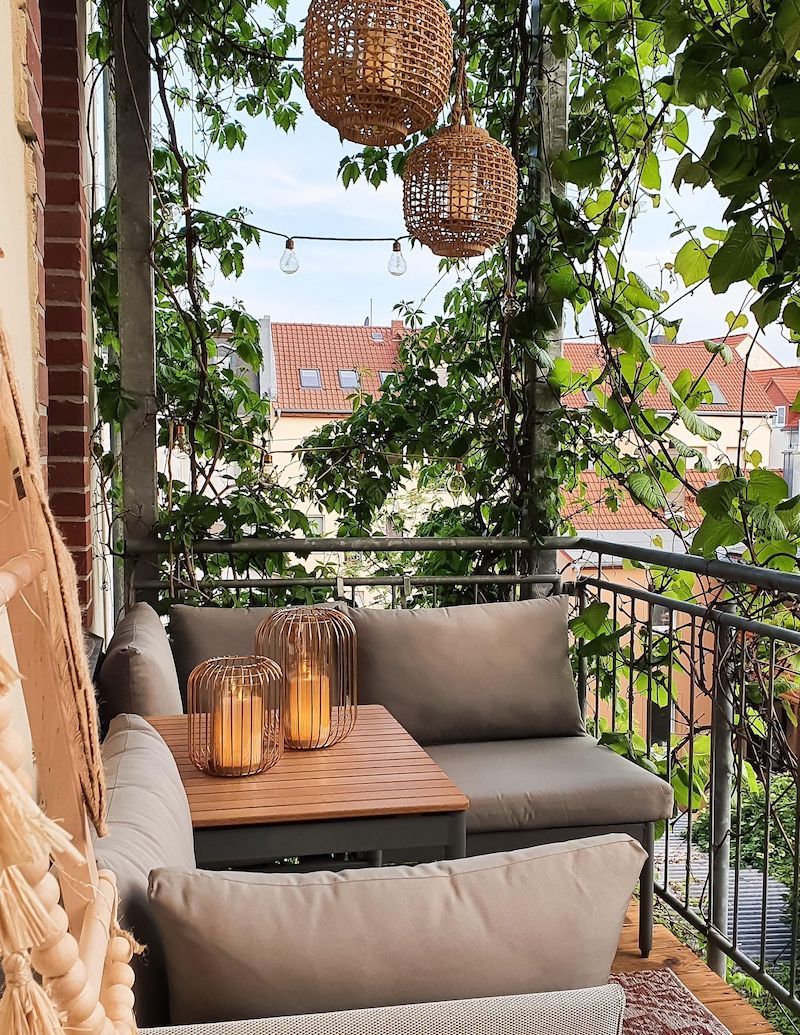 Moreover, it is cozy to take a set of furniture with a comfy seat on the balcony. You can see the natural decoration while enjoying the day after work. This natural balcony looks aesthetic at night when you light up the candles on the table.
6 of 20
Various Plants to Make A Botanical Balcony
Thriving various plants on a balcony is a brilliant idea to make it shady. You can grow lots of plants such as herbs and ornamental plants. The herbs look simple to put in a terra cotta planter. Meanwhile, the ornamental plant and take the other planter.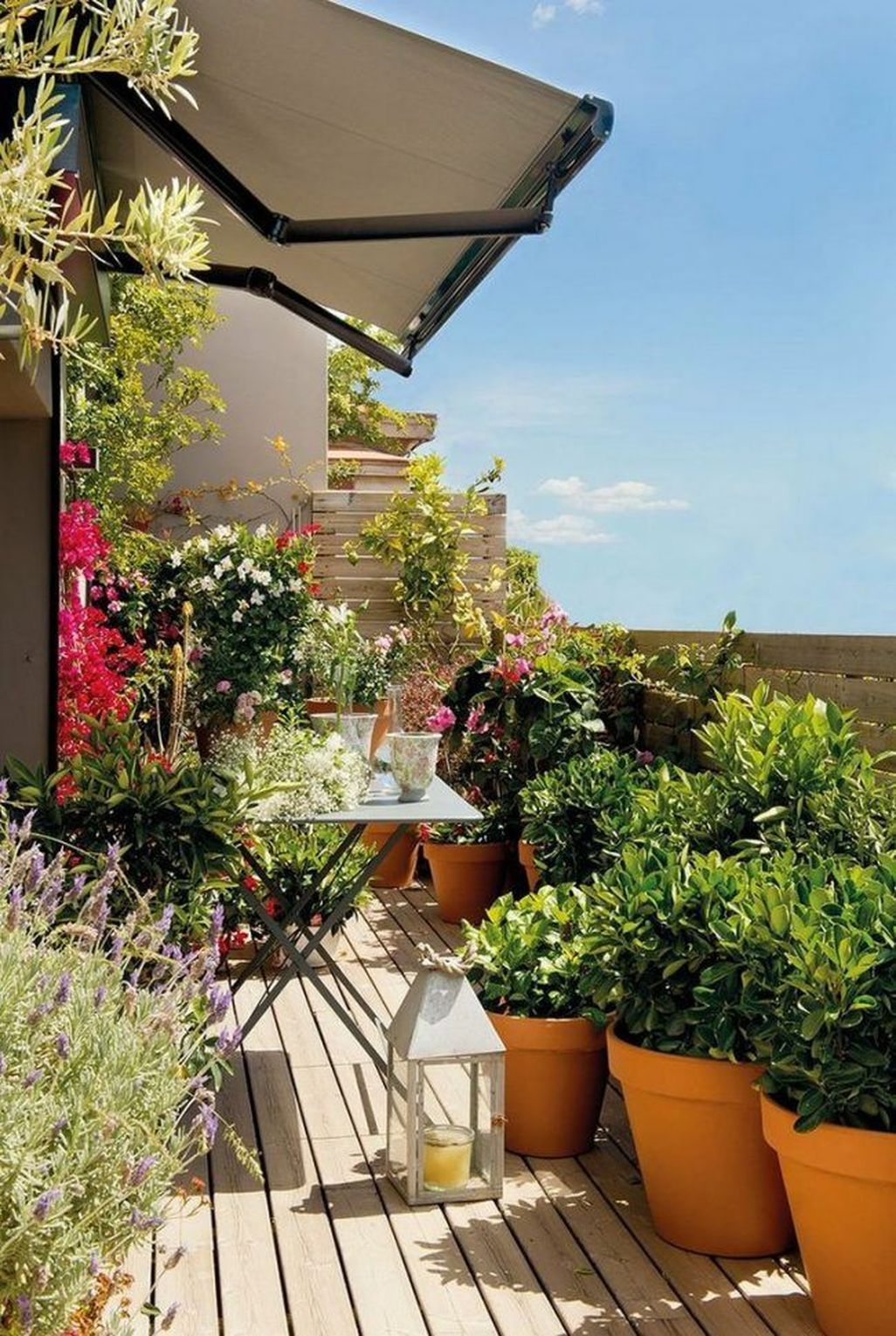 In contrast, you can choose colorful flowers to grow in the planters. Meanwhile, green plants help you to get a natural impression. You can complete this design with essential furniture like a set of chairs and a table. Then, use a candle or string light to brighten the balcony.
7 of 20
White Flowers to Bring Elegance to Your Balcony
Thriving white flowers on the balcony will give you a peaceful atmosphere. These flowers are white roses, hydrangea, and the like. Since the white flowers bring elegance, you can take the most comfortable lounge with a soft seat to decorate this place. Take some cushions to complete the design.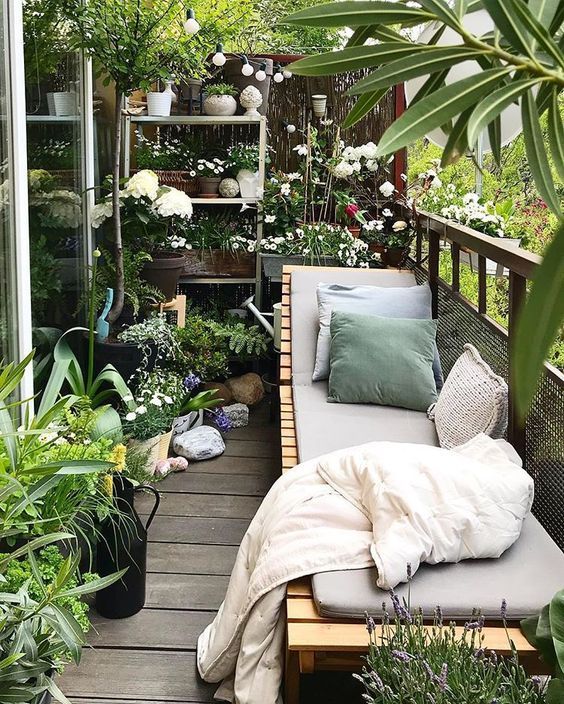 For a perfect garden-like atmosphere, you can thrive more white flowers on a wall shelf. Also, use the white planter to make it on point. Moreover, the position of each plant determines the aesthetic view. Thus, it looks stunning to take some white flowers in a hanging planter on the railing.
8 of 20
Aesthetic Balcony with Green Corner
Having a small balcony is not a barrier to getting an aesthetic design. You can transform it into a beautiful place by thriving some plants. First, choose the flowery plants to refreshen the atmosphere. You can thrive them in a big planter, so you don't need to move it when they thrive massively.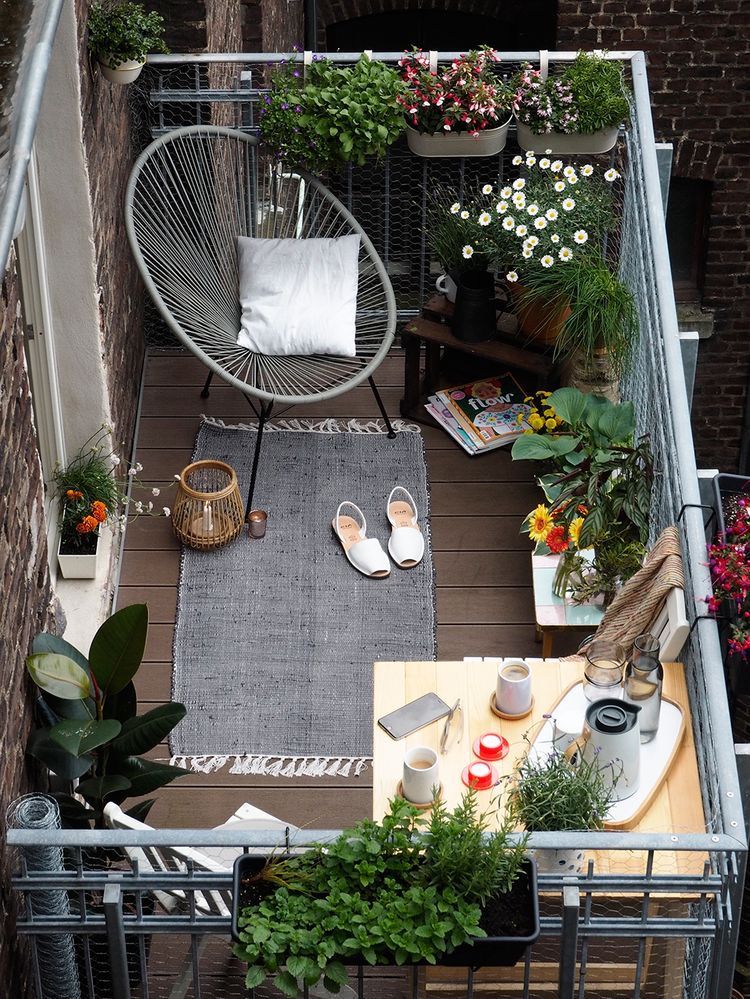 Next, put the plant in the corner of your balcony to save lots of space. Even you can use the railing balcony to hang these plants. You can hang them inside or outside the railing. This decoration looks impressive if you put some furniture to serve you well when enjoying the airy atmosphere.
9 of 20
Some Tall Plants with Elegant Ivory Blind in Balcony
The big plants are attractive to be the focal point on the balcony. It looks aesthetic to have some tall plants on your balcony. For example, the outdoor palm tree is a common plant you can bring to a balcony. Another tall plant is perfect too, so you can put them at different angles.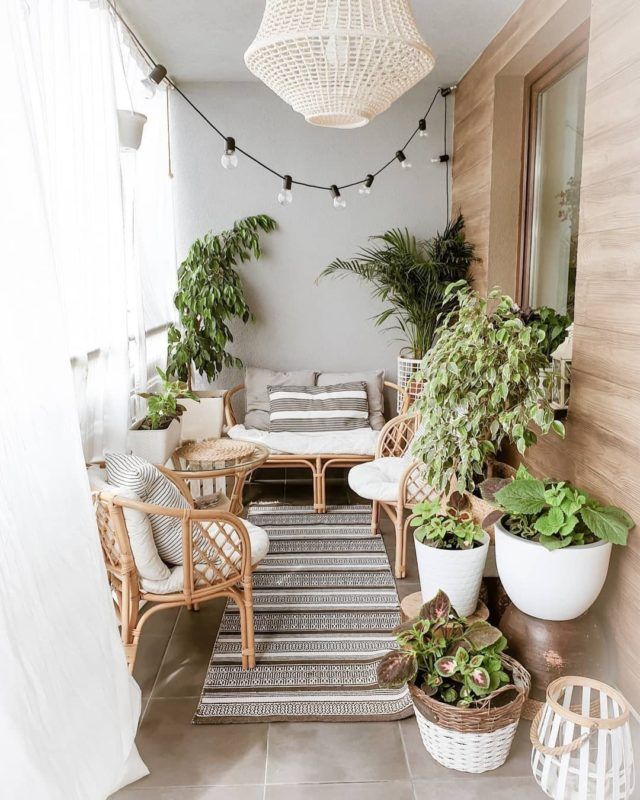 Furthermore, the decoration on the balcony will determine the atmosphere. If you want to create a shady and airy atmosphere, you need to keep the balcony feeling shady. Thus, you can install an ivory curtain or blind to cover the railing. It can reduce the exposure to sunlight, so you will get a shady atmosphere while sitting on your balcony.
10 of 20
Modern Garden-Like Balcony with Hydrangea Plant
The modern garden looks perfect to decorate your balcony.  First, you need to get some wicker baskets. Then, pick the most attractive plants to grow in the basket. You can thrive on Hydrangea flowers, sunflowers, and other massive growing plants.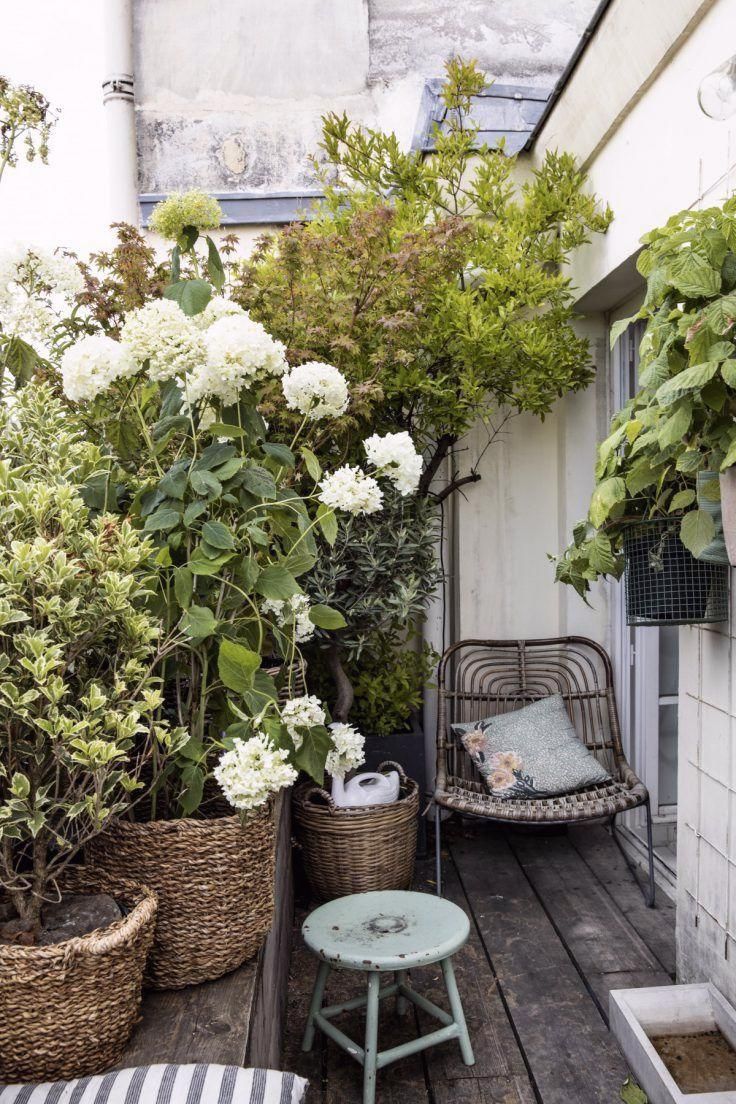 These plants will grow taller and follow the sun. Then, put them in a place that won't get any barrier to growing taller. Also, it looks stunning if you grow other plants of smaller size. Thus, the small plant can decorate the small spot to get a natural atmosphere on your balcony.
11 of 20
Some Herb Plants to Decorate Your Balcony
Do you like to grow herbs at home? If you do, you need to try this idea. Growing herbs outdoors will provide enough sunlight and a natural atmosphere. Thus, the herbs will be easier to grow healthy.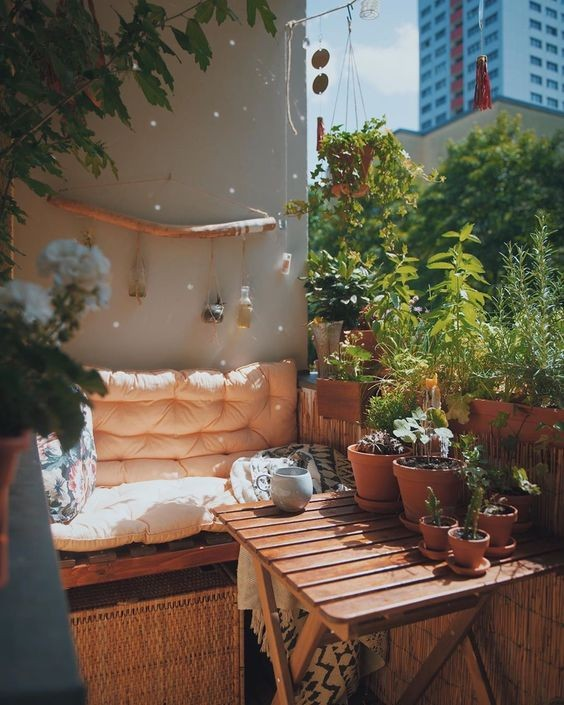 You can grow them in a planter like a terra cotta, stone planter, a small bucket, and many more. Thrive each type of herb in the planter. Then, you can grow the herb differently. Some herbs like to get more water, while others prefer well-draining soil.
12 of 20
Small Hanging Plant to Refresh Your Balcony
The hanging plant is versatile. Even you can take them indoors and outdoors. For the outdoor decoration, you can hang the plants on the railing balcony. It is a simple spot to get natural sunlight. Also, the hanging plants are attractive to decorate the exterior.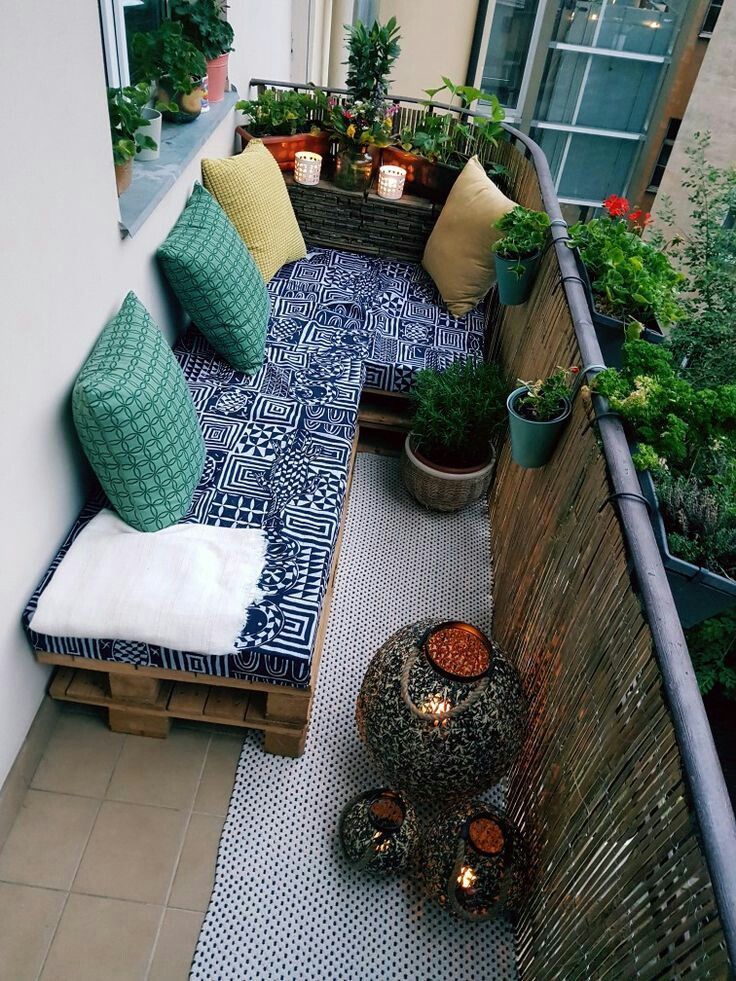 Furthermore, it looks impressive to thrive the flowery plants. You will see beautiful flowers bloom on your balcony. Meanwhile, a hanging planter is also good to thrive the vining plant. Thus, it looks stunning to decorate your railing balcony with leafy strings.
13 of 20
Ornamental Plants on Every Corner
A cozy balcony has a nice environment. The ornamental plants will bring an airy atmosphere to this place. Thus, you can take the green plants to decorate your railing balcony. It looks fresh and natural. Also, it is brilliant to use the wall as a planter. You can hang some ornamental plants on it.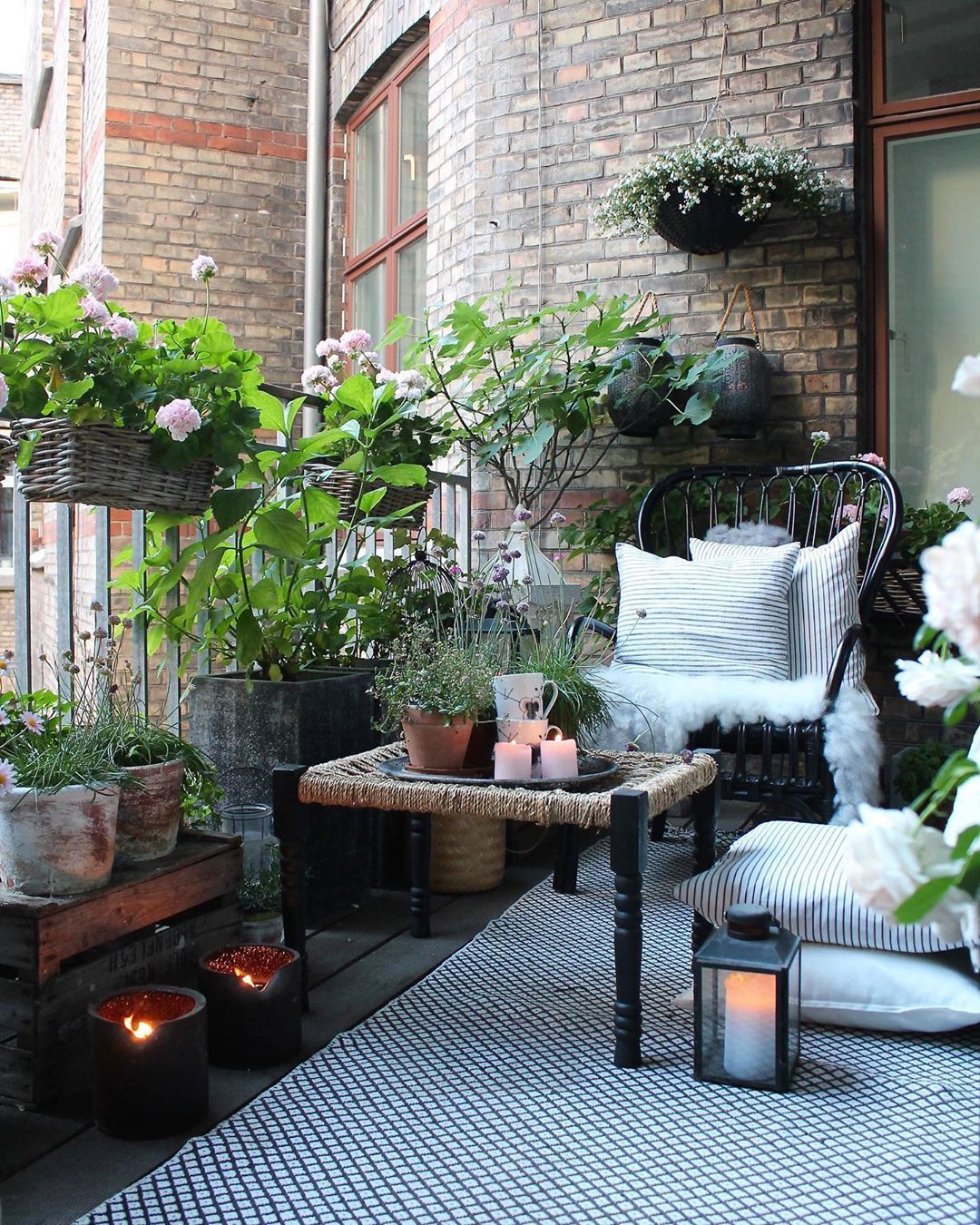 In addition, arrange your furniture on the balcony. Then, you can enjoy the cool breeze on Spring night. Also, you can feel a peaceful atmosphere while enjoying a cup of chocolate and seeing your small garden. If it is necessary, put some decorative candles to brighten the area.
14 of 20
African Violet Flowers to Bring Romantic Atmosphere to Balcony
There are many flowers that you thrive on your balcony. Some of these flowers are African violet and lavender. These flowers are the small bush plant decoration. Then, it is catchy to decorate your small table on the balcony. Even this plant decoration is nice as a hanging plant on a balcony rail.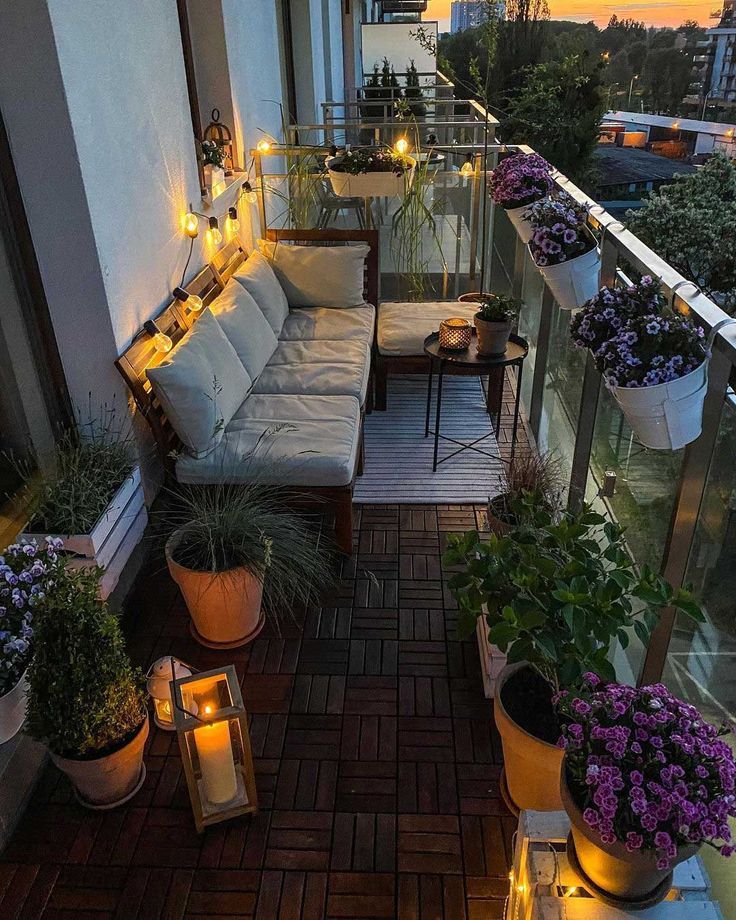 Moreover, this flower loves bright sunlight. If you want to get another colorful flower, you can thrive on the Marigold flower. For decoration on your balcony, it looks romantic to have some warm lights around the balcony area. It makes your balcony more stunning and creates a romantic atmosphere.
15 of 20
Outdoor Biophilic Ferns on the Wall
Using the biophilic décor is a simple way to decorate a wall. The biophilic décor connects the room décor with a natural impression. Thus, this idea is perfect for you who want to get a fresh side on the wall. Then, you don't need to grow any plant decoration types.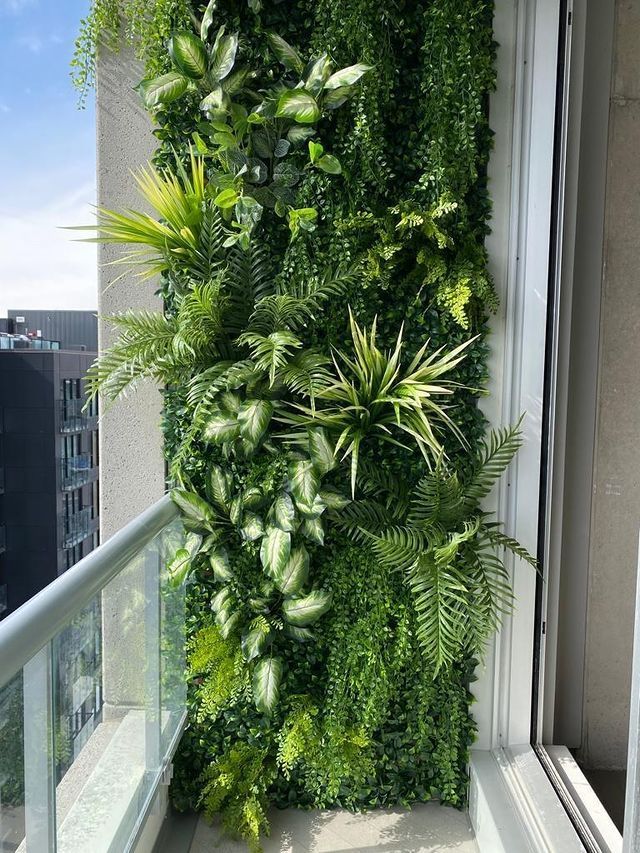 Furthermore, you can use the faux plants as your biophilic wall. Then, choose the plants that you love the most. For example, you can pick the ferns that have a bunch of species. It will instantly refresh your balcony.
16 of 20
Wall Plants to Create An Aesthetic Balcony
Another way to get an instant design is using the wall shelf for plants. The wall shelf is simple furniture to arrange your ornamental plants on the balcony tidily. Each plant should use a different planter to make it on point. Thus, you will look at a small greenhouse from this wall shelf.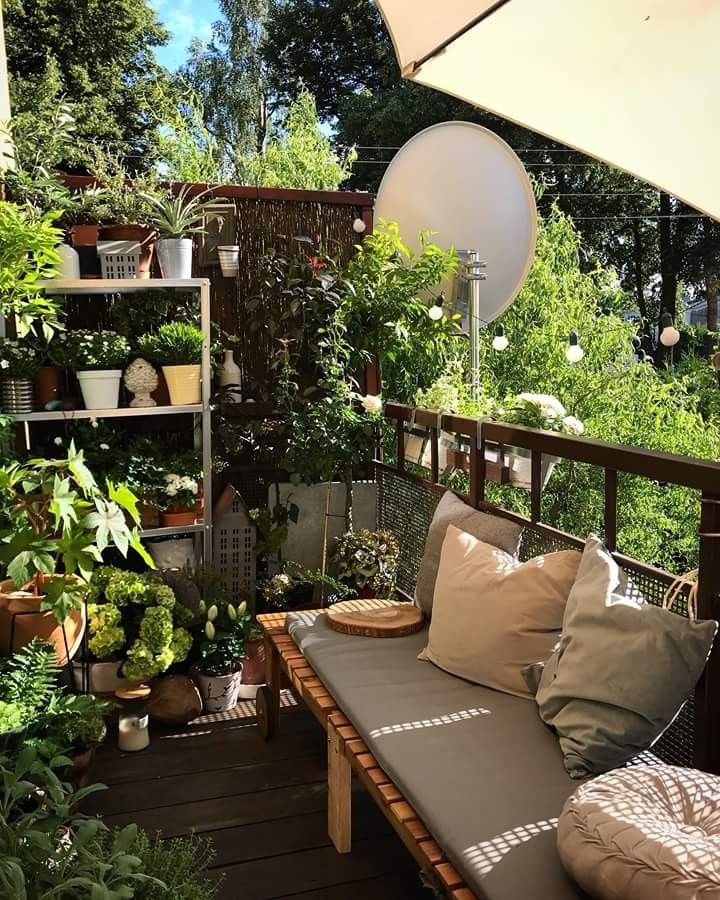 For the decorations, bring the most comfortable seat to enjoy the atmosphere. You can use a lounge with some cushions. If it is necessary, you can install a string of lamps. Then, it will brighten the balcony area at night.  Don't forget to put a side table or a small table to hold the things while you sit on the lounge.
17 of 20
A Mini Garden to Grow Herbs and Flowers
A fresh atmosphere on the balcony is more beautiful to get some ornamental plants. Some of these plants are herbs and green plants. Each plant decoration can refresh the decoration. Also, you can thrive easily in bright sunlight. The low-maintenance plant needs adequate water in the well-draining soil. Thus, the balcony is perfect for his gardening idea.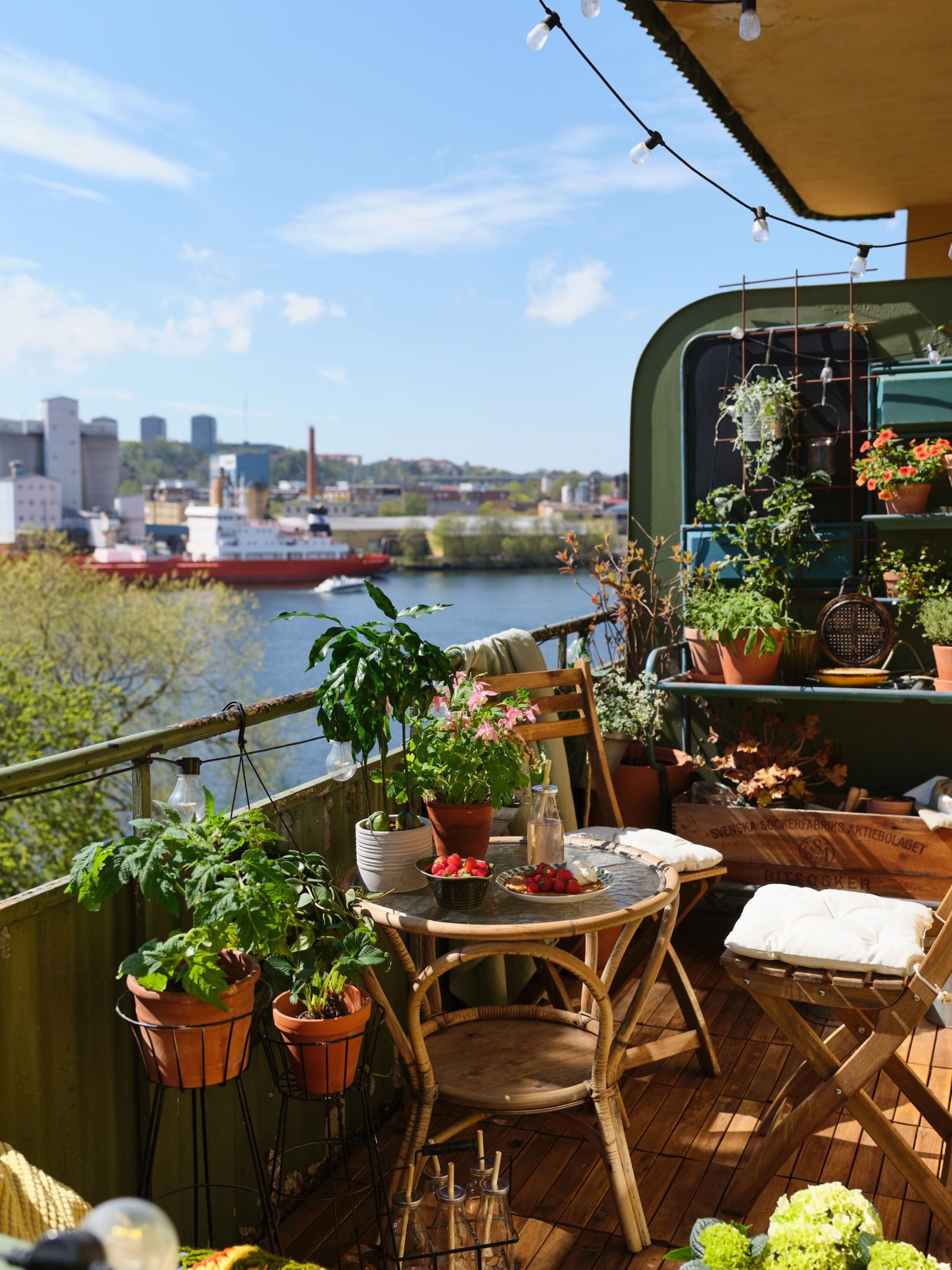 Moreover, you can load more plants on the balcony with a wall shelf. Take a simple wall shelf in the corner. You can use this shelf to load the plants and save your gardening tools. This idea is suitable for an urban area that needs a small garden.
18 of 20
Balcony with Colorful Flowers and Trees
Having colorful flowers will transform the impression on a balcony. Since this place has an airy atmosphere, it fits well to thrive some ornamental plants. For example, Sweet Alyssum and African violets are attractive to give some color to a balcony.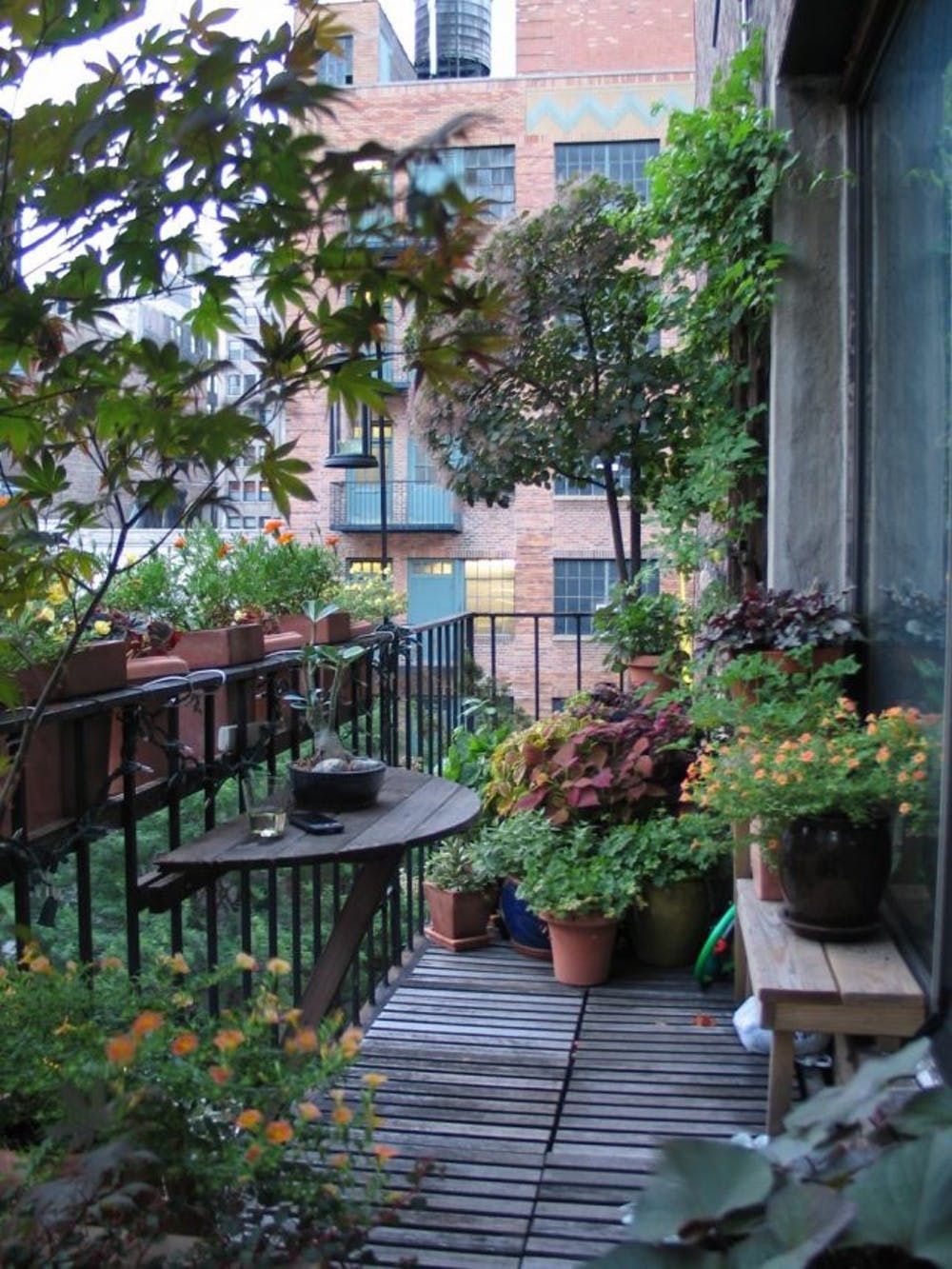 Besides, you can complete this design with more plants. It is okay to thrive on the green plant decoration in the corner. Even you can use the railing area as a hanging planter for plants. In addition, you need to save a small space to install a small table and a simple chair.
19 of 20
Beautiful Landspace of Green Plants on Balcony
Adopting a beautiful landscape on a balcony is an excellent idea for decoration. It brings a natural atmosphere to this place. First, you can start with the green plant's arrangement. Take the tree ornamental plant to make a natural line along the railing. Then, put some smaller plants near the trees.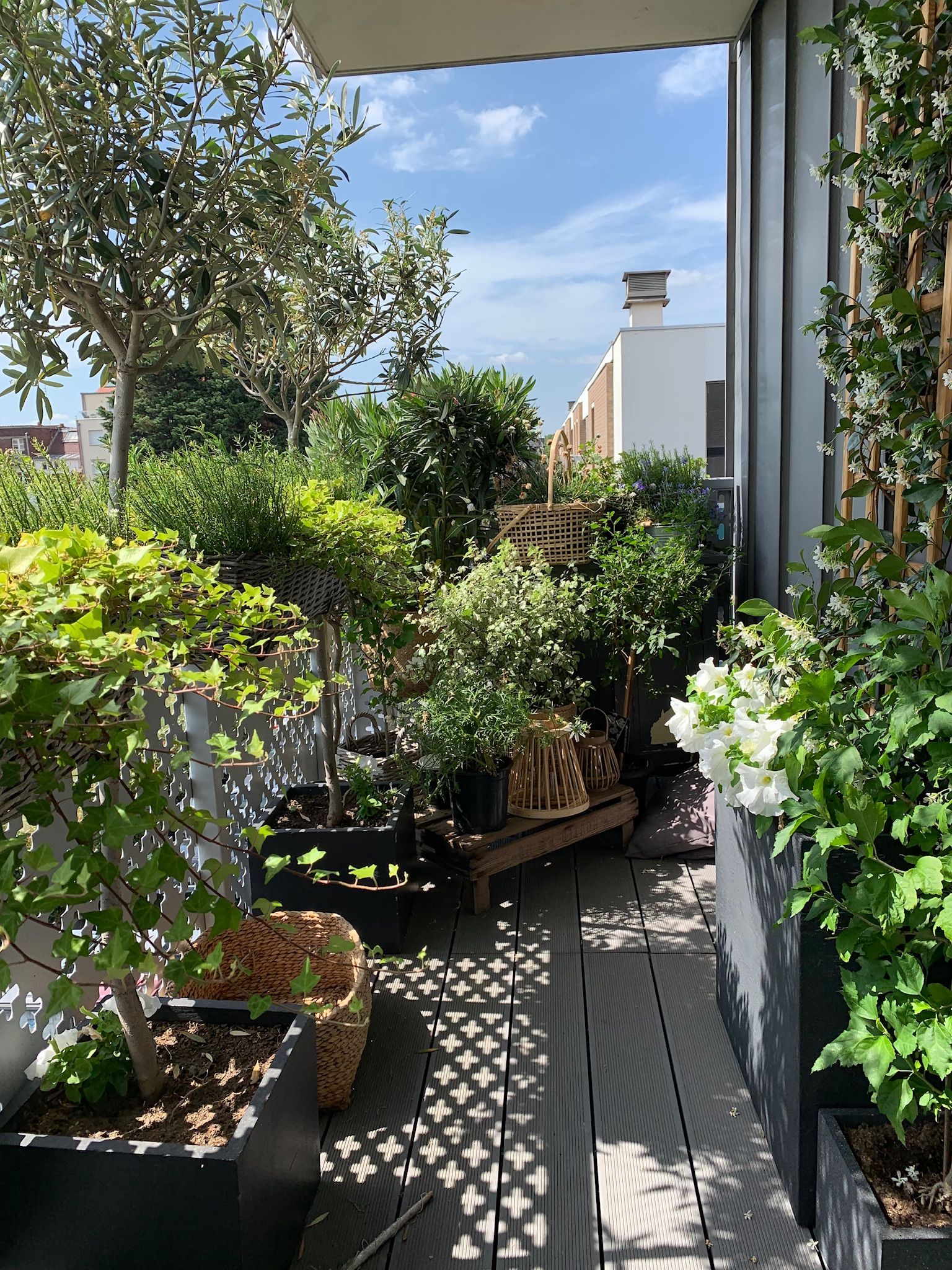 Furthermore, choose some flowery plants to give contrast. It creates a beautiful landscape. For instance, the white Hydrangea plant, Torenia, and even roses are beautiful to decorate your balcony. In addition, you can take a simple chair to enjoy the natural atmosphere in this place.
20 of 20
Thus our discussion of 20 Plant Decoration Ideas for Your Sunny Balcony. The balcony is a simple place to enjoy the outdoor scenery from your home. You can feel the airy breeze in this area. Thus, it is more attractive if you have some plants on the balcony. Some plants that you can grow outdoors are palm trees, Bird of Paradise, Fiddle leaf fig trees, Roses, Hydrangea plants, and many more. Thus, you can combine these plants to get a natural atmosphere on your balcony. If you want to create a natural design for the balcony, we hope this article will help you to find the right decoration. Happy decorating!