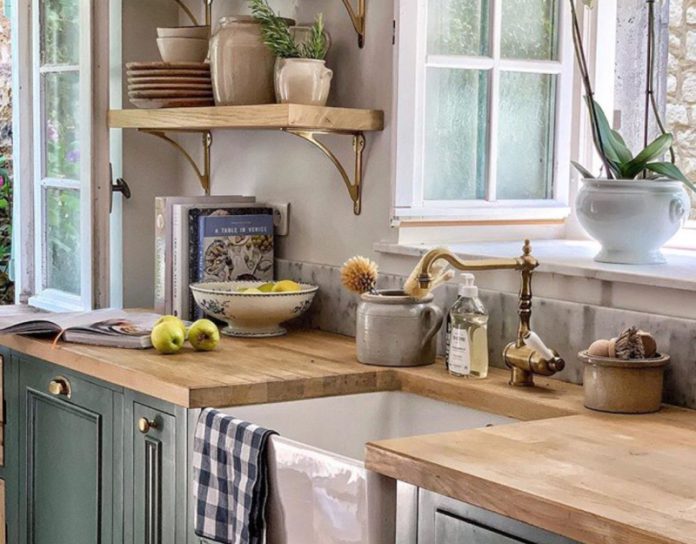 Homesfornh.com – A kitchen is a place for you to cook and prepare food at your home. Therefore, you need to make your kitchen concept as comfortable and attractive as possible. For that, one idea that you can use is to use country-style concepts and decorations. The country kitchen design is an interesting design to invite a warm impression. This design uses lots of natural elements like wood, ornamental plants, stone, and many more. You can take the country living accents for your kitchen. Here, we have 16 Country Living Accents for Your Kitchen Interior Design that will inspire you.
Country Living Furniture
Using a certain design for your furniture will draw an impression. For example, you can take wooden furniture that will bring natural accents to your kitchen. It represents the country living house with natural elements. Also, it looks stunning to have one set of wood furniture.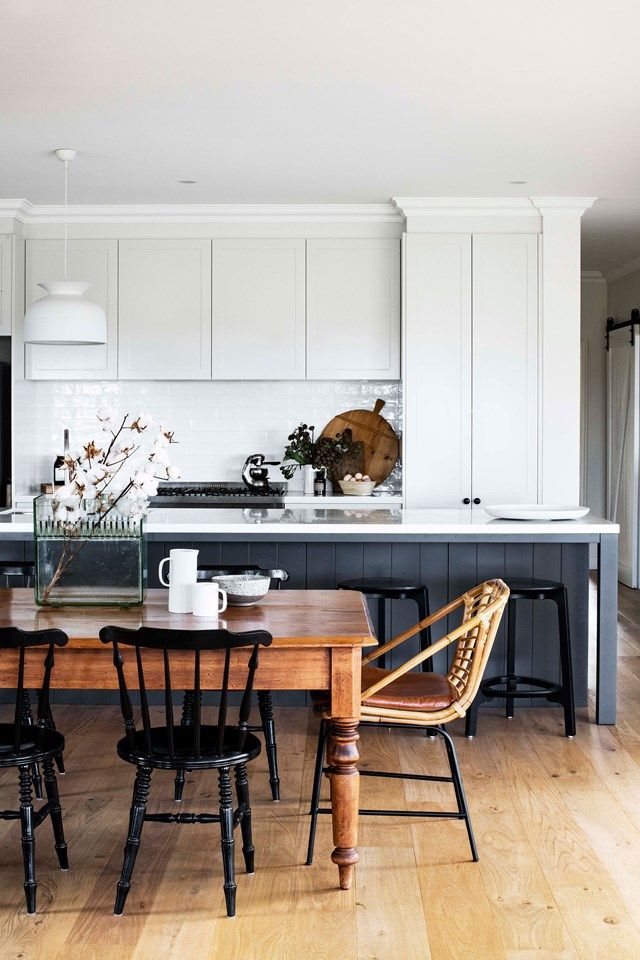 Moreover, the wood furniture will go for a traditional or modern kitchen. Thus, it matches any combination of interior design in your kitchen. Even it looks more interesting if you have some colors for the furniture such as the black wood chair and brown wood table. This idea will transform your kitchen to feel classy.
1 of 16
Hexagonal Tiles And Wooden Accents
The hexagonal patterns are a traditional shape that you will see in a traditional design. You can adopt this theme for your kitchen floor. Also, pick the wood or brown color to enhance the traditional style. It makes your kitchen looks like a country living room with traditional touches.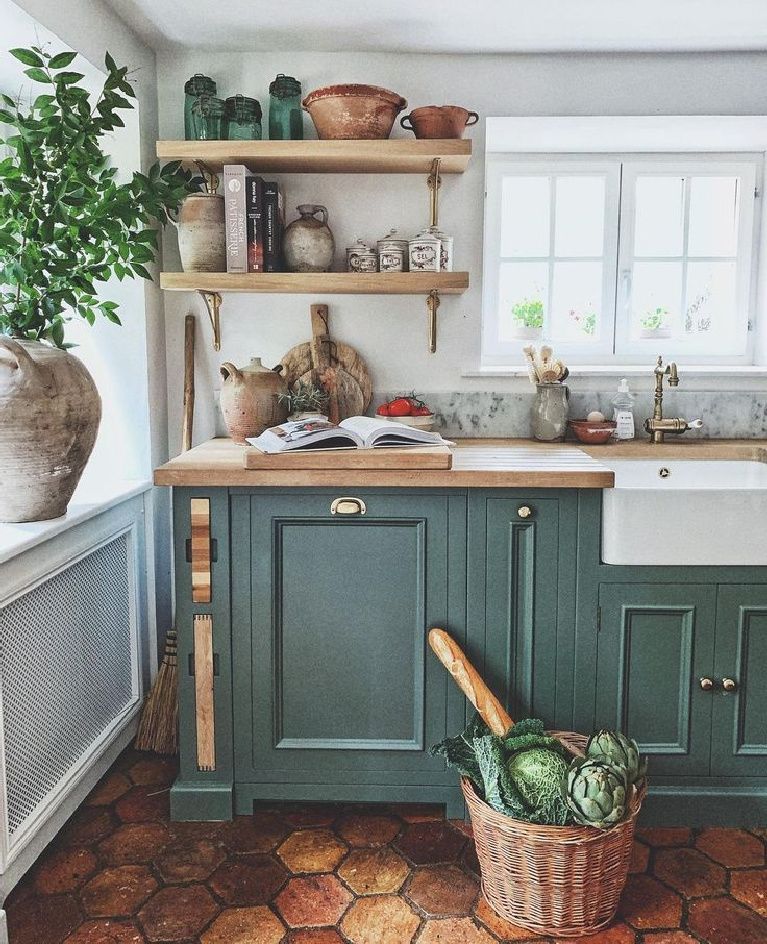 Also, it looks catchy if you combine it with country living accents like the wooden wall shelf, a wicker basket, and an ornamental plant. Since it uses a brown floor, you can pick other natural colors like white and green colors to draw on your wall and furniture.
2 of 16
Dark Wooden Table for Styling Your Kitchen
Using dark wood accents in a kitchen is a usual way to get traditional looks. Also, it makes your kitchen looks warm. The natural lights from the candle will enliven the classic nuance. It is suitable with a white clean kitchen.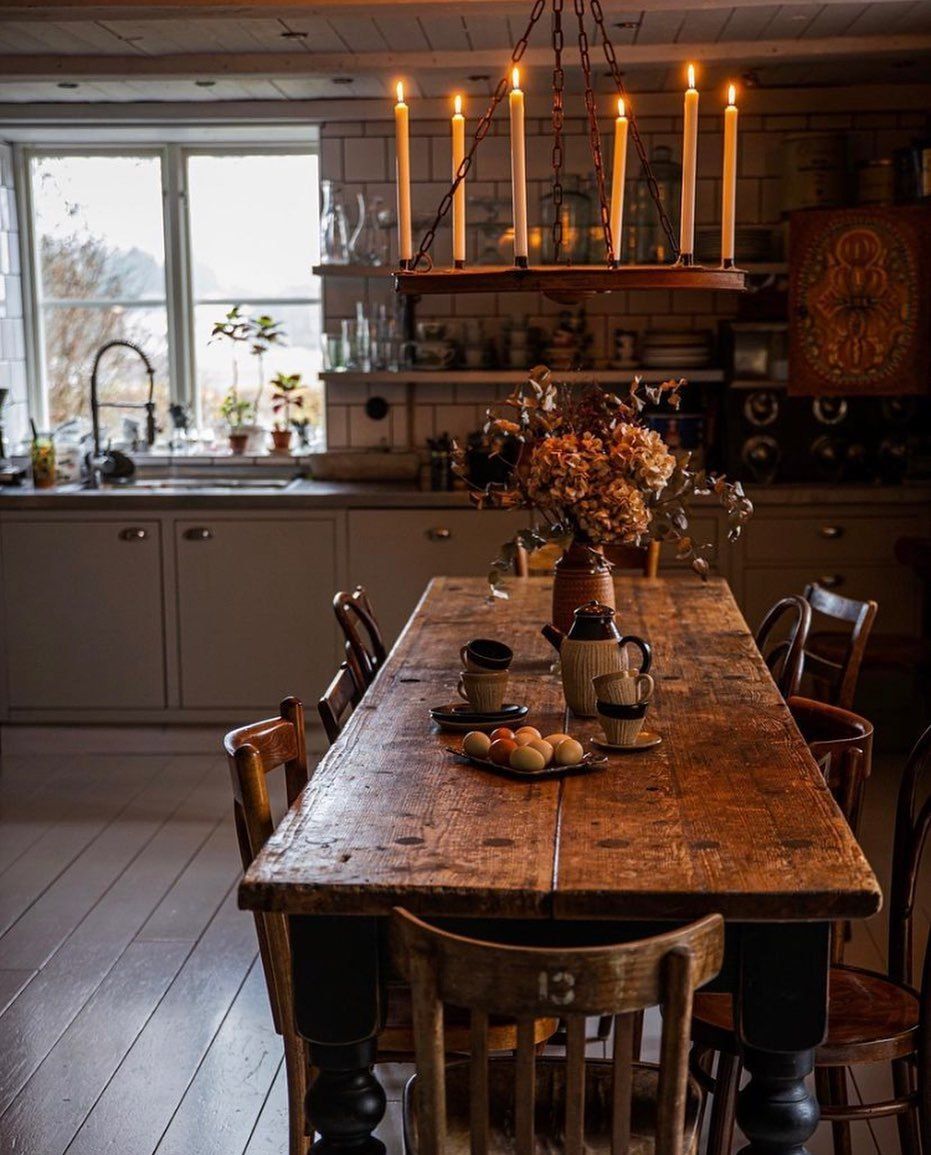 Furthermore, you can adopt the wood accents for styling your kitchen area. For example, install a wall shelf as your kitchen cabinet. It is also nice to be your kitchen countertops. For more country living accents, you can put some ornamental plants that will invigorate the atmosphere.
3 of 16
Woden Furniture to Save Your Kitchen Appliances
The wooden furniture looks impressive and traditional. It is a classic accent that you can pick as a kitchen cabinet. Moreover, it looks stunning to use two glass doors. Then you can arrange the kitchen appliances in the cabinet tidily.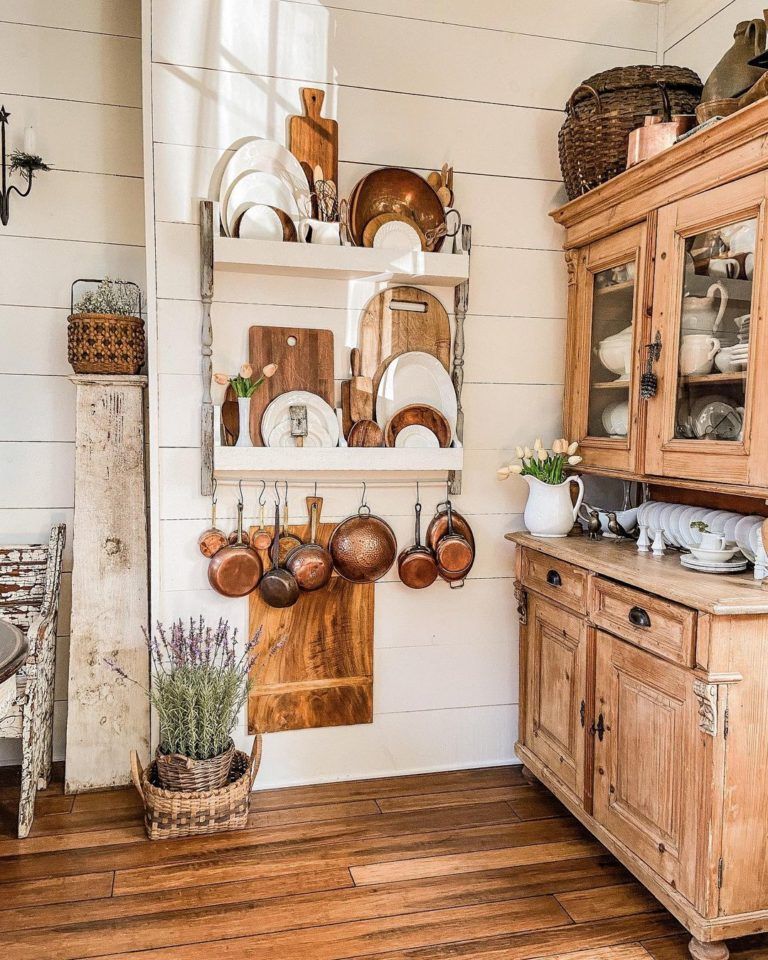 Besides, you can add two wall shelves that are essential to hang the kitchen appliances. Also, you can arrange the usual plate and other things on it. This wall shelf helps you to get easy access when you need it during cooking time. For styling up, put some ornamental plants in this room.
4 of 16
Classic Theme with White and Wooden Furniture
The country living kitchen is identical to a farmhouse and french country design. Thus, you can add some accents from both designs to apply in your kitchen. For example, it looks interesting to use white color for the kitchen island and the cabinet.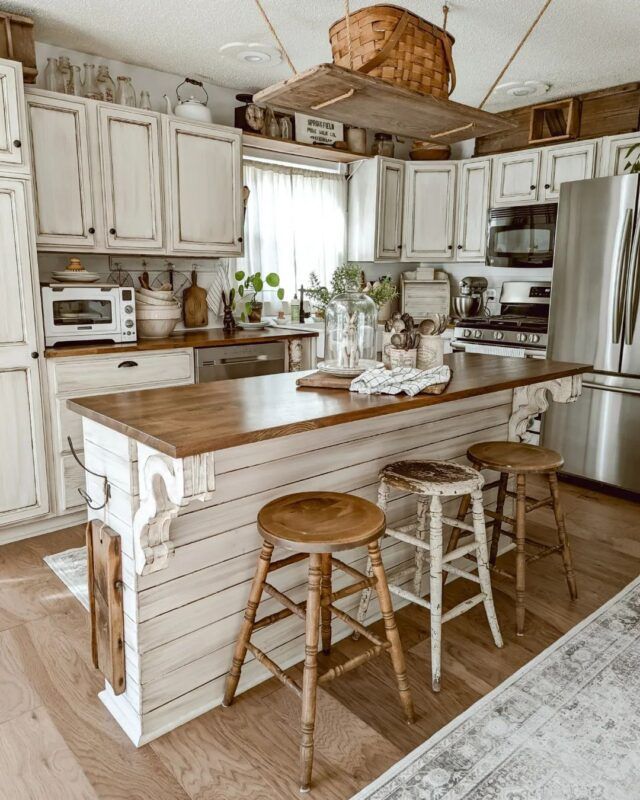 Also, decorate your kitchen chair with white paint and wooden varnished. To enhance the country living décor, it looks stunning to install a wooden floor and white paint for the ceiling and wall. For the kitchen appliances, you can arrange them on your white cabinet and wall shelves. The tidy arrangement demonstrates your kitchen beautifully.
5 of 16
Victorian Country Kitchen with Spacious Look
The Victorian era is identical to the traditional home in the country living area. It gets a big influence on the country living kitchen. You will discover lots of wooden accents in this room. Also, this kitchen uses many natural lights from windows to brighten the room.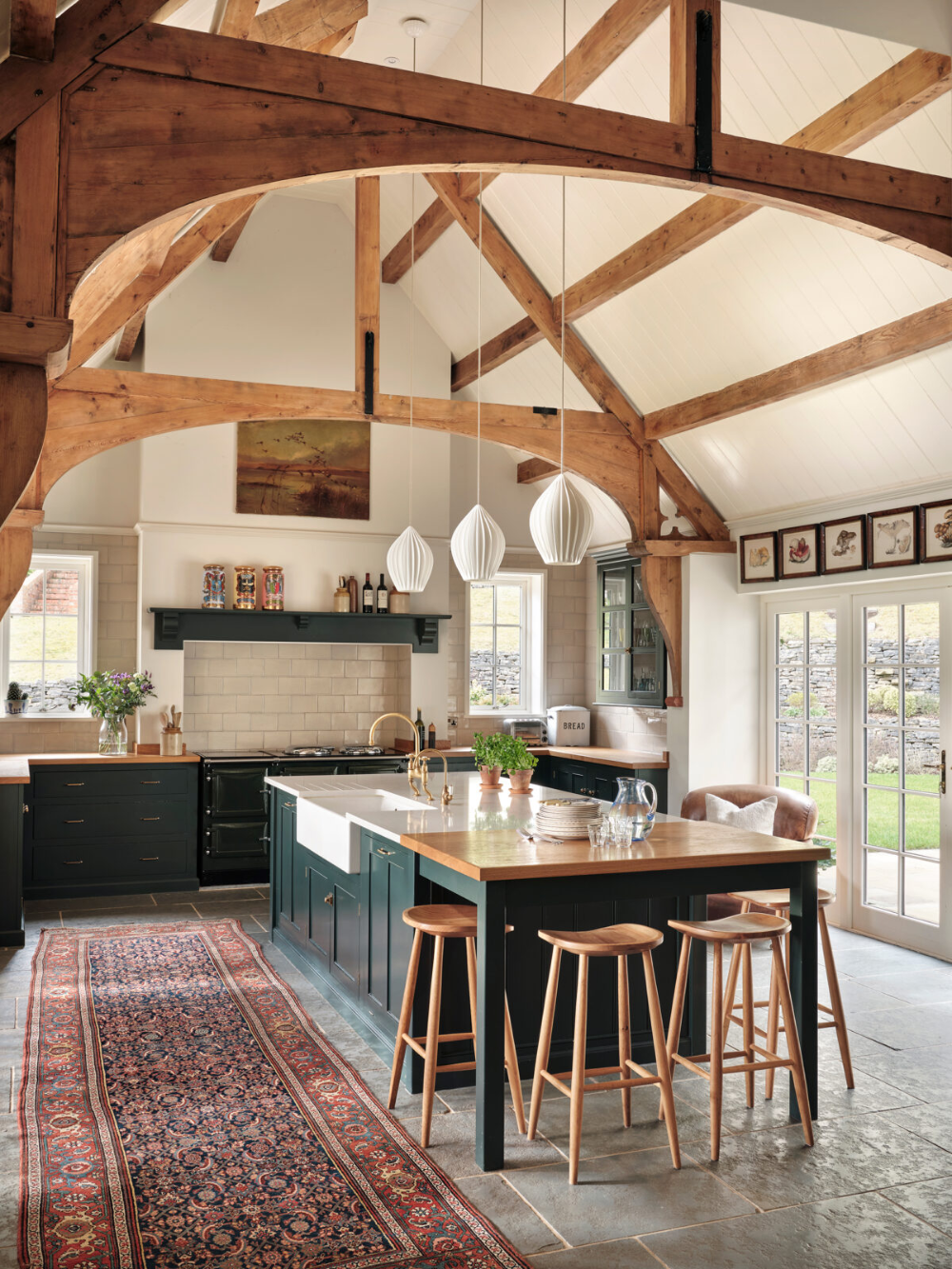 Moreover, the country living kitchen looks spacious since it gets many lights. Also, the ceiling uses lots of wooden planks that you will see directly in the room. It only adds the natural elements and enlivens the country living design. For the kitchen theme, you can pick white paint for your wall.
6 of 16
Colorful Modern Country Kitchen
The modern country kitchen has an aesthetic design. It combines two designs from the opposite era. Despite this, you can take traditional furniture to decorate your kitchen. It helps you to enliven the country living accents in the kitchen.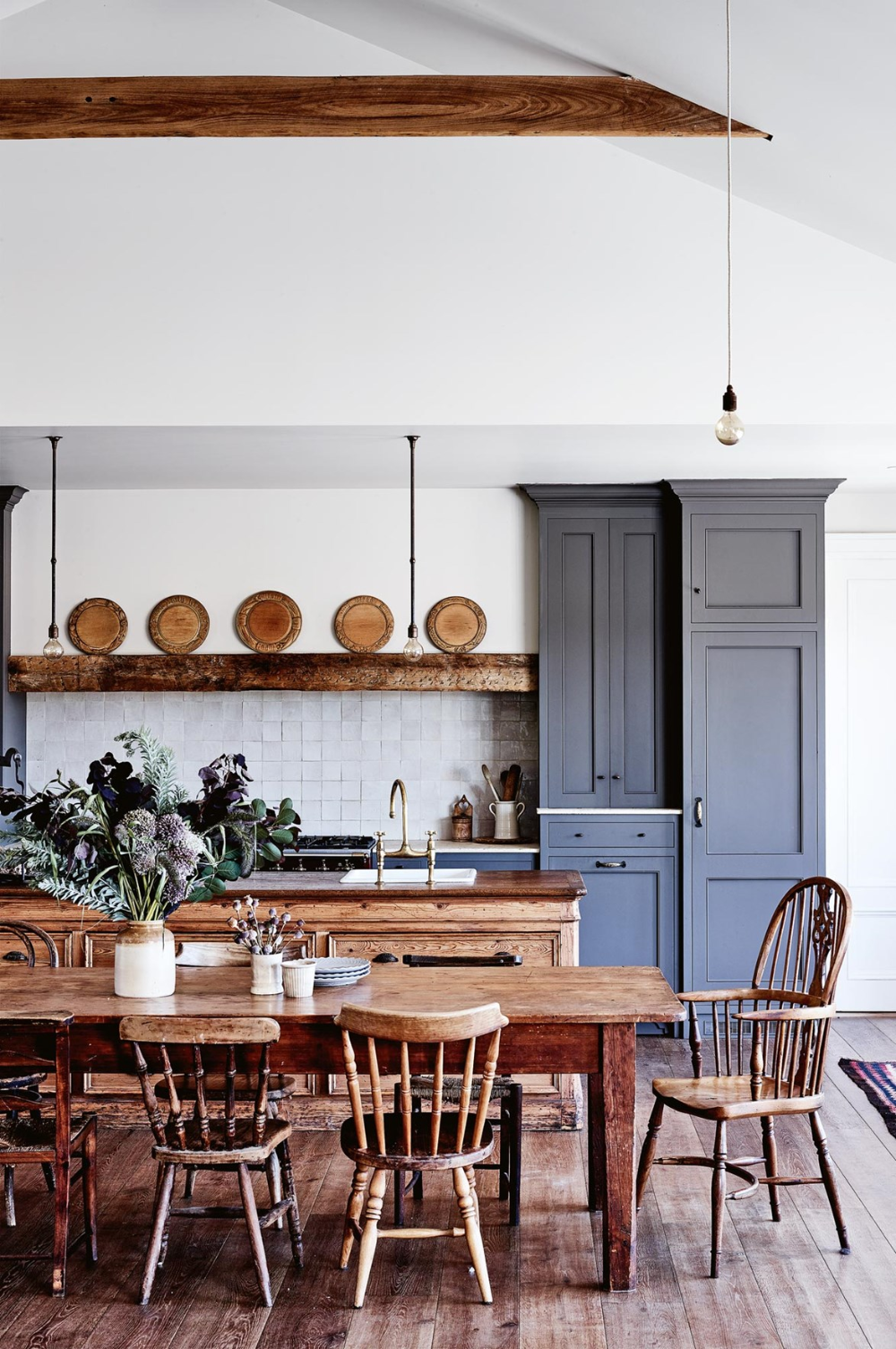 Besides, the wooden floor looks stunning to connect the country living design and the modern style. For the ornaments, you can display some wooden accents on the wall and hang some pendant lights to create a classic atmosphere. Meanwhile, the modern style is on the wall finishing and the cabinet design.
7 of 16
Country Living Accents with Floating Wall shelf
Using a floating wall shelf is a creative idea to enhance the country living design. You can install more than one wall shelf. Even though it looks a little bit messy, you can arrange the appliances to declutter the look. Moreover, pick the white paint to draw the country's living vibes.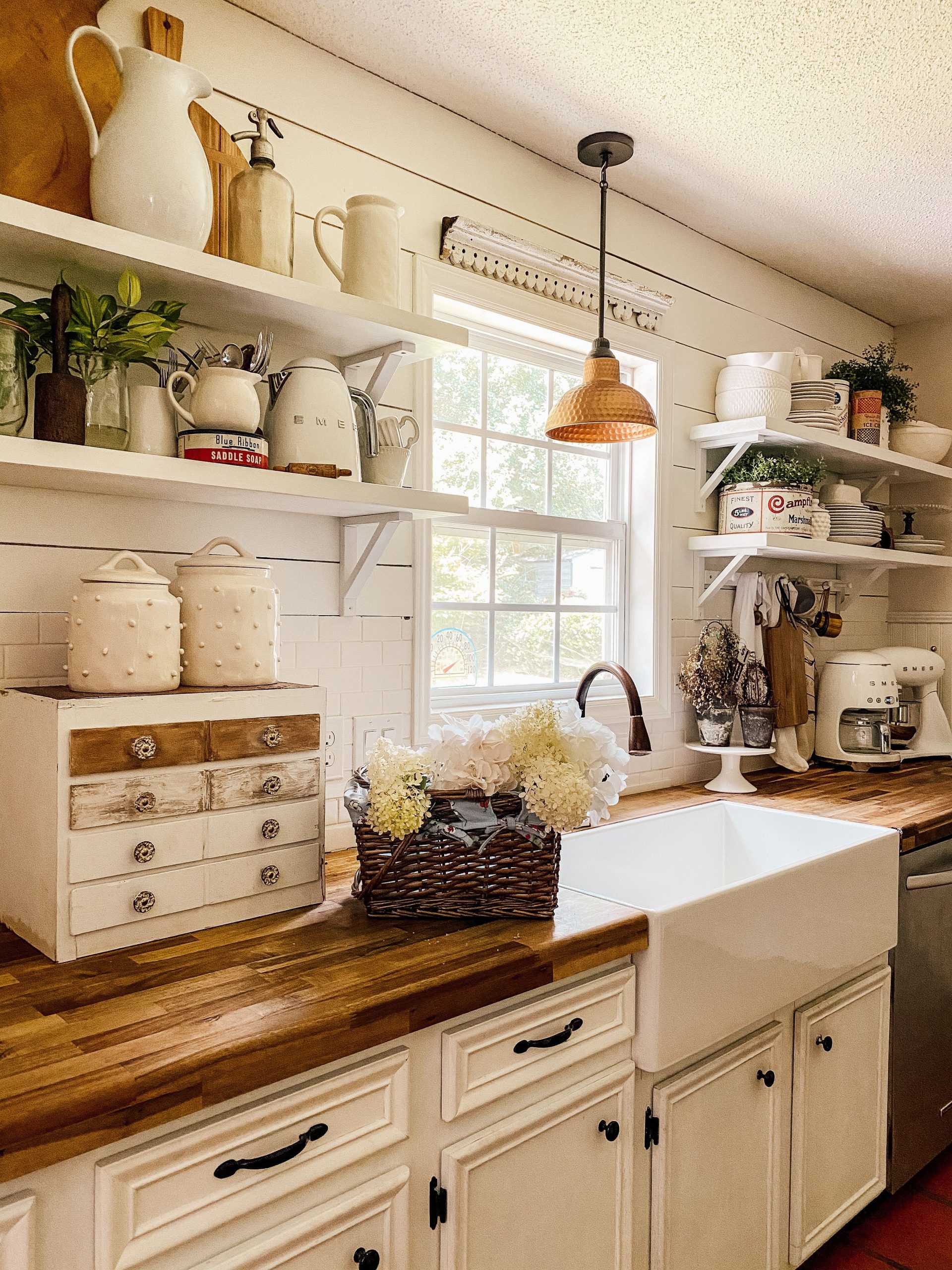 For other decorations, you can use wooden countertops for your kitchen. Meanwhile, the lower cabinet looks stunning using white colors. On the countertops, you can put decorative accents like ornamental plants or flowers. For the lighting, you can pull the curtain to let sunlight get in through the kitchen window.
8 of 16
Country Kitchen with Modern Design
The country kitchen design uses lots of natural colors. For example, the white color is a common choice to enliven a country living design. Also, people like to combine it with wood accents like wooden ceilings and furniture.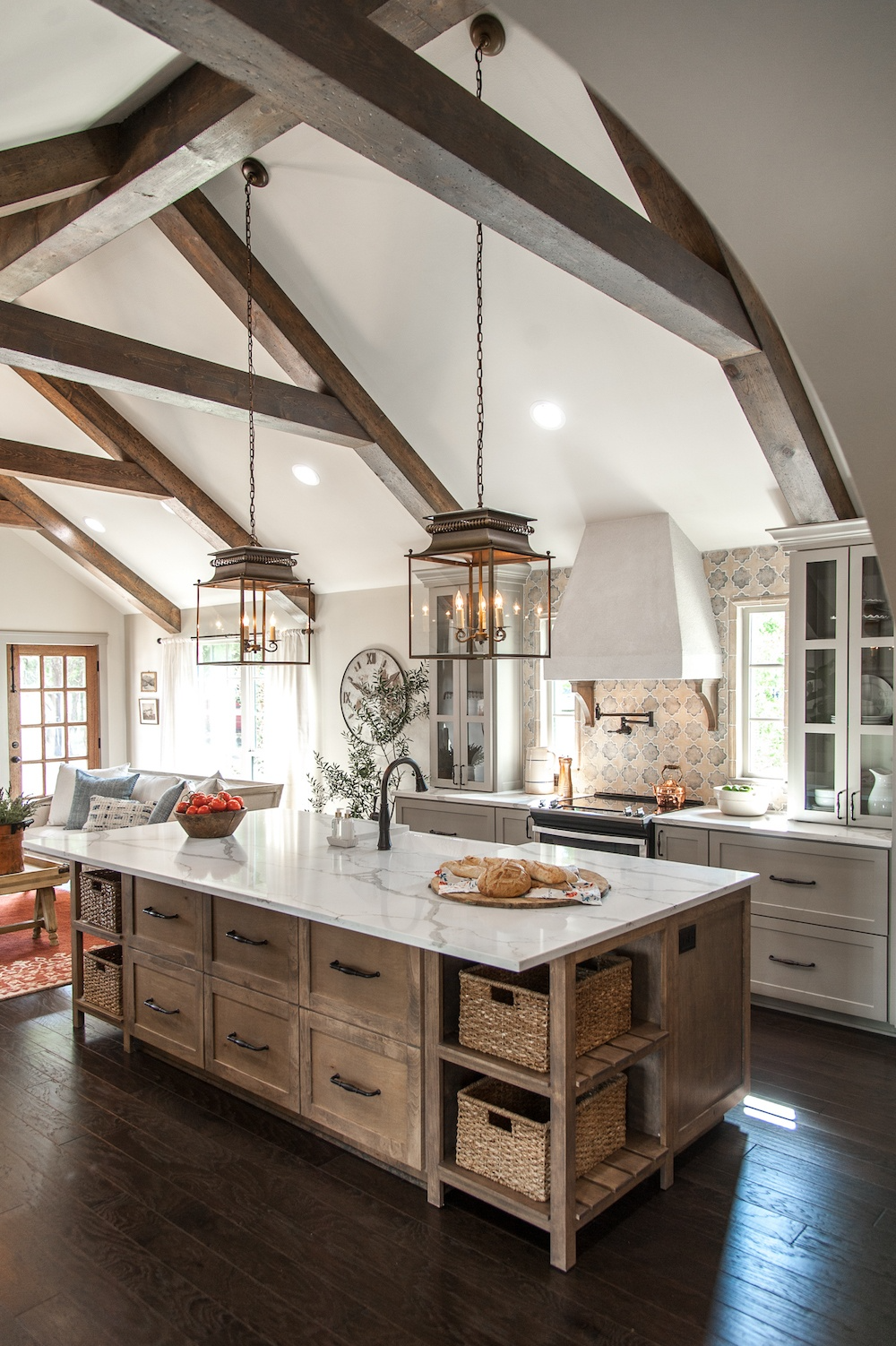 Furthermore, you will discover these identical elements in the kitchen island and the cabinet. Also, the kitchen backsplash adjusts this design with patterned white tiles. Since this country living kitchen uses lots of white colors, it has some lighting to brighten the designs. It has two pendant lights with warm colors.
9 of 16
Wood Floor to Enhance the Country Living Style
The wooden floor is an easy way to transform the country living kitchen. It has a classic impression that goes for a small and large kitchen. Thus, you can adopt this wooden floor to remodel your kitchen. Also, these natural accents are attractive to combine with wooden furniture. For example, the wood kitchen island will go very well for your traditional kitchen.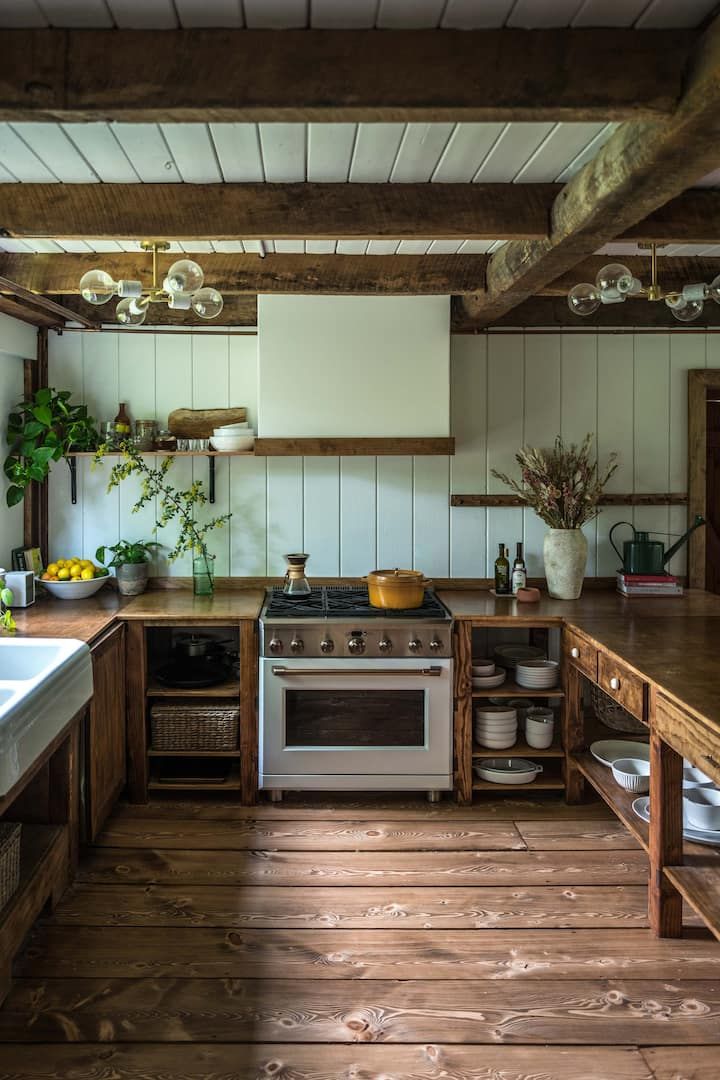 Another thing to take in this room is the natural element. You can bring ornamental plants to decorate the countertops. Also, take a striking accent like lemonade or colorful flowers. For the kitchen appliances, you can arrange them on the countertops tidily to add decorations.
10 fo 16
French Country Style to Decorate Your Kitchen
The french country is an interesting classic design to apply in your kitchen. You can pick the soft wood materials to draw this design. For example, this kitchen uses lots of soft wood accents, starting from the cabinet to the ceiling. Also, it combines french country identical colors like white and brown.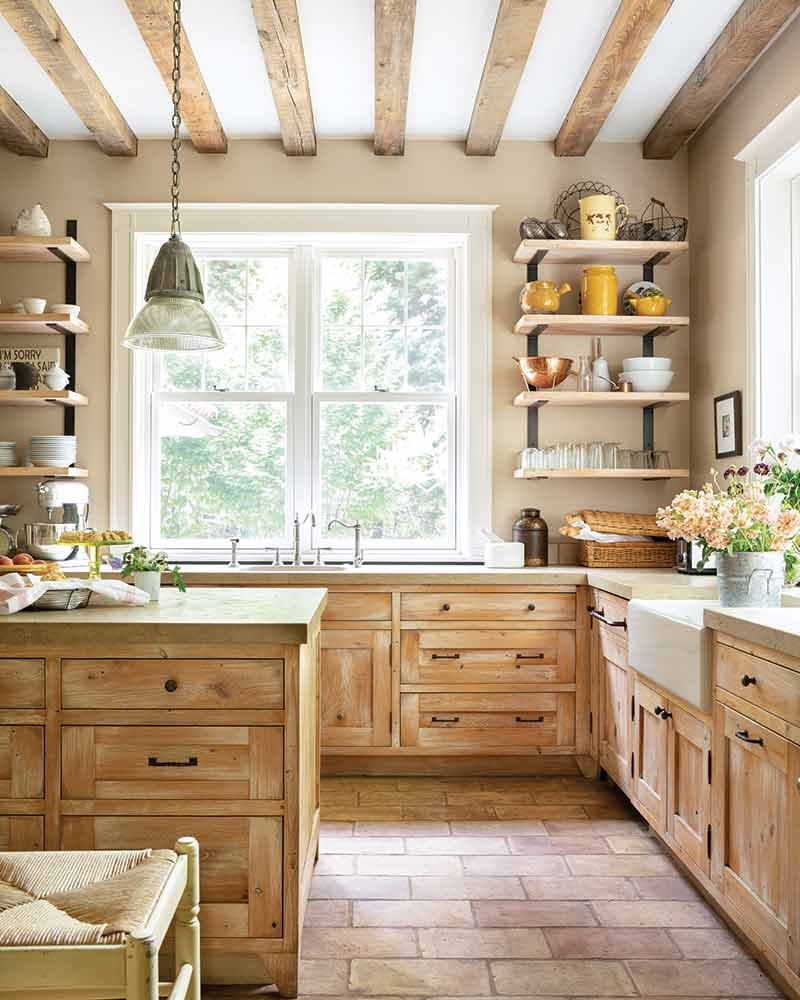 Therefore, you can play with these colors to determine the atmosphere. The wood material looks similar to the rustic design, but it represents the vibes of a country house in the traditional french era. To enliven the country living design, you can open the window to let more sunlight brighten your kitchen.
11 of 16
Aesthetic Dark Wood for Kitchen Floor
Dark wood is a natural element to apply in the country living house. You can take this idea for the kitchen floor. Besides, it looks stunning if you can get the real wooden elements, but can replace them with tiles that represent the wooden patterns. Moreover, it is suitable for wood furniture like the dining room set.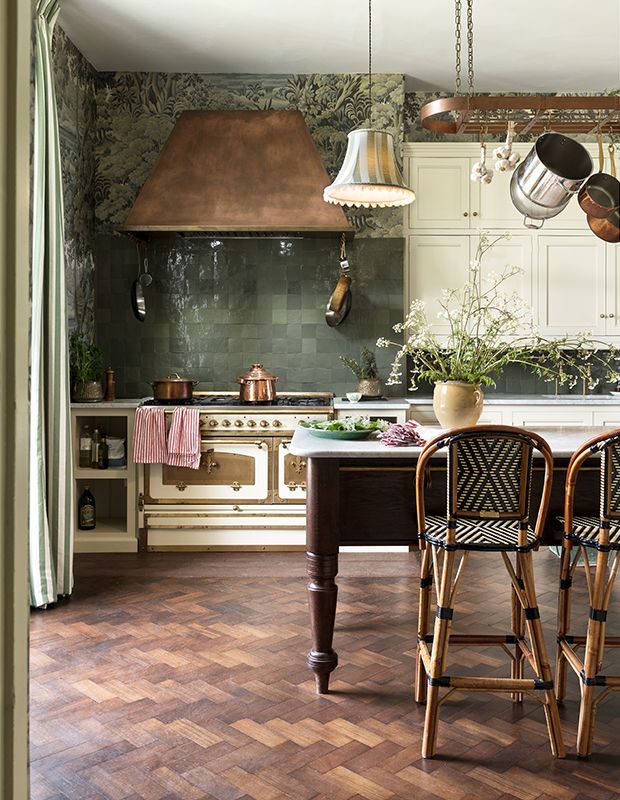 Furthermore, this country living kitchen is entertaining to have flowers and ornamental plants. Also, the wooden cabinet will invite rustic space. For styling up, you can remodel the kitchen backsplash with tiles and natural colors. Meanwhile, this kitchen will look a little bit dark, then you can install some pendant lights at certain spots.
12 of 16
Add A Traditional Rug for Country Kitchen
The traditional rug is an instant way to decorate your kitchen floor. It is also beneficial to reduce the simple design if you want something new. To accompany this decorative rug, it is nice to put the rug near your kitchen island. Thus, it will decorate every area in your kitchen.
For kitchen decoration, add the necessary thing to your countertops. Then, you should arrange them tidily to declutter the look. Moreover, if you want something new in the country living kitchen, pick a soft color for the kitchen cabinet or other neutral colors.
13 of 16
Lovely Kitchen with More Natural Lights
The characteristics of the country living kitchen are using natural elements, including natural sunlight. Thus, you can bring more light by pulling the curtain or installing a glass door for your country kitchen. It helps you to get a bright room with no electricity. Moreover, you can thrive on more ornamental plants to beautify your classic kitchen.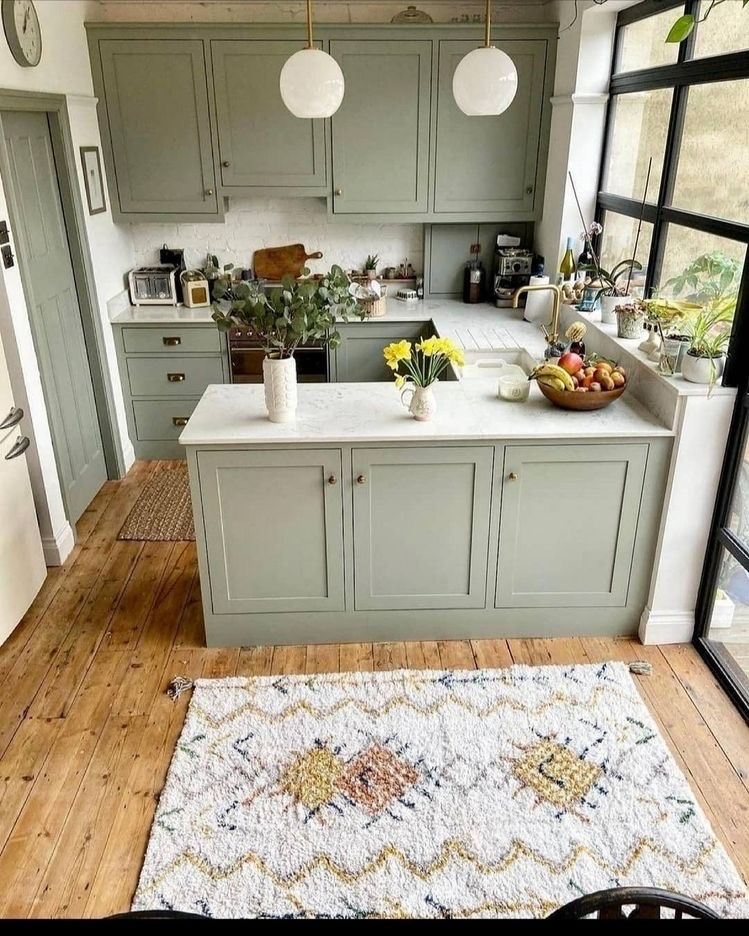 Furthermore, this kitchen looks natural with the country living interior. For example, the wooden floor will bring new interest to the floor. It has natural patterns that represent the outdoor feeling. Also, the neutral wall paint and kitchen cabinet look stunning to connect the indoor and outdoor impression.
14 of 16
The White Country Kitchen and Dark Rug
You will see lots of white colors in this country living kitchen. The white color represents simplicity when people in the french country love the airy impression. Also, the white theme helps you to reduce the dark impression. Even you can apply this theme to most parts of your kitchen.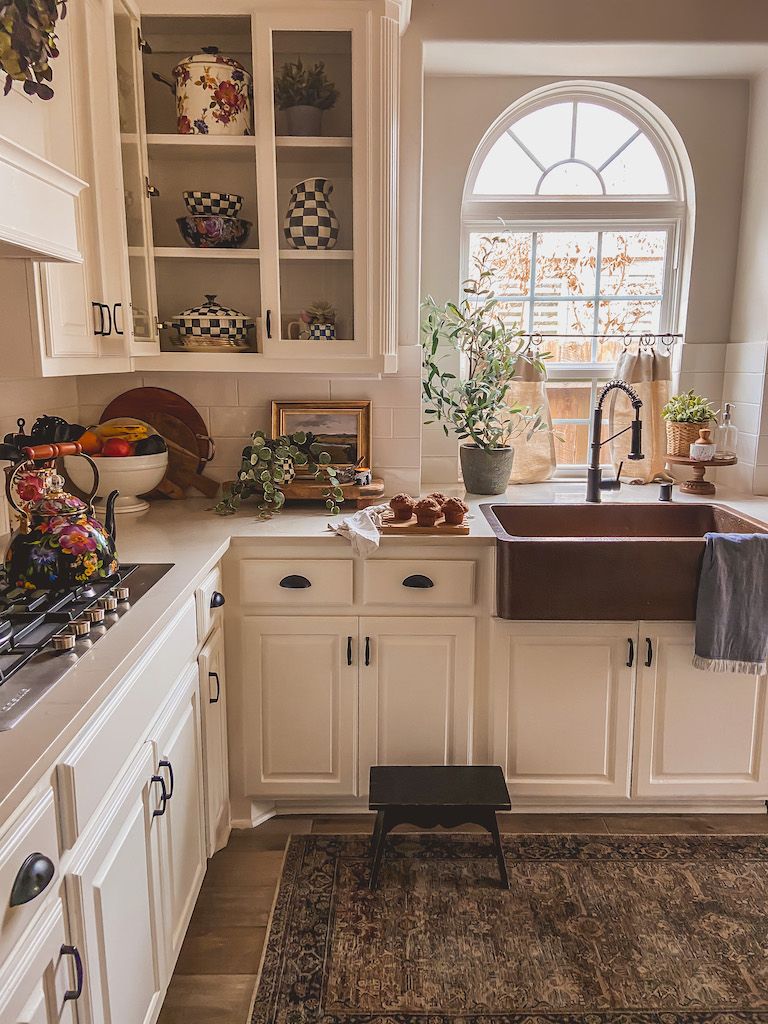 For example, the white wall, white backsplash, and white cabinet are stunning to demonstrate the country living kitchen. Meanwhile, the floor decoration is simple to use a dark rug. It creates contrast in your country living kitchen. To connect the kitchen theme and the floor, pick the grey shades for the rug. It is an easy way to get a catchy design.
15 of 16
Natural Wood Floor to Invigorate Your White Kitchen
The natural wood floor has a real texture. It is interesting to demonstrate a country living kitchen. Thus, you can try this idea if you love something real. Also, it has a natural wood pattern that matches your traditional kitchen. This wood floor will adjust any decoration in your kitchen.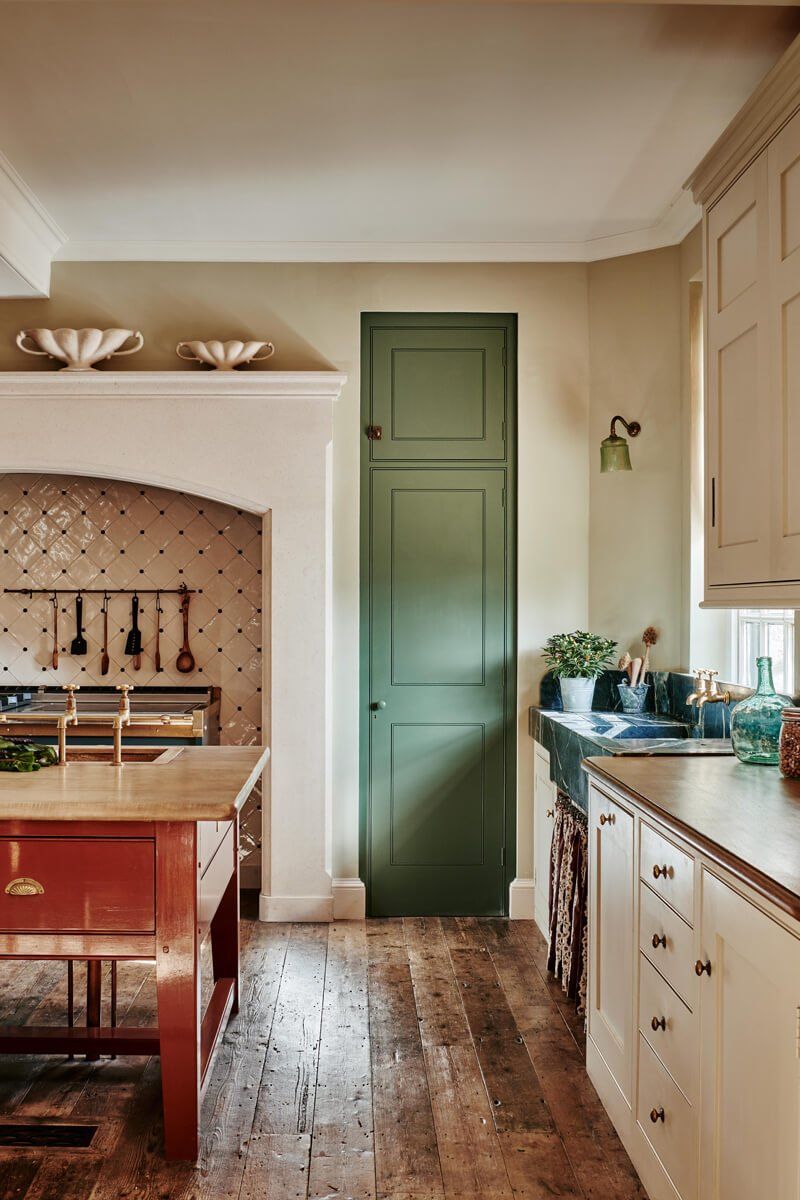 For instance, you can pick the common colors in the country living kitchen such as white and brown. The white cabinet and brown countertops are the perfect matches for your kitchen. Besides, the other side should take a soft green accent. You can bring some ornamental plants or soft green paint to color your kitchen door.
16 of 16
Thus our discussion of 16 Country Living Accents for Your Kitchen Interior Design. By using the various ideas above, you can create the country kitchen design you want. The country living kitchen is a traditional design that will transform the warm impression. It looks attractive to combine with lots of natural elements. For example, the wood floor, white walls, and traditional furniture are interesting to decorate your kitchen. There are a bunch of country living accents that you can take into the kitchen. Hopefully, this article will help you to determine the right accent to decorate your kitchen. Happy decorating!