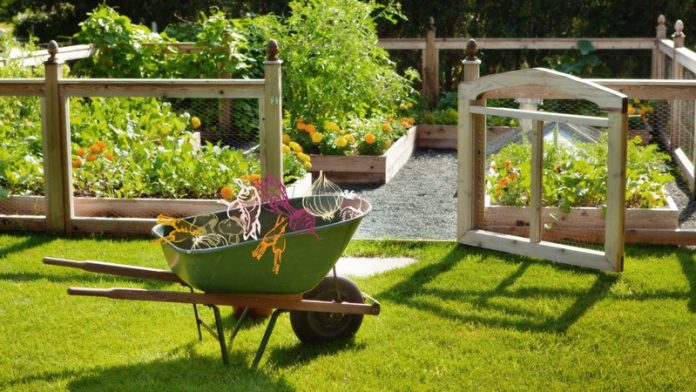 Giving the exterior of your home a fresh look will turn the heads of neighbors and passersby so whether you're hosting a large gathering at your humble abode or even putting it up on the market, make a great first impression with amazing curb appeal. It can even add to your home's value.
Revitalizing your garden and outdoor areas doesn't have to break the bank but with some inexpensive materials, you can have the look of your dreams and who knows… you may even find yourself spending more time outdoors.
What can you do to give your home a fresh look?
Give Your Walkway, Patio, and Driveway a Good Cleaning
The quickest way to brighten up the exterior of your home and garden areas that offers the greatest "wow factor" is a bit of elbow grease and a deep cleaning. Drag out, rent, or hire a professional to pressure wash the hard surfaces in your garden areas like patios, walkways, and even your driveway.
Be sure not to power wash, but soft wash with an environmentally-friendly and biodegradable cleanser to avoid damage to your surrounding grass and foliage and to extend the life of your pavers, asphalt, or concrete slabs. A deep cleaning offers an instant improvement to your garden curb appeal.
Install or Refresh Flower or Planting Beds
If you don't currently have flower- or planting beds in strategically-placed areas around your home, consider installing them; however, if they're already there… It might be time for an upgrade or a simple refresh.
Grab a few bags or arrange the delivery of new mulch or gardening stone to give your beds a beautifully-polished look and trim any foliage back to help it retain your desired shape. Prune unruly bushes and trim dead branches to finalize the appearance of your garden beds.
If your plants are a lost cause, run to your local garden center or plant nursery and choose some new foliage based on your preferences. Perennials are the type of plants that return every year but annuals will die at the end of the season, leaving you with a bare planting bed when it warms up again.
Choose plant colors that work well with your home's exterior colors and place each greenery pot in the spot where you'd like to plant it, step back, and make sure you like the look before beginning to dig those massive holes.
Plants need water to survive and if you're not great with a daily watering routine, consider positioning or installing gutters to direct water to your garden or lawn. Use the rainwater to your advantage and funnel it to feed your new additions until they've rooted and can sustain themselves.
Your Roof and Gutters Need Attention Too
When improving the look of your outdoor relaxation space, don't forget about your roof and gutter system. Pressure washing your roof can make it look brand new again and ensure that your gutters get a  good cleaning too – removing debris like branches, leaves, twigs, and any moss, ivy, or plants growing in them.
Cleaning your gutters not only will help enhance your curb appeal but will also help to prolong the life of your planting beds underneath by ensuring that water is directed away and not washing away your new mulch or drowning your gorgeous plants.
Invest Time and Effort into Edging
Nothing gives a finished impression quite like a well-edged garden area. Use a landscape edger or turn your weed whacker sideways to trim any grass, weeds, or other greenery to match the edge of planting beds, driveways, patios, and walkways.
If looking for a more permanent look, purchase flexible landscape edging from your local garden center and install a barrier to distinguish your garden features from the remainder of the property.
Get Your Tools and Build
If you're handy with a set of tools, consider adding some DIY features to your garden like a hand-crafted wooden privacy screen or wooden planter boxes to line your garden or front-facing windows. Be sure to drill drainage holes and use weather-safe wood to avoid rotting.
Spruce Up Your Entryway
The entryway to your home invites guests in but when it looks bare and bleak, it might be time to spruce it up. Add matching flower pots or planter boxes on both sides of your entry door, pressure-wash any porch furniture, and add a new entryway carpet for your guests to wipe their feet.
Add some colorful outdoor pillows to your front porch rocking chairs and a festive wreath to your front door for an alluring look.
Slap on a New Coat of Paint or Stain
Take a walk around your garden area and front door, and check for signs of peeling or chipping paint. Scrape or sand it off and consider applying a brand new coat (or three) of paint to freshen up your home's curb appeal.
If your porch, deck, or other hard surfaces have been washed thoroughly but still look like they have seen better days, give them a new coat of paint or stain to enhance their appeal.
Conclusion
While there are a number of things you could do to improve the look of your garden, outdoor areas, and overall curb appeal, these things can help to reach your goals of beautifying your property quickly and without emptying your savings account.