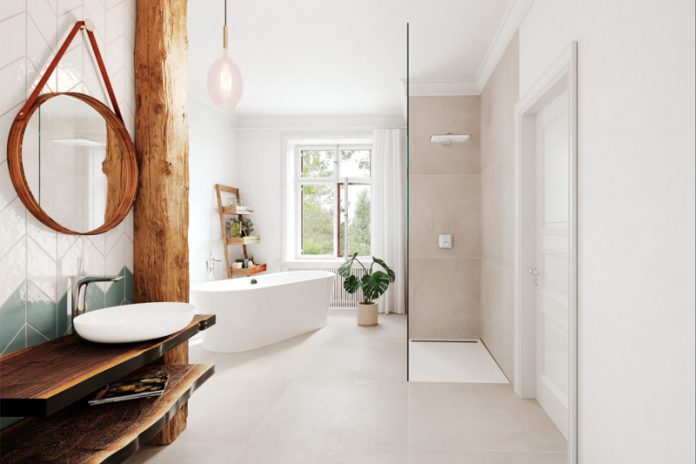 Homesfornh.com – The bathroom is an essential thing for you to pay attention to its comfort. For that, you need to create your bathroom creatively in your home. In addition, you also need to pay attention to every piece of furniture and decoration that you use in your bathroom. For example, you can use a bathtub in the interior of the bathroom. The bathtub is a part of the bathroom to wash your body. Also, it's where people enjoy the fragrant foam in lukewarm water. Despite this, a bathtub can be your serene oasis while enjoying the time. Below, check out these 18 Attractive Bathtub Ideas for Remodeling Your Bathroom to get a spa-like vibe at home.
Shower Bath Ideas with Marble Accents for Small Spaces
A shower over the attractive bathtub is a simple idea in a small bathroom. This design will save more space, giving a sophisticated vibe. For the bathtub model, the flat surface offers the fullest place to relax your body. Even it looks interesting with a faux Scindapsus plant on the corner.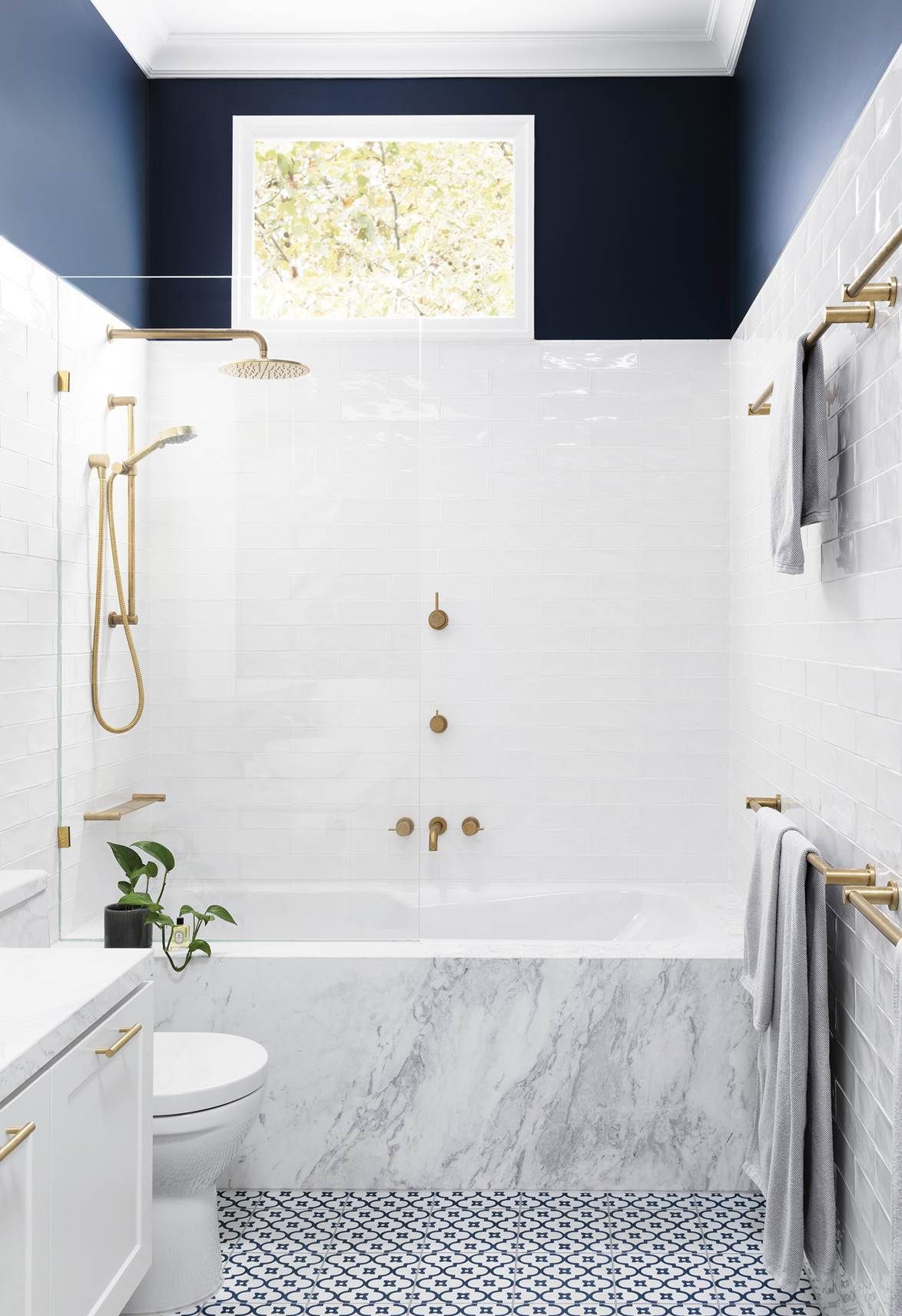 For the color theme, pick the white color for a spacious impression. Also, elevating the bathroom wall with porcelain or white tiles. It will raise the marble bathtub perfectly. For the accent, install some golden hooks, a golden shower, and a golden holder.
1 of 18
Inset Bathtub Design That Steals the Spotlight
The inset bathtub looks smaller than it seems, but it stuck with a neutral color palette like white and brown. Thus, you will discover this bathtub brings a serene atmosphere. Best of all, it gets natural sunlight through the window and makes it a focal point.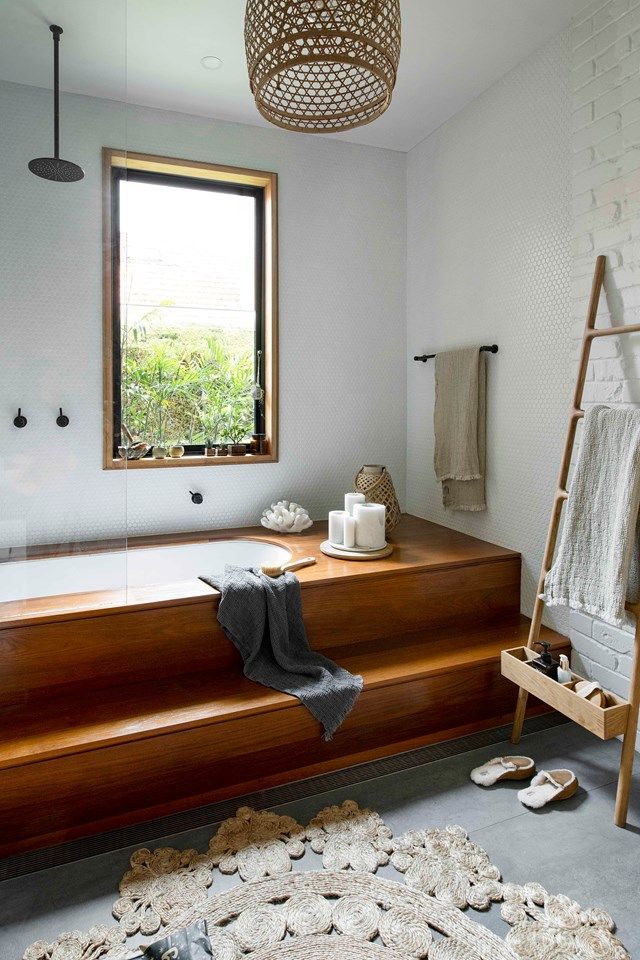 Moreover, nice decoration in the bathtub will transform anything, including the white candles, toiletries, and towels. To simplify the décor, it uses a shower head, then you don't need to go for showering.
2 of 18
Spotted Cool Décor in An Inset Bathtub
Do you spot cool decorations in this idea? You will see lots of spa-like accents such as the green lemon and ornamental plants. The lemon in the bathtub will refresh the bathwater and revive your tired skin. Also, the fresh scent of citrus brings a relaxing atmosphere during the bath.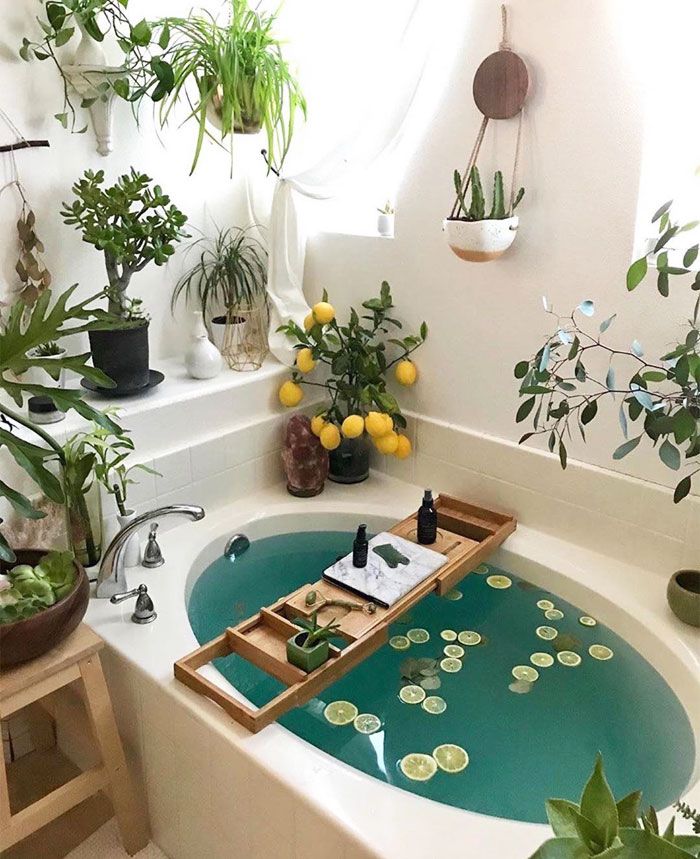 For a nice experience, you can add a bathtub tray to hold your skincare products, books, or gadgets. Also, it is useful to load the aromatic scent and decorative things. Since this bathtub brings a spa-like vibe, you can play relaxing music while enjoying the bathing season.
3 of 18
A Large Master Bathroom with Separated Bathtub
A large bathroom gives you more space to explore the decoration. Thus, you can separate the bathtub from the shower room. First, take a white bathtub in the corner, so you can enjoy seeing the whole room. Then, put your toiletries on a wall shelf and add some towels to the hooks.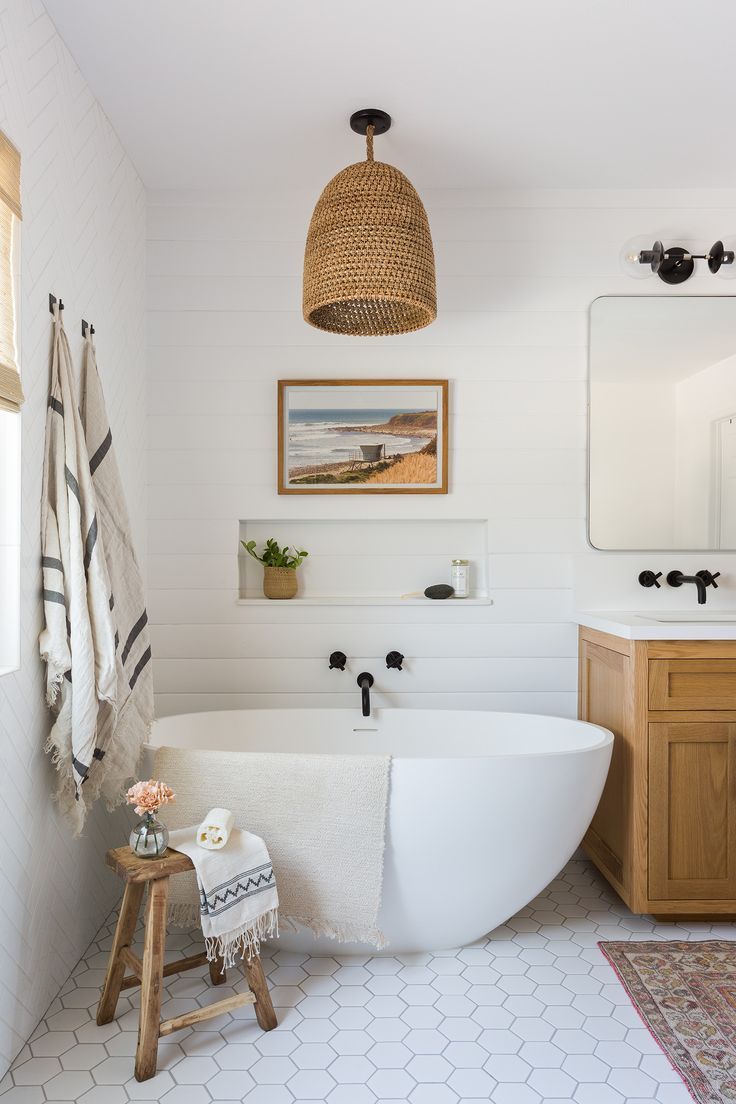 Furthermore, this bathtub matches the hexagonal tiles and white wall. That way, it allows you to put some wooden accents like a bathroom sink, a wooden chair, and a wicker lampshade. Then, put a cotton rug before the bathtub to avoid a soggy floor.
4 of 18
Classic Bathtub with Green Tiles and Plants
The classic bathtub design looks interesting to decorate an Art Deco bathroom. This bathtub uses bold colors and eccentric shapes. Here, this bathtub is functional to rest your back on the head bath. Besides, you can see the decorative ceiling while bathing.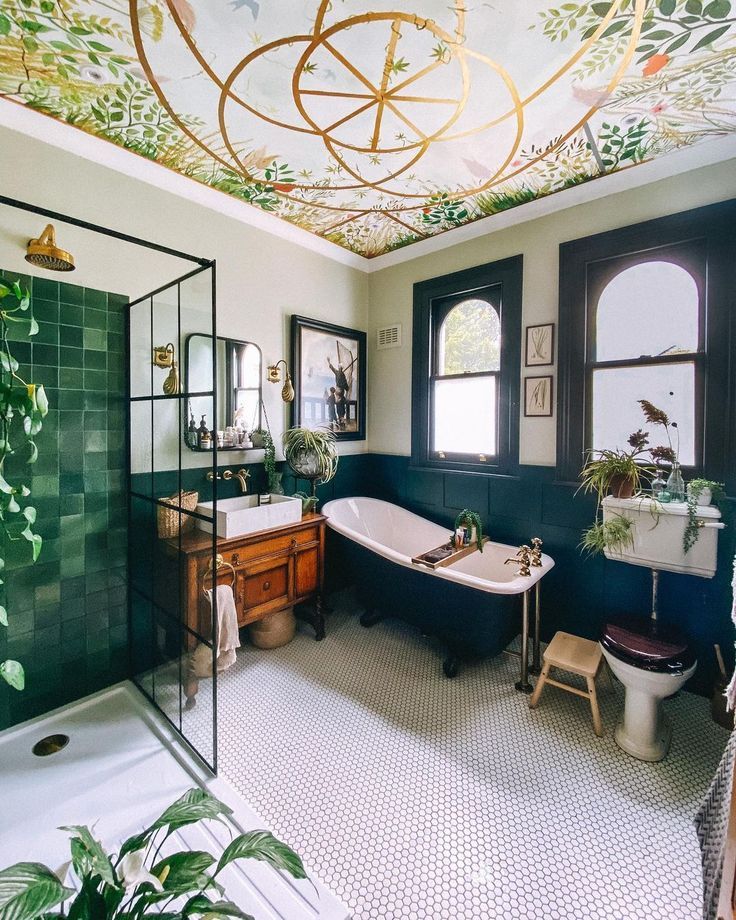 Furthermore, if you place this bathtub close to the windows, some ornamental plants will light up the natural accents. Thus, some green plants bring the feeling of an outdoor. Ahead, feel free to add a bath tray as the contrast accent on your bathtub.
5 of 18
Bohemian Décor for A Round Bathtub
A bohemian bathroom brings an outdoor impression to your round bathtub. You can take some neutral color palettes like soft brown, black, white, and green. First, take the white paint on your bathroom wall. Thus, add wood accents like a basket and cabinet.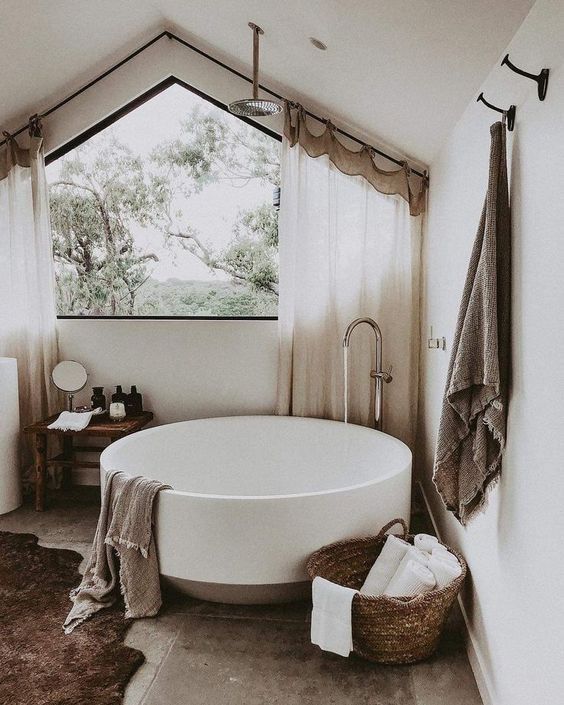 Furthermore, inviting more sunlight is brilliant to add natural vibes. Then opening the window will provide natural scenery. For the decoration, you can put the toiletries close to the sink.
6 of 18
Luxurious Bathtub for A Hotel Look
This attractive bathtub will change the atmosphere in a bathroom. This hotel-look bathtub has a comfortable seat. Since it has an unconventional shape, it is nice to place it close to the glass wall. You can enjoy the scenery while looking outside.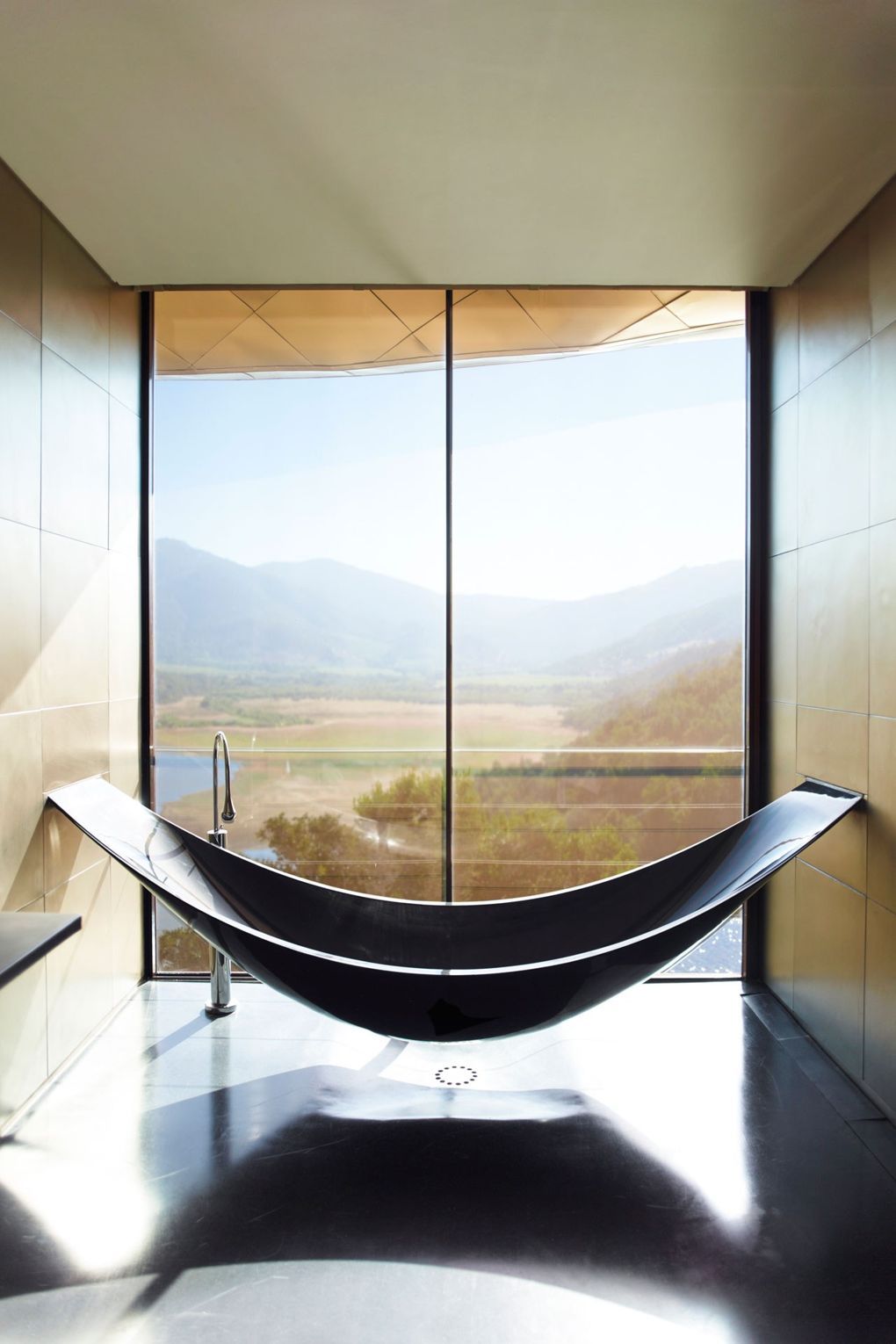 Furthermore, you don't need to put any decoration. It looks stunning to look spacious. Besides, you can put the toiletries close to the sink. That way, you will create a dreamy bathroom.
7 of 18
Modern Farmhouse Bathtub Design
The farmhouse bathroom has a traditional vibe that you will admire. Thus, you will discover this white bathtub in a modern farmhouse bathroom. Not only to make a chic decoration but also to reflect the natural lights from the window. This bathtub is compatible with black décor like the black tiles on the floor.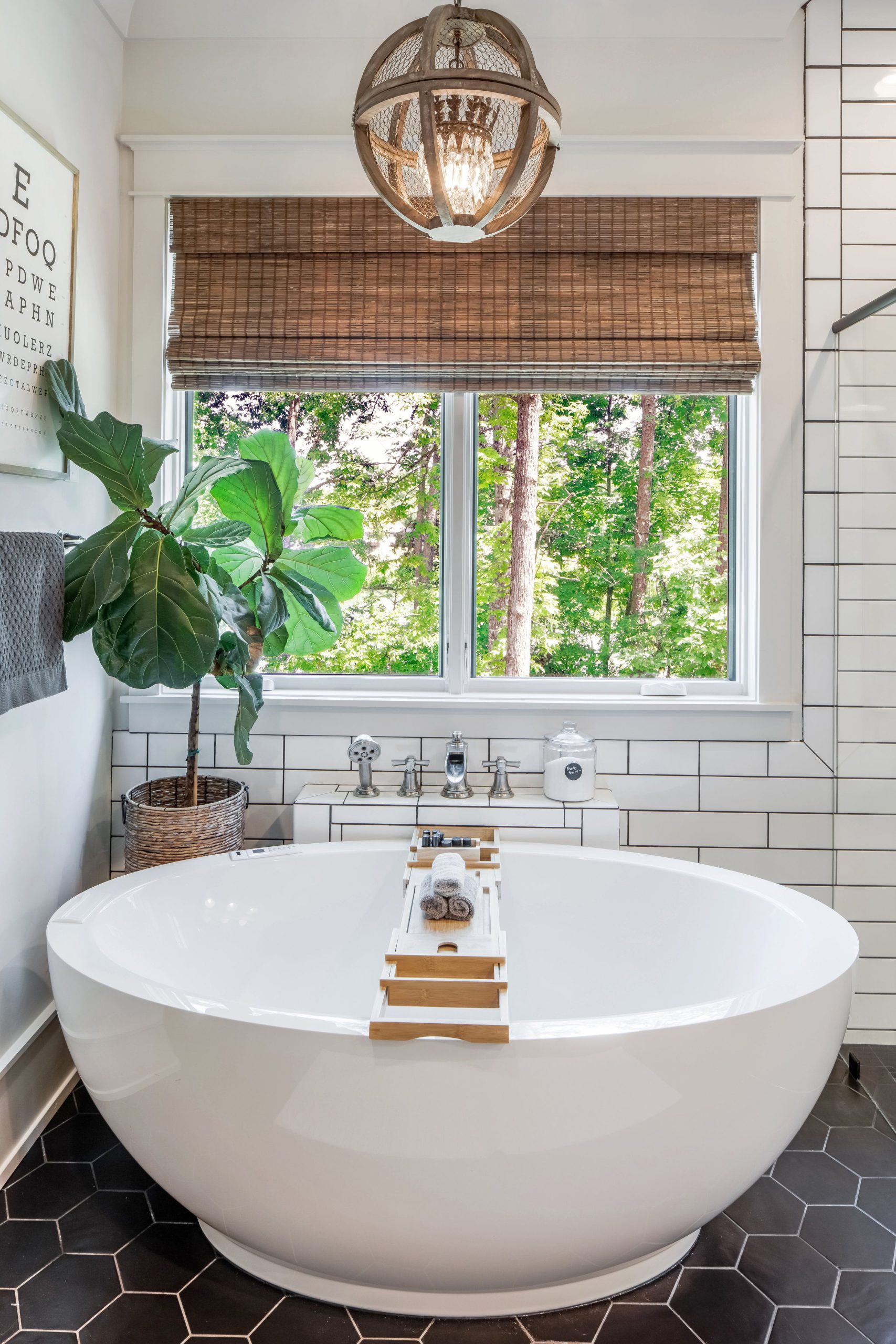 Moreover, this bathtub matches wood elements like wicker planter and wood blinds. Despite this, you can install a wood tray on its round line to help you hold the things. To make it looks shady, thrive an ornamental plant in the corner room.
8 of 18
Sunken Bathtub with Steps
The Sunken bathtub is a trendy bathtub to give a spa touch to your bathroom. It bathtub is often built in a resort, but you can take them in your home. This relaxing bathtub looks attractive in various styles like tropical, Moroccan, minimalist, and so on. Besides, the Sunken bathtub is stunning to get the wooden steps and nice bathroom tiles.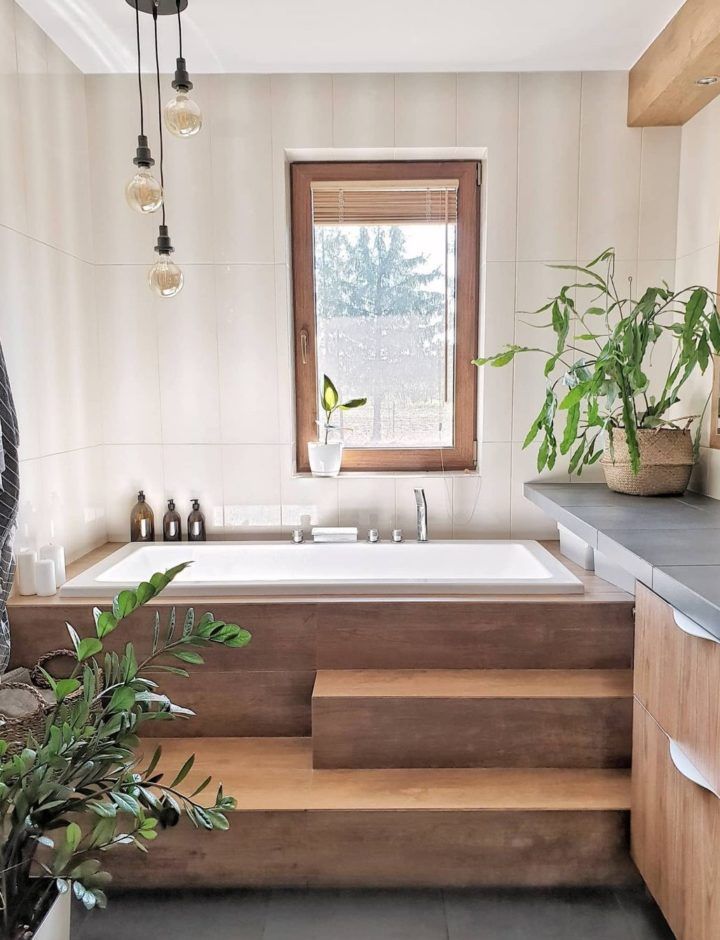 Moreover, having some ornamental plants around the bathtub will refresh the atmosphere. Also, you can rely on natural sunlight to brighten the bathroom and enjoy the warm touch. For night bathing, it looks attractive to use the pendant lights, that only bring a dramatic ambiance.
9 of 18
A Sunken Bathtub with A Relaxing Design
It is another idea of the Sunken bathtub. The relaxing bathtub with neutral color will calm your mood. Also, a white Sunken bathtub is simple to décor with green ornamental plants around the area. For the Sunken surrounding, it looks impressive to get the same theme as brown tiles or dark stone.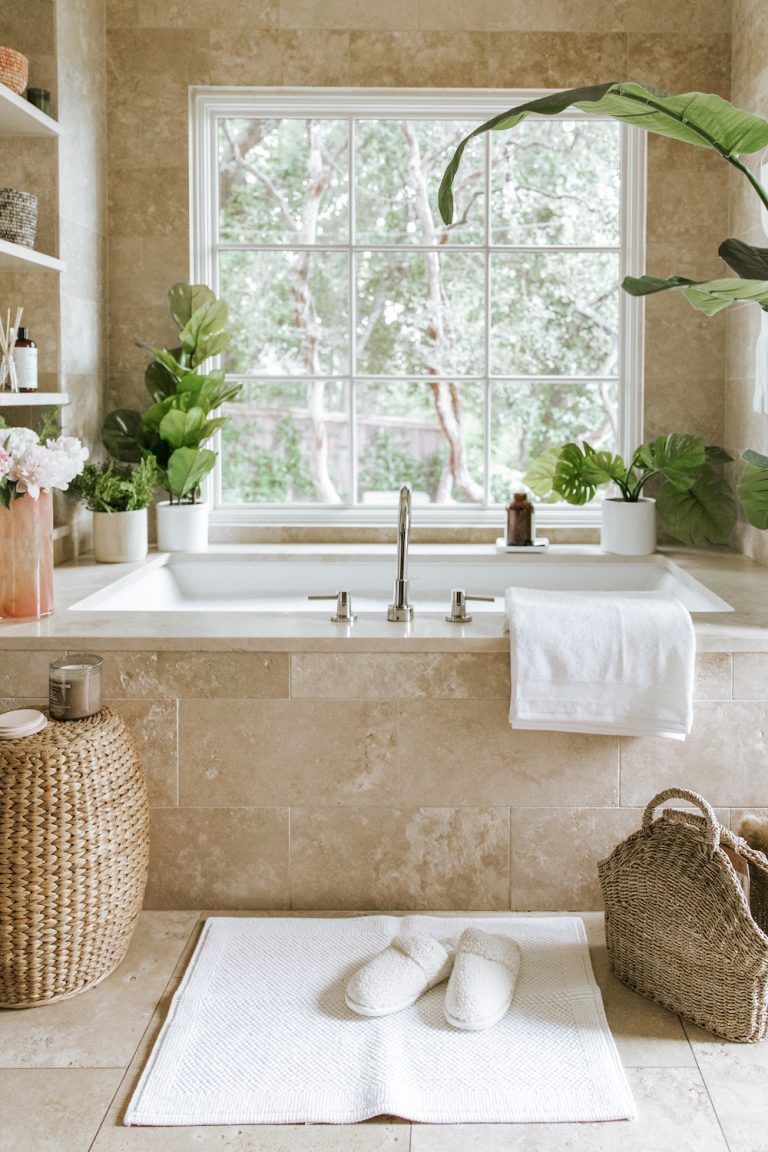 Furthermore, it can be your favorite place to relax the tired mind with interesting decorations. Thus, put some aesthetic things such as the wicker baskets and white rug. For the toiletries, you can put them close to the window sill or install a toiletries holder. This bathtub will be perfect if you have an aromatic fragrance to boost your mood.
10 of 18
Dark Wooden Bathtub
The dark wood material is a cool element to get a new look for the bathtub. It looks striking on the white bathtub. You can feel the classic atmosphere out of its glossy surface. Thus, adding more natural accents will complete this design.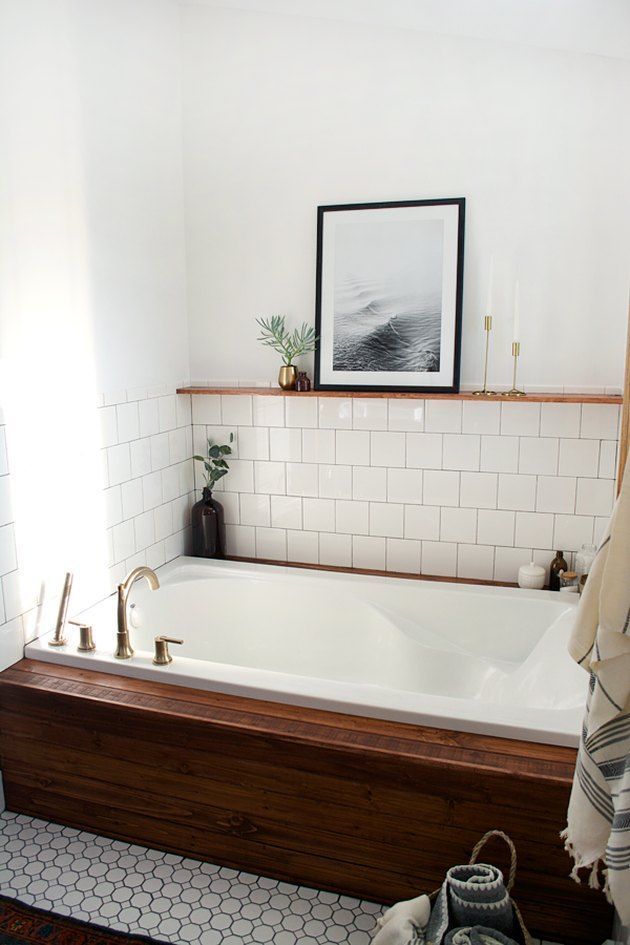 Moreover, take the white theme for your bathroom to contrast with the wooden bathtub. Also, install patterned white tiles on the floor to add eccentric accents. For styling this bathroom, you can put some decorative things on a simple wall shelf. Then, put the toiletries on the bathtub lines.
11 of 18
Remodeling Bathtub with Some Raw Accents
Remodeling the bathroom with raw materials will bring an outdoor atmosphere. Even the bathtub will be a focal point in this bathroom. First, use the stone wall that will add textures. Then, plan it if you want to create a fireplace on its wall. This idea only makes your bathroom looks warm.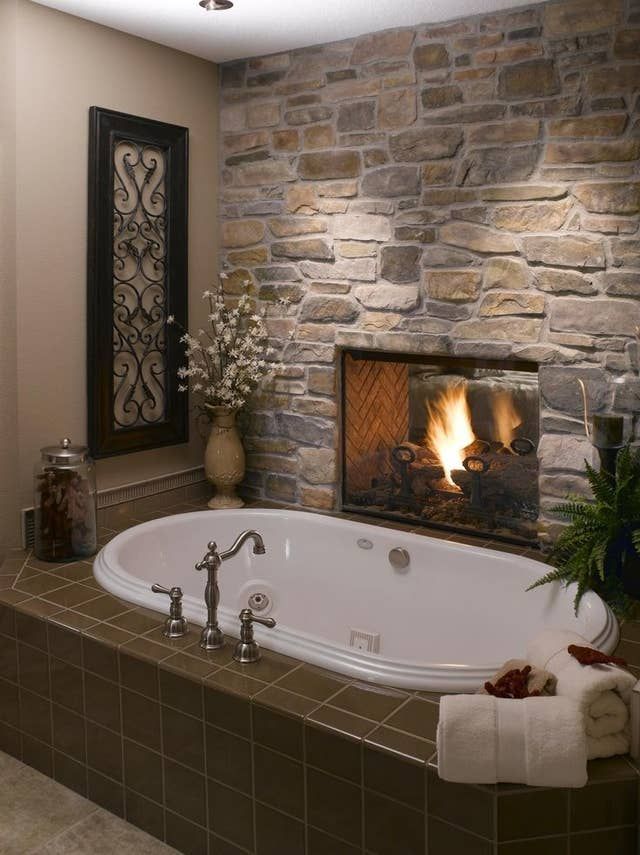 Moreover, put some plants in the bathroom to get a shady look. Also, take the towels to a corner bathtub to create a resort touch. For styling this bathtub, you can add flowers or aromatic fragrant that will change the ambiance.
12 of 18
Natural Accents to Remodel Your Bathtub
The ornamental plant is a natural accent that people like to add to a room. Even in a bathroom, the green plant looks stunning. Besides, you can surround the white bathtub with some green plants. It creates a stunning contrast décor for a white wall.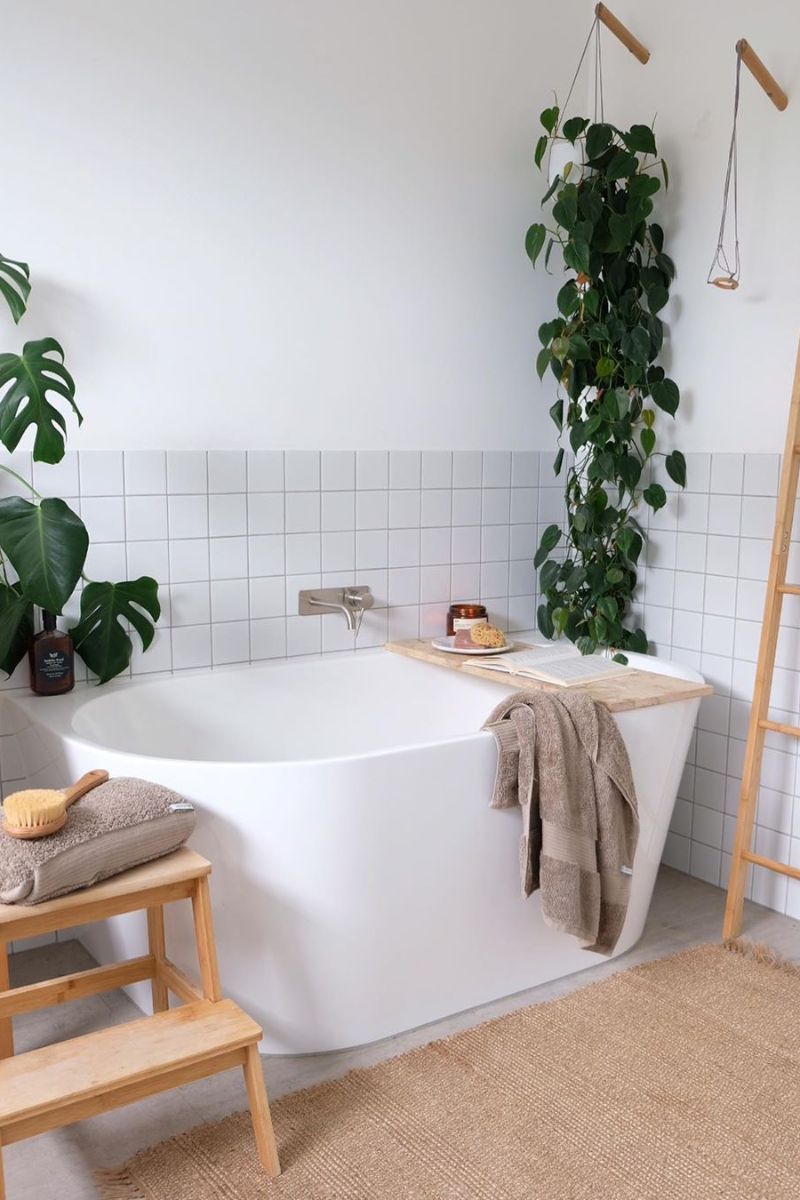 In this idea, you can hang a vining plant like Scindapsus, Pothos, or vining Monstera. These plants have beautiful foliages that will give a shady impression. Also, you can add some wood material like a wooden ladder and chair. Then, install a cotton rug with brown colors to adjust the décor.
13 of 18
Monochromatic Bathtub with Modern Touches
The monochromatic color is a perfect theme to decorate any room including the bathroom. This monochrome bathroom uses a white bathtub and black accents. For styling the bathtub, it uses herringbone tile patterns to create an aesthetic décor.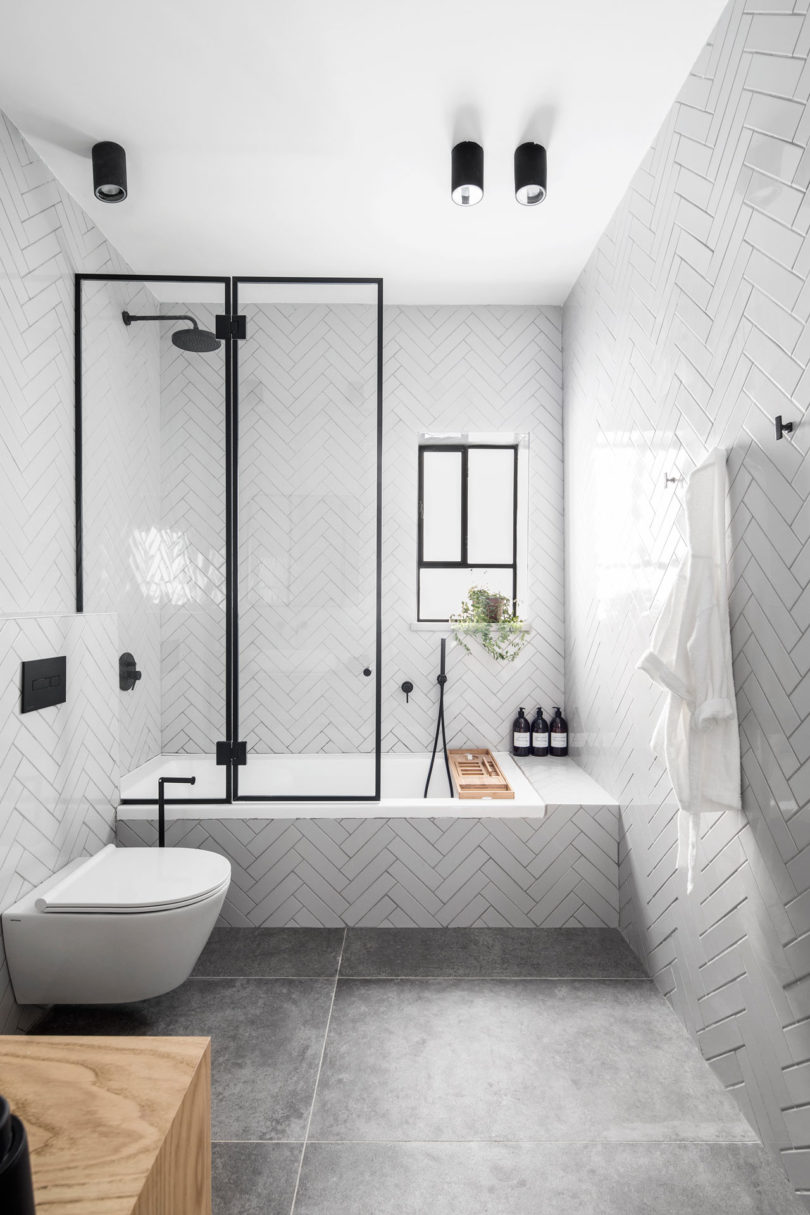 Besides, the clean bathtub is interesting to unite with the shower room. This showerhead can get a black accent. Also, the partition for the shower head should take black steel to adjust the monochrome design. The floor remodels, looks natural with grey stone tiles.
14 of 18
Round Bathtub with Shower Curtain
The round bathtub has an interesting shape that adjusts any bathroom. It fits well in small bathrooms and large ones. Thus, you can place this round bathtub close to the wall. Also, the white bathtub will connect to any bathroom design.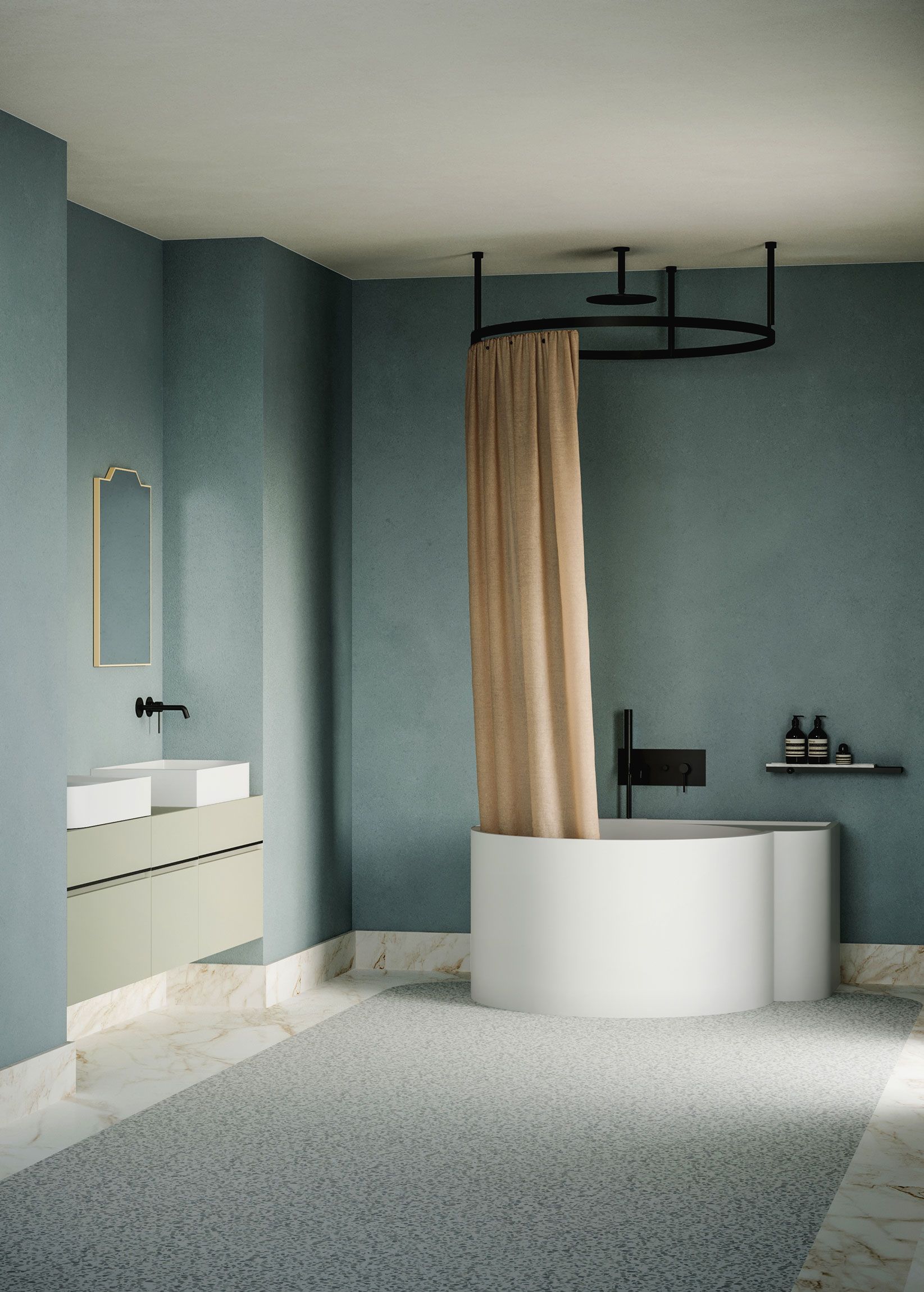 For styling up, you can add a bathroom curtain. Also, it can be your shower room too. As the shower flows water to the bathtub, you don't need to get a separate washing room. Moreover, you can add a floating shelf over the bathtub to load the toiletries.
15 of 18
Modern Farmhouse Bathtub with Curtain
The bathroom curtain is an essential part of décor. You can install a bathroom curtain for your farmhouse bathtub. It is a simple partition that will protect your bathroom floor from being soggy. Also, the curtain is interesting for styling up the look.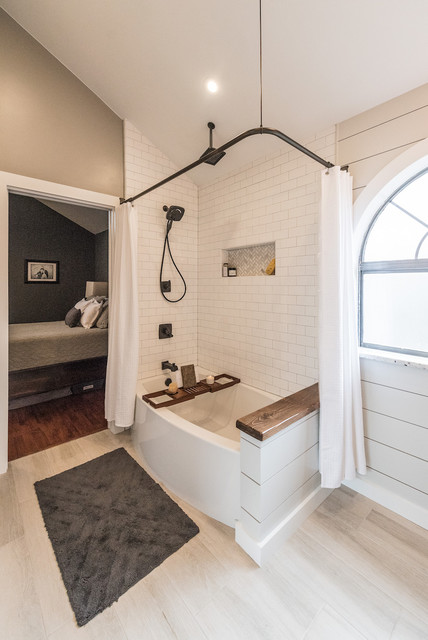 Furthermore, you can take them off, after taking a bath. To make it feels cozy, install a wooden tray on the bathtub to load your lovely toiletries. Another wood accent is on the footboard. Thus, this bathtub design is suitable for an open plan home or connected bedroom with a bathroom.
16 of 18
White Bathtub In A Small Bathroom
The small bathroom needs to get more light to make it look spacious. Thus, you can apply the white theme to your attractive bathtub. This bathtub will be perfect to get contrasting accents too. For instance, the black towel hanger and shower head will draw interesting accents.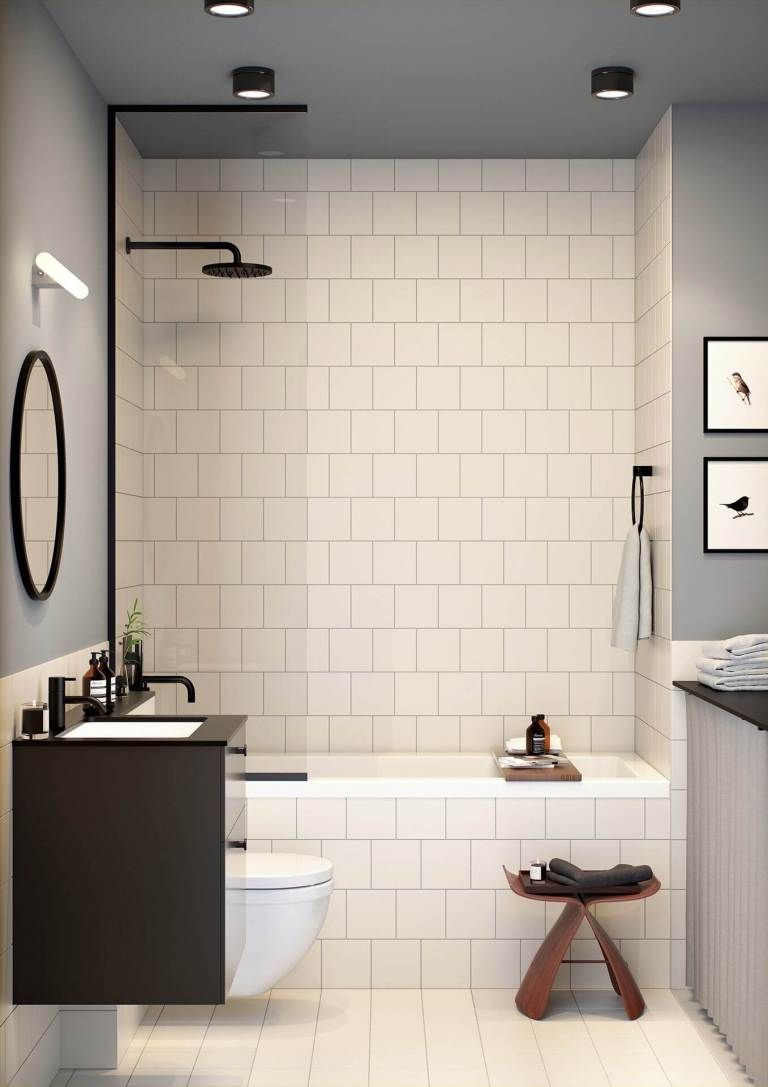 Besides, this bathtub is united with a shower head. Then, it needs a simple partition to separate the toilet area. Thus, you can keep the other spaces dry. In addition, add a small chair or wooden tray to put the toiletries.
17 of 18
Shower Bathtub to Get A Simple Design
The shower bathtub is a simple design to put in your bathroom. This bathtub looks attractive to combine with a monochromatic theme. For instance, take the white tiles to cover your bathroom walls. Then, pick a black accent like a black shower head and black faucet.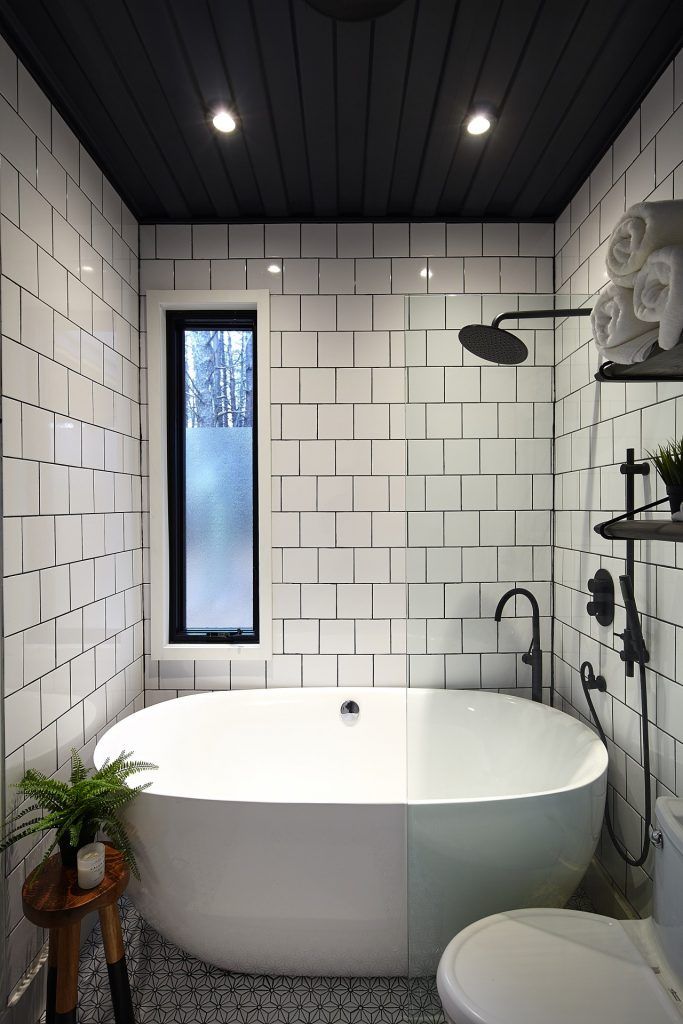 Also, you can pick the patterned tiles on your floor for styling the design. Moreover, you will feel the aesthetic atmosphere through the dim lights on your black ceiling. Ahead, put a small green plant to make it looks natural.
18 of 18
Thus our discussion of 18 Attractive Bathtub Ideas for Remodeling Your Bathroom. By using the right concept, you can create a comfortable and beautiful bathroom. In addition, you can also use decorations and furniture to complement your bathtub. The bathtub is an interesting part of the bathroom. Also, you can take the right design to adjust your bathroom size. Some bathtub looks stunning so get a bathroom curtain for the bathtub. Other decorations in the bathroom will change the atmosphere like adding a wood tray, aromatic fragrant, and decorative lemon in bathwater. Hopefully, these ideas will help you find an attractive bathtub. Happy decorating!