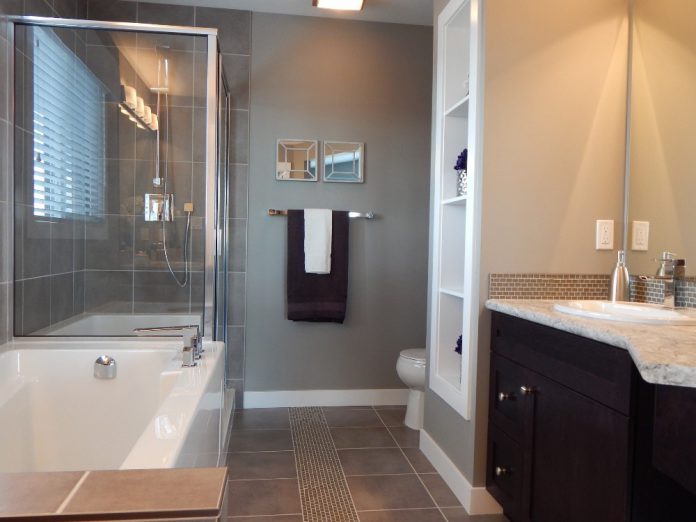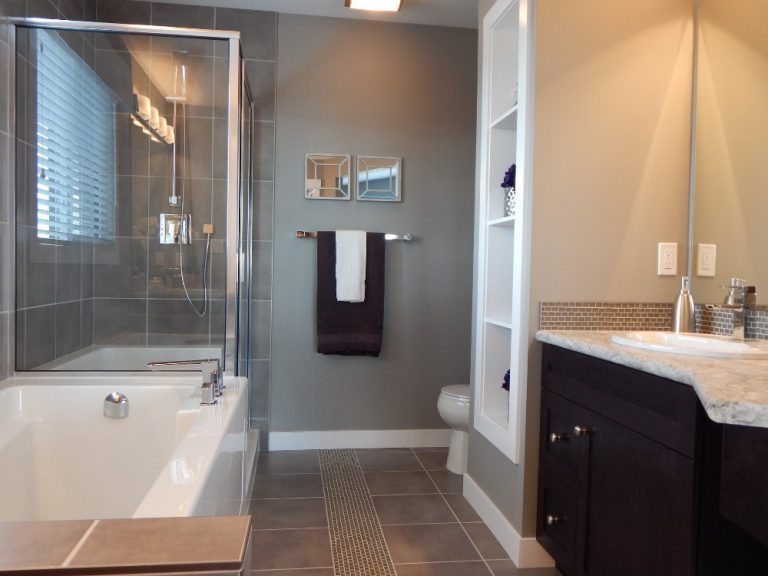 Homesfornh.com – Think you can't afford to renovate your bathroom? Think again! There are a variety of ways you can freshen up your space that won't break your bank account. Here are some easy and affordable bathroom reno projects that anyone can do.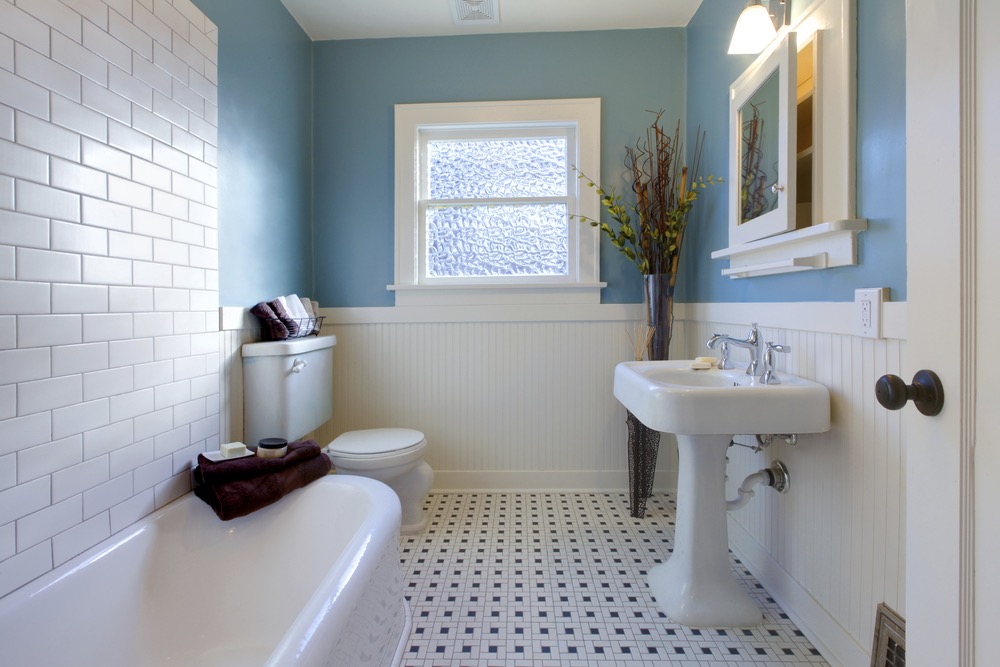 Source: Artazum/Shutterstock.com
Replace the bathroom cabinets. Your bathroom cabinets probably need a facelift. Consider replacing them. There are

lots of bathroom cabinets

out there that are affordable and don't sacrifice quality. If you're looking for something to really make a statement and freshen up your bathroom, replacing your cabinets is the perfect way to do that.

 

Paint your cabinets. If replacing your cabinets is out of the question in your budget, then consider painting them. This is much more cost efficient. You can paint your cabinets any color you want, but white tends to be the color that people gravitate towards the most when it comes to cabinets these days. That's because white gives off a fresh, clean look that other colors don't. But, if you're into bold statements, consider going with a deep green or even a mustard yellow.
Replace your cabinet doors. If you don't want to take the time to paint your bathroom cabinets, but still don't have the budget to replace your cabinets entirely, consider replacing the doors.

All quality cabinets

come in pieces, so ordering fresh doors for your bathroom vanity shouldn't be an issue. Just make sure you measure them properly to get the perfect fit.
Replace the hardware in your bathroom. Sometimes, all you need to do is replace the hardware in your bathroom. Switch out the faucet, drawer handles, light switches and shower head to give your bathroom a whole new look! Most of these pieces are relatively affordable, depending on the items you choose. You can also find some really great pieces at salvage and antique hardware stores. While not everything will match perfectly, your space will feel eclectic and unique – just like you!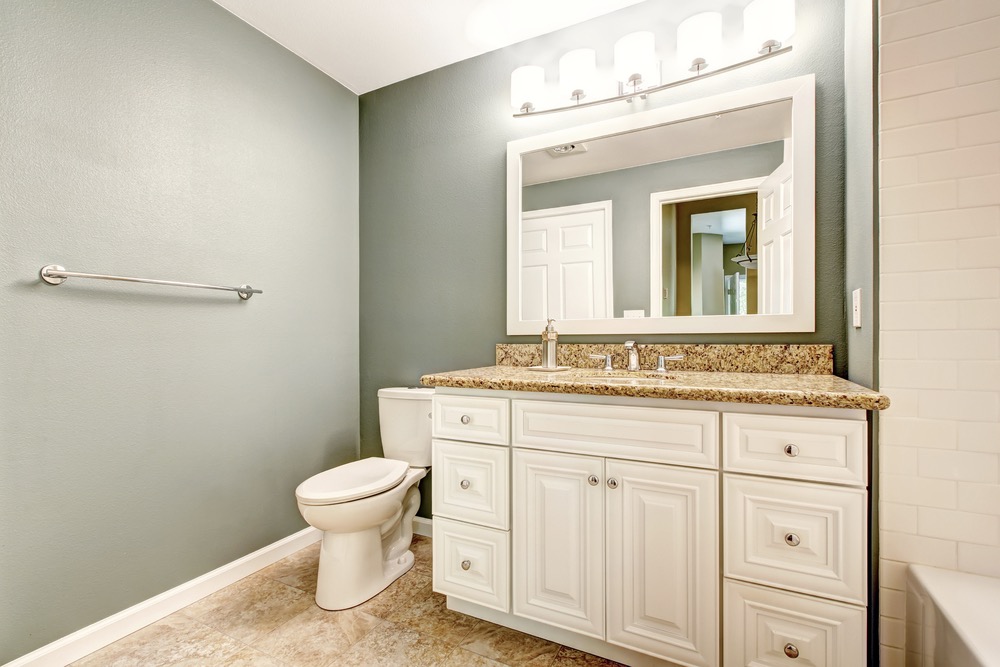 Source: Artazum/Shutterstock.com
Put up wallpaper. Wallpaper these days is different from the wallpaper of the '70s. In fact,

wallpaper has been around

for hundreds of years. The wallpaper of today is typically moisture-resistant and comes in a variety of patterns and colors. No matter what look you're going for, there's a wallpaper pattern out there for you. Plus, the adhesive on wallpaper is much different today than it was in decades past. It's easier to attach to the wall, but you'll still want someone to assist you and serve as your spotter. The designs need to line up perfectly.
Consider what you can do on your own. There are a variety of improvement projects you can do on your own – replacing faucets, installing bathroom vanity cabinets, switching out light fixtures – without needing to hire a professional. This will help you cut costs down dramatically. Most professionals charge you for evaluating your space prior to giving you a quote for the job, not to mention the cost of labor and parts. By finding the tasks you can do yourself, you can save a lot of money and put it towards other things.
Find alternatives. Instead of installing expensive (and slippery!) tile, consider water-resistant vinyl. Instead of getting gold plated hardware, go for brushed nickel. Finding alternatives to expensive materials will save you money but keep your refreshed space feeling elevated. There's nothing wrong with using a less expensive version of items that you're looking to replace. Just be sure to do your homework and check reviews prior to purchasing.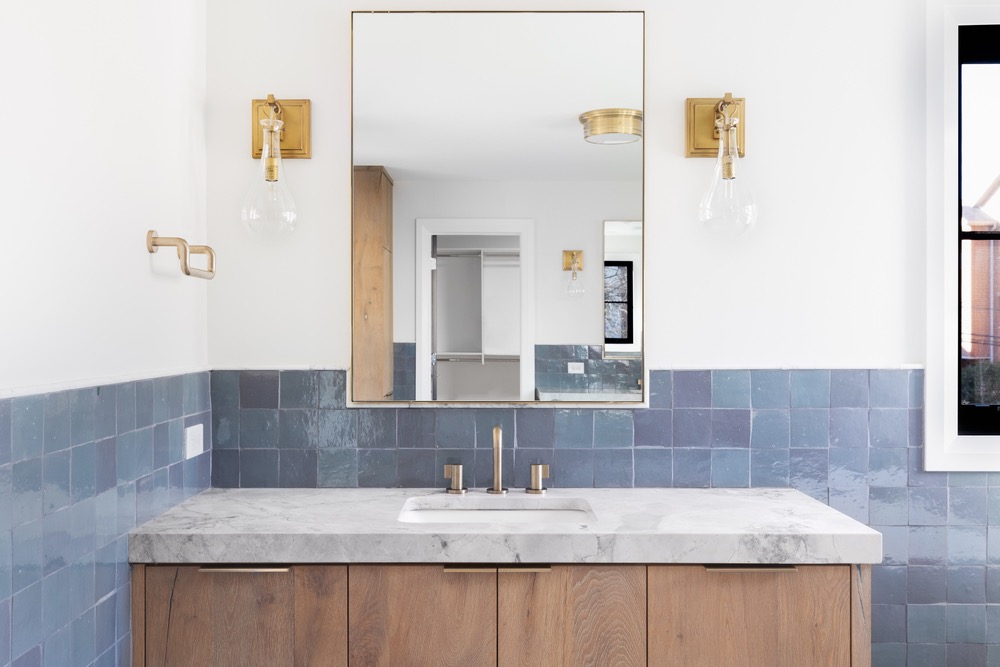 Source: Joe Hendrickson/Shutterstock.com
Refinish your tub. Replacing your tub or shower can be very expensive. Instead of replacing, consider refinishing. That way, your tub still looks fresh and clean without having to spend the amount you would for a brand new bathroom appliance. For tubs that appear yellowed and have small nicks or even a light amount of mildew buildup that just won't go away no matter how much elbow grease you put in, refinishing is a great alternative to replacing.

 

Invest in quality cleaners. Maybe you don't have to refinish your tub after all. Maybe you just need to use the right cleaner on it. Many people skate by without using the proper cleaners for their appliances, especially in their bathroom. Invest in quality cleaners that will really go above and beyond to tackle mildew and buildup on your tub and the grout in your tile to see if that doesn't do the trick in making it look fresh and new. Purchasing good cleaning supplies is also much cheaper than refinishing or replacing your tub.
Replace the mirror. The bathroom mirror is a visual staple in any bathroom. If it's been a while since you've replaced the bathroom mirror, why not get a new one? Whether you switch it up and install a large round mirror or you go with a brand new medicine cabinet to increase your storage, replacing the mirror will go a long way in giving your bathroom an updated look. If you have a double vanity, consider switching out the one large mirror for two smaller ones. That should also help you save money and prevent any cracking or breaking during installation.
Change out the light fixtures. Give your bathroom some extra light with new light fixtures. If you can, consider installing recessed lighting instead of replacing the one fixture on the ceiling. You should upgrade your vanity lighting, too. There are lots of options for your bathroom lighting. You can visit an antique store to find some vintage lighting, or you can go for something more modern and contemporary. Depending on your design style, you can find vanity lighting in practically any design you want. Whether you put a light on either side of the mirror or put one long one at the top near the ceiling is entirely up to you. Some are even made with multiple light settings, where you can make the light brighter or darker depending on your individual needs.