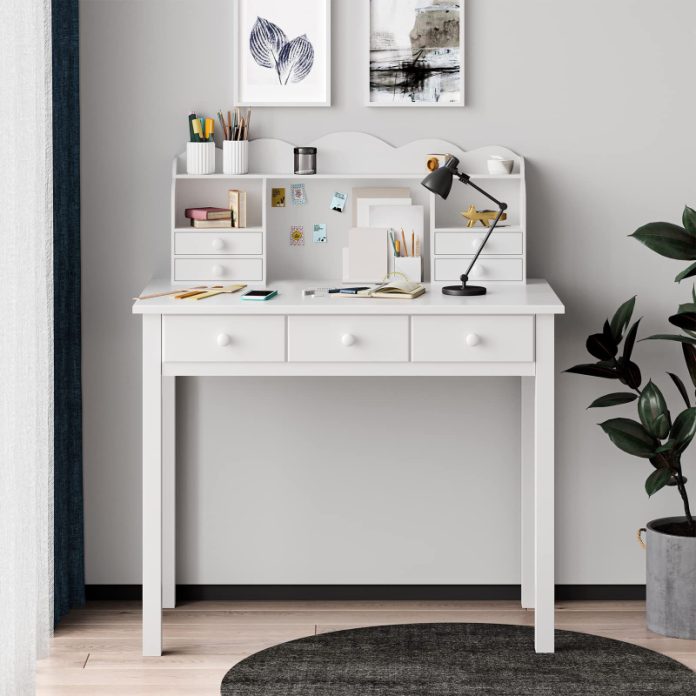 Homesfornh.com -The home study is an additional room in a house. It is room to focus on studying or doing work. There is furniture in this room. The most study room has a table, chair, and storage. The table design should adjust the function of a study room. For example, a small table will fit in a small area. Besides, a larger table is important for a drawing artist. Here, we have 20 Interesting Study Table Ideas : Create Your Cozy Home Office. Let's find the most fitted table for you.
Single Study Table with Floating Storage
The first design is the single study table. It uses one floating top board. This table directly sticks to the wall. It creates a slim design with a minimalist perspective. Also, it looks simple and fits other furniture.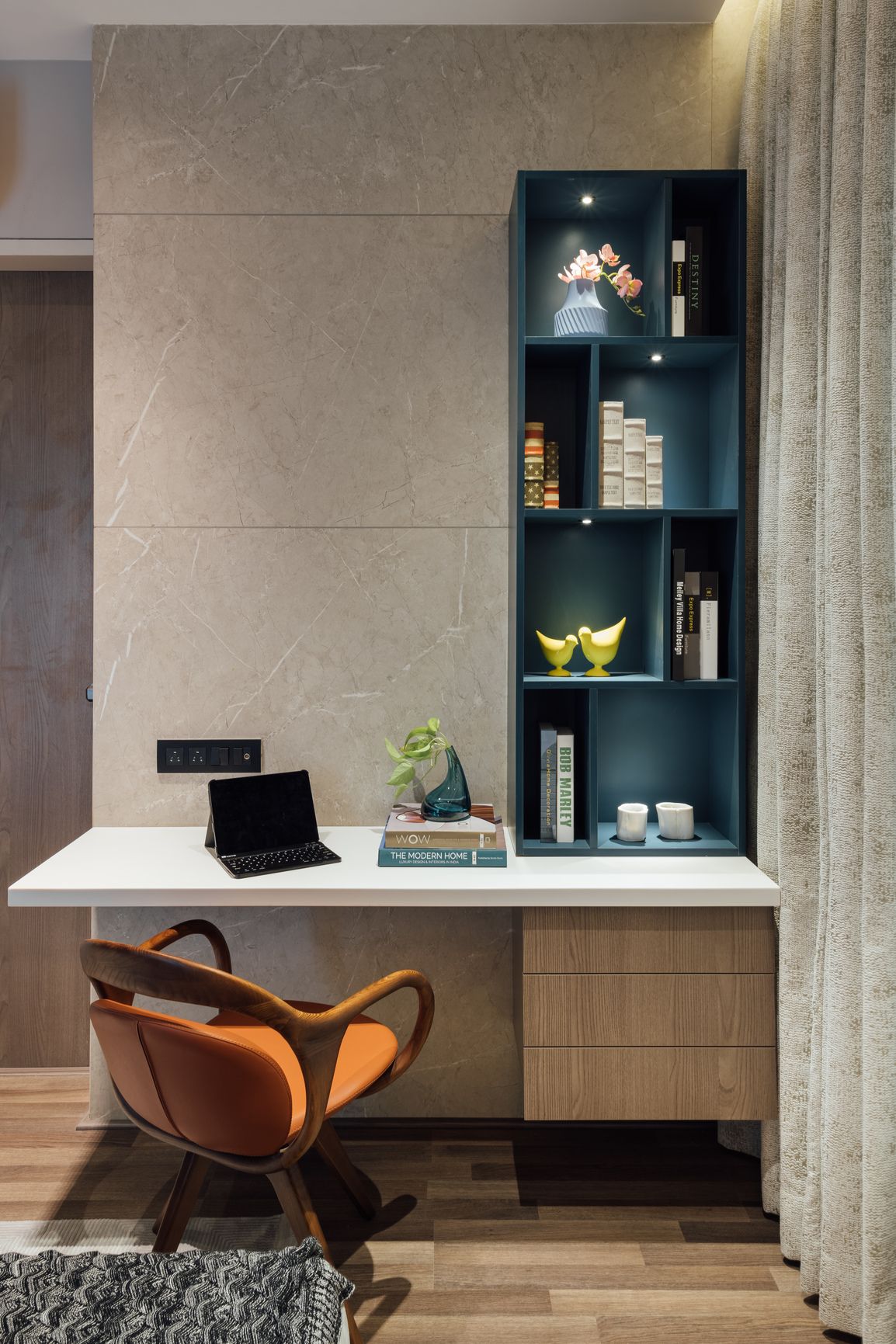 Besides, a study table needs storage. You can put some organizers on the table as storage. Also, you can install underneath storage. There is floating storage beneath the table. It has fewer drawers. Moreover, this study room has vertical storage above the table. It is useful to load books and ornaments.
1 of 20
Small Wooden Table and Wall Shelves
This is another wooden table for your study room. A wood table is a catchy choice to improve your study area. This wooden table will transform the impression. It offers a natural pattern and various wood shades. Besides, you can varnish the wood table with other colors.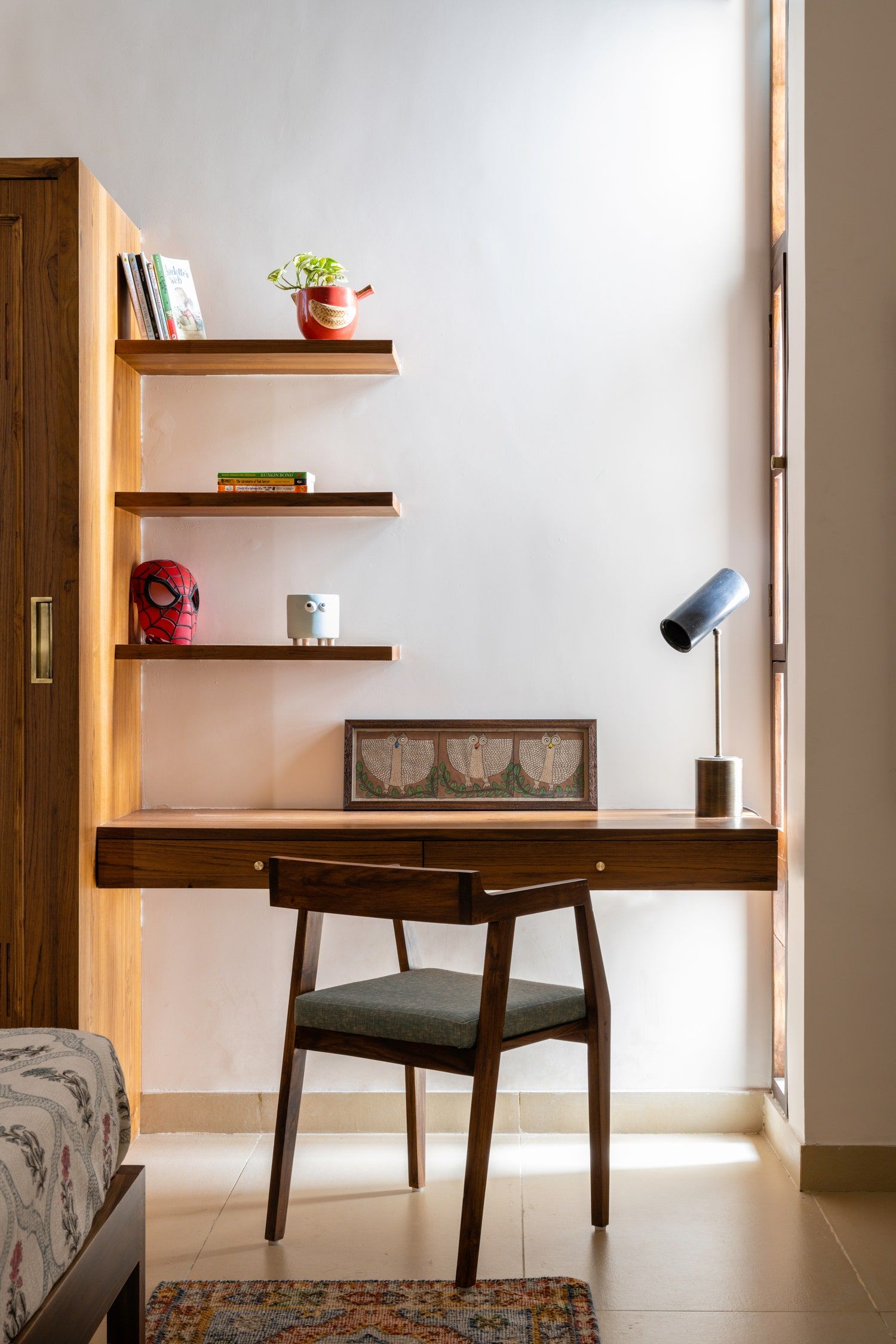 Moreover, this study table has a simple design. You will see a thin table with narrow drawers in the corner of the room. Also, it has three wall shelves in the corner. This study table is a nice choice to put in this area. So, you can see the outside while studying the books. It will bring a fresh mind to you.
2 of 20
Raw Wood as Table and Bookshelves
The raw material is an interesting material to enliven a natural impression. You can choose the wood material for your study table. Then, let it has natural patterns. It will enliven the outdoor accents in your study room.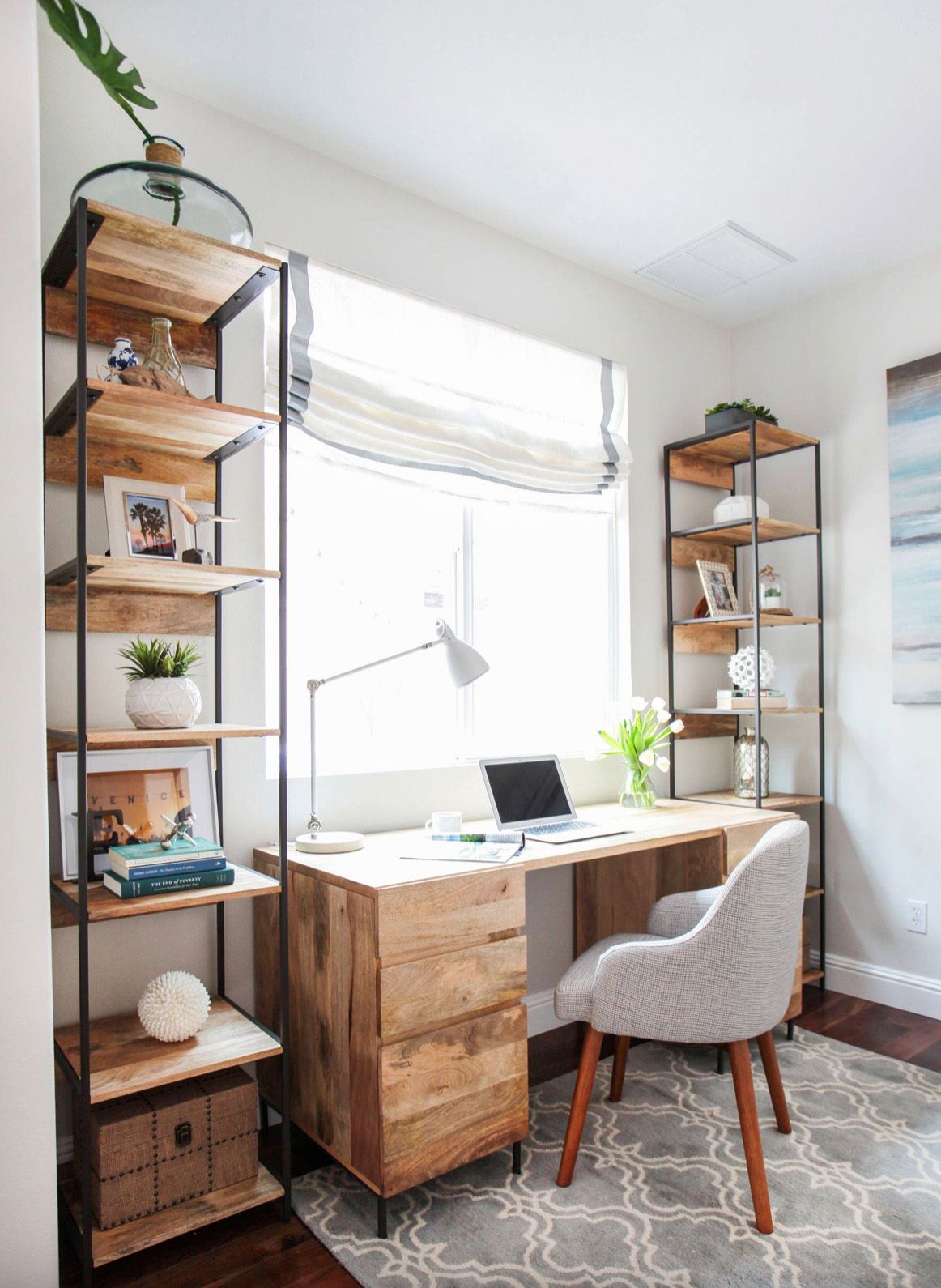 This study room has two wall shelves. It uses wood materials and steel. Both are interesting materials that bring an Industrial atmosphere to this room. Then, fill the shelves with ornaments, books, and plants. Also, you can put a desk lamp on it.
3 of 20
Functional Study Room
A study room needs storage to save the books. You can maximize the study room with storage. For example, this study room has upper and lower storage. Every storage has a simple design. You can see the cleanliness and neat design.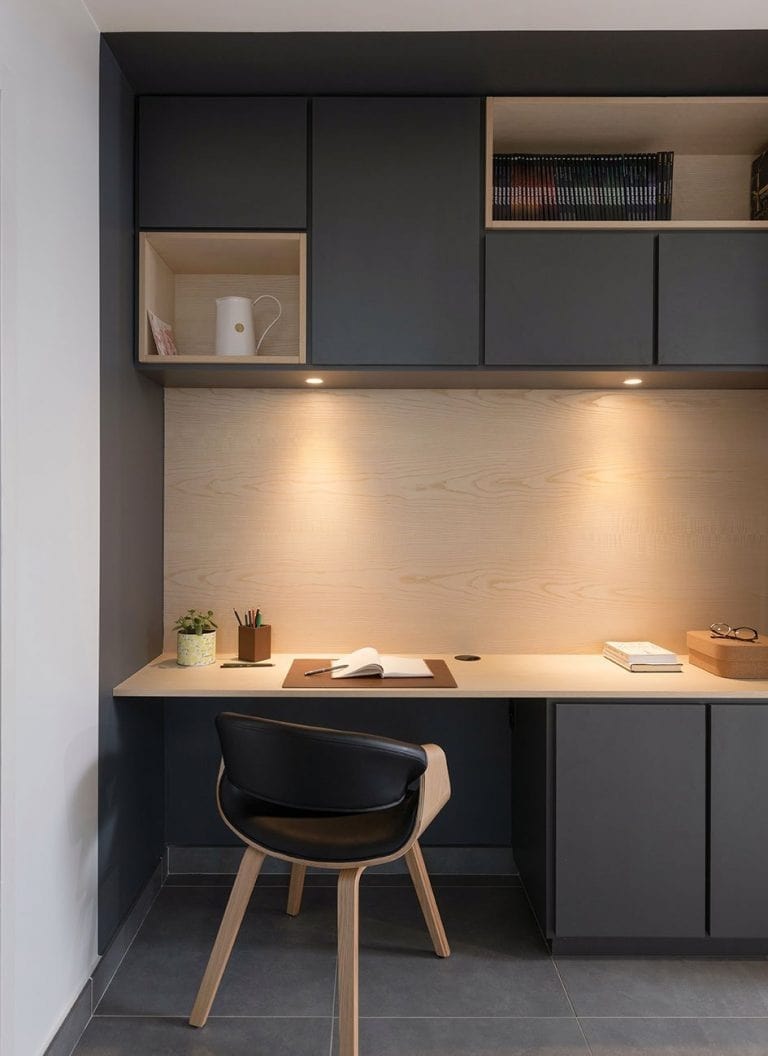 Thus, you can save many things in this room. Moreover, install two ceiling lamps beneath the floating storage. It will brighten the study room. Meanwhile, there is doorless storage. You can put stationery on it. Otherwise, it is useful to load the most needed things in this room.
4 of 20
Minimalist Table with Curvy Wall shelf
The Minimalist can attract attention to the room. Thus, install a Minimalist table to decorate your study area. This table has a slim design with two drawers. It looks stunning to complete a small place like this. Then, add a simple chair near the table.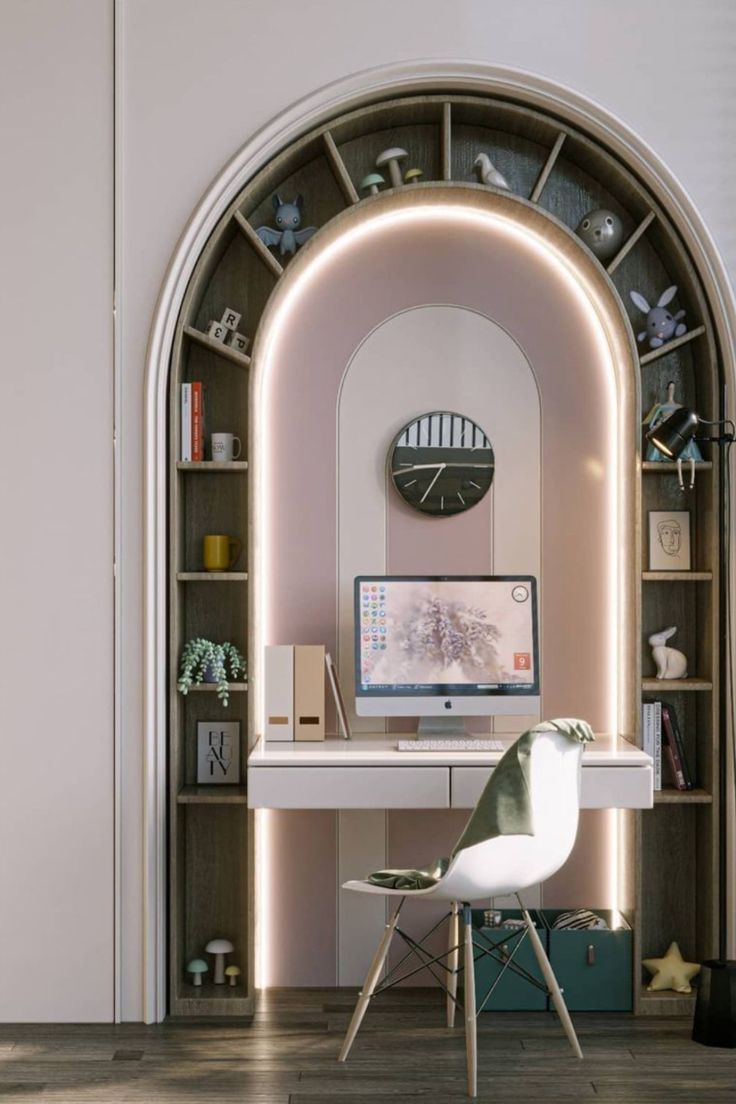 This study area has a unique wall shelf. It is a curvy wall shelf with many spaces to load things. You can put the ornaments on every shelf. Besides, this curvy shelf is more stunning with a warm lamp along the line. In addition, add extra storage under the table. Also, hang a clock on the wall.
5 of 20
A Wooden Desk with Vertical Storage
A wooden desk is a natural accent in a room. You can pick it as the main furniture in the study room. This wooden desk has a soft brown color. It represents modern design through its simplicity. Thus, it is easy to match this desk with other colors. There are the neutral frame, ornamental plant, and small organizers on the desk.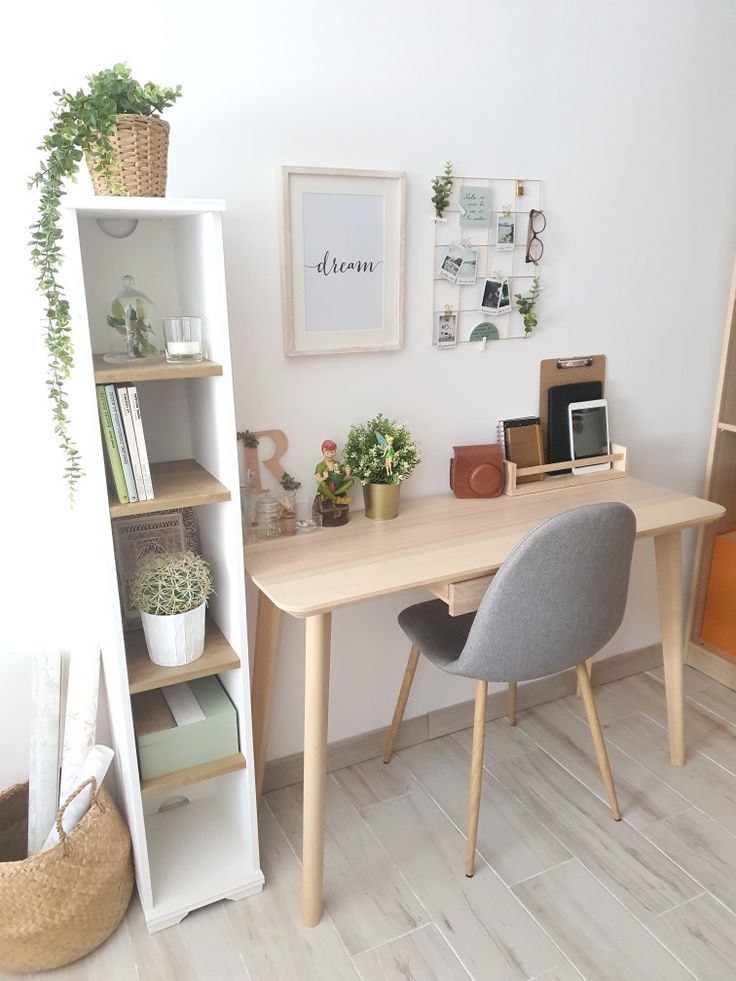 Also, this study room has vertical storage. This is doorless storage. You can load beautiful ornaments in every storage. There are few ornamental plants in the storage. It even looks stunning to put a vining plant on the top storage. Meanwhile, the other storage loads the books.
6 of 20
Handmade Rustic Table
The Rustic design is a catchy style. Most people use Rustic design to emerge a natural impression. Also, it can bring a warm atmosphere to a room. There are interesting wood patterns in every detail. You can pick a Rustic table with raw color. It will bring an outdoor perspective into your study area. Besides, the Rustic table is more catchy to pair with the wood chair.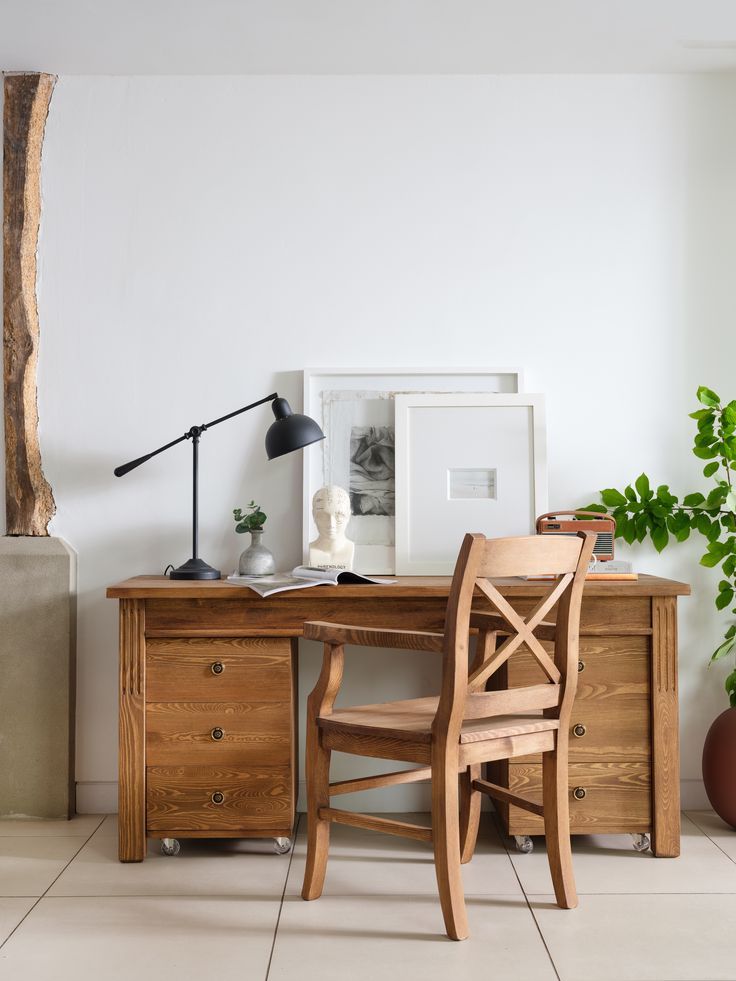 In this idea, the Rustic table has four drawers on the left and right sides. The eight drawers use circle holders. Also, this table uses wheel feet, so you can move it easily. Moreover, this wooden table is stunning to match other wood accents. For example, put a wood ornament and an indoor green plant.
7 of 20
Rustic Industrial Study Table
The Rustic Industrial design is a nice combination. Both are stunning to emerge a natural impression. For example, this Rustic Industrial study table is a stunning object in a study room. It will transform the interior design to be more attractive. Moreover, the dark wall paint will boost the Rustic Industrial atmosphere.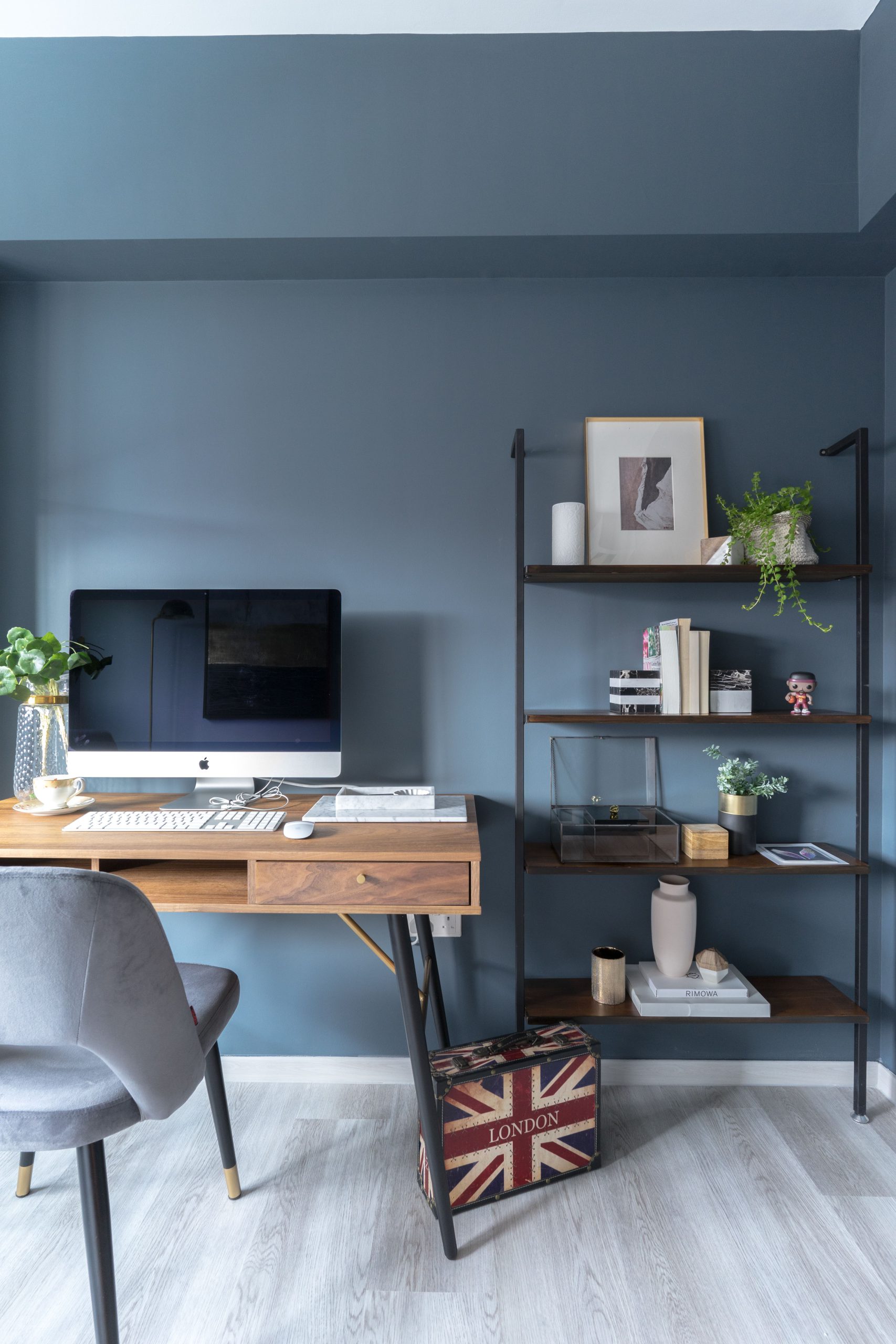 This Rustic Industrial table has two storage and a drawer. Those slim storage are simple to decorate the study room. Meanwhile, the Industrial shelves offer an elegant design. It uses black steel and dark wooden planks. Then, arrange a few ornamental plants on the wooden planks. You can display other ornaments as well.
8 of 20
Minimalist Study Area with Multifunctional Storage
This is a Minimalist study area. It has a clean impression. Thus, you will see minimum patterns. Even, the study table has a minimal design with neutral colors. It uses wood materials for the main furniture in a study room. The dark brown wood is a nice color to enliven an outdoor impression.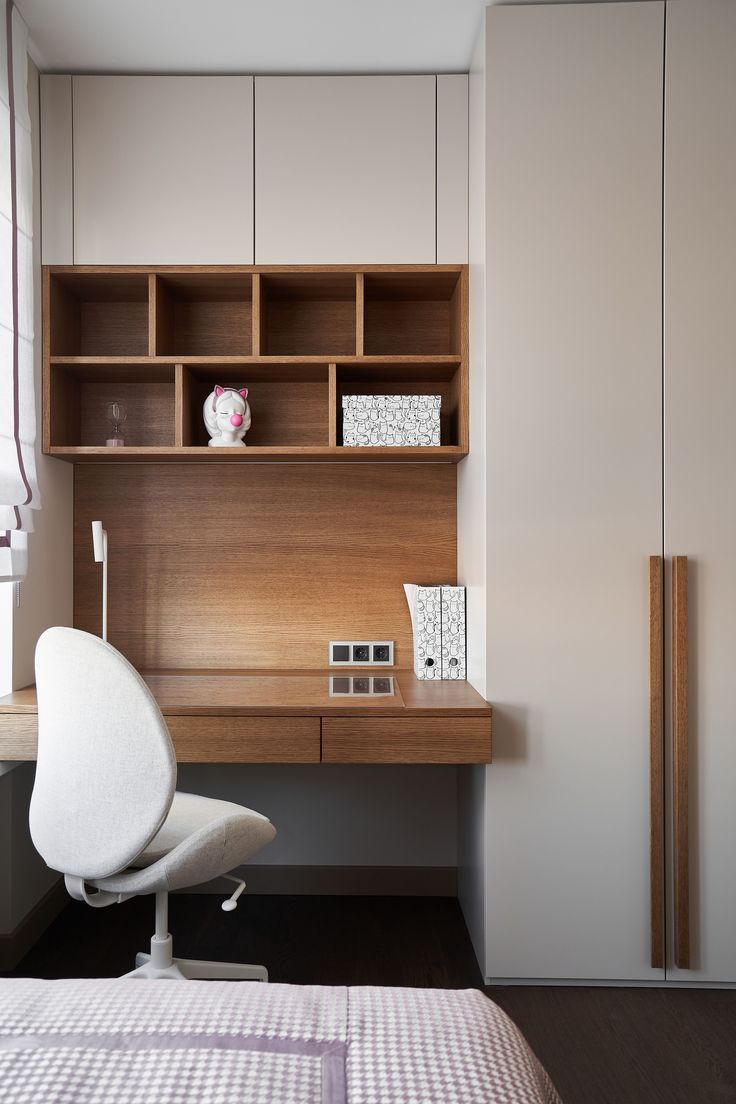 Meanwhile, the storage in this area will attract attention as well. There is storage with a clean line and minimalist design. You can see the doorless storage from wood materials. Otherwise, the upper storage is clean and neat. This storage combination is a multifunctional design. So, you can save many items in every store.
9 of 20
Classic Table with Carved Details
Classic furniture can enliven the popular design from the past. It represents the classic nuance through its colors and design. Let's see this classic table. This object has a dark brown color. You will see the carved details on the top board, storage, and feet.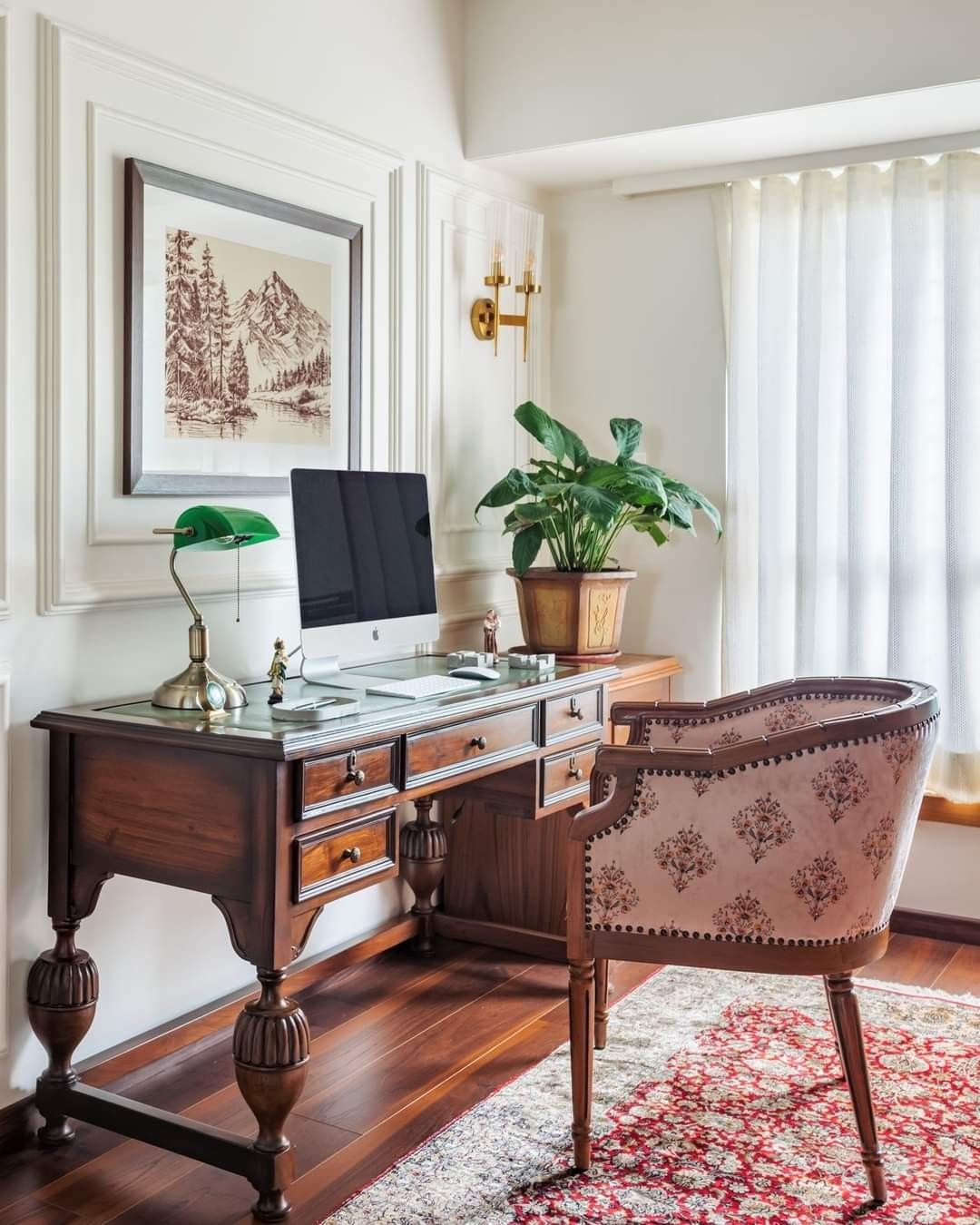 This classic table is stunning to create a vintage atmosphere in your study area. Moreover, this table can load many things in different drawers. In addition, you can add storage beside the table. Then, decorate this table with ornamental plants.
10 of 20
Contemporary Home Study
The Contemporary design is a classic too. It uses a certain model to represent the old style. There is a Contemporary table in this study room. The curvy sides represent the popular design with simplicity and neutral colors. Thus, the soft brown theme is interesting to decorate this study room.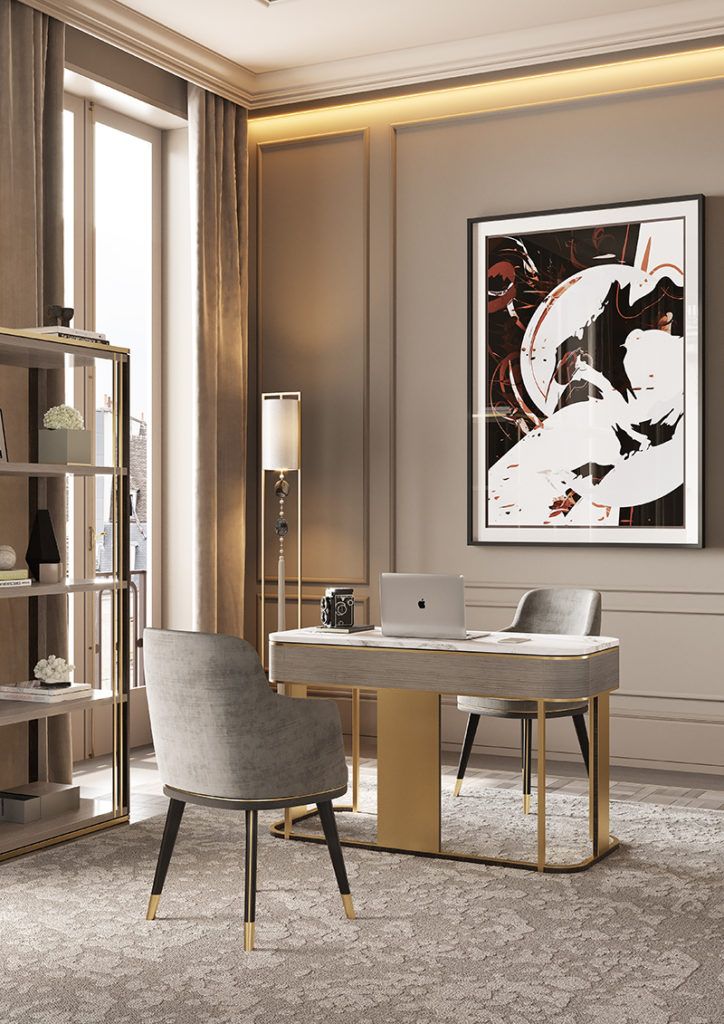 Moreover, the Contemporary study room uses natural materials, stark contrasts, and cool tones. It creates a calming atmosphere in a room. Look at the curvy table. It creates a sleek design. This table is a focal point in this room. It looks stunning to match the golden and gray accents.
11 of 20
All Woods Materials for Study Table
The wood furniture creates a warm impression. The texture of the wood is raw and natural. It has an interesting wooden pattern. Here, the wood furniture gives proof in the study room. The vertical ladder is useful to create an interesting study table.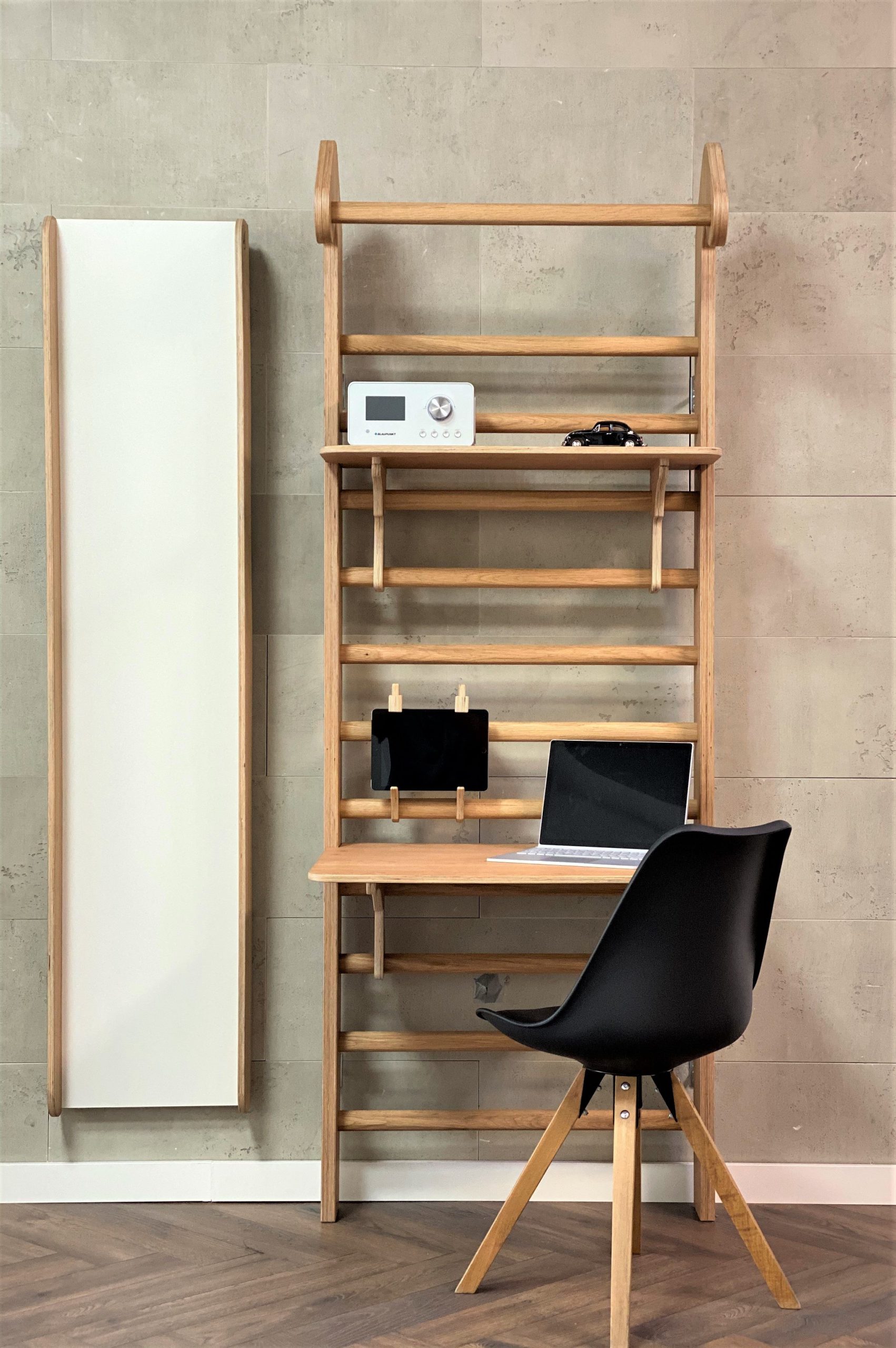 This study table is made of a wooden plank. It connects to the ladder. Also, the wood accents in the ladder are functional to load a wall shelf. You can hang some notes on it as well. This wood table is attractive to pair with wooden chairs.
12 of 20
Using White Tiles for Your Top Table
Tile is a multifunctional material. Most people use it to cover the wall or floor. Even, you can use it to create a catchy study table. There are mini white tiles that cover the table. It looks stunning. This table has an interesting design to match a neutral theme in the room.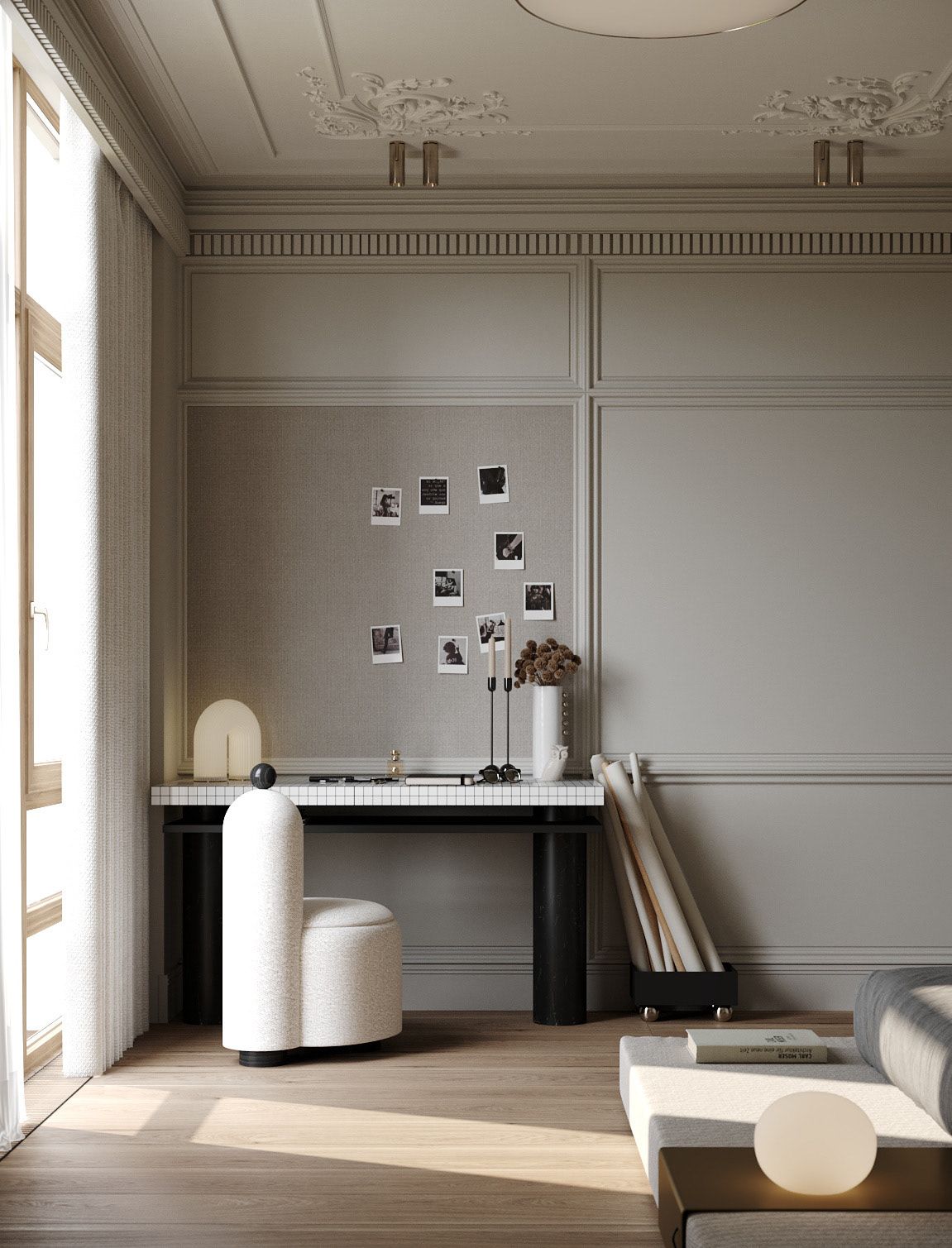 This table needs a mirror glass on the topboard, so the protruded texture of tiles won't bother you. Thus, you can write on it happily. Besides the table design, you can determine the study area's interior. This place is interesting with the white and cream color combination. Here, this room has a comfy chair in cream color.
13 of 20
Folded Study Table from Woods
Wood materials offer creative designs as furniture. Here is an example of wood furniture. This folded study table is multifunctional. There is a wood table with large storage and a few drawers. The empty storage is useful to load the books. Otherwise, you can add a wood plant on the holder, then you will have an extra drawer.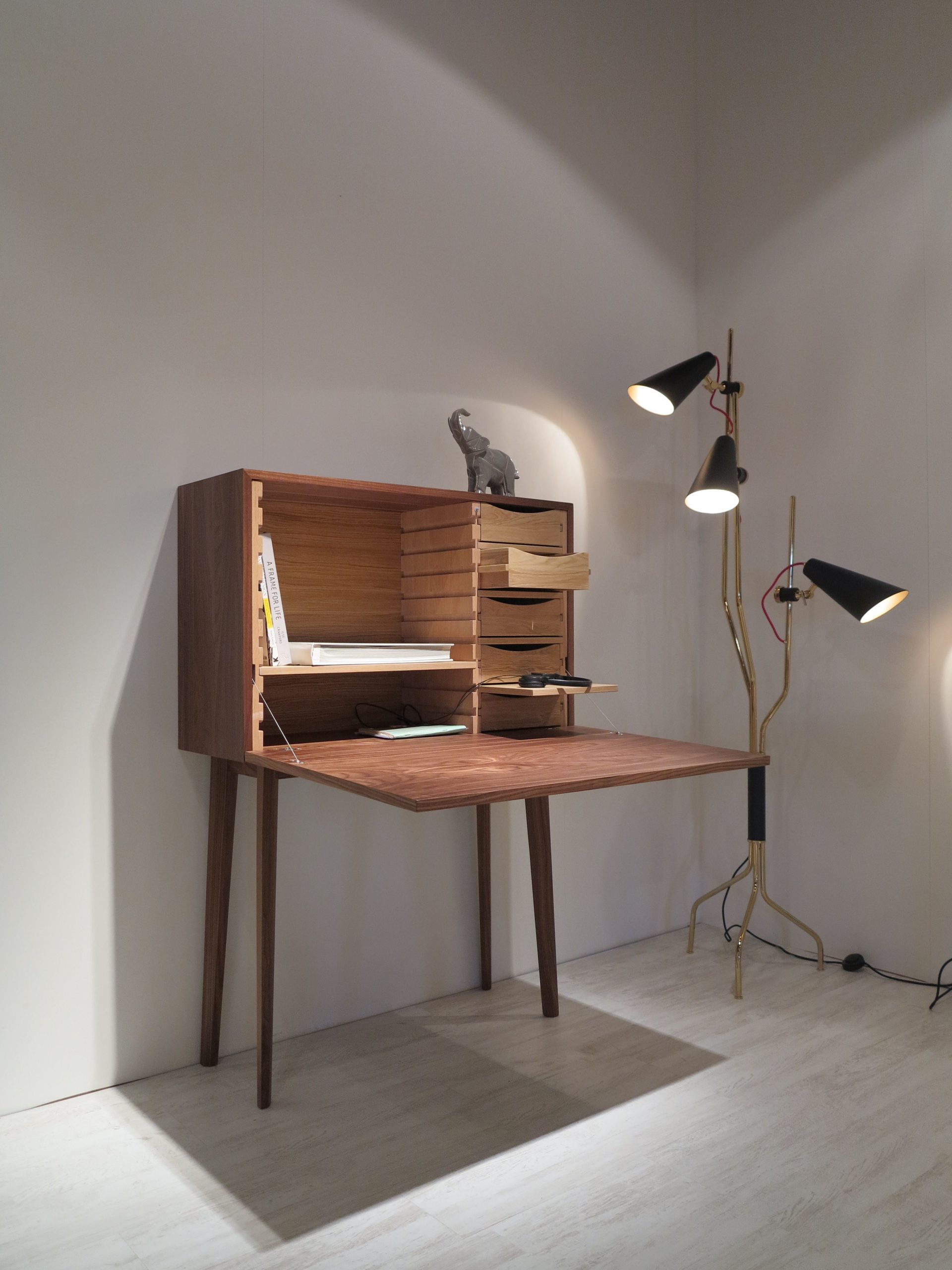 Besides, there are drawers without holders. Every drawer has a curvy line, so you can pull the drawer by the hole. Moreover, this study table is practical. You can fold the main board to shut the storage. Then, it will be neat and simple.
14 of 20
Minimalist Rustic Design
Minimalism is a simple design with minimum patterns and colors. It uses neutral colors and functional furniture. Let's see this minimalist table. It uses a combination of Rustic accents. Both are stunning to be your study table.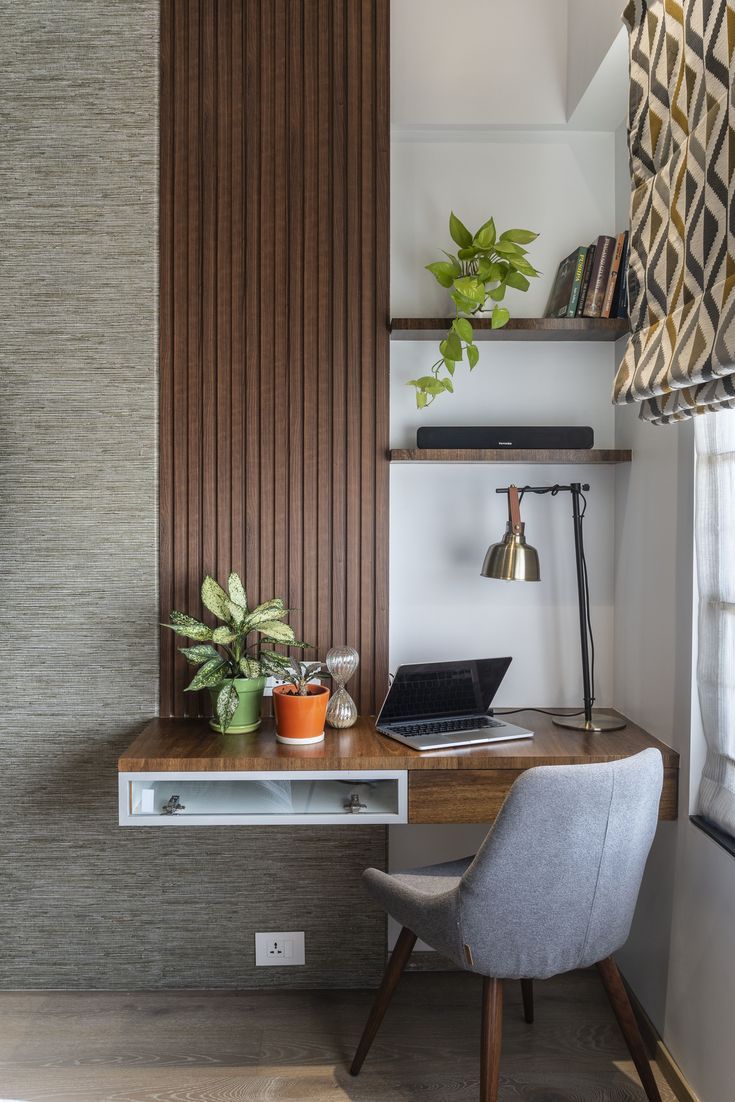 This table only has a narrow top board. It has a drawer and storage beneath the board. This storage is narrow as well. So, this table has a slim design. Moreover, make it more attractive by displaying some ornamental plants. Also, you can arrange your favorite books on the wall shelf.
15 of 20
Create A Wall Bookcase and Table
Industrial design has many functional furniture. Most Industrial designs use raw materials. You will see the black pipes in this idea. It is an Industrial table with wall shelves. The pipes and woods are the main materials.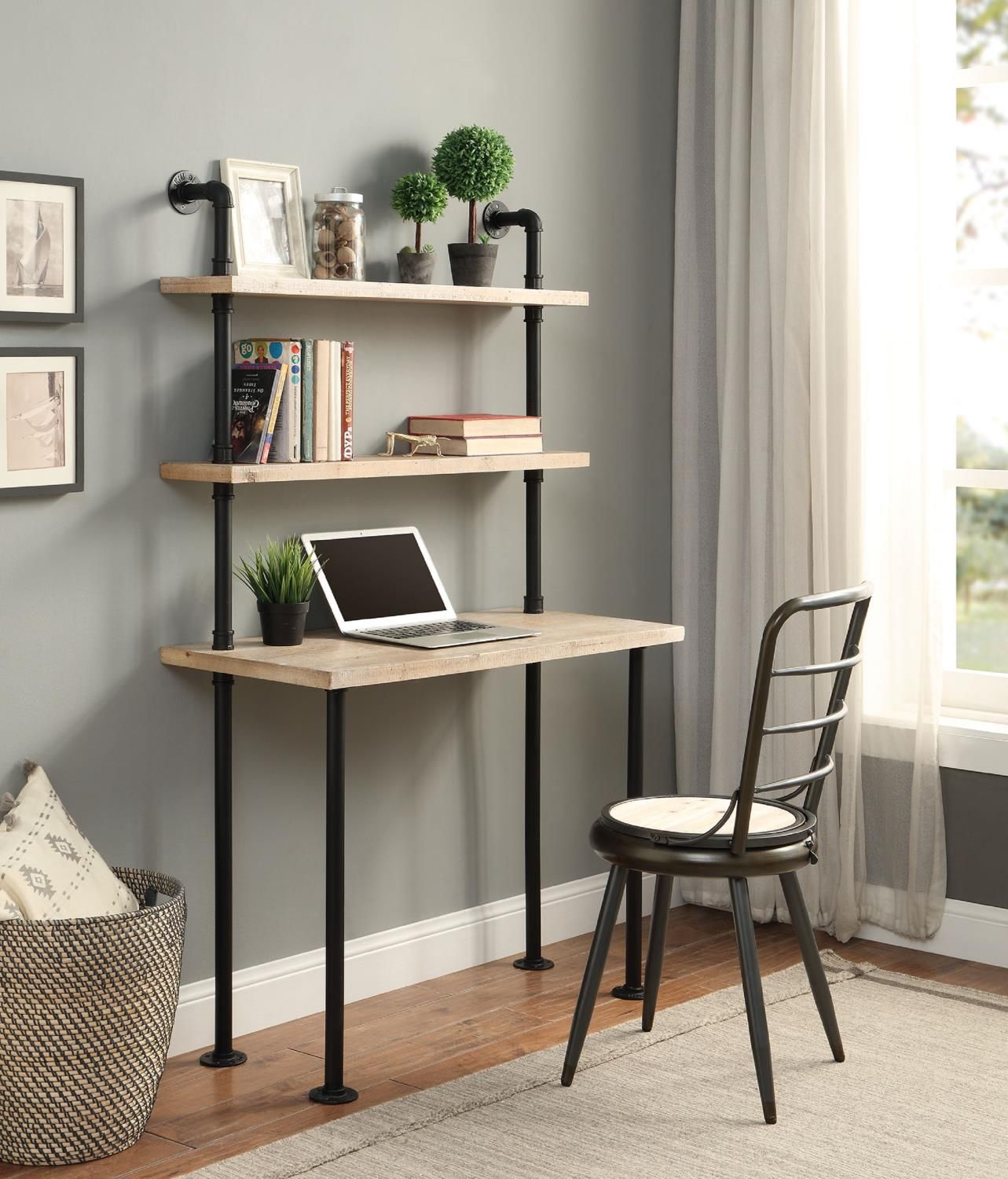 The pipes create contrast on the wall. You can use three wooden planks. The lowest plank should be the largest one. You will use it as the main top board. Meanwhile, the two shelves are useful to load the books. Also, add a few ornaments on the shelf.
16 of 20
Simple Study Area with Wall Shelves
The study area is a space to do homework or learn some books. Here, a simple study is with wall shelves. This place has a wooden table with curvy edges. It has carved details in the drawers and feet. Also, the warm wood color enlivens the natural nuance in this area.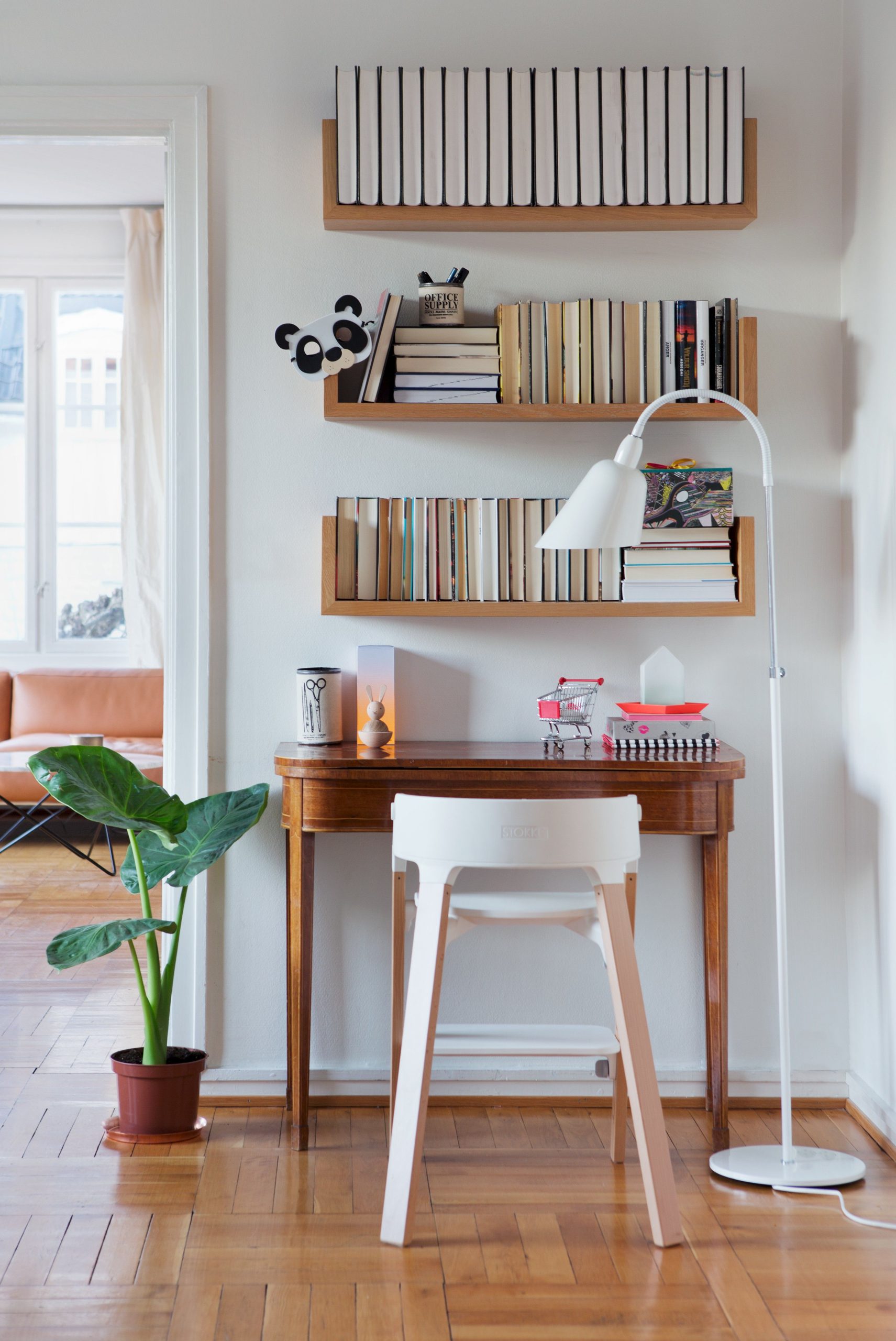 Moreover, this area has simple wall shelves. There are floating shelves on the wall. You can fill the shelf with books. Meanwhile, another shelf is stunning to load ornaments to. In addition, decorate your study area with some green plants.
17 of 20
Using Side Table for Study
Do you have a side table in your bedroom? The side table offers a private place to write some letters. Also, you can transform this place into your study area. Thus, you don't need to create another study area in your home. You just need to decorate this place with your stuff.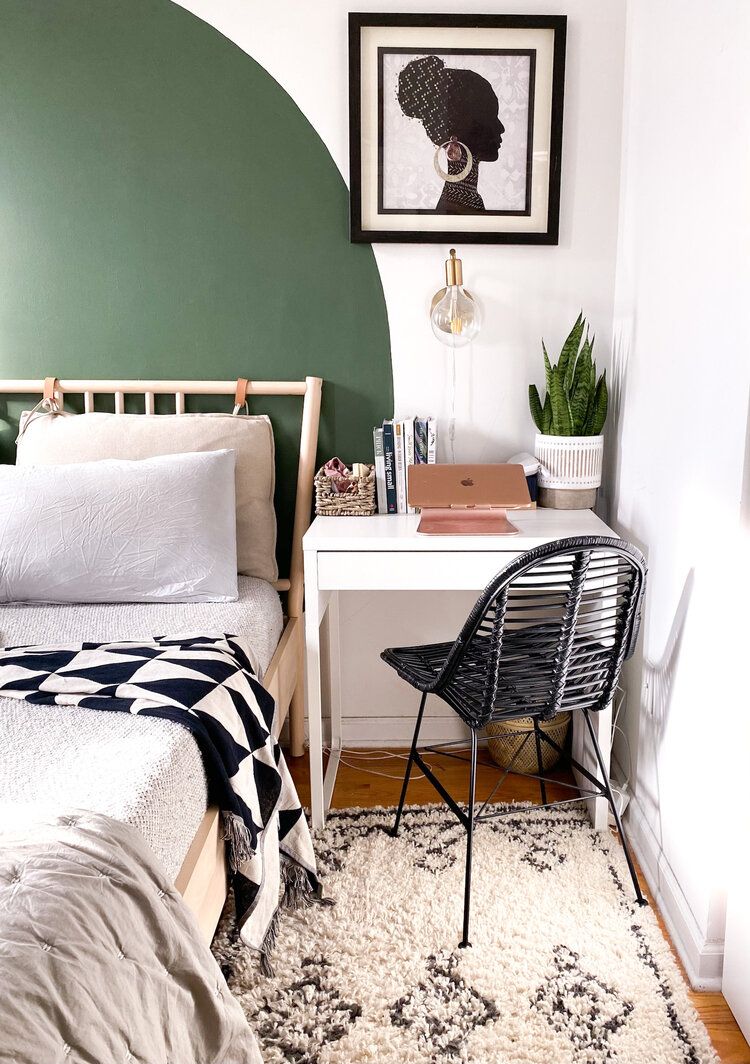 For example, this side table has a few items on the top board. All of them are useful and stunning. There are books, an organizer, and a Sanseviera plant. You can use a pencil case to save the stationery. Also, install a wall lamp to brighten this study table.
18 of 20
An Extended Partition as Industrial Table
The industrial design uses raw materials. There are metal, wood, and stone emerged from the Industrial style. Here, we have an idea for an Industrial table for your study area. This is an extended table from metal storage.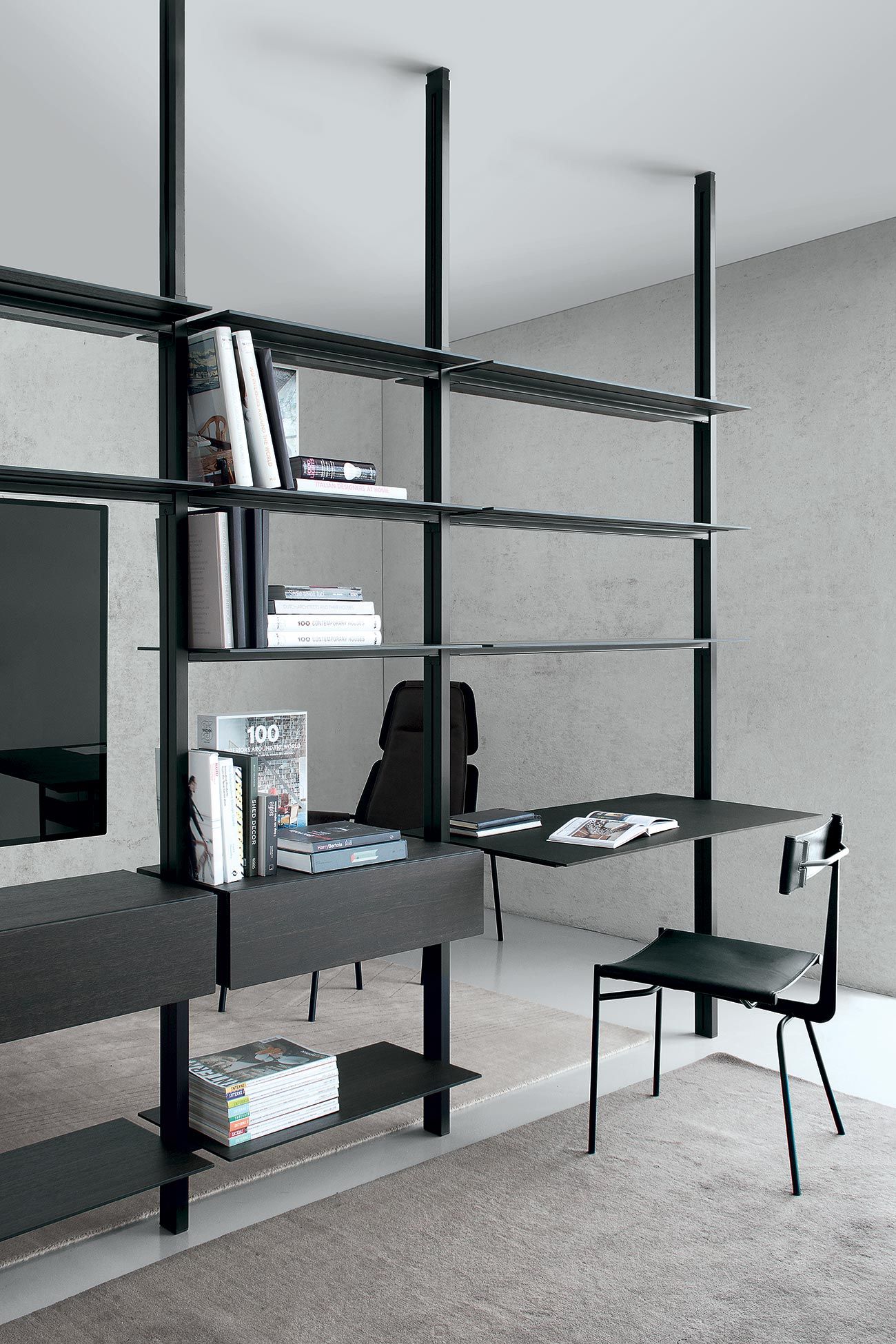 This table is a part of metal stored in a room. Thus, the study area isn't a private place in this design. It is useful to be your room partition, so you can create a semi-private room. Meanwhile, this table design offers easy access to other areas, such as the TV and bedroom.
19 of 20
Unique Table with Rectangular Storage
A modern table can change the perspective of a room. It brings a catchy design to refresh the interior. Let's see this table. There is a peach table in front of a wall. This peach color matches the light grey wall. Also, there are other darker accents in the room.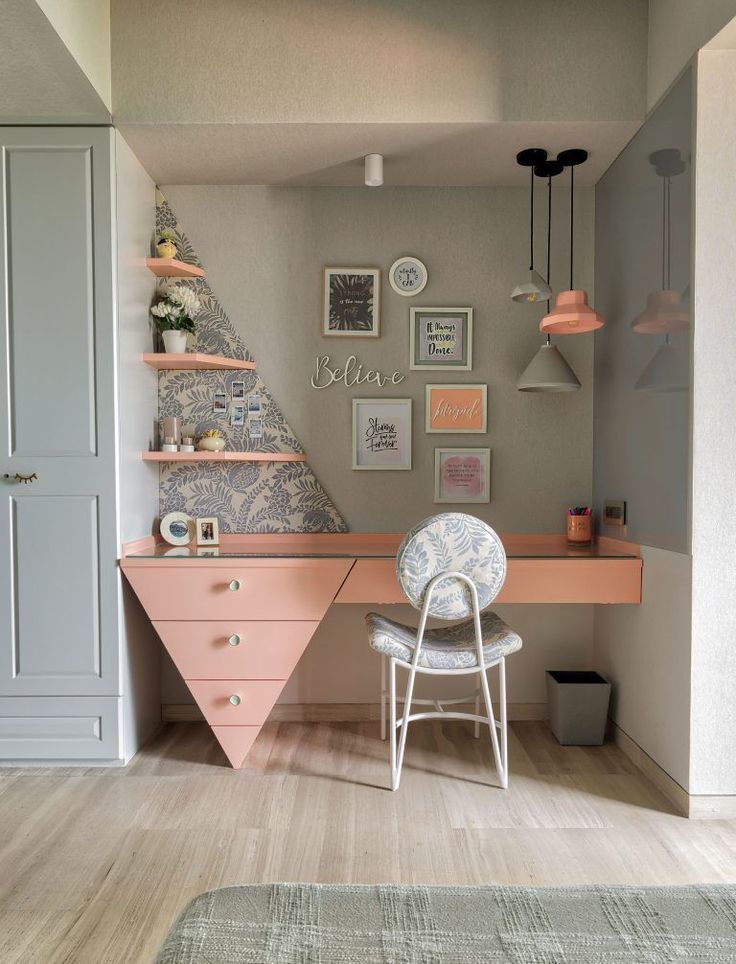 Besides, this table has unique storage. The upside-down triangle is a nice storage design. It is an eye-catching object in this study room. Moreover, there are peach accents that fit the storage. The peach accents are storage, floating shelves, and lampshade.
20 of 20
Thus our discussion of 20 Interesting Study Table Ideas: Create Your Cozy Home Office. These are the ideas for the study table design. A study table is a must-have object in a study room. You will need a table to write and do other jobs. It uses various materials and colors to create an interesting study table. Some of them are striking. Besides, the stunning study table can boost your mood to study harder. Hopefully, this article will inspire you to get an interesting study table.