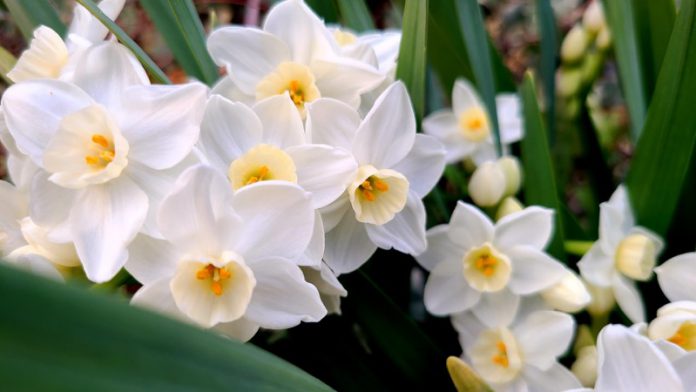 As you gain knowledge about gardening through experience and education, it isn't unusual to want to try a specialty garden. One of the most magical and beautiful gardens is a moon garden. A moon garden is a limited palette garden. It is planted with only white blooming flowers. They can include flower bulbs, annuals, perennials, vines and shrubs. The white flowers will glow in the moonlight, hence the name. This garden is a showpiece in the evening hours. Strategically placed lighting throughout the garden will allow you to replicate the moon glow on nights when the moon is covered by clouds or with a waning or waxing moon.
Besides the white flowers, this garden can also benefit from variegated leaves as long as the colors are limited to white and green. This garden is so special that it is well worth the extra planning of the design and placement of the plants. Usually, the majority of the plants are perennials; however, a few white blooming annuals mixed in will help bridge the gap between the early, middle and late blooming perennials. A few white flowering shrubs mixed with dark green evergreens are the perfect background plants for your moon garden.
Locate your moon garden close to an area you tend to use most at night. If you like to dine outside in the evening, place your moon garden near your dining area. Not only will it be a beautiful garden to see in the moonlight, but many of the flowers are only open at night and they will fill the air with an intoxicating scent. Another wonderful place to locate your garden is next to your pool. If you like to use your pool in the evening, the pool lights will be the perfect amount of light to illuminate your white flowers in the moon garden. It will make your evening swim enchanting and romantic.
Here are a few suggestions for your moon garden.
Shrubs
White lilacs. While we usually think of lilacs with purples and lavenders for bloom color, there is also a white lilac. This spring flowering shrub will make a great background shrub in your moon garden.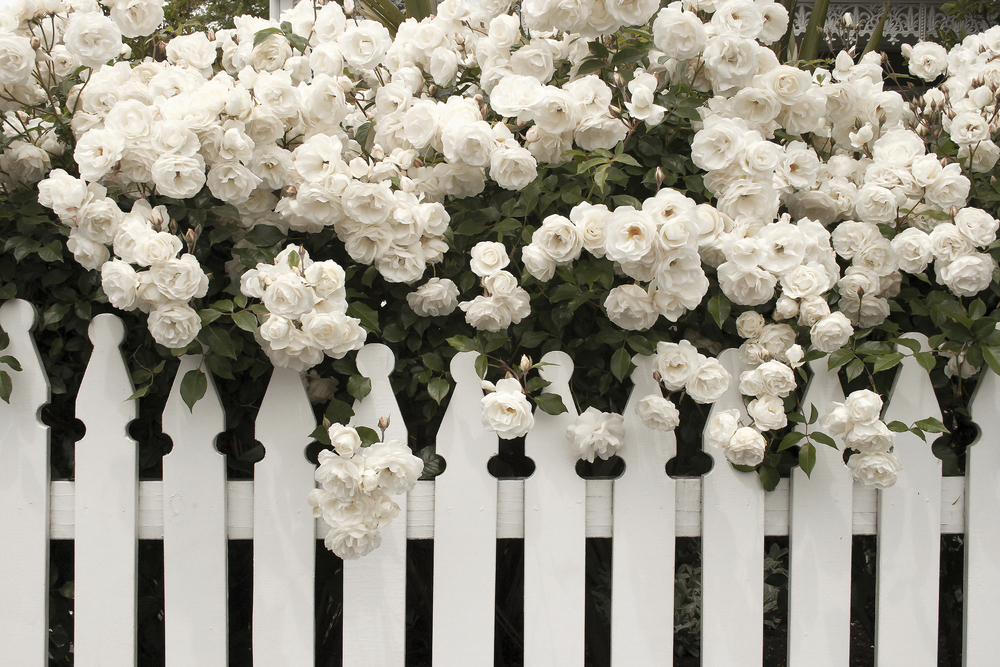 White roses. There are lots of white roses to choose from, depending on the type of rose you want in your garden. A great groundcover rose that stays about two feet tall and three feet across is "Wedding Dress." This plant will continue blooming all summer with lovely white flowers with a spicy sweet aroma.
Hydrangeas were only white for many years, but now are available in many colors. Stick with the true white when you select a hydrangea for your moon garden. Hydrangeas are also now available in many different sizes so choose the size plant you need for your garden space.
White Spirea was commonly known as "Bridal Wreath," as the drooping stems are covered with white flower clusters. These are perfect when cut to form a white wreath of flowers for the bride's hair. Spirea is available as the original 4- to 5-foot-tall shrub or in a 1- to 2-foot-tall size.
Vines
Sweet Autumn Clematis. This is a clematis that blooms in fall and is covered with one-inch star-shaped white flowers with a lovely scent indicated in its name. After blooming, the seed head develops with a silvery color.
White Climbing Rose. For a true white climbing rose, try "Iceberg" in your moon garden. This rose blooms on old wood only so takes a lot less care. The two-inch flowers give a lovely light scent.
Hydrangea Vine. This is a very hardy vine that is one of the only flowering vines that can tolerate shade. The vine is covered with lace cap hydrangea flower heads.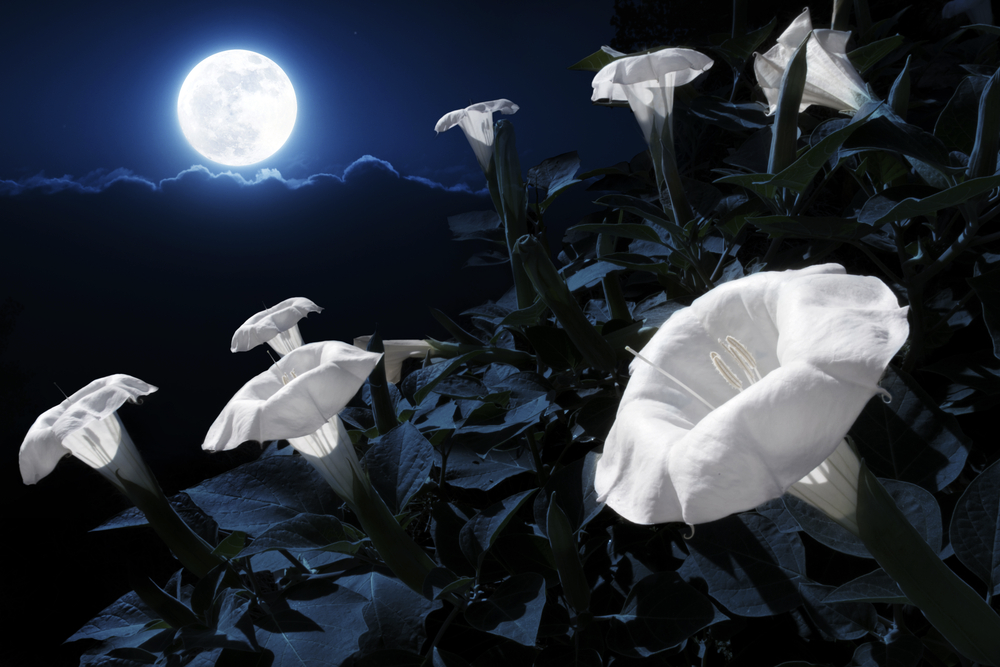 Moonflowers. These have to be included in a moon garden. This is a vine with flowers that open at twilight. This happens over one minute when the tightly furled flower bud opens into a six-inch bloom that is incredibly fragrant. This vine is only about six feet long so a little trellis or support from other garden supplies is all that is needed.
Perennials
Easter Lilies. Lilies are available in many colors, but choose an oriental lily that is true white for your moon garden. The flowers are upward facing and last for weeks.
White Swan Coneflowers. Coneflowers come in many colors, but for your moon garden there is just one color and that is white. The White Swan is exactly the coneflower you need for your garden. These plants can reach four feet tall and have blooms that are four to five inches across. These flowers also give off a lovely scent.
White Bleeding Hearts. Traditionally Bleeding Hearts were only red or pink. Today, we have white varieties available like Aurora. This bleeding heart is only a foot tall, so it is a great plant for edging a border. The other advantage of Aurora is it will continue to bloom until fall if watered consistently and with occasional dead heading.
Phlox is another perennial that comes in many different colors. For your moon garden, choose the Phlox David, a gorgeous white flowering plant with the large flower heads blooming on stems that are three to four feet tall. It will bloom all summer into late fall.
Shasta Daisies. Shasta daisies are hardy perennials that start blooming when it is warm and won't stop until the cold weather comes. The two-foot-tall plant will be covered by white flowers with a gold center.
Mums come in a variety of colors, usually the colors of fall, as that is when they bloom. Mums need to be pinched off to encourage the thick mounded shape they are known for. Choose a white variety for your moon garden.
Dahlias Fleurel. This dahlia is a tender perennial so the tuber must be dug up and stored in the winter. Replant in spring for even more flowers. Fleurel will grow to about three feet tall and two feet wide. The beautiful white flowers are seven inches across and will bloom from mid-summer until late fall.
Leaves
Dusty Miller. This plant is used for its leaf color. It is a silver white that stands out in a moon garden as the light reflects off the leaves. The leaves are intricately lobed to give further interest.
Lamb's Ear. This is another plant grown for the leaves. They are also silvery white but are almost furry on the surface.
Caladium Aaron. This caladium has leaves with a medium green edge and a white center–perfect for a moon garden.
Annuals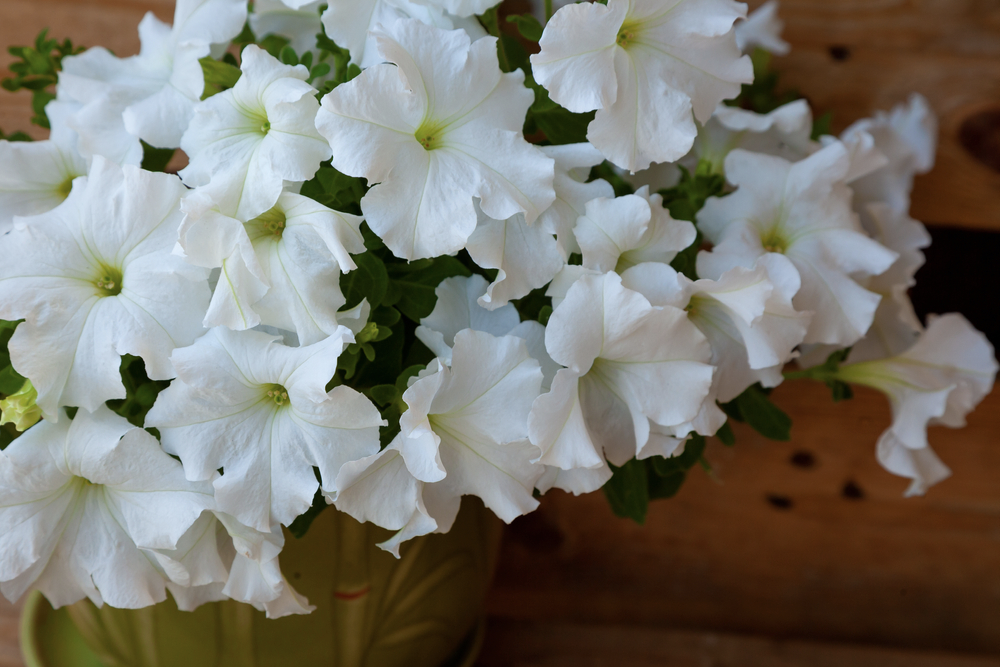 The Shock Wave Petunia Coconut is a true white petunia that starts blooming very early in summer and keeps going through fall. Shock Wave petunias are covered in blooms and are self-cleaning so no deadheading is required.
Sweet alyssum is a low-growing mound-shaped plant that is covered with flowers and gives off a very pretty scent. It is used in pots and perfect as an edging plant in your moon garden.
There are white varieties of many flowers known for their colorful variety, like zinnias and marigolds. Look for your favorite flowers in white for your moon garden.