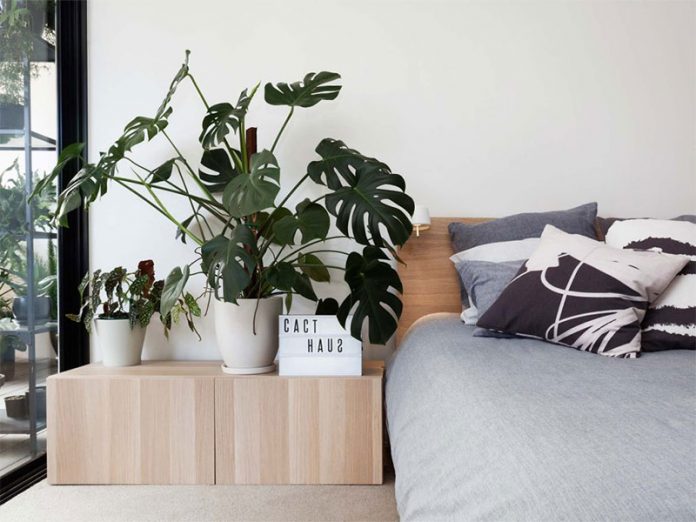 Homesfornh.com – Having a comfortable bedroom is the dream of many homeowners. With a comfortable bedroom, you can sleep and rest in peace and get better quality sleep. Many factors influence comfort in the bedroom such as decoration, interior, and furniture used. One of the important things in bedroom comfort is bedroom decor. With the right decoration and according to your character, then you can be more comfortable in your bedroom.
Beautiful and Fresh Tropical Bedroom Decorations
In this article, we will discuss some unique, beautiful, and fresh tropical decoration ideas. For those of you who like a beautiful natural atmosphere, then this bedroom design is suitable for you. You can place ornamental plants, using natural colors and so on which we will discuss in this article. For that, let's discuss some ideas and inspiration to make your room look natural and beautiful.
Connect with Your Garden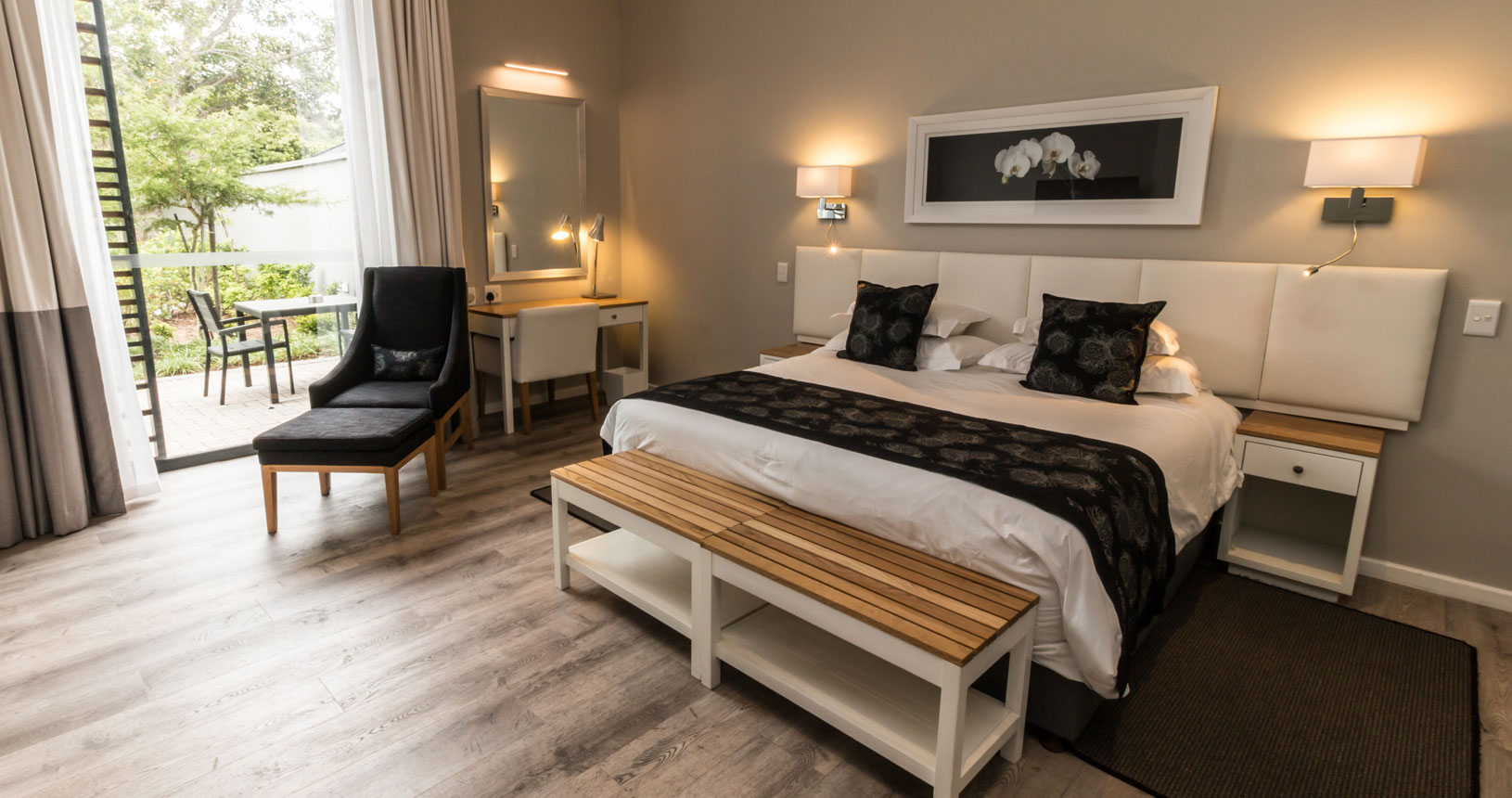 To give a natural impression to your bedroom, you can make your bedroom close to your backyard or garden. You can use glass doors or windows that reveal the freshness of your garden. The glass door should be opened and closed so that you can easily move from your bedroom to your garden. For privacy, use curtains that are easy to open and close. You can use natural furniture such as wood so that the beautiful, elegant, open space and natural impression you get for your bedroom.
Give a Woven Accent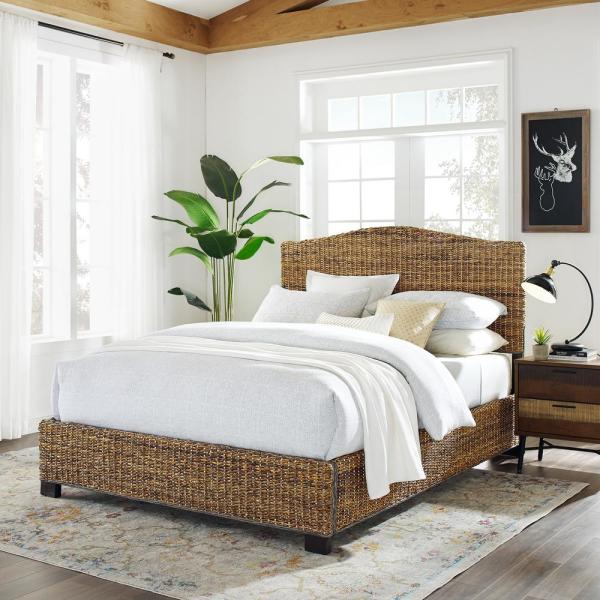 Using a bed frame with natural materials also gives an aesthetic impression to your bedroom. You can use a bed frame with a rattan or bamboo. With these materials, your bed is strong, comfortable, and durable. With natural rattan or bamboo, colors give a beautiful tropical feel to your room. Besides, the effect of woven texture gives a beautiful accent, artistic, and aesthetic.
Broadleaf Ornamental Plants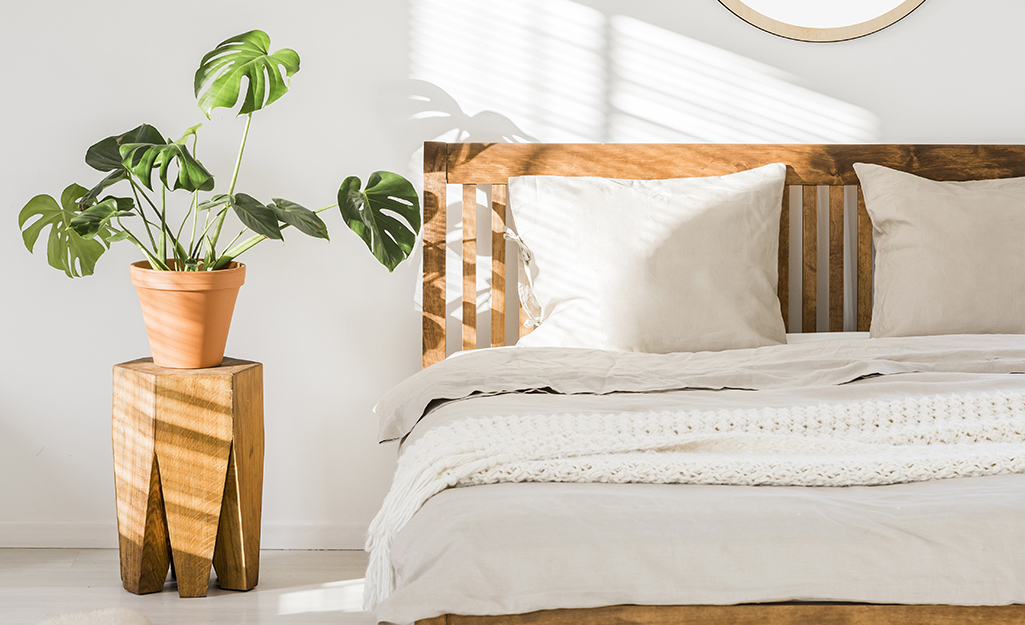 You can make your room look natural next is to use ornamental plants with large leaves in your bedroom. For example, you can use Monstera ornamental plants for decorating your bedroom. With ornamental plants like this will provide shade and natural impression in your bedroom. Monstera plants can refresh your bedroom by filtering the air in your bedroom. Besides being beautiful, this plant is healthy for your body.
Green Pastel Paint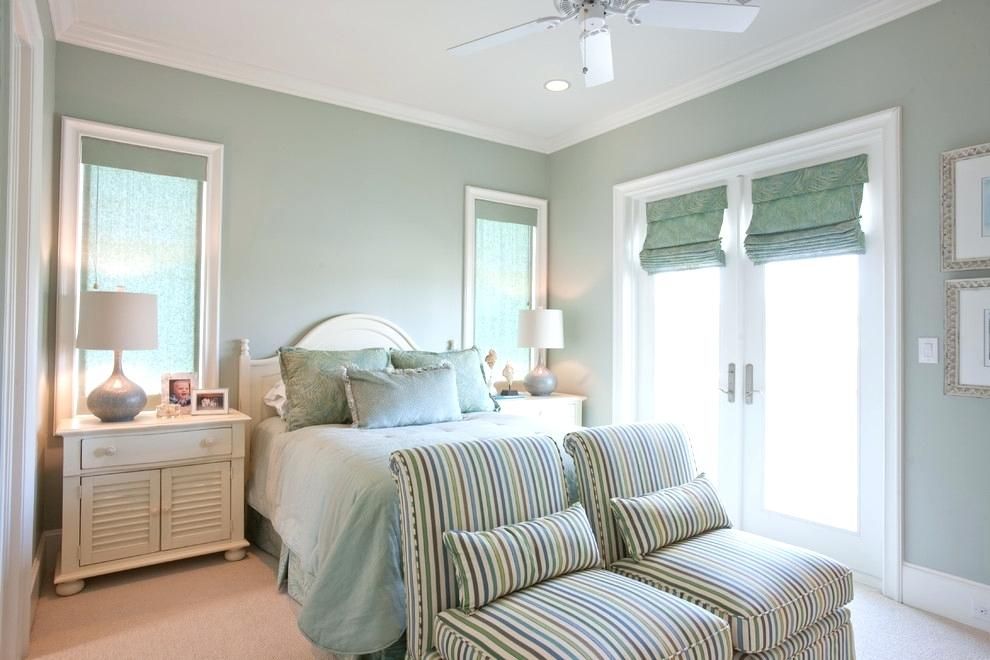 By using natural shades, such as pastel green also gives a natural and tropical impression to your bedroom. In this way, you can make the mood and atmosphere of your room fresher. You can combine pastel green with natural color from furniture or natural brown accents. That way a room will be created with a tropical and natural feel.
Leaves Motif Wallpaper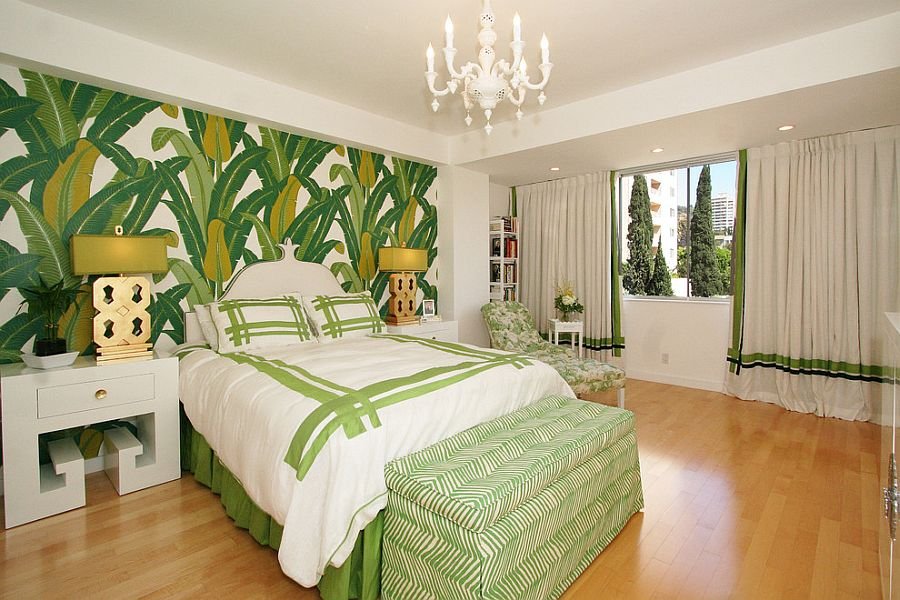 In addition to using pastel green colors that make your room feel natural and fresh, you can use wallpapers with leaves motifs. By using a wallpaper motif like this gives a natural and aesthetic impression on your bedroom. To give a tropical impression, you can use the leaves motif of tropical plants such as coconut trees, banana trees, or monstera. With wallpaper like this, it will give a tropical and beautiful impression to your bedroom.
Leaves Vinyl Sticker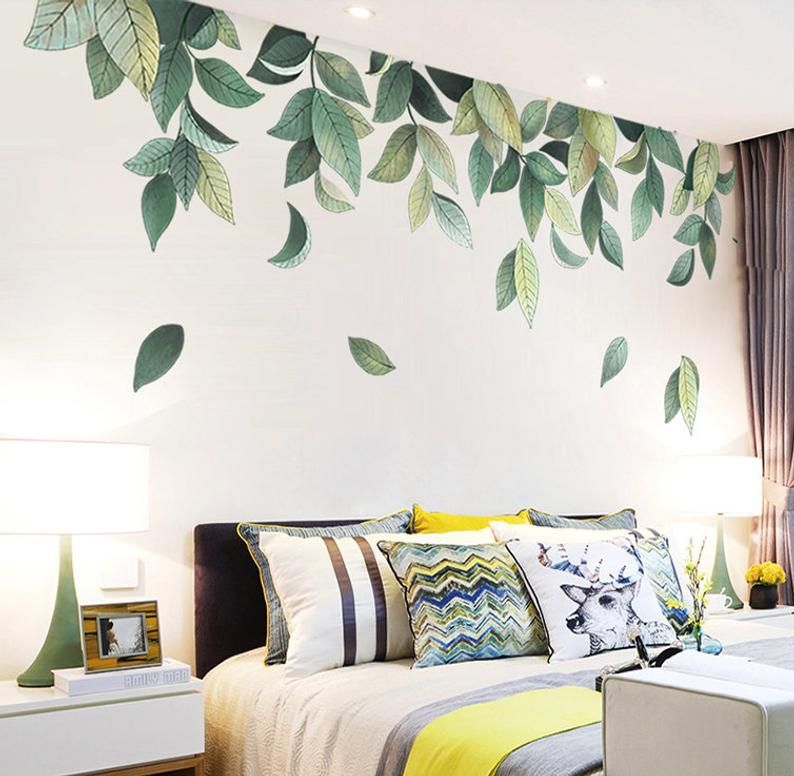 In addition to using wallpaper with tropical leaves, you can also provide tropical accents with vinyl stickers. Using beautiful and natural leaf stickers give a tropical accent to your bedroom. You can make it simple but aesthetically so that it does not seem excessive. That way, you can make your room beautiful, fresh, and aesthetic by using only the vinyl stickers of beautiful tropical leaves.
Decorative Frame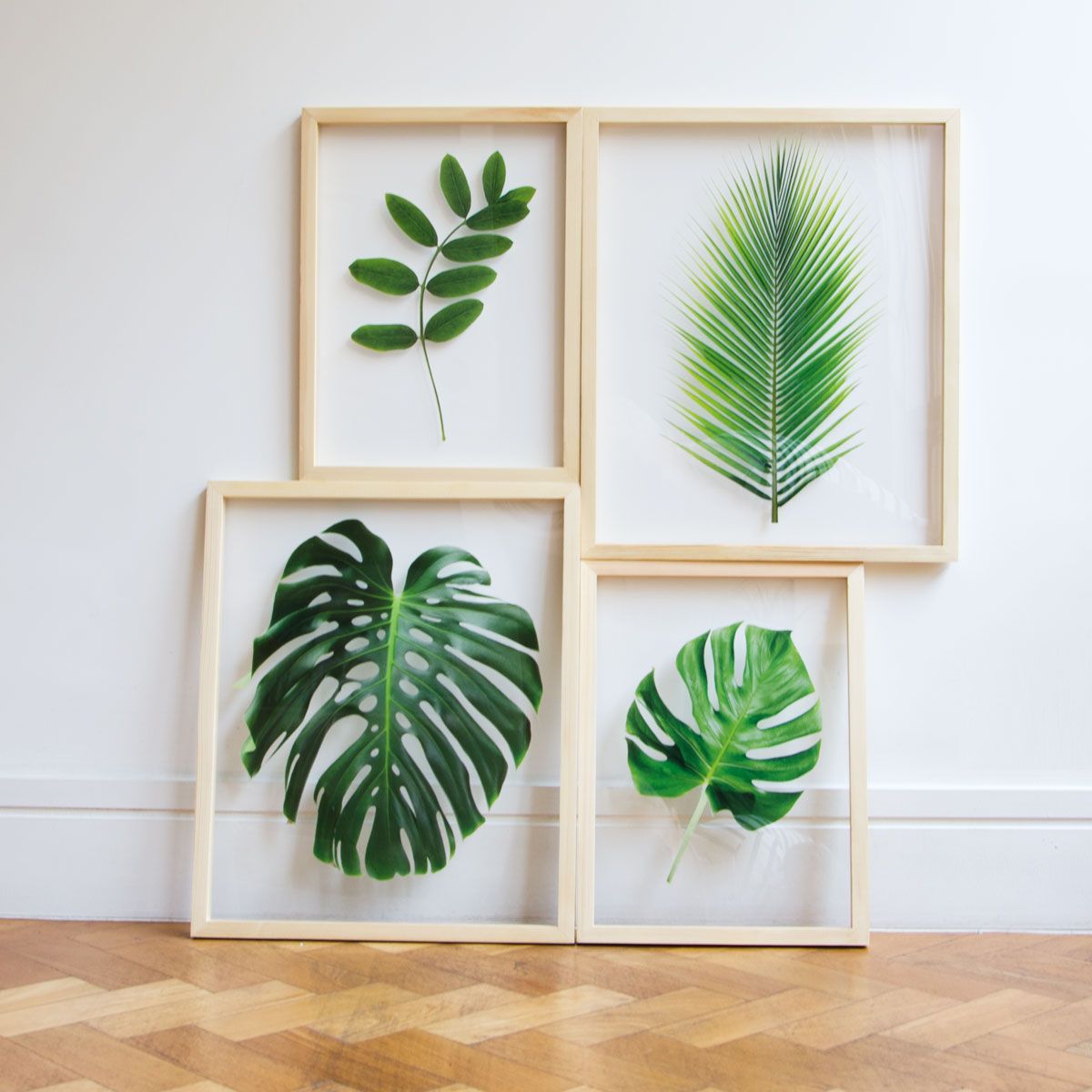 If you want to provide natural and tropical accents that are simple and beautiful, you can use frames with natural foliage accents. With frames like this will create a beautiful tropical atmosphere for your bedroom. You can make this frame decoration for wall decoration or to place it on a table or floor. With frames like this you can express yourself using natural accents without having to overdo it, but still look elegant.
Thus our discussion of Beautiful and Fresh Tropical Bedroom Decorations. By using the right decoration, you will get a natural, beautiful, and fresh impression in your bedroom. With natural decoration suitable for your Scandinavian interior style. But in general, any interior style will be more beautiful if you use ornamental plants. For that, it is very good if you are considering using ornamental plants in your bedroom. Hopefully, this article is useful for you.