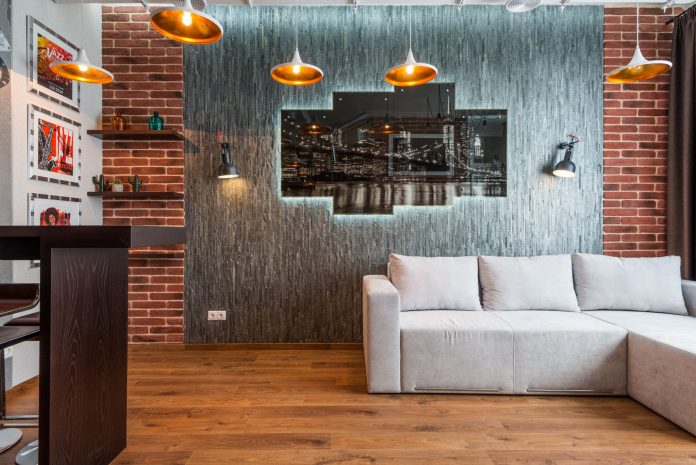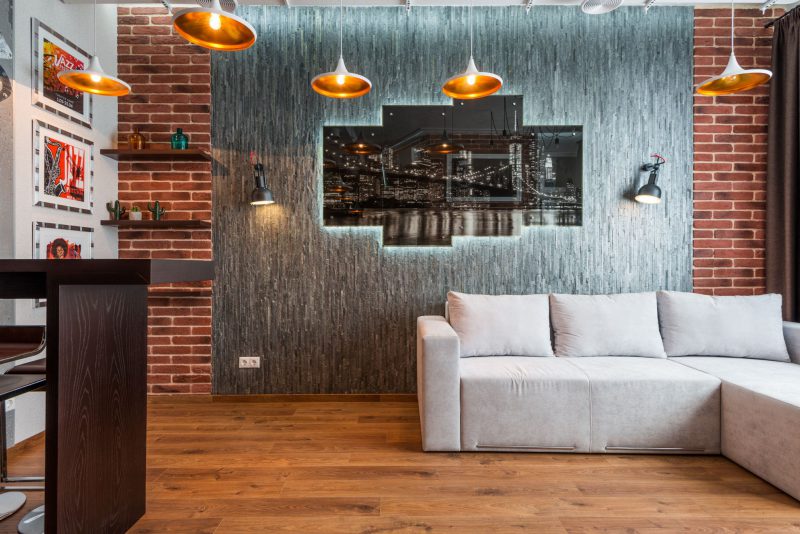 Large windows, a high ceiling, chandeliers, a spacious environment, bright and extremely spacious and luminous…
Bringing a new look to the concept of luxury apartments of the last period, the loft apartments have become one of the most popular trends of the decoration with modern stance and useful design.
In recent years, the loft style interior design trend has spread all over the world. It is possible to find different loft flats depending on the city or region. One of the reasons why loft style has become a new trend nowadays is the purpose of the young population to move to a smaller apartment and have easy access to their job, daily life and hobbies, having most of them under the same roof.
Loft decoration tips with the suggestions of Algedra Interior Design interior designers and architects… Loft apartments with simple, modern and useful living spaces have recently become a trend in luxury apartment choice.
Loft apartments, which are generally formed by transforming industrial areas, garages or hangars into living spaces, started to be included in luxury projects as the demand increased. These areas, which are generally located in attics, stand out with the minimum use of walls, the use of daylight as much as possible and as far as hanging.
Before looking for a loft apartment interior, one should realize the birth of a true Loft style. Are you really looking for a loft apartment or just want to feel the loft style spirit in your interior?
Continue reading our article to discover your answer.
What is a Loft Flat?
Loft apartments are large and open-plan living spaces that are generally converted from industrial buildings to residences. Loft apartments do not have interior walls except for the bathroom, but instead are popular for having high ceilings.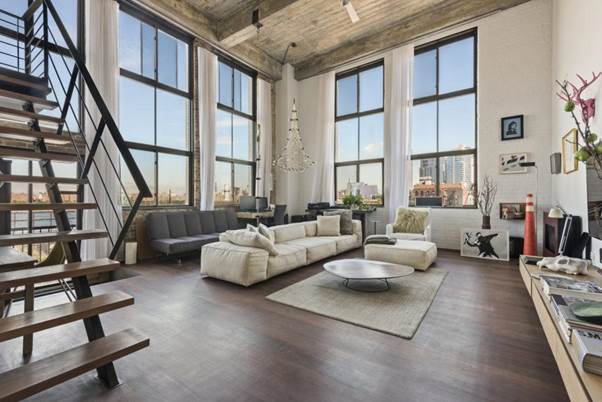 In loft apartments, it is possible to see exposed plumbing and large ventilation pipes in addition to bare columns and beams. Characteristic materials that make up loft apartments; it is wood, concrete and glass that manifests itself as large windows.
In these minimal apartments, the walls are bare. Any application that would disrupt the natural texture of the building is avoided. The main goal is to keep the feeling of open space a priority.
Origin of Loft Apartments
Born in New York City, parts of Manhattan and Brooklyn, the loft style is still predominantly the original loft apartments converted from industry to residential buildings. As a trend emerging all over the world, it is possible to find flats designed in loft style everywhere.
Hard Loft & Soft Loft
In the central industrial zones, commercial buildings were transformed into residences in the post-war years. This transformation of the first, second and third period  is called "Hard Loft", which means that these apartments were used for other purposes before.
On the other hand, the residences built in the last two decades to revive the loft lifestyle, look and spirit are known as "Soft Loft".
In order to visually capture the style of loft flats, it is not always possible to live in a loft apartment in the preferred area. It is difficult to find all loft features together, such as floor-to-ceiling windows and high ceiling heights. The flats that manage to capture some of the features of the loft style, which are mostly defined as "loft-like" apartments, are designed by interior designers.
What is Loft Style Life?
Loft style life has its own culture. Artists and craftsmen seeking free space for both living space and workplace have started to secretly establish their studios in old factories or warehouses in order to perform their art.
As it became more popular, loft living began to gain attention, and interior designers dreamed of how to complete these interiors.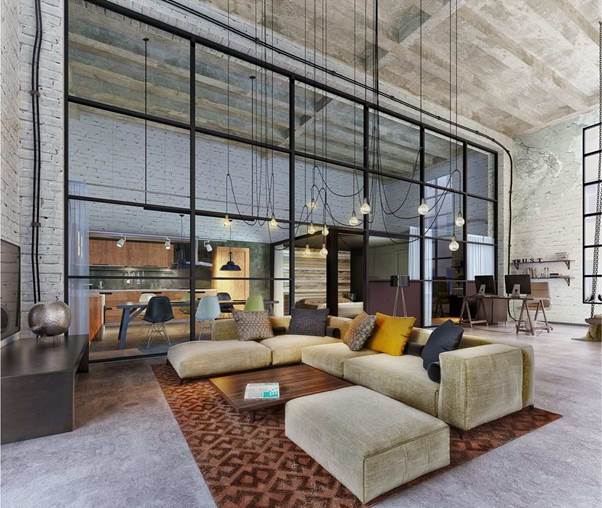 It is not an easy task to design the interiors of these apartments, which require maximum free space to move. Therefore, the elements that make up loft-style life began to emerge: a large bed, a wooden dining table, some industrial shelves used for storage, sometimes separators or divider walls that are placed to break the box feeling or when some privacy is needed.
Different Meaning of Loft Style
Apartments that see the main living area from the mezzanine are also considered as loft apartments. These mezzanines are often used as bedrooms or in some cases as offices. These apartments were also called "California Loft Apartments" in the 1970s.
The mezzanine has railings made of metal or wood to provide greater security. While open spaces are generally desired in loft apartments, the use of divider walls to increase privacy, especially for the bedroom area, has become fashionable over time.
Even though sometimes it is not possible to find a duplex loft apartment, often the high ceilings of these industrial apartments provide the opportunity to build a mezzanine. In this case, the upstairs area does not have the standard ceiling height, which is another reason why this space is preferred as a bedroom.
General Features of Loft Style
As it refers to the transformation of industrial buildings, loft apartments consist of industrial type details. The main elements to preserve the industrial spirit are:
Brick Walls
Vent Pipes
Open Installation System
Bare Columns
Visible Beams
Wooden floor
Features Reflecting the Loft Style
Simplicity
Even if you do not have a "Hard Loft" apartment, it is possible to capture a modern and clear spirit in the loft lifestyle. The main idea of ​​the loft style interior design is to capture the perfect combination of plain and clean surfaces and bare and coarse materials.
Loft style is often confused with minimalism from interior design approaches. The emergence of industrial elements in loft style interiors is the main feature that separates these two interior trends.
Emphasis
Acoustics are a big problem in loft flats, which are at the forefront with their open planning. The best way to prevent this problem is to choose sound absorbing materials. In this case, the use of textiles will be life-saving. Wooden furniture upholstered with thick fabrics, a blanket on the sofa, a piece of carpets on the floor will help you solve the acoustic problem of the interior and create an accentuated style.
Spaciousness
Natural lighting does not pose a problem in "Hard Lofts", but in "loft-like" interiors that aim to reflect loft style, the lighting should be placed carefully to emphasize the feeling of open space and to ensure the natural flow of light. High illumination of the boundaries of the room with corner wall sconces will help to create the illusion of a larger interior.
Fixed Furniture
Crowded interiors with lots of furniture are one of the most important facts you should avoid for a loft lifestyle. Expanding the countertop can be a good solution for delineating the kitchen, creating a dining area. Choosing bar stools will help you gain more space. Especially the ghost chair bar stool will be an excellent choice for apartments that adopt the stylish loft style.
Art lover
The best way to pay homage to the roots of the loft lifestyle is to hang artworks on these high walls. The effect of the paintings on the interior will fascinate those who see it with the natural lights coming from the large windows.
Pros and Cons of Loft Style Interiors
Even though the loft lifestyle has become a trend, it is not always suitable for everyone. Loft-living may look stylish and comfortable, but living within loft standards may not be as comfortable as it seems.
High ceiling
The  best feature of the loft style apartments are high ceilings. It offers a sense of openness and free space to suit different needs.
–  Even if the clearance provides emotions, there are some disadvantages of high ceilings. First of all, it is not easy to decorate high walls. It will be necessary to work with an interior designer to break the box feeling and design the space correctly and conveniently.
± Since  there are no divider walls, the existing high walls will essentially be your storage space. To get the most out of them, you may need to cover the walls with cabinets: It is also important to have a ladder in the apartment if needed.
Open Plan
+ Minimal design is one of the main features of loft apartments with open space. In loft flats, there are no dividing walls used to separate the rooms. In some loft apartments, folding separators or curtains are used for more privacy. In this way, the apartment is not divided for different uses and the planning can be changed at any time.
– The loft apartments are not suitable for sharing as the walls are mainly used for the bathroom. When the apartment is shared, the lack of privacy can be a problem and the walls of the loft apartment can be revised for the bedroom.
High Windows
+ High windows are the best way to unite the inner and outer world. Having natural light and warmth will provide a healthy life. Depending on the location of the loft, it will be pleasant to enjoy the view from the large windows.
– Open space with high ceilings and floor-to-ceiling windows may require temperature regulation. This situation will cause a significant increase in expenditures in hot and cold months.
Things to Consider in Loft Apartment Design
Storage
The first thing to consider is the storage areas in loft apartments. Since open spaces are the main feature of loft apartments, the absence of walls creates a problem with storage. It will take creativity to store in a small space and keep that storage looking nice.
Air conditioning
It will be difficult to maintain a good climate, especially in Hard Loft apartments, which were used for industrial purposes before. With large windows, high ceilings and cold stone walls, the heating and cooling system should be well organized.
Acoustic
When designing a loft style apartment, acoustics should be carefully considered. With high ceilings open spaces without walls, sound will easily spread throughout the apartment. For this reason, interior materials should be preferred as sound absorbers and furniture should be strategically positioned.
Ventilation
Like sound, ventilation is another problem for loft apartments. The odor from the open kitchen can be absorbed by the textiles. At this point, kitchen design should be done carefully. Ventilation must be well designed to prevent the spread of odor.