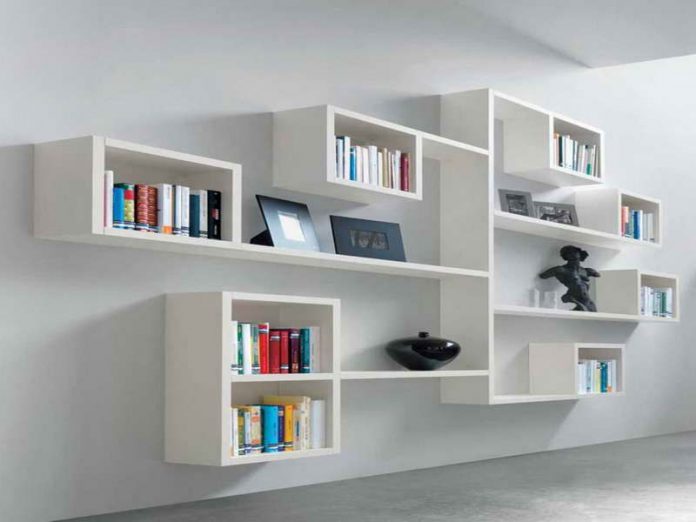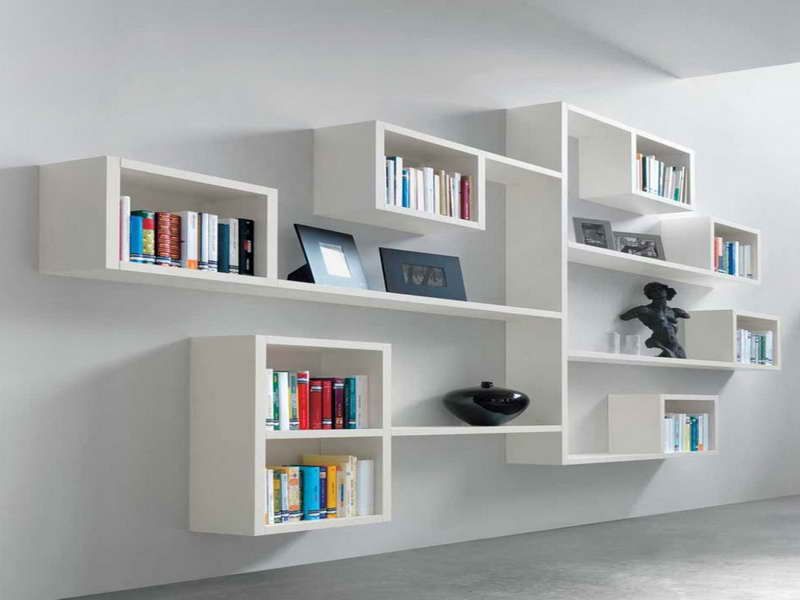 Homesfornh.com – Home library is one of the solutions for a person who loves books and read it frequently to collect the books privately. Arranging the books in-home library make you easier to find the books when you look for it. Pile the book in a cupboard at your home is not efficient to create a home library or workspace, you will waste your time to arrange it and make it neat. Besides, you will hard to find the book if you do not make a book list. With a neatly arranged book list inside a beautiful bookshelf will make your private home library more comfortable and stunning.
Simply Beautiful Bookshelf Inspirations for Your Home Library
A bookshelf is a solution to put book collections easily, so you can find a book without wasting time and energy. Bookshelf in a home library can be designed in an attractive way to increase interest in reading a book. An attractive bookshelf will refresh your mind to make you feel comfortable in your home library. Below is some bookshelf design to inspire you to apply in your home library.
Staircase Bookshelf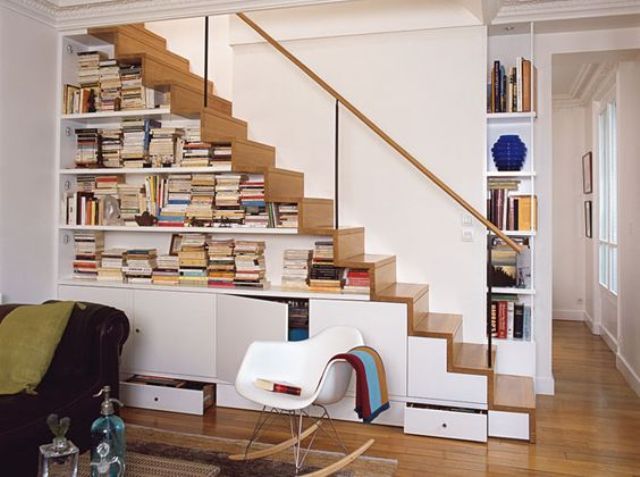 Staircase bookshelf has a simple form. You can use the free space below or beside the steps of your house to make neat and beautiful bookshelves. It does not need many kinds of wood to create this bookshelf. You can use a beam of wood to make a shelf staircase for each book. The benefit of this bookshelf is using woods material which easy to be found and this bookshelf helps you take the books from its bookshelf without making your home feels crowded. If you use this bookshelf for your home library, you need more space to stack the staircase. With bookshelf style like this is suitable for you to use for Scandinavian interior style and minimalist interior style for your home.
Pipe Bookshelf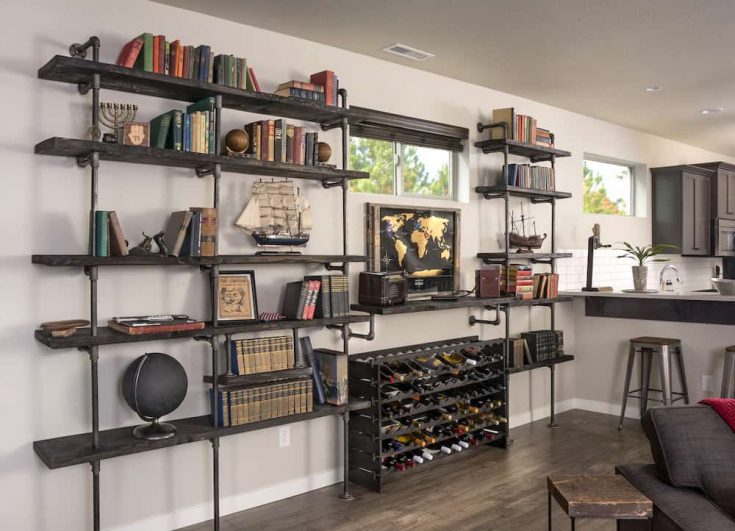 This bookshelf made from a unique material. Using some colored pipes, this kind of bookshelf may be added into your low-budget list of bookshelf for the home library. Besides that cheaper material, the pipe bookshelf is suitable for a mini home library with some book collections. It will be more effective when it put on the wall side or the corner of the room. Make sure that the space between the wall and the pipe is enough to make the book stay on the shelf. Add color on the pipe, and do not worry about its color that contrast with the wall, this pipe will be good to combine with any color. Using bookshelves with pipe material is suitable for industrial interior styles in your home.
Tier Tree Bookshelf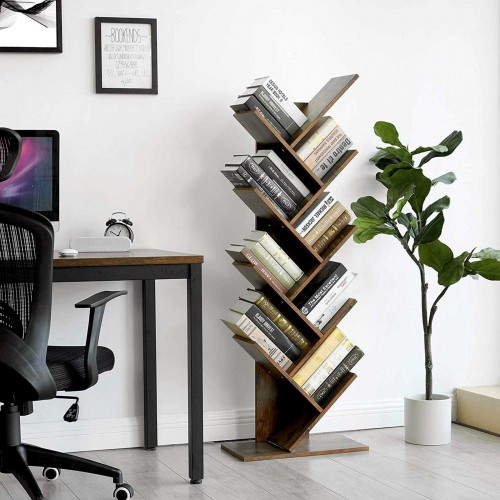 One of the simple designs of the bookshelf is the tier tree bookshelf. This bookshelf can move onto wherever you want. Commonly, the tier tree bookshelf is put in the corner of the room to create an impression of a simple mini bookshelf. You can put it near a colorful property such as an indoor plant. Its wood material is good to be placed near a nature property to strengthen the aesthetic wood. Tier tree bookshelf is simple for minimalist home library. Add some tiers if you need more space for book collections with some categories based on the genre, then put a little ornamental plant like cactus or small statue on the lower shelf. The amount of this simple bookshelf considered how long the wood for every tier.
Triple Bookshelf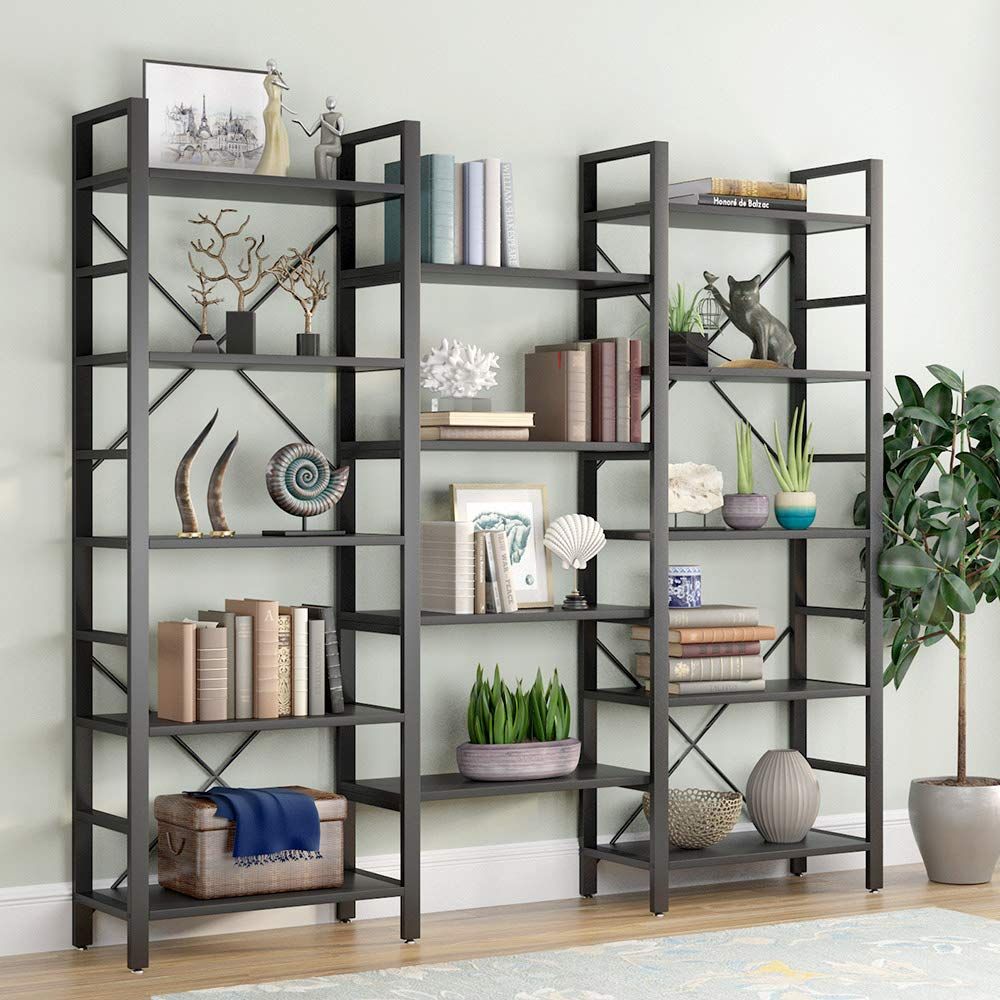 A triple bookshelf is a multifunctional bookshelf. It is a simple bookshelf that many horizontal shelves to your book collections. The triple bookshelf may be put on every room, either the minimalist room or wide room. The design of this bookshelf makes your home library more elegant and neater. To save your money when creating this bookshelf by yourself, choose the wooden or metal materials then gives it color. There are more books in long rows and it helps you find what kind of book you look for easily based on the list or categorize on every shelf. By using this bookshelf you will get the atmosphere of being a bibliophile.
Wall Bookshelf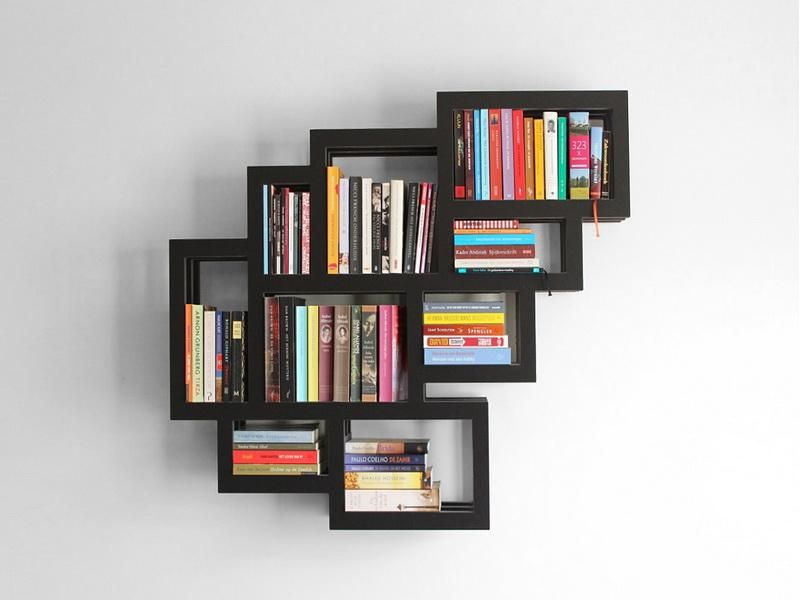 Wall design is a simple bookshelf for you who love a home library but do not have a special room to collect the books. An alternative way is using the blank wall as a bookshelf for the home library. A bookshelf on the wall is simple and save your money instead of buying some cupboards. For the color of the bookshelf, choose the same color or the opposite color as your wall. White color is a good choice to make your room look wider when you have a home library in the same room. Black color makes your bookshelf looks elegant and stunning.
Tree Branch Bookshelf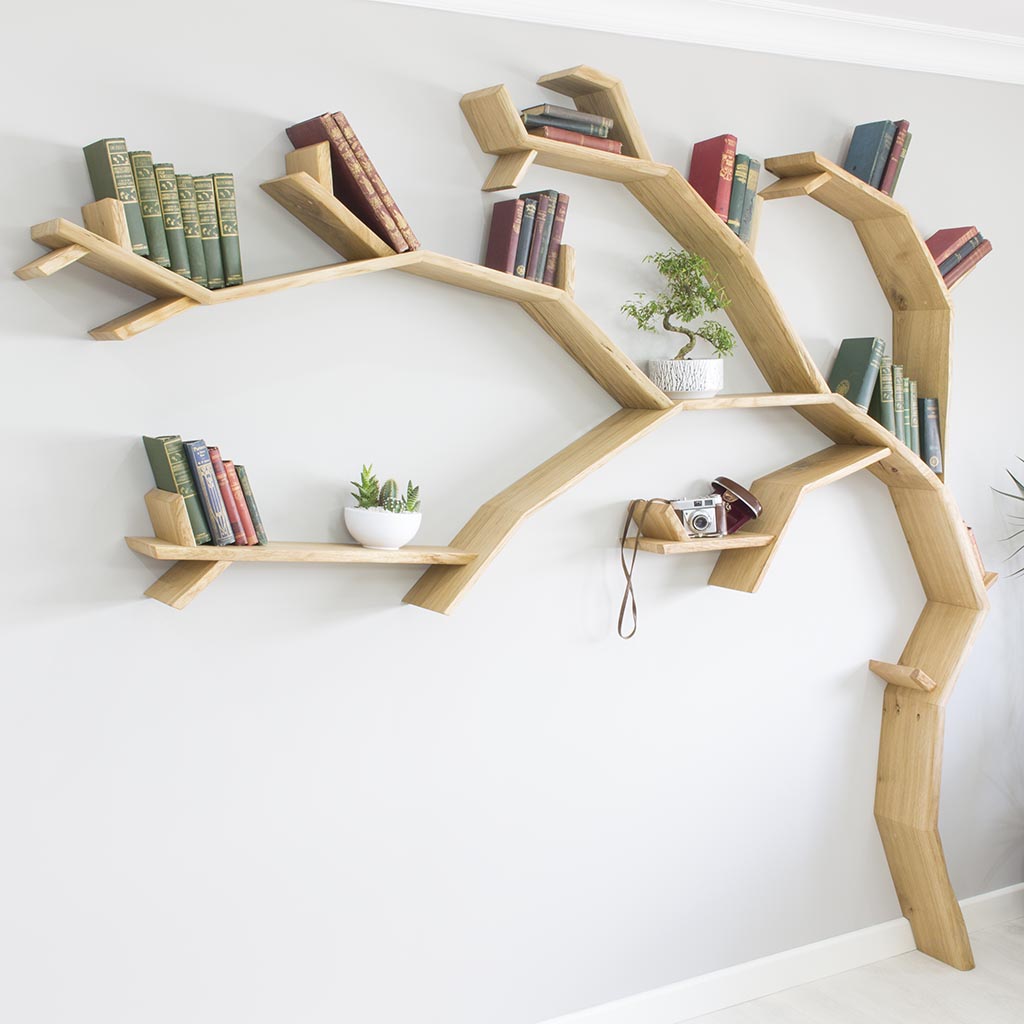 This is a unique bookshelf and has been inspired by the form of branches of a tree. The main material is wooden beams which make its form is easy to curve and more attractive. With the capacity depends on the number of branches, this bookshelf is recommended for you to put your book collections. Add more branches if you have more books.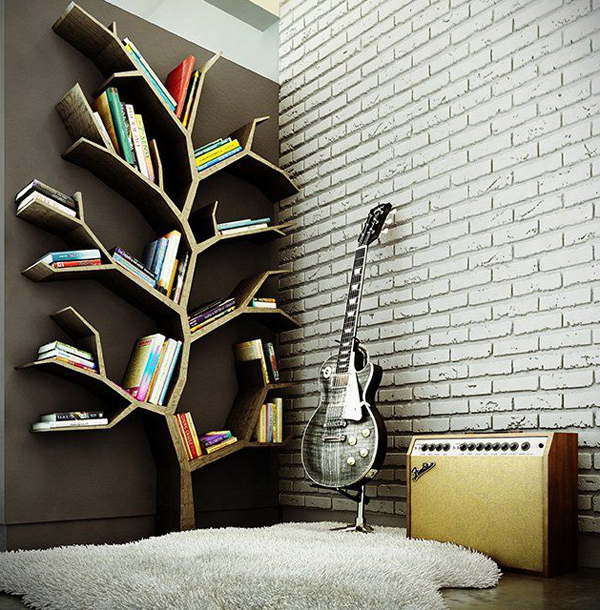 This unique form makes you get rid of boredom when you see a common bookshelf in a town library. Design the branch as your request, spread its branches on your wall, or arrange it in a horizontal line. For the aesthetic design, add some pattern like a wrinkle effect to make it looks like a real branch. Besides, combine a natural brown color for the branch with the darker color on the wrinkle line. Enjoy your book and read more.
Square Bookshelf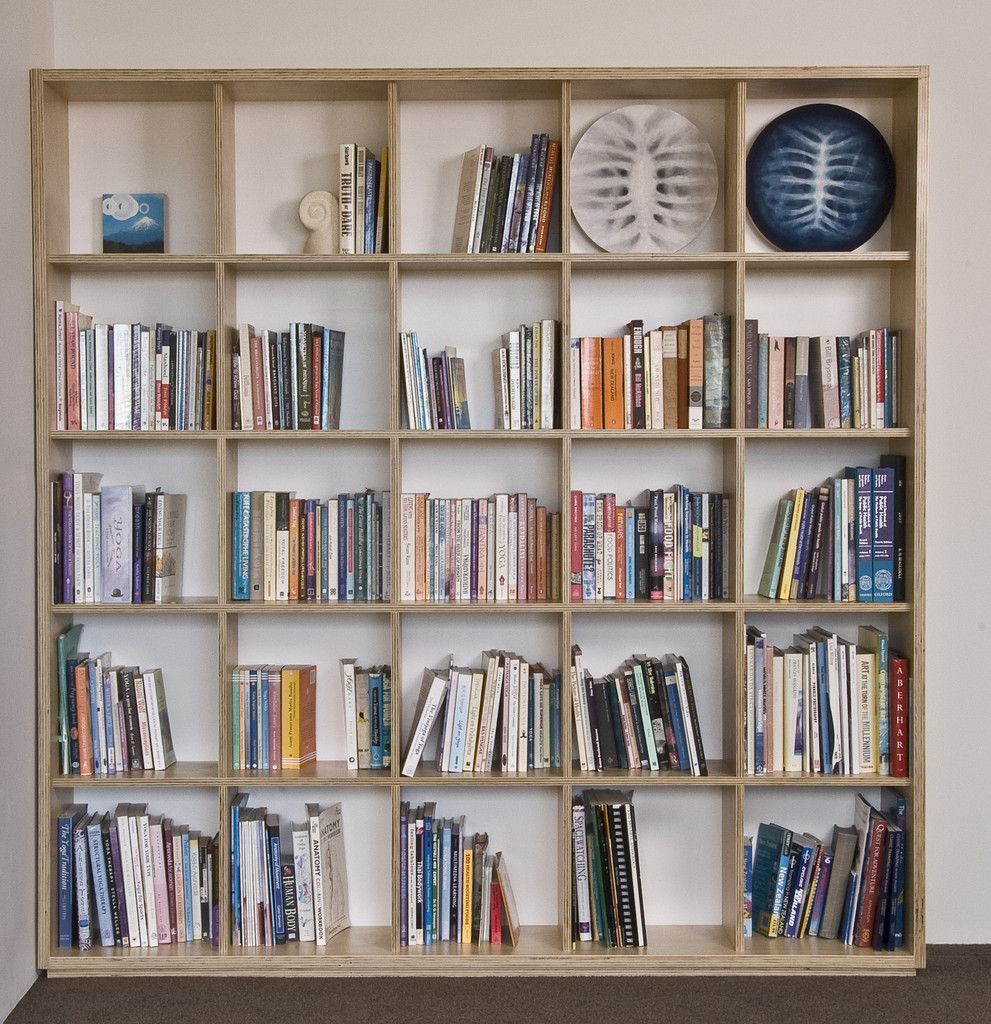 Square is a common form of bookshelf in the library. It is very simple to put in a home library. Each cube can load some big books. While the small books are pile on the lower books. If you have more book collections, rearrange the book for each cube. It needs less space if you put it on the wall, so it is possible to add more cube above or below it. Do not worry if you feel bored with the form of this bookshelf, add some indoor ornamental plant or small statue to make it interesting.
Thus our discussion about Simply Beautiful Bookshelf Inspirations for Your Home Library. You can try those shapes to put on your book collections. With the right bookshelf design will make your personal library look more beautiful and comfortable to use to read your favorite stories and readings. Hopefully this article is useful for you in choosing the right bookshelf for your personal home library.