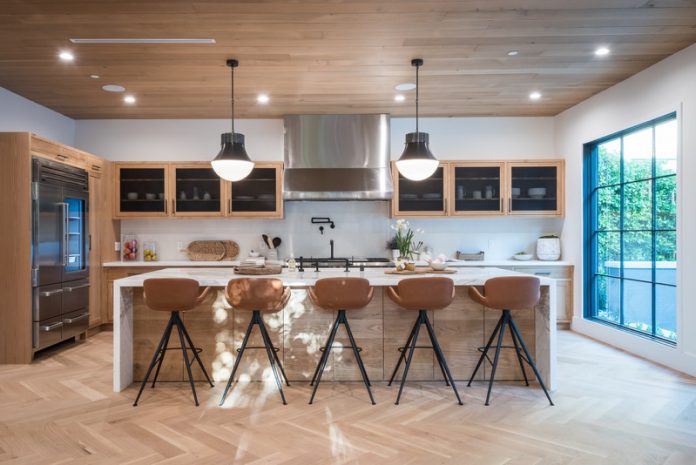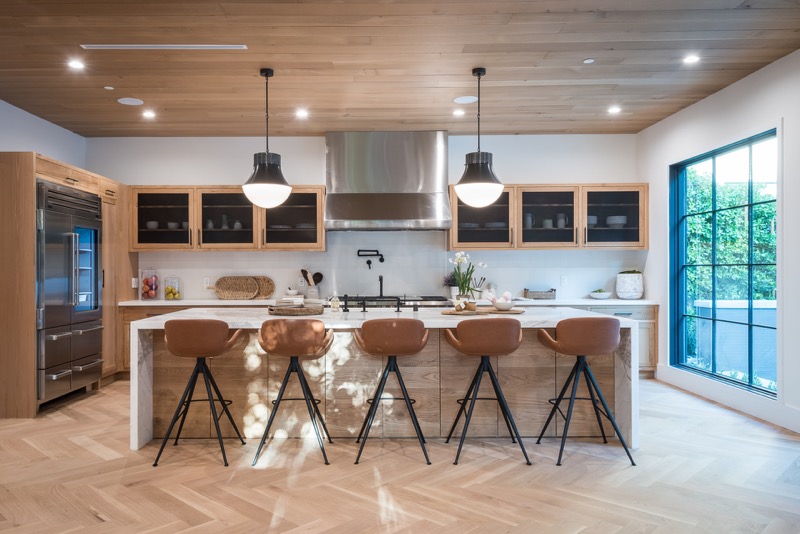 What's the secret to timeless kitchen design? Well, there isn't just one. It's all about crafting a kitchen space that fits your needs, style, taste (and, of course, budget). While there are several popular kitchen design styles, such as contemporary, traditional, or farmhouse, more and more homeowners are turning to the modern kitchen plan to transform their cooking and dining experience. But what exactly does a modern kitchen plan look like?
Here, we're taking a closer look at the modern kitchen—one of the most popular and prominent kitchen styles since the early twentieth century. First, we work to understand what we even mean by a "modern kitchen." Then, we offer a few practical tips to help you design your very own modern kitchen plan.
WHAT IS A MODERN KITCHEN?
We call this style sleek, simple, or midcentury, but what does a modern design really mean? The design style we call "modern" began roughly around World War I. Modern kitchens feature flat surfaces, geometric shapes, and tend to go light on embellishments and all the extra bells and whistles you might find with more lavish styles.
WHY CHOOSE A MODERN KITCHEN DESIGN?
There's a practically endless number of ways that you could design your kitchen. This fact, then, begs the question: why do so many homeowners choose to implement a modern kitchen plan? Of course, there are countless reasons, but there are some key reasons why people love this simple and elegant aesthetic.
Here are just some of the reasons why a modern kitchen design could be perfect for your home:
Simplicity.
Functionality.
Smooth and sleek appearance.
Easier to clean and maintain.
Complements other designs styles.
Looks great.
TIPS TO DESIGN A MODERN KITCHEN PLAN
Now that we have a better understanding of what a modern kitchen design means, the next step is to make it happen. What are some practical tips to help you bring a modern kitchen design to life in your home? Look no further. Read on to learn about how you can implement your very own modern kitchen plan.
1. Natural materials.
Go back to the basics by incorporating a range of natural materials in your modern kitchen design. Marble countertops, wood-stained cabinets, or an exposed brick backsplash can all add a classic, almost rustic, touch to your new modern kitchen while keeping that sleek feel. Natural wood used throughout adds a unique texture to any of your surfaces. However, don't go overboard with a slew of natural materials as it can make your kitchen look crowded and muddled.
2. Flat surfaced and straight lines.
A key feature of the modern kitchen is flat surfaces and geometric shapes for your countertops, cabinets, and appliances. This all comes down to the simplicity and functionality created by this direct design choice. Incorporate long rows of kitchen cabinets for a seamless look. Consider adding a long, geometric island as the centerpiece for your modern kitchen. Not only will it look great, but it's also a pretty versatile feature. Use the island as room for meal prep or pull up a couple stools and use it for dining or entertainment.
3. Frameless kitchen cabinets.
Sticking to the theme of straight, simple lines, nothing says a modern kitchen design like frameless kitchen cabinets. Also called full overlay or full access, frameless kitchen cabinets offer a clean and simple dynamic to your cabinetry design. It also allows your cabinets to blend seamlessly with your appliances and countertops.
4. Monochromatic colors.
Modern kitchens can be flashy in a classic, subdued fashion. Establish this aesthetic by using a monochromatic color palette for your kitchen space. Using a bright white as your primary color with accents of gray or black is a popular color palette for many modern kitchen designs. For an extra touch, wood cabinets can help maintain the simple color layout while featuring a unique shade and texture. Remember, with a modern kitchen, it's all about simplicity.
5. Industrial accents throughout your modern kitchen.
There are several different ways that you can adapt a few thoughtful industrial accents into your new kitchen space. Exposed brick for your backsplash is a great way to add texture and a spark of color to an often overlooked part of the kitchen. If you don't have a ton of extra space, an open ceiling that reveals pipes can also work as an accent to your kitchen décor.
6. Sync up your kitchen appliances.
Consistency and simplicity go hand in hand when crafting a modern kitchen design. When selecting your kitchen appliances, ranging from your refrigerator, oven, microwave, down to your toaster or blender, try to keep the design and colors as consistent as you can. Classic black or white works well for most kitchen appliances and is much easier to match up. Additionally, think about your number of appliances. In an attempt to avoid a cluttered look, make sure you have space for storage.
CONCLUSION – WHAT DOES A MODERN KITCHEN PLAN LOOK LIKE?
A modern kitchen can truly revolutionize your home. Often referred to as sleek or simple, a modern kitchen design brings your cooking space back to the basics by focusing on flat surfaces, geometric forms, and simple, yet elegant, design features like backsplashes. Homeowners love the modern kitchen design because it doesn't distract or complicate your space. Modern kitchens allow you to focus on what your kitchen is for—creating and sharing your favorite meals—while doing so in a smooth and sleek zone.
You don't necessarily need to spend endless dollars to create an award winning kitchen with a modern kitchen design. By using natural materials, simple hardware, consistent colors, and going light on the industrial accents, you can transform your kitchen space into a modern masterpiece. But remember, it's still coming down to your personal style and taste. Feel free to play around with the modern style and add your own touches so that your kitchen feels just as much a part of your home as every other room.