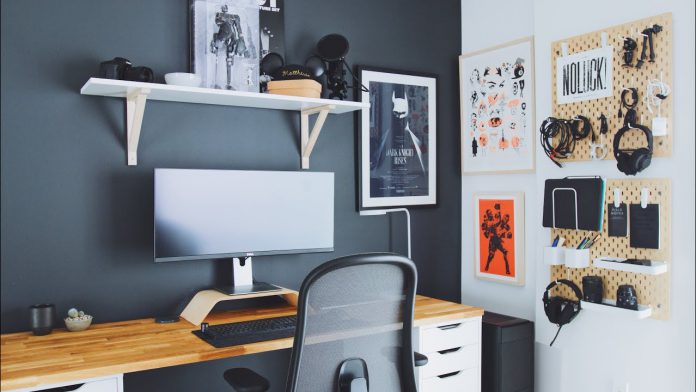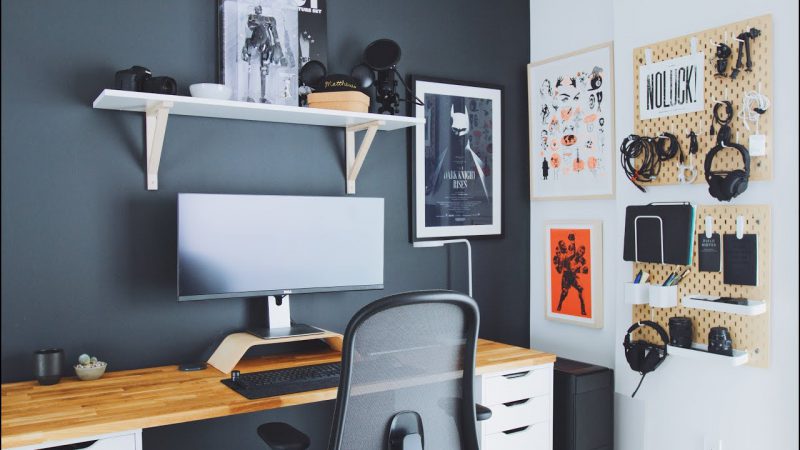 Homesfornh.com – Do you have space at home? Maybe a space near the wall or a corner space inspires you to make use of it. People decorate a space into a workspace. They create a workspace at home to save more time while doing other activities. Workspace adopts the idea of an open-plan office at home, so it doesn't need room to create it. It is different from a home office. If a home office is identical to a special room to do project or work, then a workspace makes use of an open space room without using any room. Even you can create a comfortable workspace in your bedroom.
Benefits of Having Workspace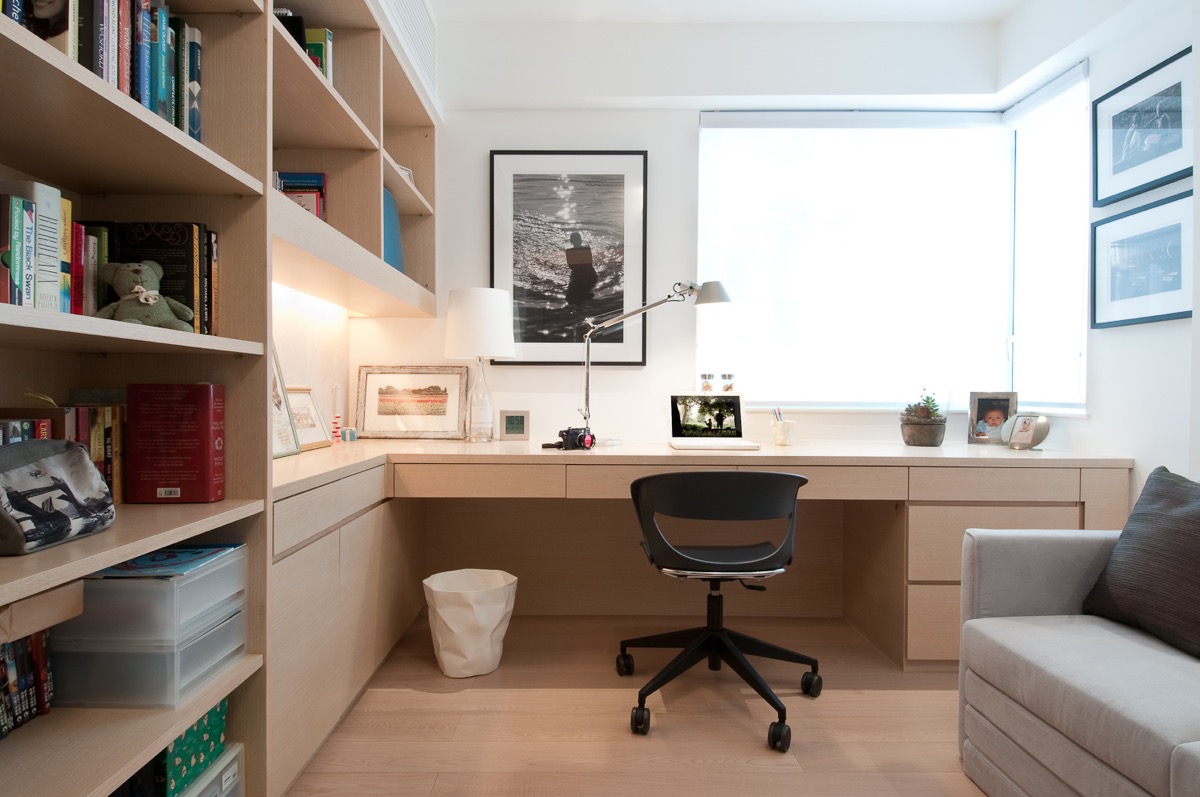 A workspace offers us an efficient place in the optimal function. Since it doesn't need a room, there are other benefits we can get from having it in your home. If you wonder why people like to create a workspace, you should read the information below:
You can design it by yourself
A simple workspace is enough to make you feel comfortable when doing your works. One of the benefits of creating a workspace is free to design. Decorate your workspace depends on your creativity. Since a workspace is a kind of home office, you should take on point for some office tools.
It is what people need to get by creating a workspace. Doing works at home saves more time rather than going to your office because sometimes your way to the office is not easy. Sometimes you are in a traffic jam when riding your car or public transportation, so you may use more time to finish your works rather than wasting time on other activities.
How does a workspace lessen the cost? If you compare the cost when you work at your office and work at home, which one has less cost. Doing your works at home cut your outcomes, if you usually buy a cup of coffee or order some foods in the office.
Increase your productivity
Working at the office sometimes lessens your concentration. You need a quiet place. Creating a workspace at home is necessary for you who want to work independently in a quiet atmosphere. Moreover, you don't need to worry about how to get home when doing works till late at night, because you are already at home so you can focus on the works.
Many things you can't have in the office but you have the whole things you need at home. It is a benefit of having a workspace. Doing your works sometimes makes you feel hungry, thirsty, and tired. Take a meal, a cup of hot chocolate, and sleep wherever you need it. Everything you need is possible to get in minutes.
Comfortable Workspace Design Ideas for Your Home
After knowing what a workspace is and what benefits you get from creating it, the next topic we will discuss is some workspace design ideas that you can apply to your home. By using the right design and according to your preferences in decorating, you can create the most comfortable workspace for you to be more productive.
Minimalist Design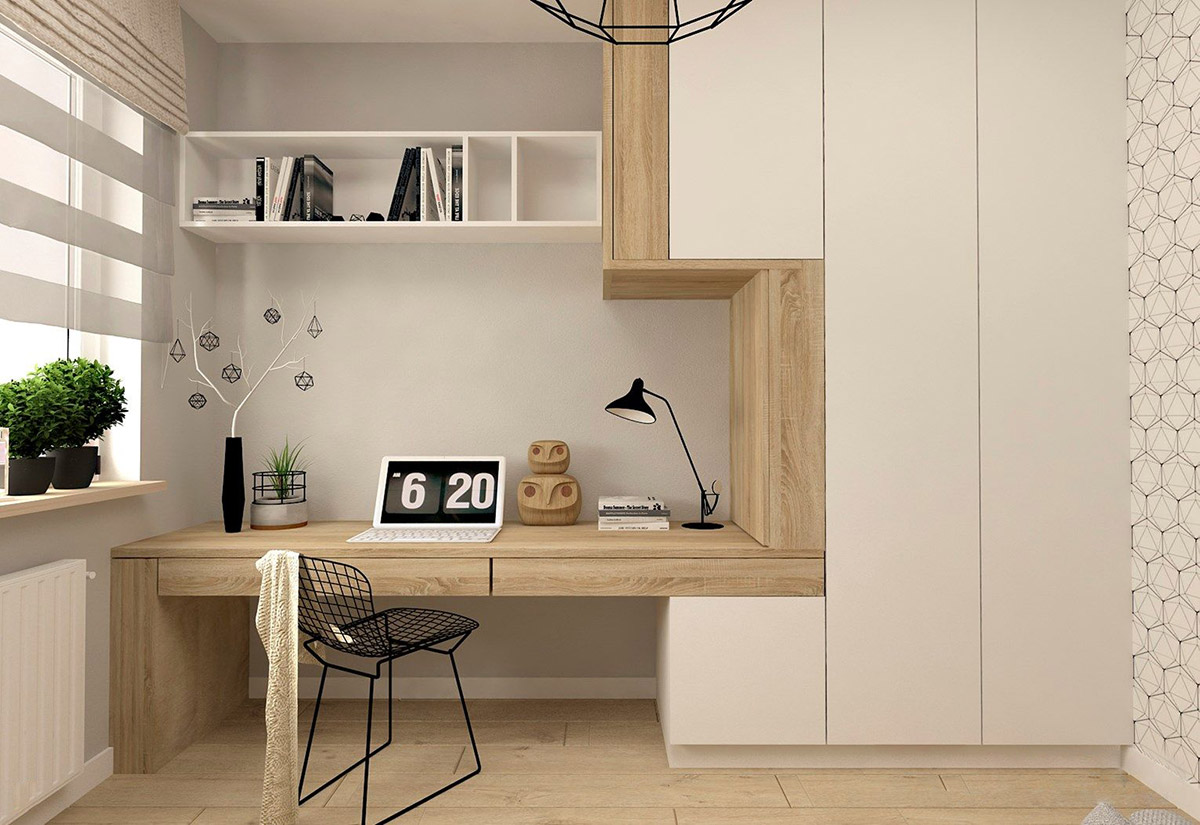 We know that minimalist design suits your small room. People attach this design to simplify their home interior in a simple and neat decoration. Minimalist design uses slimline properties to set up room decoration. Mostly, it uses neutral colors such as white color, soft brown, black, and grey. Many ornaments in Minimalist design have a small size to complete the design. Let's take a look some ideas of decoration in Minimalist design.
Attaching monochrome color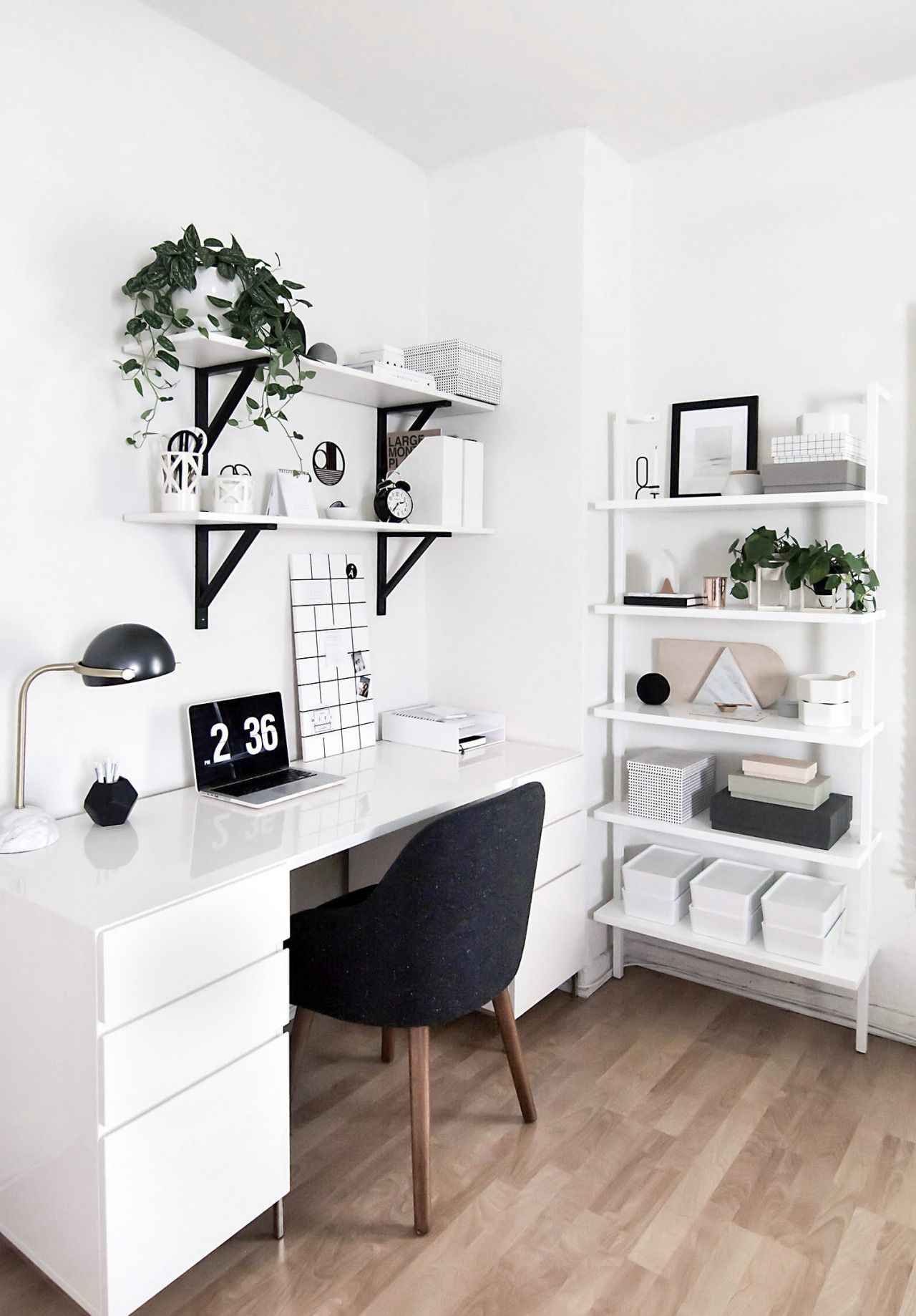 In Minimalist design, it commonly uses neutral color. Monochrome color is an elegant color to suit your workspace. Install monochrome color challenges you to mix and proportionally match some furniture. If you have a white cabinet, you should give it a black accent by installing a black chair.
Have some small ornaments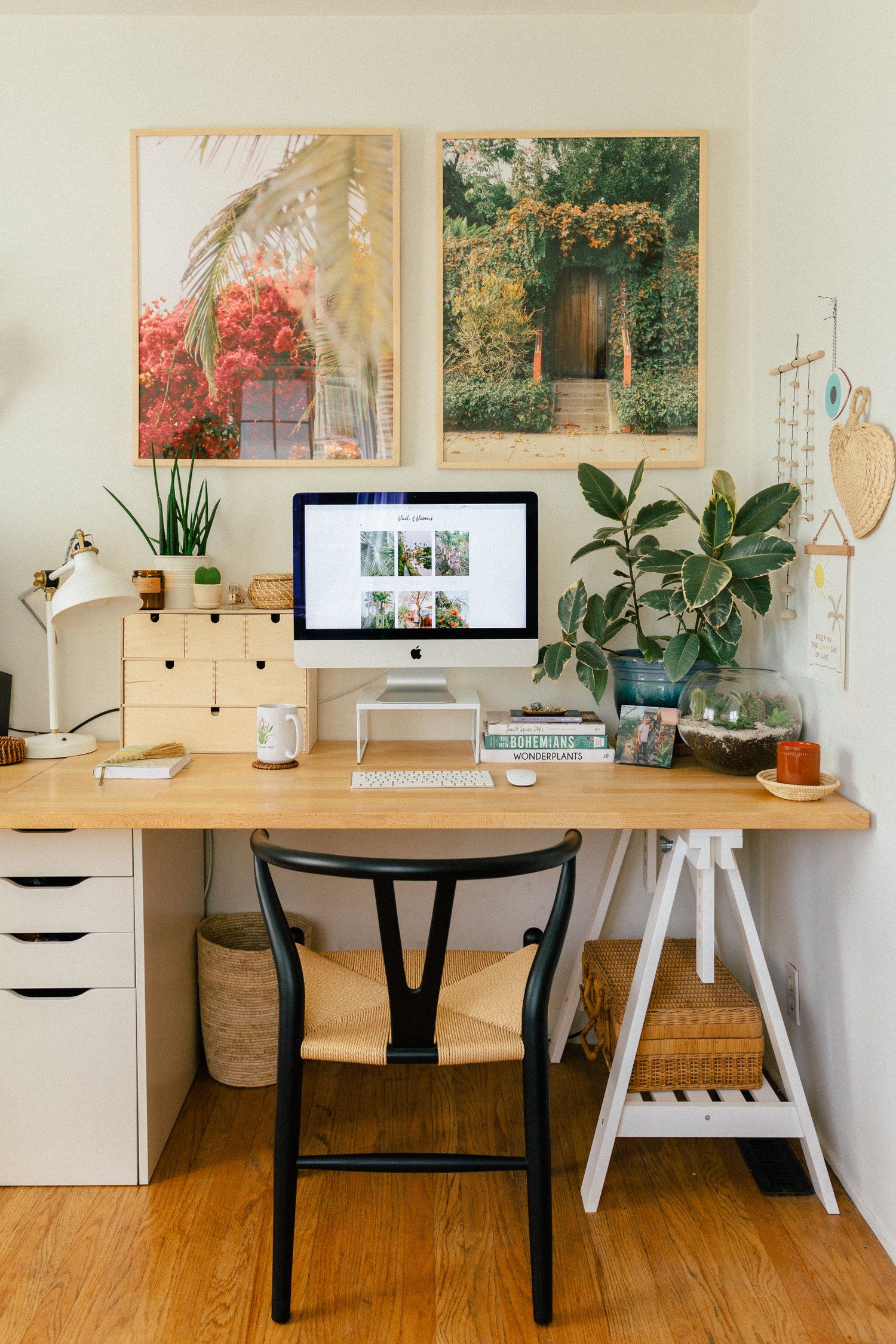 Doing your works sometimes makes you feel bored. To deal with boredom, put some small ornaments on your desk. Show your creativity by attaching an artistic ornament such as a rattan ornament, small ornamental plant, mini cabinet, and wall painting.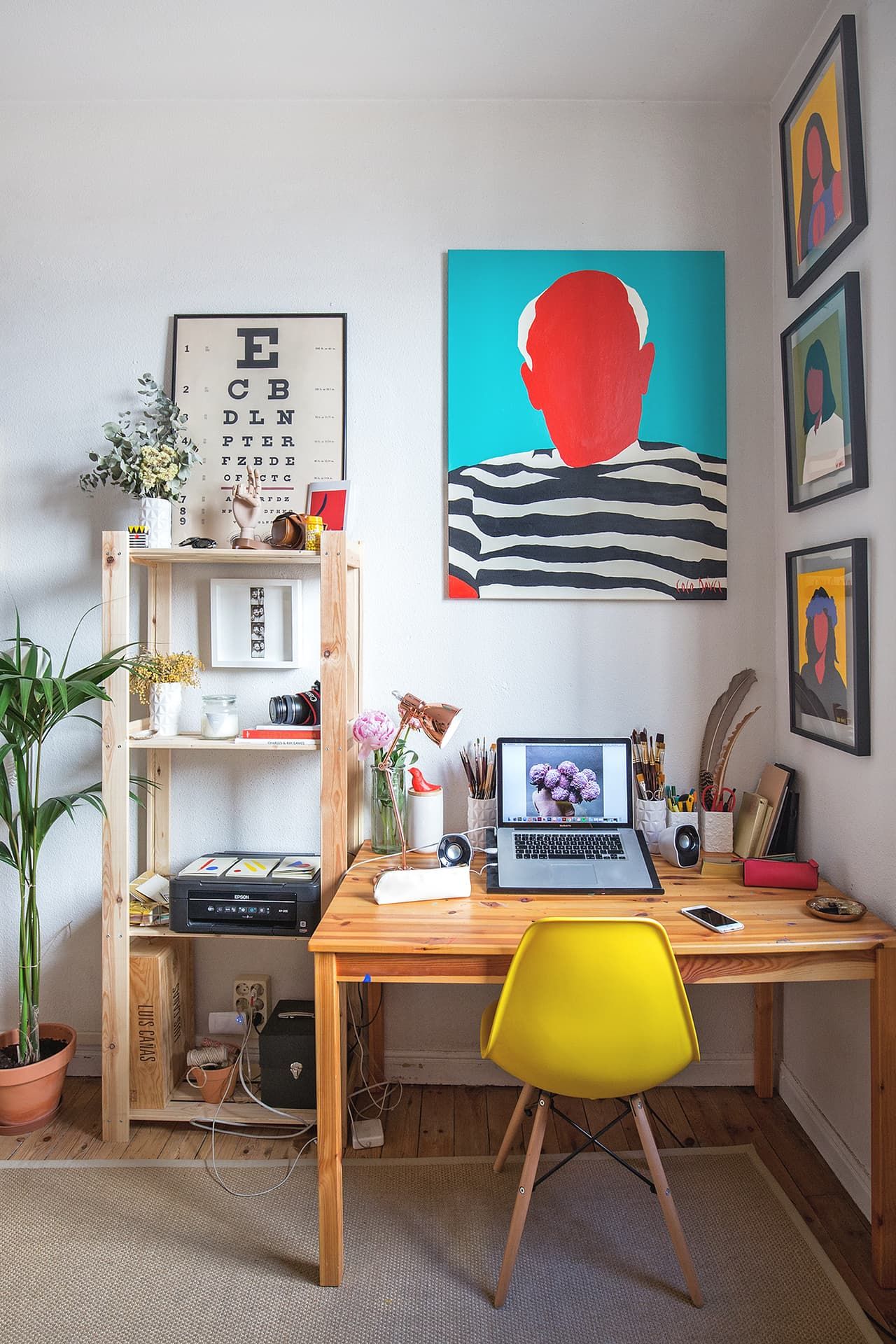 Since the Minimalist design uses simple and small furniture, you can add a cute yellow chair to complete your table. Your minimalist workspace will be more interesting to play with natural materials such as a wooden table and wooden storage.
Classic Design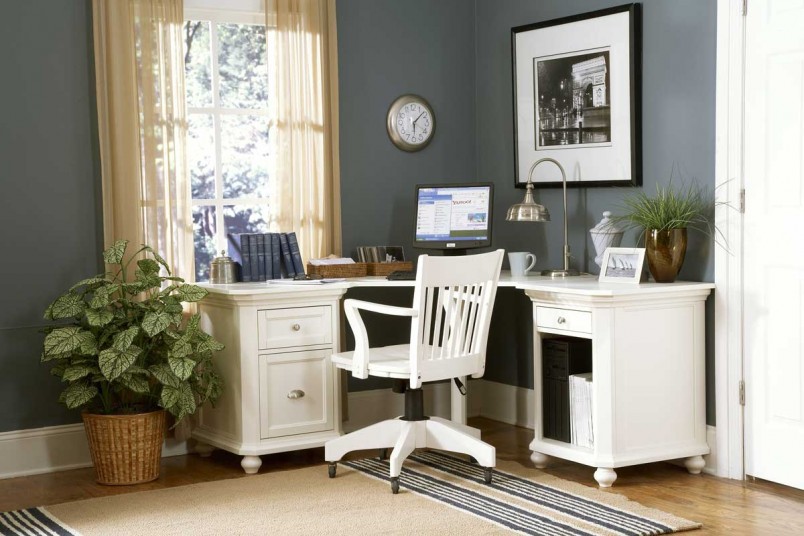 A classic design is a home design that uses a traditional accent to arouse a vintage taste. This design usually uses furniture from traditional materials such as wood, leather, and metal iron. Sometimes, we find classic furniture that has a carved surface on it. The artistic furniture strengthens the classic design. To get more artistic decorations, try this classic design to your workspace and combine it with your original design.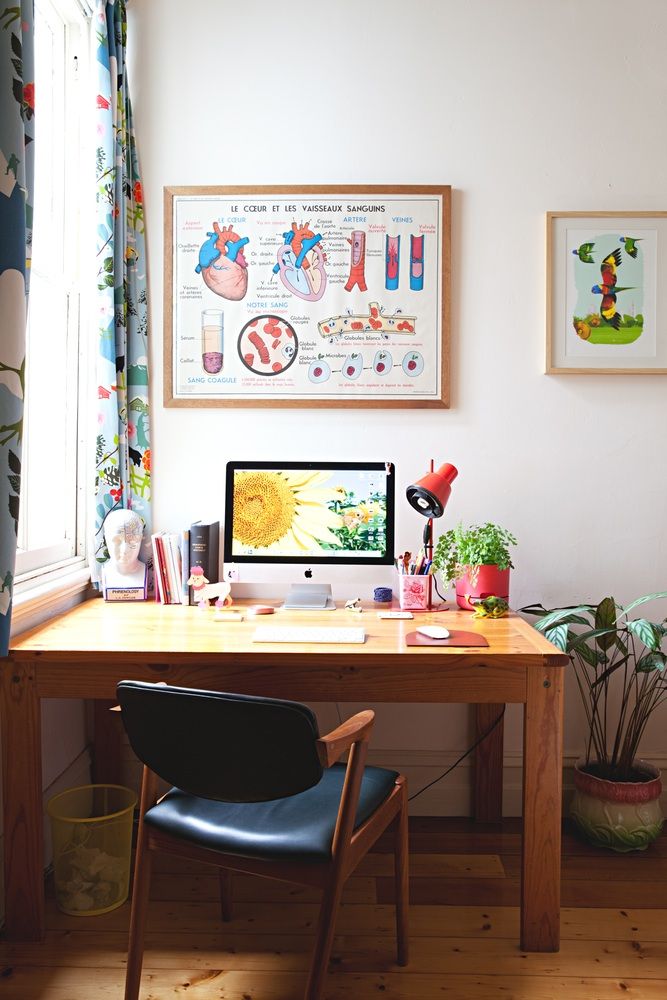 A classic workspace looks more catchy if you complete it by using antique furniture. The contemporary chair has a classic style, its dark brown color, and comfy sit make your workspace more comfortable. It is compatible with a simple wooden table.
Mix and match your table set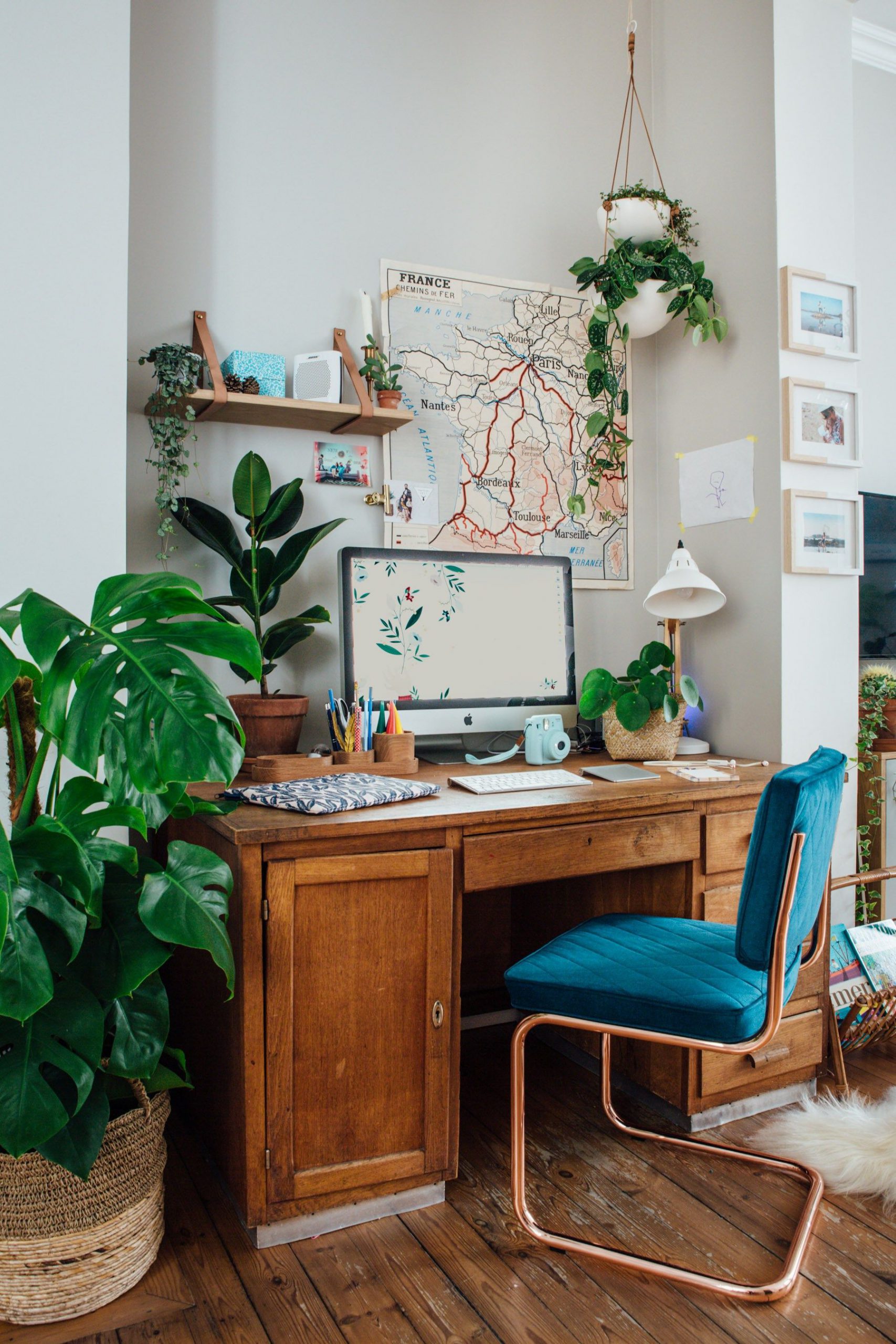 Have a nice arrangement of furniture is a key to get an interesting workspace. Put wooden furniture that suits your classic design more interesting. For your table set, choose a comfy chair with bold colors such as yellow mustard, red velvet, dark blue, and dark green. The bold color has an elegant and classic impression. Besides, some ornamental plants can strengthen the classic workspace.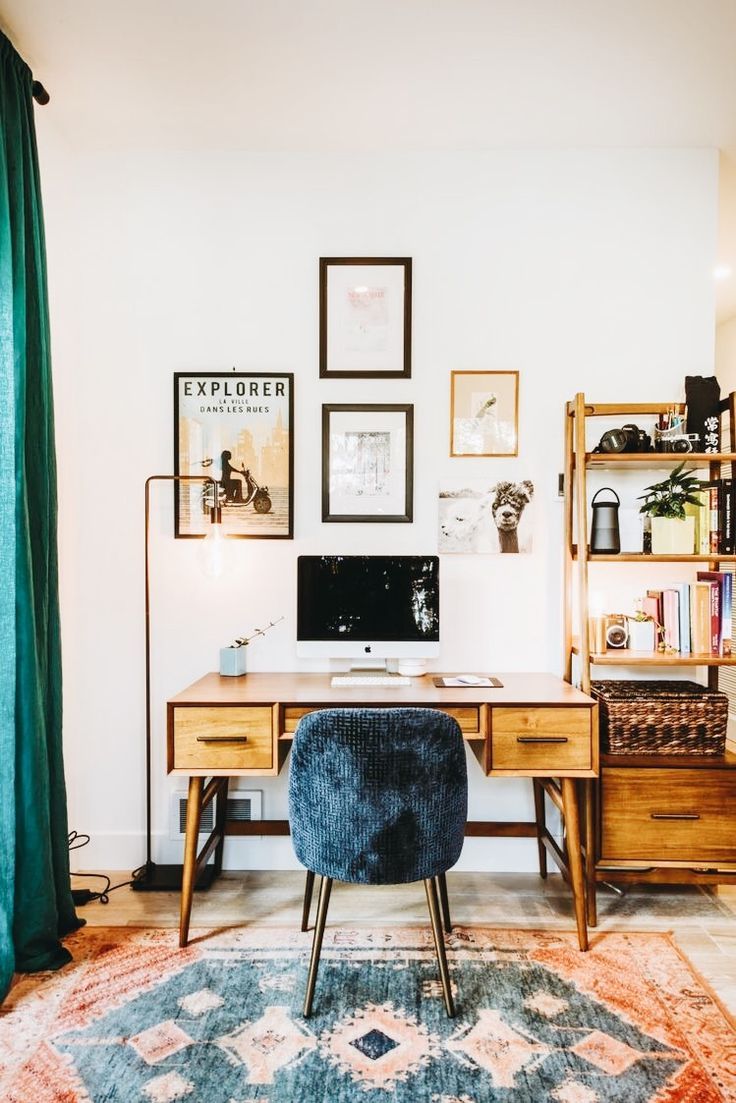 The rug is a wide mattress to cover a particular floor area. It has many motifs and colors. The unique rug has complicated motifs, even an absurd motif. Makes your classic workspace as perfect as possible by installing an aesthetic rug. You can also make it to line your workspace area.
Industrial Design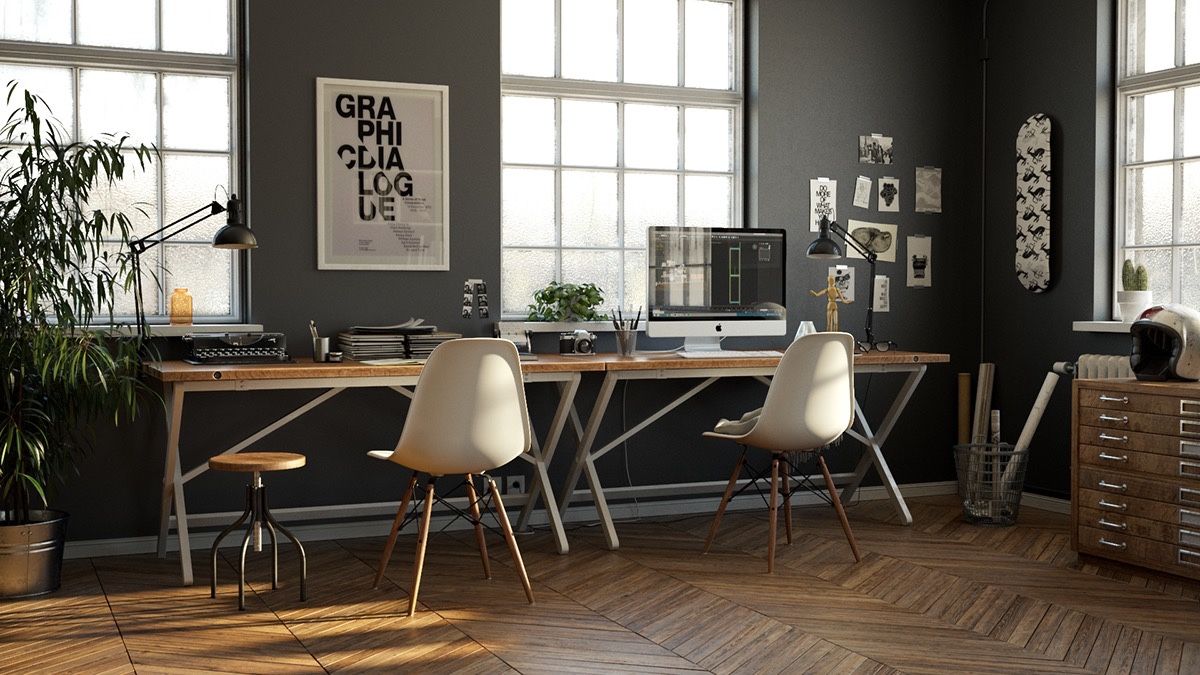 Industrial design deals with raw materials and creative design. It allows you to play with materials such as iron, wooden, synthetic, and other raw materials. By attaching industrial design you can expose your room but still have an interesting design. Using an exposed brick wall and black iron arouse masculine taste and has an elegant impression. To know more about industrial design, you can attach this design to your workspace.
Install a black desk lamp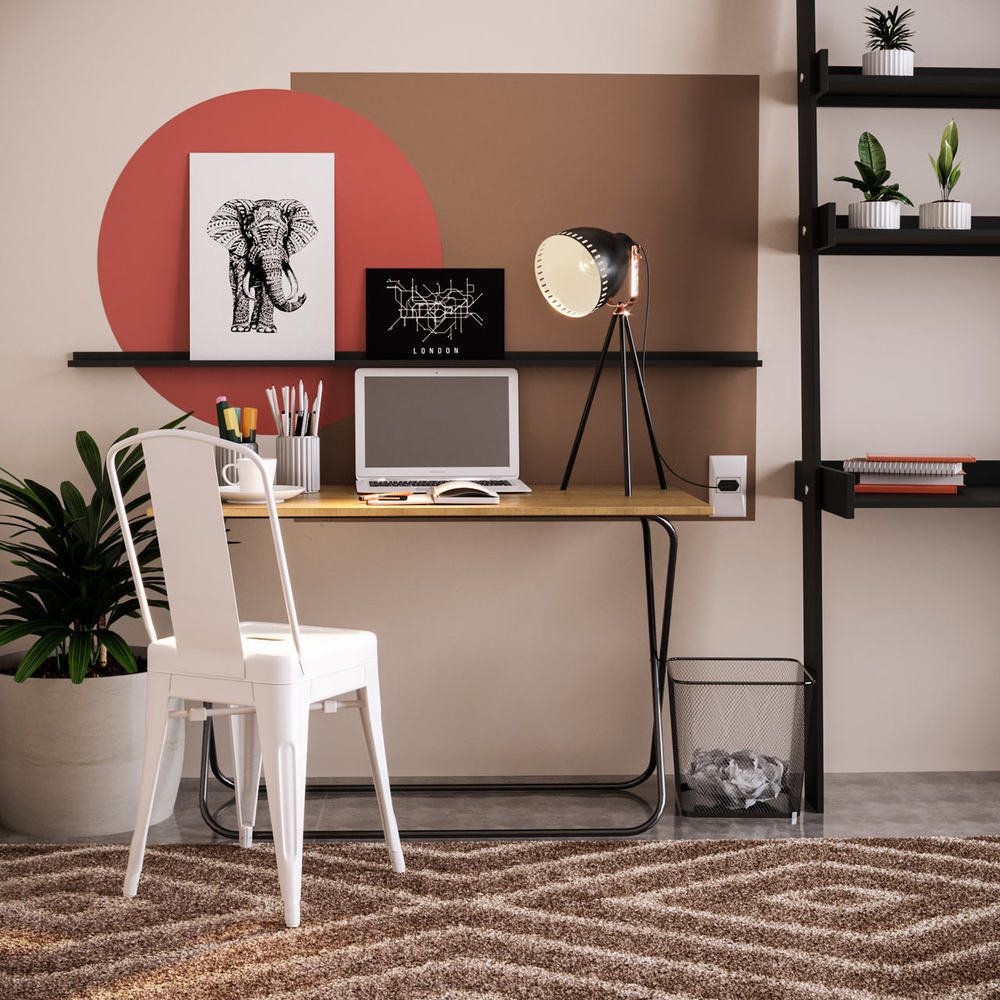 The Industrial design is identical to the black color. This color brings a masculine impression. It is an elegant color to modify your workspace. Add iron storage to put some books and ornamental plants.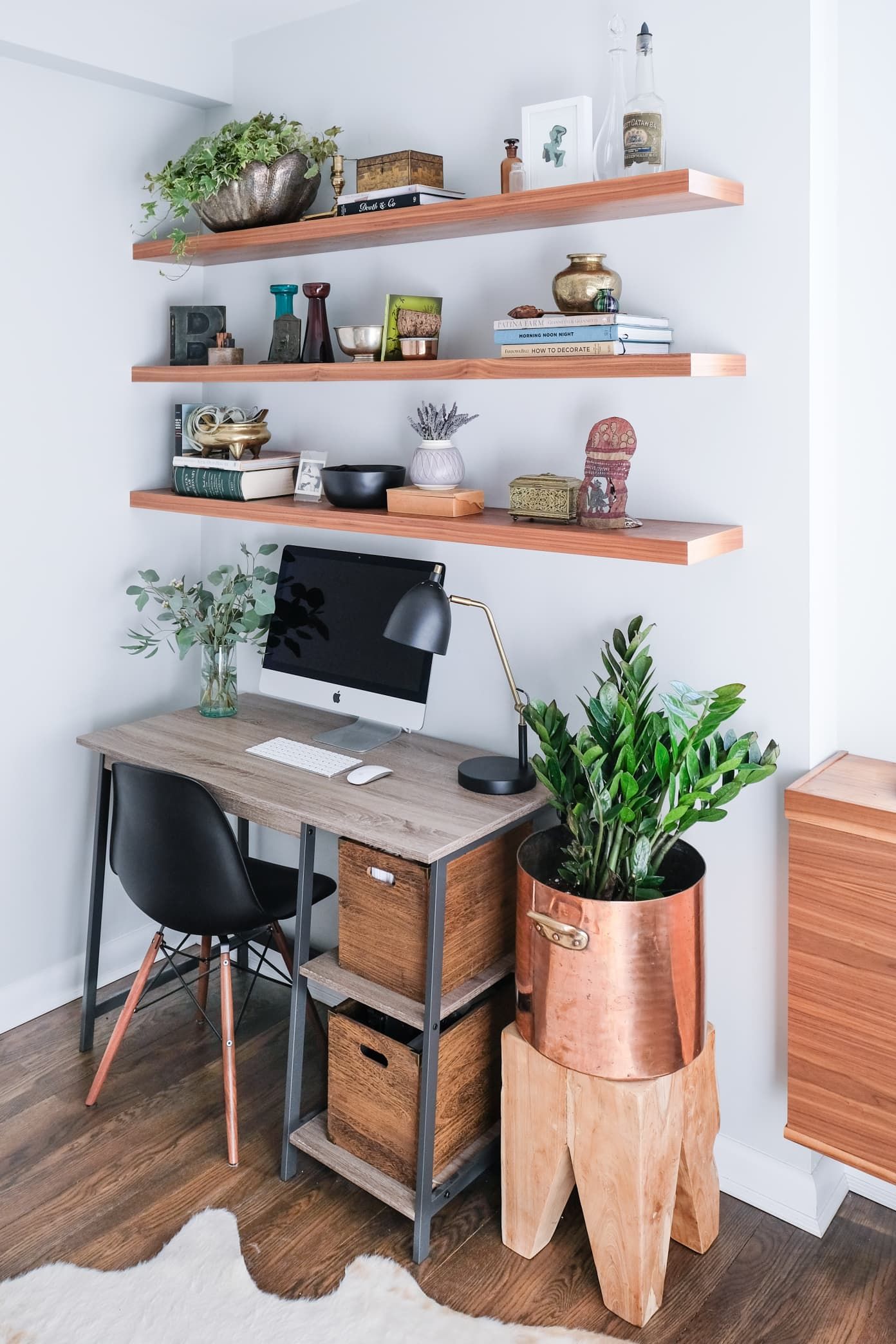 An ornamental plant in industrial design is necessary to give a natural accent. Grow this plant in an iron pot. You can put it near the desk to connect the furniture in industrial design. A slimline bookshelf is useful to put some small ornaments on it.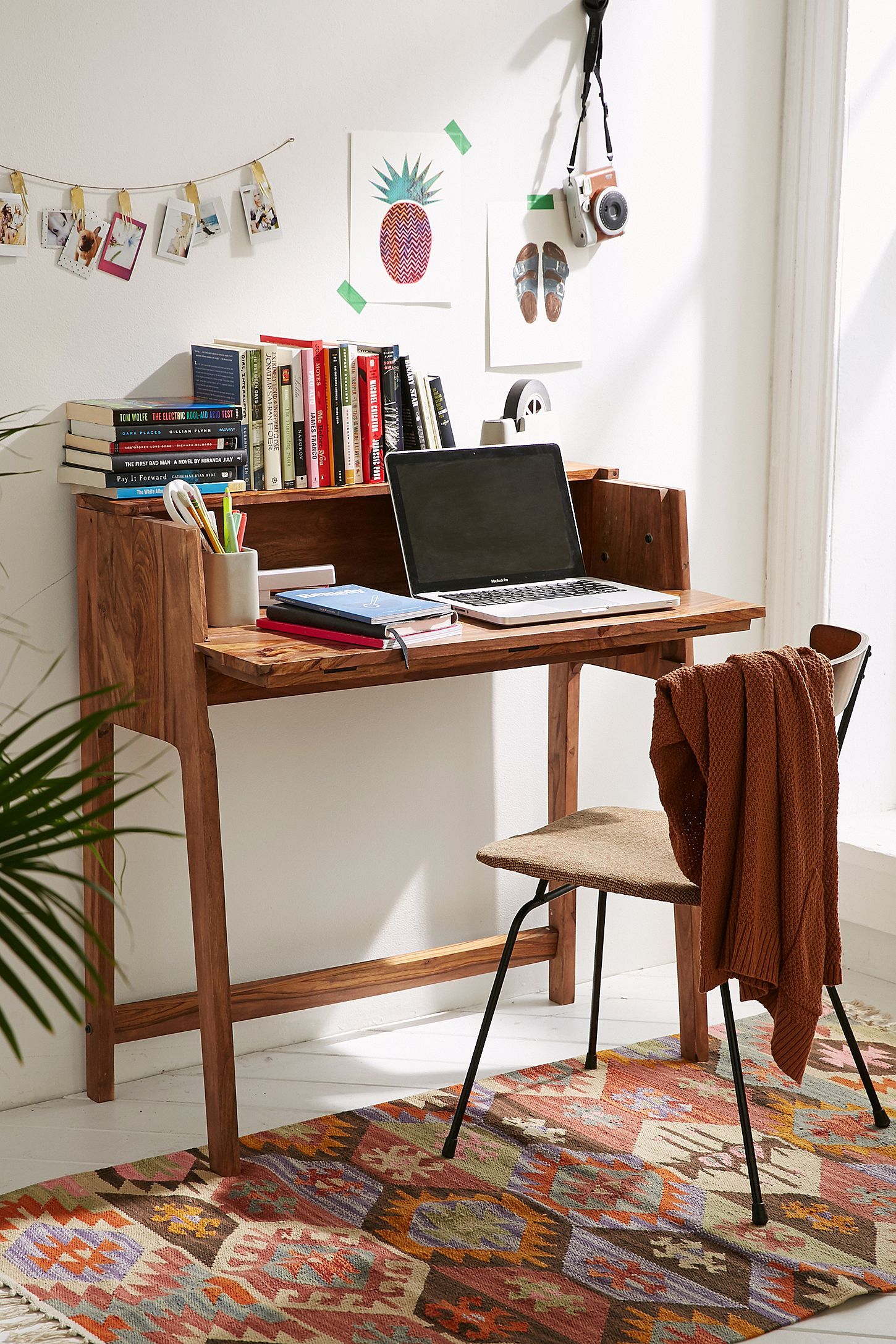 Iron material is a common material in industrial design. This material is useful to make an iron chair. Industrial workspace needs a black iron chair to arouse the use of raw material. Usually, people like to expose unfinished material such as a brick wall.
Conclusion
Thus our discussion about Inspiration for a Comfortable Workspace in Your Home. Creating a workspace is an important place to have when you want to do some works at home. It offers you a comfortable design and saves your cost, rather than going outside to finish the works. Moreover, by decorating your workspace, you can freely design it by combining more than two designs. With the touch of a particular design, your workspace will be more interesting and give positive vibes to you. If you want to have an inspiring place to do your works, it is better to decorate your workspace at home.